This simple lentil soup recipe is a heart healthy, naturally vegan dish that is high in protein, fiber, vitamins and minerals. Plus, it's budget friendly, filling and low-calorie!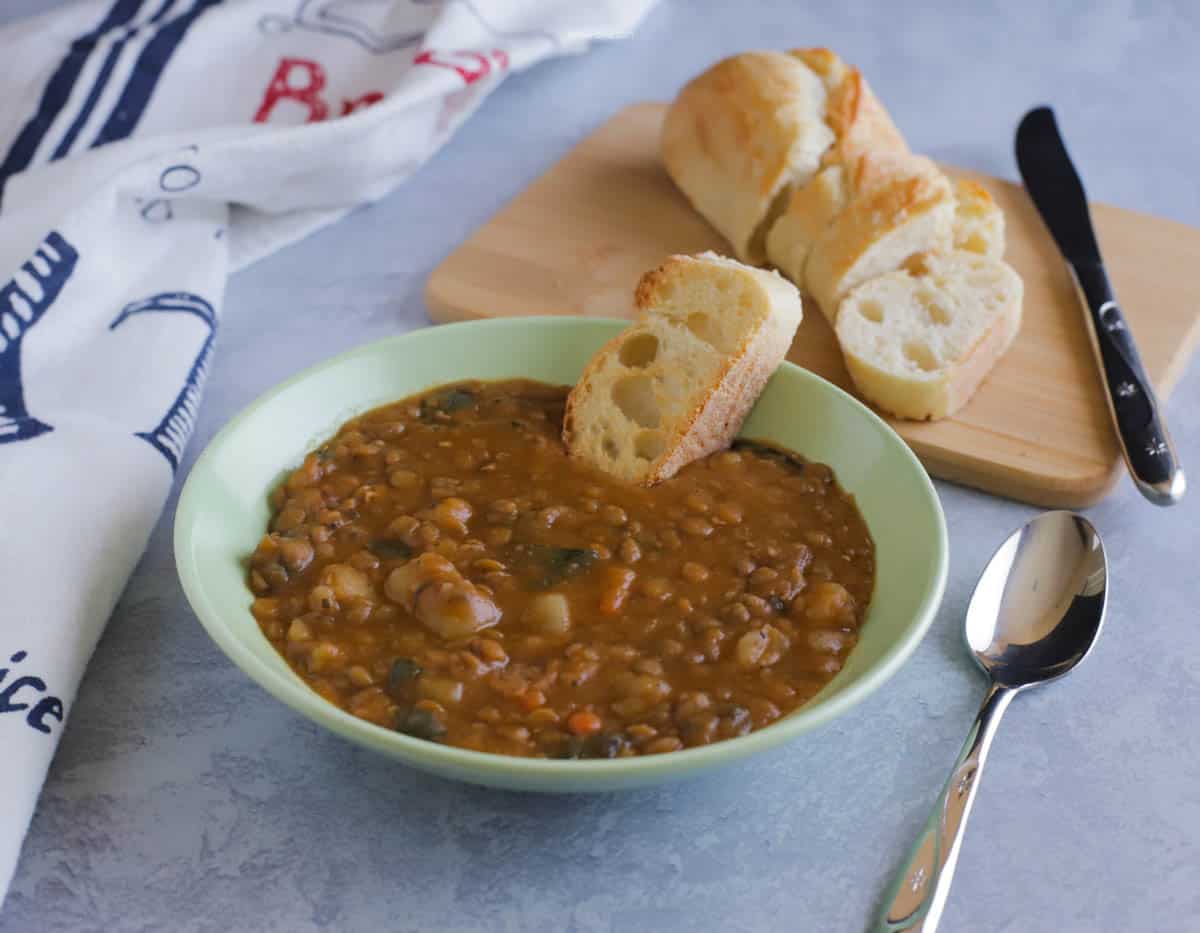 Vintage Recipes Can Be Healthy!
There is a perception that vintage recipes are all casseroles and other comfort foods, but that's definitely not the case! While certainly there are many vintage comfort food recipes, there are also many healthy ones, too. Mid century cooks were looking for economical meals that were easy to stretch and could feed the whole family, perhaps for a couple of nights. Homemade soups certainly fit the bill for that.
What Exactly Are Lentils?
Lentils are legumes, a vegetable in the same family as peas and beans. They are low in calories (230 per cup) high in protein, and have a positive affect on cholesterol and blood sugar levels. They are filling and play a positive role in weight loss diets.
Dried lentils come in different varieties, including green, brown, red, and yellow to name a few. Red and yellow lentils are mild and the fastest cooking, usually only taking 15-20 minutes. They are often found in Middle Eastern and Indian dishes. Red lentils turn smooth as they cook. Brown and green lentils need to cook longer, and will retain a good part of their shape and texture. Brown lentils are a common component of veggie burgers, and green lentils are most commonly used in soup. This soup recipe was made with dried, green lentils.
Original Simple Lentil Soup Recipe
This recipe came from a book of mid century recipes I purchased from someone in Salt Lake City. I like it because rather than having a broth base, it's made with water and a little tomato juice (I used organic tomato juice.) This means per serving it has a very low sodium content, except for what you add. I added a tablespoon of Diamond Crystal Kosher Salt. The total sodium per serving came out to 512 mg., or 22% of the U.S. recommended daily allowance. This is considerably lower than a canned soup, plus there are no preservatives.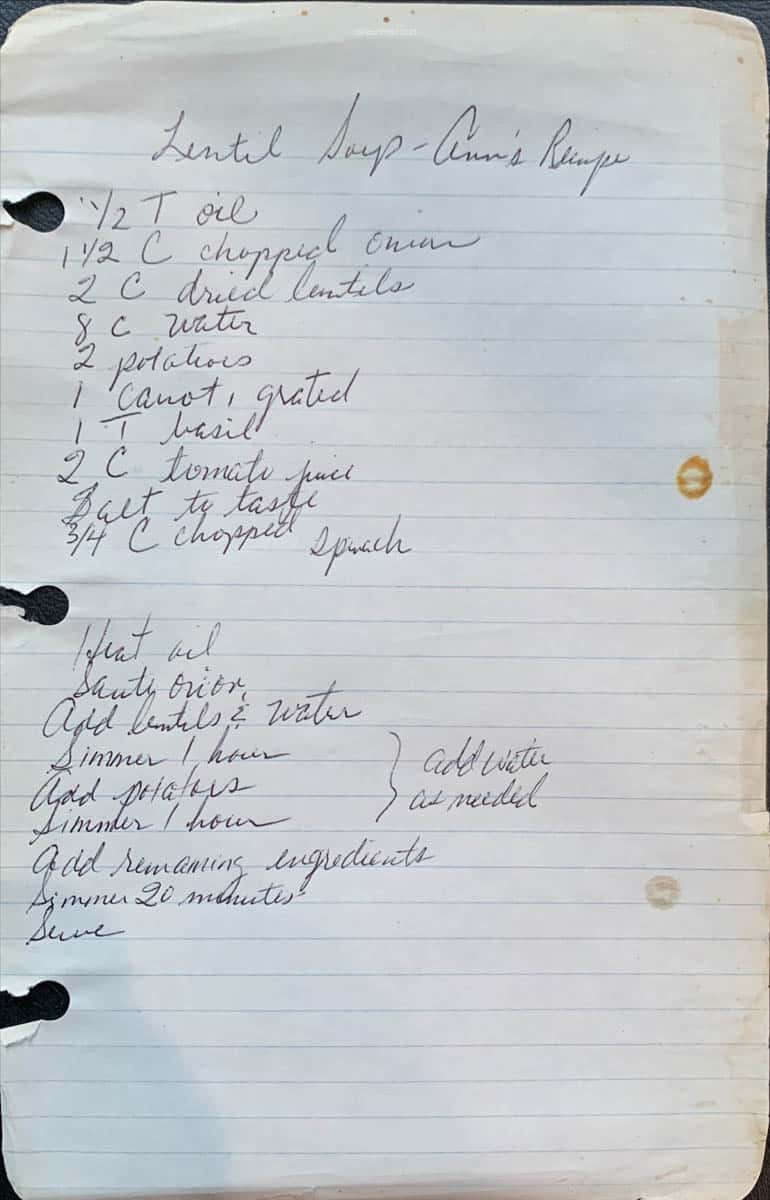 What You Need to Make Simple Lentil Soup
This is one of those recipes you can vary depending on what vegetables you have in your kitchen. I followed the handwritten recipe using an onion, carrot, spinach, and potatoes, and I also added a rib of celery. I found that it didn't need quite as much cooking time as the original recipe said, so I cut it down by a half an hour and it was definitely ready to eat.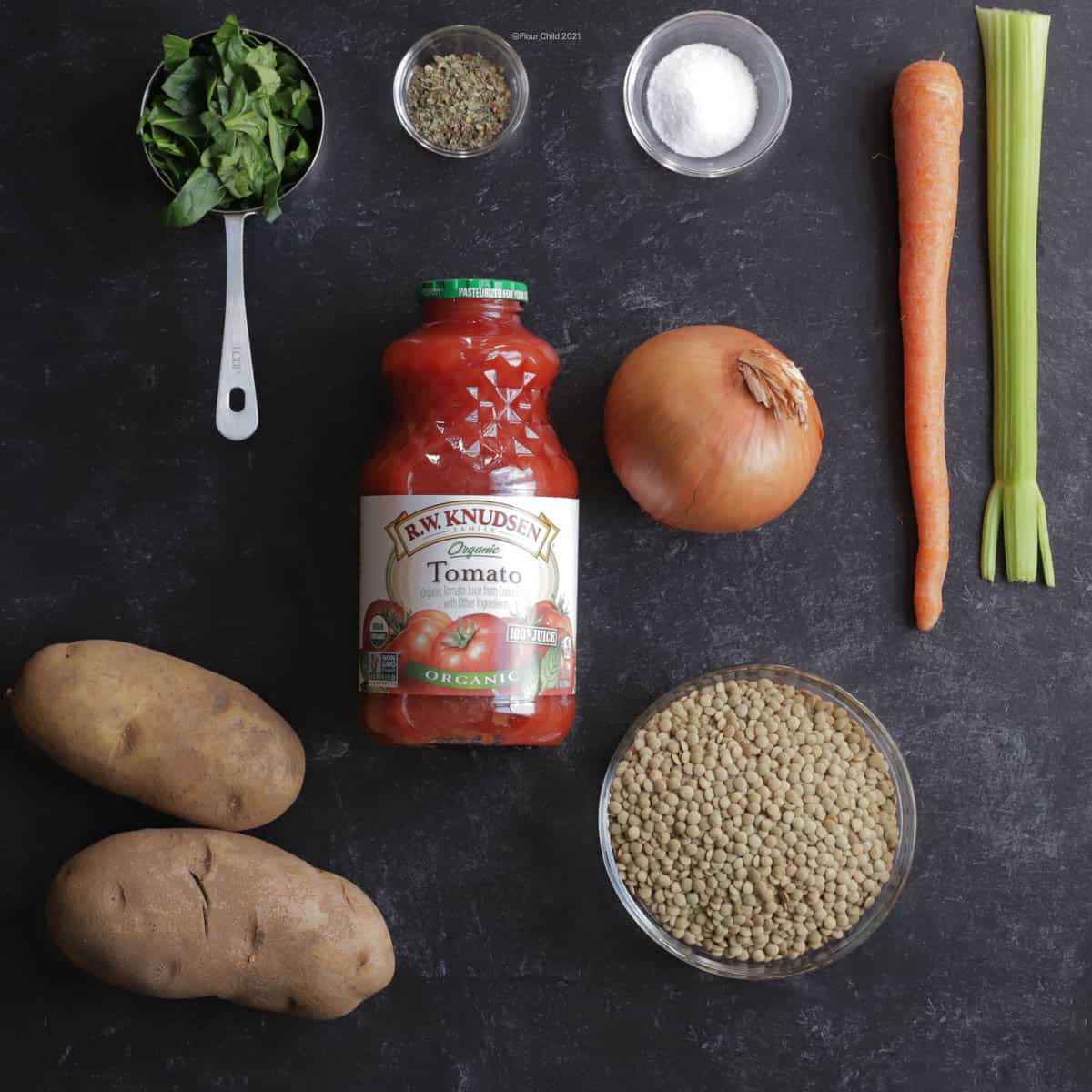 Hints for Making Simple Lentil Soup
Rinse lentils under running water, then sort through and remove any chipped or malformed lentils or other debris that might be mixed in.
Sauté the onion, garlic, carrot, celery for 8-10 minutes, allowing the vegetables to soften and flavors to meld for the soup base.
Simmer on low, covered, once liquids are added, and stir often. If you don't, the lentils will stick to the bottom of the pot.
Store in refrigerator for up to 3 days, or in an airtight container in the freezer for up to 3 months.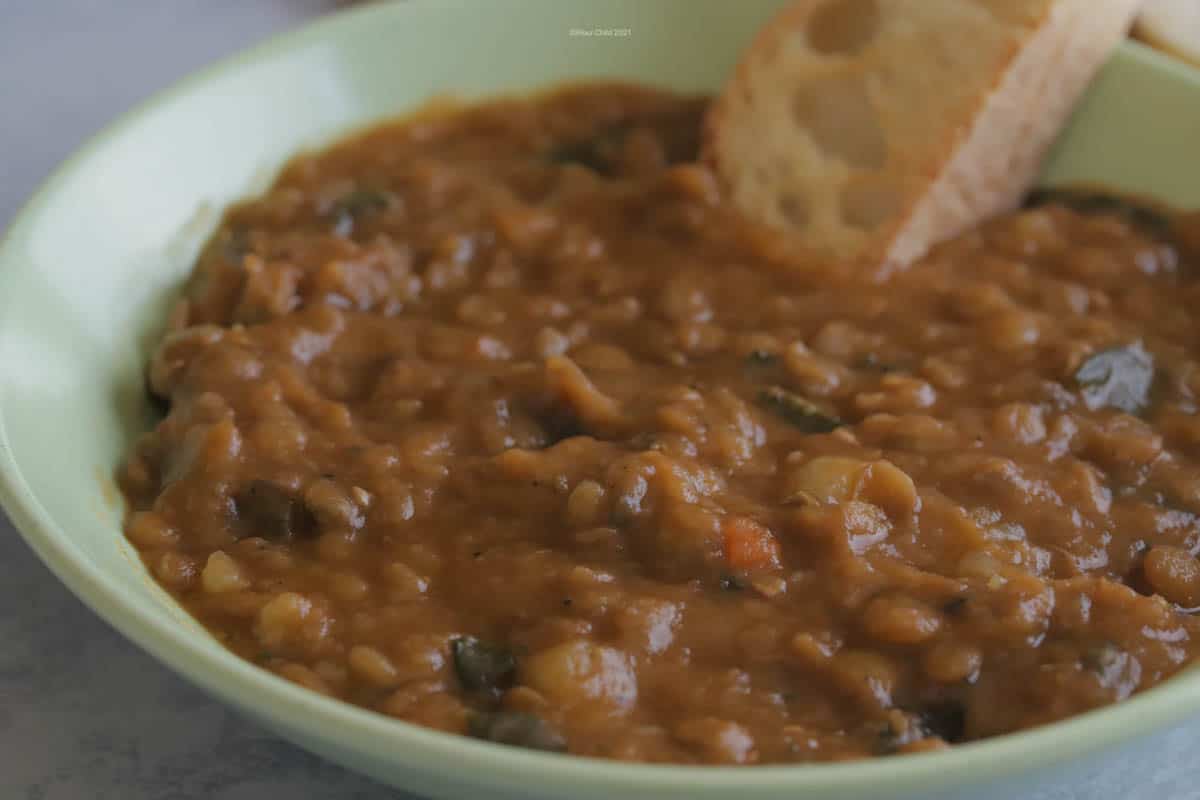 If you love healthy soup recipes, check out our delicious Vegetable Barley Soup, Navy Bean Soup, and Split Pea and Ham Soup.
If you have a vintage recipe you'd like share with us for possible publication, please scan it and email it to [email protected]. We'd love to hear from you!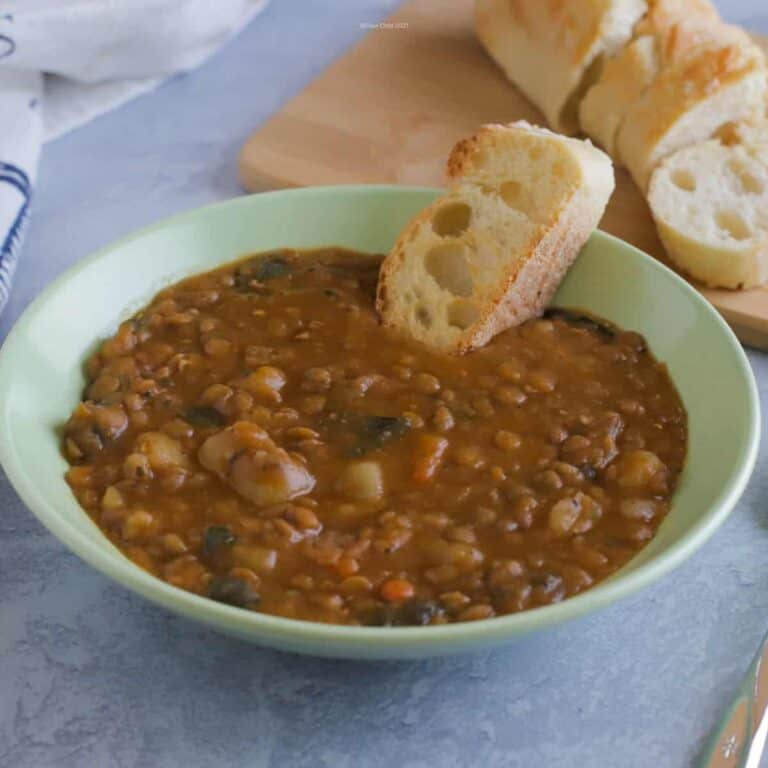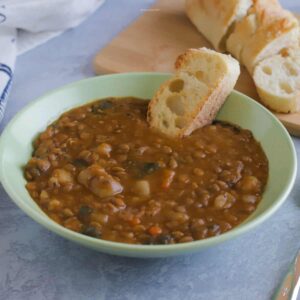 Simple Lentil Soup Recipe
This simple lentil soup recipe is a heart healthy, naturally vegan dish that is high in protein, fiber, vitamins and minerals.
Ingredients
1

tablespoon

vegetable oil

1-½

cups

diced yellow onion

1

carrot

diced

1

celery rib

sliced

8

cups

water

2

cups

tomato juice

1

tablespoon

basil

2

cups

lentils

rinsed

2

russet potatoes

cubed

1

tablespoon

kosher salt

¼

teaspoon

black pepper

1

cup

fresh

chopped spinach leaves
Instructions
Heat oil in stock pot over medium-low heat. Sauté onion, carrot, and celery for 8-10 minutes, until vegetables are soft and onion is translucent.

Add water, tomato juice, basil, and lentils to pot. Bring to boil, then turn down heat, cover, and simmer for 45 minutes.

Add potatoes, kosher salt and pepper. Cover, and continue to simmer for an additional 45 minutes, stirring frequently. If soup has cooked down and is too thick, add water to desired consistency.

Add spinach, and cook, uncovered for 20 minutes. Serve and enjoy!
Nutrition
Serving:
1
cup
Calories:
199
kcal
Carbohydrates:
35
g
Protein:
12
g
Fat:
2
g
Saturated Fat:
1
g
Polyunsaturated Fat:
1
g
Monounsaturated Fat:
1
g
Trans Fat:
1
g
Sodium:
723
mg
Potassium:
715
mg
Fiber:
13
g
Sugar:
3
g
Vitamin A:
1457
IU
Vitamin C:
15
mg
Calcium:
54
mg
Iron:
4
mg