Hot, strong coffee mixed with smooth Irish Whiskey and topped with frothy whipped cream makes the Irish Coffee hard to resist at any time of year.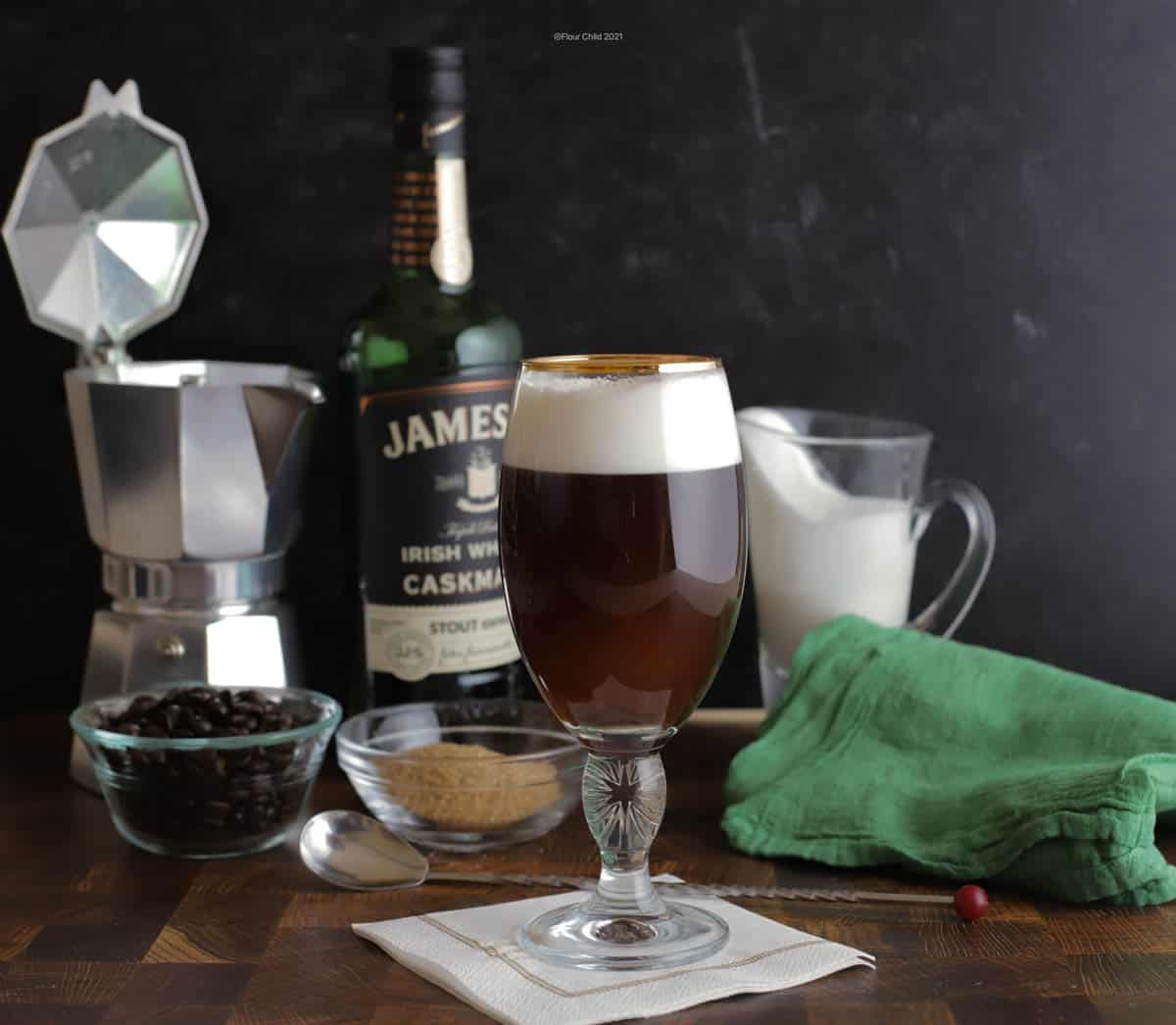 The Cocktail that Saved an Industry (Maybe)
As someone who used to be a very frequent flier, I admit that it was a pretty cushy way of life. On Monday mornings I jetted across the country, and sometimes across the world, to get to work. However, in the 1950's international flying was not nearly as comfortable or seamless. Especially given the ever-present storms off the northern Atlantic Ocean at the flying boat base in Foyness, Ireland.
Legend has it that after a particularly harrowing aborted flight, upon return to the terminal in the cold and wet weather, a lucky group of travelers were rewarded with a hot coffee spiked with a little something 'extra' from the base chef, Joe Sheridan. The passengers loved it and it became a regular drink for international passengers flying from Europe to the United States. A travel writer who enjoyed the drink brought the recipe to San Francisco where it really took off. Joe Sheridan later moved to San Francisco to work at the Buena Vista Hotel where he taught many others how to make this lovely cocktail.
In the mid century Irish Coffee became so popular that many claimed it was the only thing that kept the Irish distilleries going in the economically trying post-WWII Irish economy.
What Type of Coffee Should You Use?
My Irish Coffee is really an international affair. To brew coffee later in the day, I love using my Bialetti Moka Pot, available at most big box and online stores. This iconic aluminum stove top coffee maker uses boiling water from pressurized steam that passes over packed grounds to quickly brew up a thick, rich, dark coffee with a wonderful crema that is similar to an espresso.
Irish Coffee Ingredients Are Pretty Simple
Here's all you'll need to mix like a pro:
Fresh, strong coffee
Irish Whiskey
Demerara sugar
Heavy whipping cream
How to make Irish Coffee
Pour the coffee first then gently pour the soft-whipped cream onto the back of a bar spoon to 'float' the cream into the drink.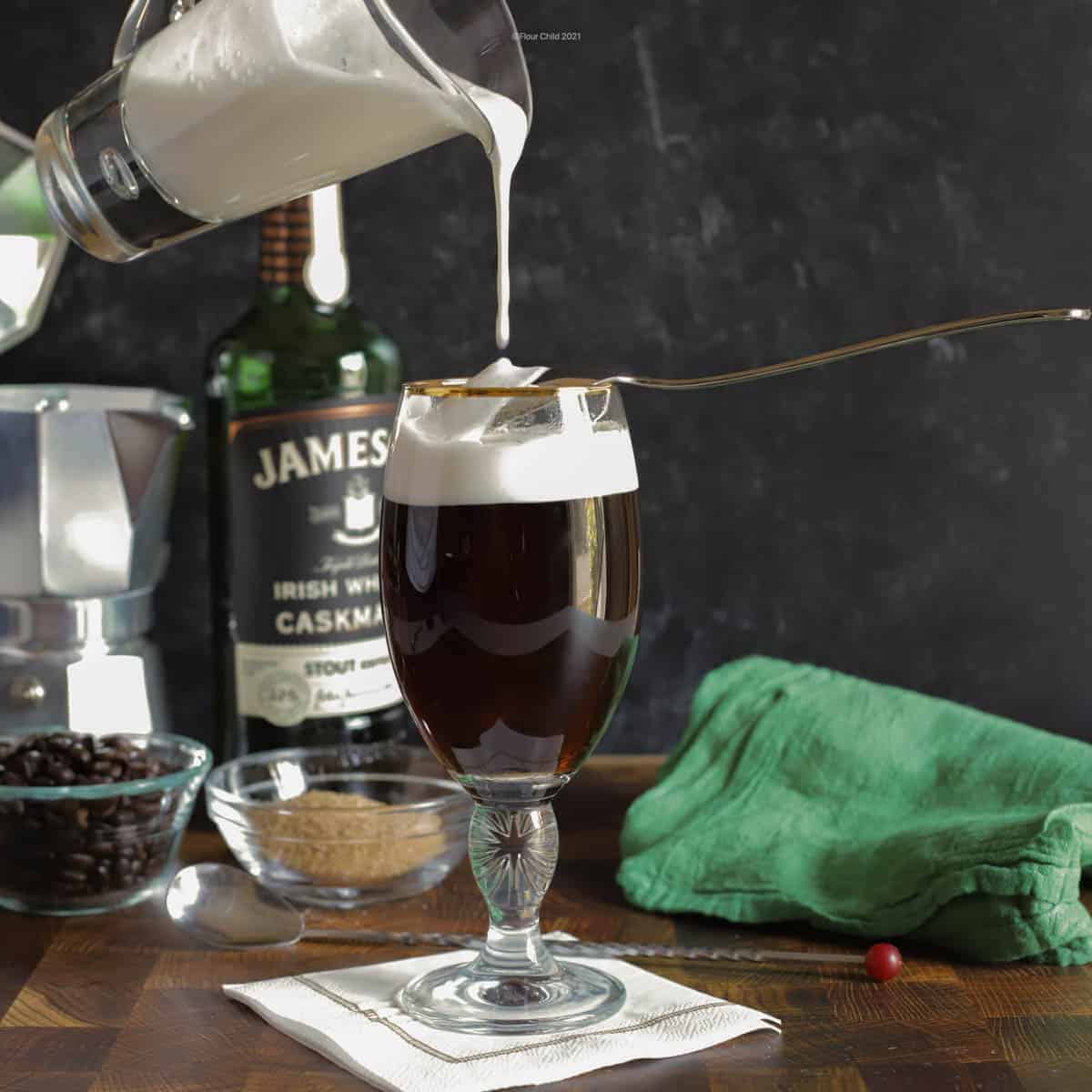 How to Serve It
You can use any coffee mug or even a fancy one with a stem. I prefer this Irish coffee mug I picked up during my travels years ago.
Tips for a Successful Irish Coffee
While this is a pretty straightforward cocktail to make, keep these things in mind:
Use fresh heavy whipping cream and not the spray-bottle type, because those are usually made from oils that will leave nothing but a greasy stain on your drink.
Whip the cream just enough so that it thickens, and stop before it forms 'peaks'. You want to be able to gently pour it into your drink so that it 'floats' on top of the coffee.
I like to use coffee I would drink by itself in my cocktails. If you use cheap, bitter-tasting coffee thinking that the sugar and whisky will cover it up, you'll be disappointed with an inferior drink.
I use a large spoon turned upside down, then pour the cream onto that and let it settle on top of the drink.
Frequently Asked Questions
What alcohol is in an Irish coffee?
Irish Whiskey is used for this drink.
Why does the cream sink in my Irish coffee?
Be careful to use a heavy whipping cream that has been beaten to a froth but is still pourable. Remember to use an upside down bar spoon to gently pour the cream onto the spoon so that it sits on top of the coffee.
Should you Stir Irish coffee?
I say no, you should drink the coffee 'through' the cream.
Do you have a favorite Irish Whiskey that you recommend?
My go-to is Jameson's, but there are many others to choose from.
Before you go, did you try this cocktail? Why not leave a comment in the Comments section along with a rating? I always appreciate hearing from you and getting your feedback.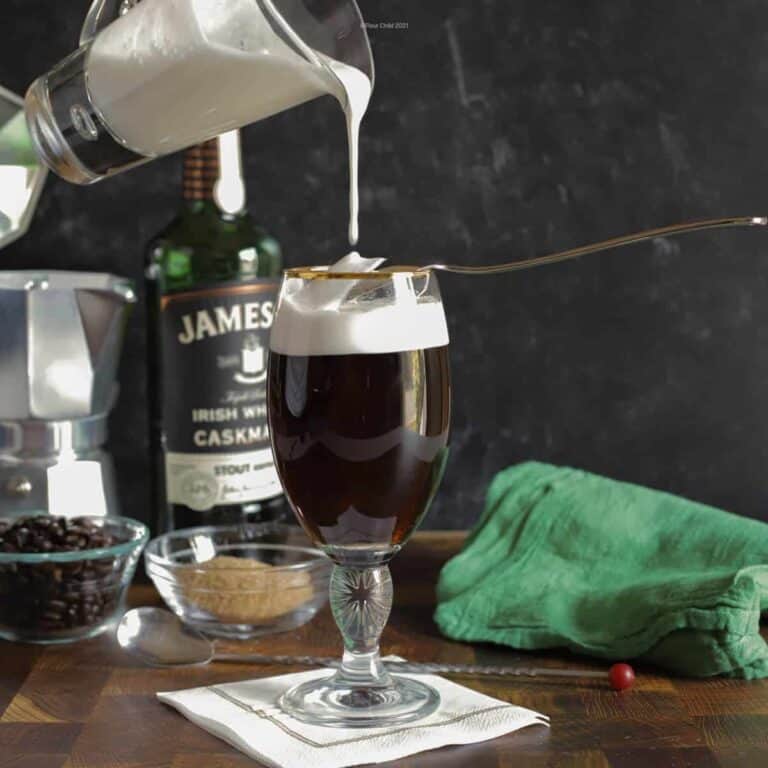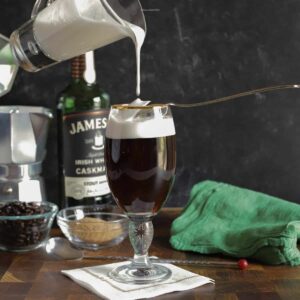 Authentic Irish Coffee Recipe
Thick, sweet, hot Irish Coffee will warm you up no matter what time of year. 
Ingredients
3-4

ounces

fresh

hot coffee

1 ½

ounce

Irish Whiskey

1-2

teaspoons

of Demerara sugar

2

ounces

fresh heavy whipping cream
Instructions
Add 1 to 2 teaspoons of Demerara sugar to glass 

Pour fresh, hot coffee into glass until about ¾ full

Stir with a bar spoon to dissolve the sugar 

Add jigger of Irish Whiskey

Use a bar spoon turned upside down and gently pour whipped cream onto the spoon and let it 'float' on top of the coffee
Notes
Some folks will say to pre-heat the glass using hot water, but since I use fresh hot coffee I've never needed to do that.
Ensure that you do not over whip the heavy cream. You want to be able to still pour it onto the drink.
Nutrition
Calories:
377
kcal
Carbohydrates:
18
g
Protein:
4
g
Fat:
22
g
Saturated Fat:
13
g
Polyunsaturated Fat:
1
g
Monounsaturated Fat:
6
g
Cholesterol:
78
mg
Sodium:
48
mg
Potassium:
528
mg
Fiber:
7
g
Sugar:
4
g
Vitamin A:
4446
IU
Vitamin C:
27
mg
Calcium:
244
mg
Iron:
4
mg