The Daisy is a classic cocktail family of fruit-forward drinks that have likely been the inspiration for several mid century cocktails we all enjoy today.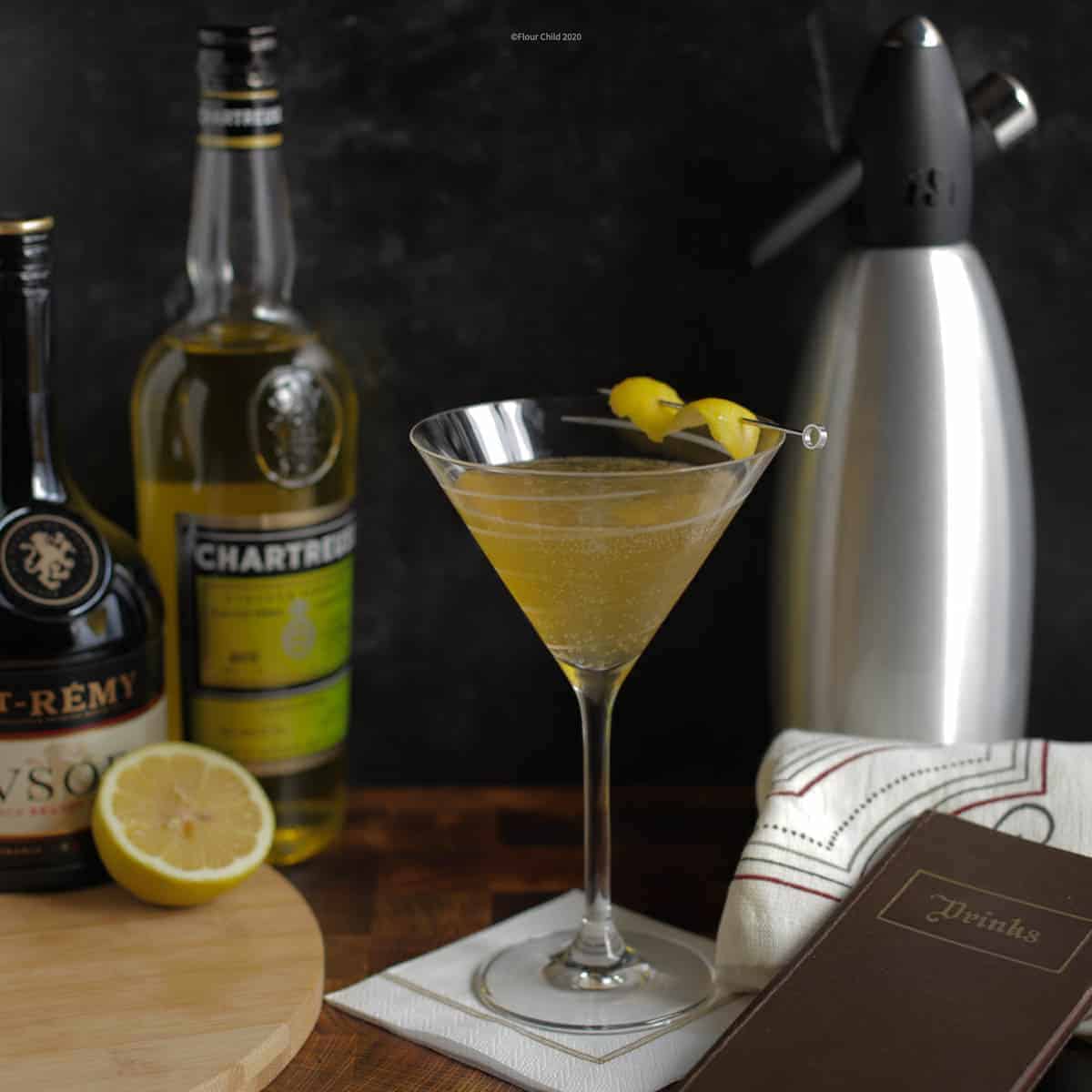 Picking a Daisy is the Hard Part
These popular cocktails have been around since at least the late 1800s and are part of the Sour family of drinks. The Brandy Daisy is the oldest known version, and has produced many alternatives and variations as it evolved. By the mid-1940's, many recipes added new ingredients like grenadine, orange liqueur (or an orange slice), lime juice, and powdered sugar. In Jacque Straub's book "Drinks", (as seen in these photos) other juices, like raspberry, make an appearance. He also lists out base spirit variations such as the Gin Daisy. There's even a recipe for a Chocolate Daisy! But by the mid century period, the Daisy became less complicated. It settled on just a few ingredients that have stayed stable even until today.

The Daisy has inspired several famous drinks such as the Sidecar, and, so I'm told, the Tequila Daisy or Margarita -- which is the Spanish word for "daisy." One look at the list of ingredients below in the original recipe, and you can see that just substituting tequila for brandy gets you close to how we make Margaritas today.
The family is Always Adding New Members
It is claimed that the more recent 'it' cocktail of the 90's, the Cosmo, is a descendent of the Daisy's simple base spirit/sweetener/fruit juice combination. Take out the Brandy and substitute it with Vodka, and once again you can see its roots (no Sex in the City reference, I promise!)
Ingredients for Two Variations of The Daisy
Just choosing which Brandy Daisy recipe to make among all the variations can work up your thirst! So, to taste the evolution of the drink I've chosen two different recipes. One is an original recipe and the other is a more modern version.
| | |
| --- | --- |
| A Common Modern Daisy Recipe | One of the Original Daisy Recipes* |
| Brandy | 3-4 Dashes gum syrup |
| Yellow Chartreuse | 2-3 Dashes Curacao Liqueur |
| Lemon Juice | Juice of half small lemon |
| Seltzer Water or Sparkling Water | One small wine glass of Brandy |
| | Two Dashes of Jamaica Rum |
| | Seltzer or Club Soda Water |
The most common version of the Brandy Daisy we drink these days has a much simpler list of ingredients.
* As seen in "The Bartenders Guide or How To Mix Drinks: The Bon Vivant's Companion," the early edition of Jerry Thomas' book, 1876, 2nd Edition. This is the oldest recipe I have found.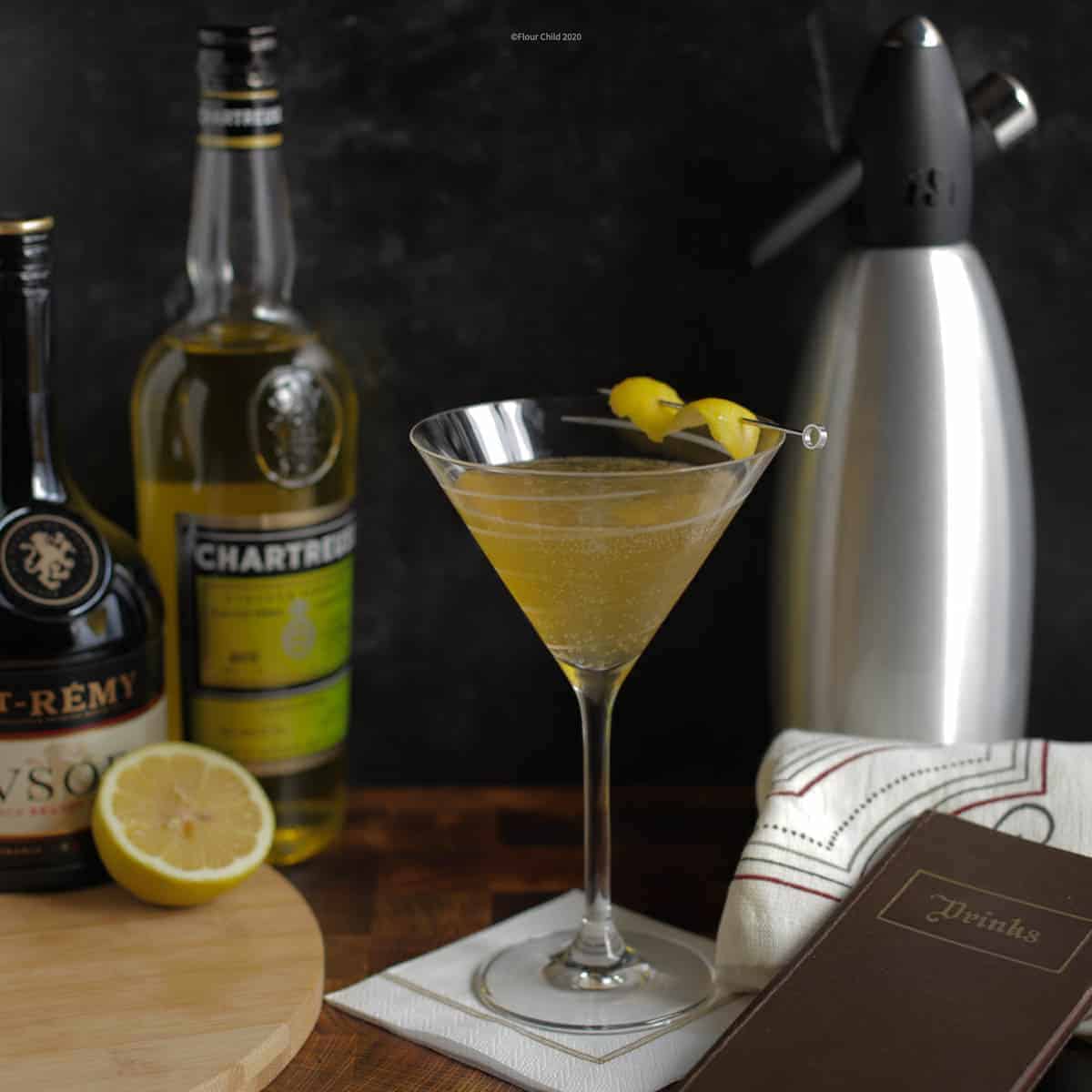 I decided to perform a bit of a "taste test" between these two Daisy recipes to see which one we would prefer. I found the modern recipe to be very drinkable and similar to a Sidecar. The Yellow Chartreuse gave it a more complex, floral, earthy flavor than more common orange liqueurs (you can also use Green Chartreuse.) The 1876 recipe tasted very smooth with none of the rough edges you might find in a Sour cocktail. I preferred the original recipe and Nancy really liked the modern version made with Chartreuse. By the way, if you're not familiar with Chartreuse, then you really owe it to yourself to get a bottle of this wonderful liqueur. I'm a sucker for anything made by monks using a recipe from the 1600's, and this does not disappoint!
Bar Tools Needed
These drinks require several tools and accessories that a bar should have, such as:
Cutting board
Bar knife
Citrus juicer
Cocktail shaker
Strainer
Seltzer bottle (for a splash of soda)
Tips for Success
When mixing up a Daisy, keep these things in mind for a successful batch:
Use only fresh lemon juice. Anything from a bottle will most likely taste overpowering.
Use a cocktail shaker half-filled with fresh ice cubes or some cracked ice. Strain into a chilled cocktail glass (not a rocks glass or old-fashioned glass) to get the most out of your drink.
Try using gum syrup (or the French spelling of gomme.) It will give your drink a richer taste than regular simple syrup, and you can easily find it in liqueur stores or online. You could also try making it at home since it is a 2:1 sugar to water mixture that adds powdered gum arabic.
Garnish with a simple twist of fresh lemon. No mint leaves or maraschino cherry for this cocktail!
FAQ

What's the difference between a Daisy and a Sour?

A Daisy is more or less a Sour that uses a liqueur rather than just a measure of sugar, or sweet syrup/sugar syrup.

Why is it called the Daisy 'Family' of drinks?

It is often referred to as a 'family' because by definition a Daisy became the prototypical recipe for a cocktail, meaning that it has a base spirit, an acid and a sweet. So you can see how that combination encompasses many drinks that trace their lineage to the Daisy, such as the Sidecar and Margarita.

Can you use Triple Sec in place of Curacao?


Yes, Triple Sec is an orange liqueur like Curacao, and they can be used interchangeably in this drink or in others, such as an Orange Cordial.

The Daisy is a wonderful cocktail, especially if you like fizzy sour drinks which are popular here in Southern California. You can follow one of the many recipes for the first Daisy from the late 19th century, try a more modern one, or create one of your own recipes. Either way, it's so much fun to experiment! I like to add a little Grand Marnier for a touch of sweetness with a hint of orange. There is no single drink that is more versatile! Which Daisy cocktail your favorite?
If you're looking for some refreshing classic cocktails, also try the Amaretto Sour, Tom Collins, Whiskey Sour and the Brandy Alexander.
Before you go, did you try this cocktail? Why not leave a comment in the comments section along with a rating? I always appreciate hearing from you and getting your feedback.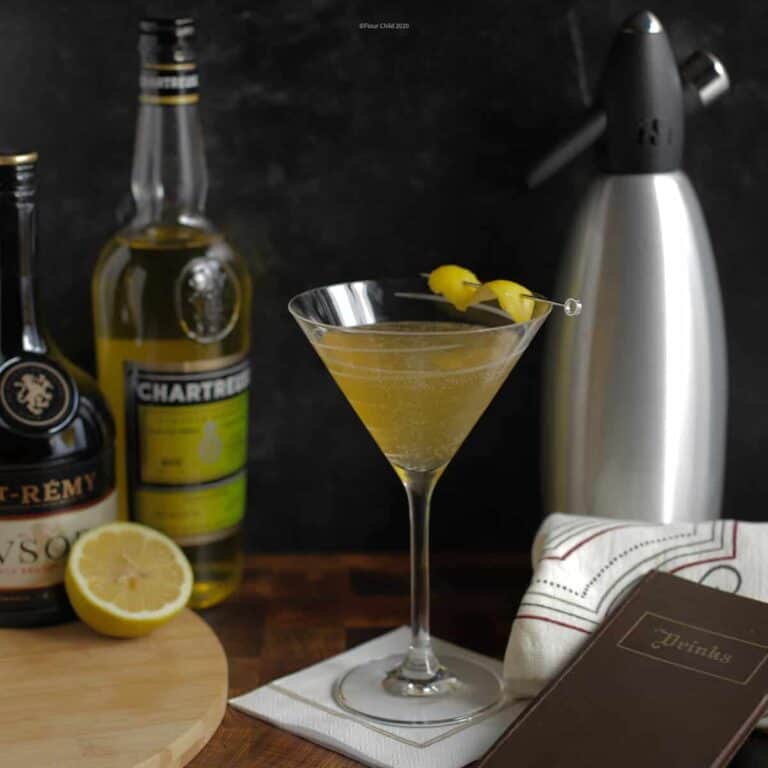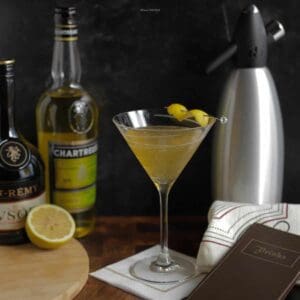 The Daisy is Not Just a Drink -- It is a family of Cocktails
The tangy Daisy family of cocktails is ever changing and growing, making it hard to 'pick' just one Daisy!
Ingredients
The variation of the Brandy Daisy from 1876:
¾

Ounces

Curacao liqueur

¾

Ounces

Gum syrup

¾

Ounces

Fresh lemon juice

¾

Ounces

Jamaica rum

1 ½

Ounces

Brandy

Splash of seltzer or club soda
Modern variation of the Brandy Daisy recipe:
1 ½

Ounces

Brandy

¾

Ounces

Yellow Chartreuse

¾

Ounces

Fresh lemon juice

Splash of seltzer or club soda
Instructions
The directions are the same regardless of which variation you choose to make:

Add one scoop of cracked ice to a cocktail shaker.

Pour in all ingredients.

Shake and strain into a cocktail glass.

Pour in sparkling water or seltzer to fill the glass.

Add a lemon twist for garnish.
Notes
Regardless of which recipe you choose, adding in a quality spirit will always make for a better tasting drink.
Feel free to substitute bourbon or gin for the brandy.
Nutrition is calculated for the modern version.
Nutrition
Calories:
181
kcal
Carbohydrates:
10
g
Protein:
1
g
Fat:
1
g
Saturated Fat:
1
g
Sodium:
1
mg
Potassium:
23
mg
Fiber:
1
g
Sugar:
9
g
Vitamin A:
1
IU
Vitamin C:
8
mg
Calcium:
1
mg
Iron:
1
mg