This tart and frothy drink, whipped up with egg whites, is enjoying popularity once again thanks to Leonardo DiCaprio's character in the movie Once Upon a Time, in Hollywood.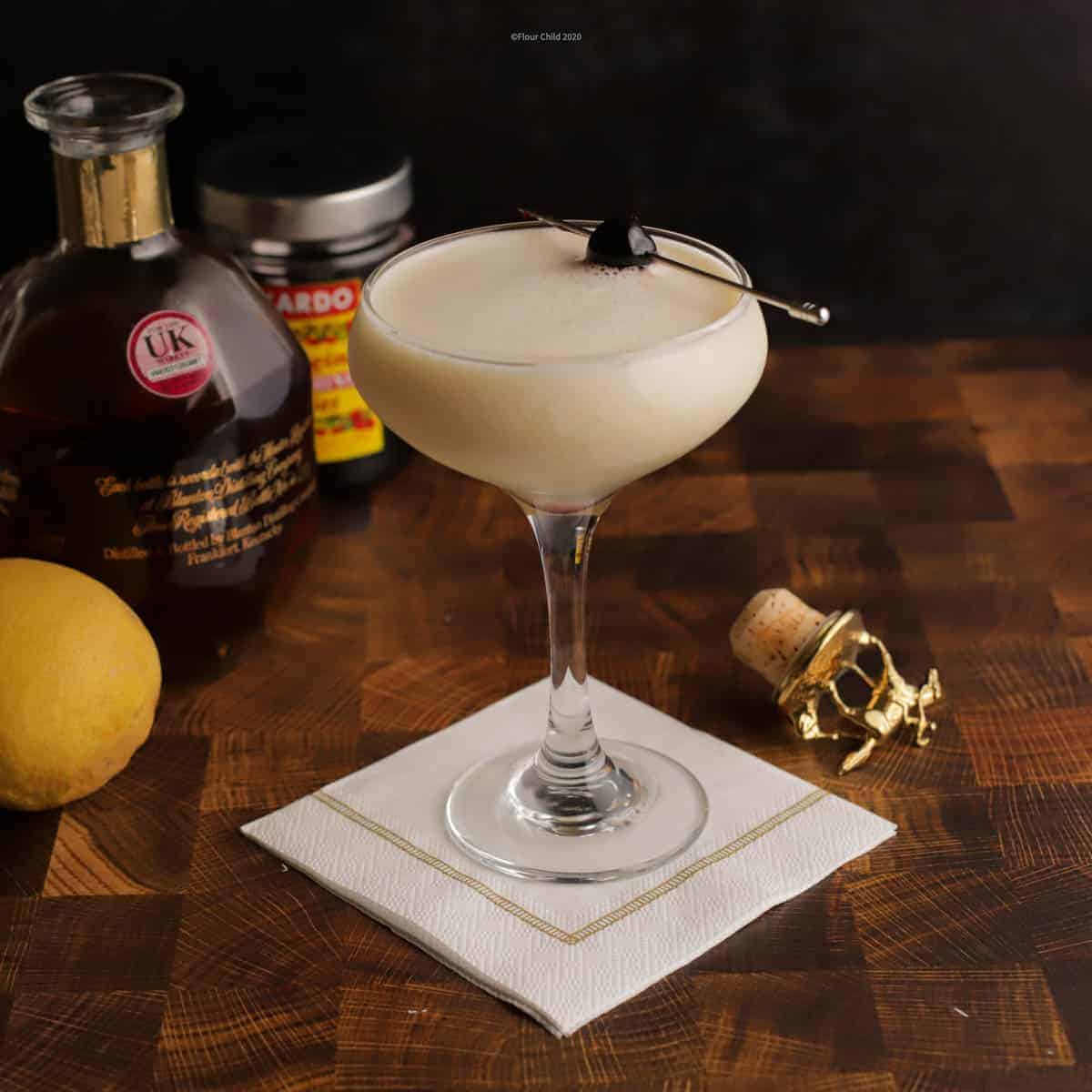 In our house we've had many debates about cocktails made with egg white. Nancy's great-grandfather was a famous bartender who wrote a drinks guide in 1914. In fact, I use his book to research drinks, and it is shown in some of our cocktail photos. The first time we read through it we noticed many drink recipes contained egg white. Nancy thought it sounded gross. I couldn't really disagree.
The last time I gave much thought to drinking raw eggs was when I watched Sylvester Stallone do it in Rocky. (Yes, I tried it a few times back in the day. No, I didn't get sick. Yes, I think it's gross now.)
So, it was with some trepidation one night when, at our speakeasy, the bartender served me a drink made with egg white. Much to my surprise, it tasted great. In addition to giving it more texture and flavor, it just looks frothy and delicious. Now I'm a believer!
Which brings us to the Whiskey Sour. This cocktail originated around the time of the American Civil War, and has fallen in and out popularity several times since. I was recently reminded of this classic while watching one of the coolest movies about the end of the mid century era, Once Upon a Time, In Hollywood. The main character, Rick Dalton, shakes one up at his home bar -- egg white included -- and pours it into an ornate beer stein to sip while learning his lines as he floats in his pool. The only problem comes when, the next morning, he laments having had eight of them!
How to Make a Whiskey Sour. Wet or Dry?
There are a few different ways to make a drink containing egg white. When using a cocktail shaker you can mix it either "wet" or "dry," meaning with or without the ice. You can even make it wet, strain it out, remove the ice and shake it "dry" again. You are shaking to ensure you get the egg integrated into the other ingredients to form that smooth, creamy topping. Or you can mix the egg white separately with a whisk until they are nice and thick to give your cocktail a frosty look.
What you'll need
This is a classic recipe that consists of that bartending holy trinity: spirit, sugar, citrus. You should have:
Bourbon
Fresh lemon juice
One fresh egg
Tips for a successful Whiskey Sour
There's not much to making this drink, but follow these tips to make it great every time:
Use fresh squeezed lemon juice.
Test to find your balance of sugar to lemon. I sometimes cut back the lemon to ¾ oz and up the simple syrup to a full ounce to make it less sour.
Start with a dry shake and then add ice and shake it again. Shake it a little longer than you think you should, and keep going!
If you follow the directions above, you will end up with a frothy drink--which I happen to like, but not everybody does. If you prefer a less frothy drink, shake for less time and let it sit and separate.
Frequently Asked Questions
Why do you put egg white in a whiskey sour?
Bartenders add whipped egg whites to a cocktail to give the drink a more rich, silky drinking texture.
Is it safe to drink egg white in cocktails?
The risk is apparently minimal and here in the US it is safe enough. Many of the eggs we use to cook with are pasteurized and most chickens are now vaccinated for Salmonella. However, like anything in life really is safe!
Similar Cocktails
You may also enjoy these other cocktails:
The Smooth Classic Manhattan cocktail is Easy to Enjoy
The Original Old Fashioned Cocktail is a Longtime Favorite.
How do you make your Whiskey Sours with or without egg white?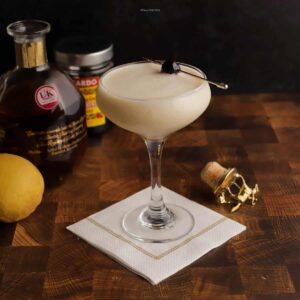 Classic Whiskey Sour Cocktail with Egg White
This mid 1800's classic cocktail combines the holy trinity of cocktail making: spirit, sugar, and citrus to form a smooth, satisfying drink that oozes old school charm.
Ingredients
2

ounces

Bourbon

1

ounce

fresh squeezed lemon juice

¾

ounce

simple syrup

1

small

egg, separated
Instructions
Add the egg white, bourbon, lemon juice and simple syrup into cocktail shaker. Shake for 15 seconds.

Add scoop of ice to shaker and shake vigorously for another 15-20 seconds.

Strain into a coupe glass and top with a Luxardo cherry for garnish.
Notes
You can make this drink without the egg white if you like
If you are unsure how to separate out an egg yolk, just follow these simple steps:
Crack fresh egg over a small bowl.
Grasp a half of egg shell in each hand and pour the egg yolk back and forth between egg shells letting the egg white separately fall into the dish.
In order for this drink to work, you must not get any yolk in the drink mixture.
Nutrition
Calories:
249
kcal
Carbohydrates:
18
g
Protein:
5
g
Fat:
4
g
Saturated Fat:
1
g
Polyunsaturated Fat:
1
g
Monounsaturated Fat:
1
g
Trans Fat:
1
g
Cholesterol:
141
mg
Sodium:
67
mg
Potassium:
96
mg
Fiber:
1
g
Sugar:
16
g
Vitamin A:
207
IU
Vitamin C:
11
mg
Calcium:
26
mg
Iron:
1
mg