This mid century Brandy Alexander cocktail -- full of chocolatey decadence -- will rock your world. It's no wonder John Lennon was known to have a few too many!
My personal recollections of the Brandy Alexander
I always think of John Lennon when I drink a Brandy Alexander cocktail. It is said that it was a favorite drink of his when he was out on the town in Los Angeles. Apparently he couldn't handle them very well. If you're a Beatles fan like me, you'll know the story of him being ejected from a nightclub for heckling performers while drunk. Okay, not one of his better moments!
Mysterious beginnings
This cocktail hit my list of classic mid century cocktails because it is a close cousin to the Grasshopper, which I covered in another post. Like most cocktails, many people either try to directly take credit for inventing it or for having it named after them. The Brandy Alexander was created in the 1900's and is thought to have sprung from another drink made with gin, named simply "Alexander." Not being a gin guy, I probably won't be mixing that variation. I personally like to imagine that it was named after a Russian tsar, but who really knows? It most likely was named after the bartender that invented it. Like many frozen cocktails, it gained a big following in the 1950's, but slowly faded away by the 1970's. It has gotten plenty of mentions in movies and literature. I'm a little surprised that it is not more popular today.
The drink is pretty simple to make with only three ingredients. The method you use to make it impacts the taste. I've tried it shaken and served over ice and it was a good enough drink, but when I put it in the blender the froth really made it pop. Nancy said it needed to be more chocolatey, so I added a little cocoa powder to the recipe and that completed it. John Lennon was right, it really does taste like a milkshake now. 'Imagine' that!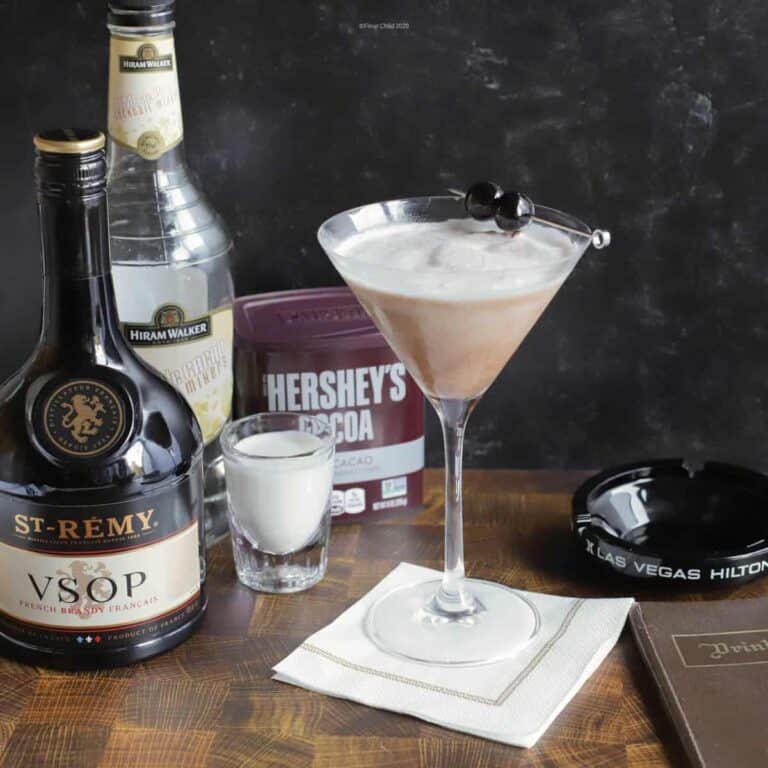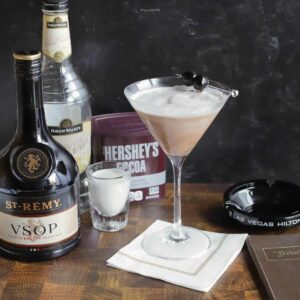 Brandy Alexander Cocktail Recipe
The Brandy Alexander is a cool way to drink a chocolate frozen treat! This mid century cocktail is a favorite for those who like a sweet cocktail.
Ingredients
1 ½

ounces

Brandy

1 ½

ounces

Creme de Cocoa

1 ½

ounces

heavy whipping cream

¼

teaspoon

Hershey's Cocoa powder

Handful of ice cubes
Instructions
Shaken
Pour ingredients into a cocktail shaker and shake vigorously for 30 seconds. Pour into cocktail glass and garnish with cherries.
Blended
Pour all ingredients into a blender and pulse/blend for about 10-20 seconds. Pour into cocktail and garnish with cherries.
Notes
You can use whipped cream as a topping
Try drizzling some chocolate syrup across the top of the drink to add to the chocolate flavor
Add a little nutmeg sprinkled across the top for a flavor variation
Nutrition
Calories:
393
kcal
Carbohydrates:
24
g
Protein:
1
g
Fat:
16
g
Saturated Fat:
10
g
Polyunsaturated Fat:
1
g
Monounsaturated Fat:
5
g
Cholesterol:
58
mg
Sodium:
17
mg
Potassium:
37
mg
Fiber:
1
g
Sugar:
12
g
Vitamin A:
625
IU
Vitamin C:
1
mg
Calcium:
28
mg
Iron:
1
mg