This chicken fried steak with white pepper gravy is more tender and delicious than even Grandma used to make because it's made with ribeye rather than cube steak.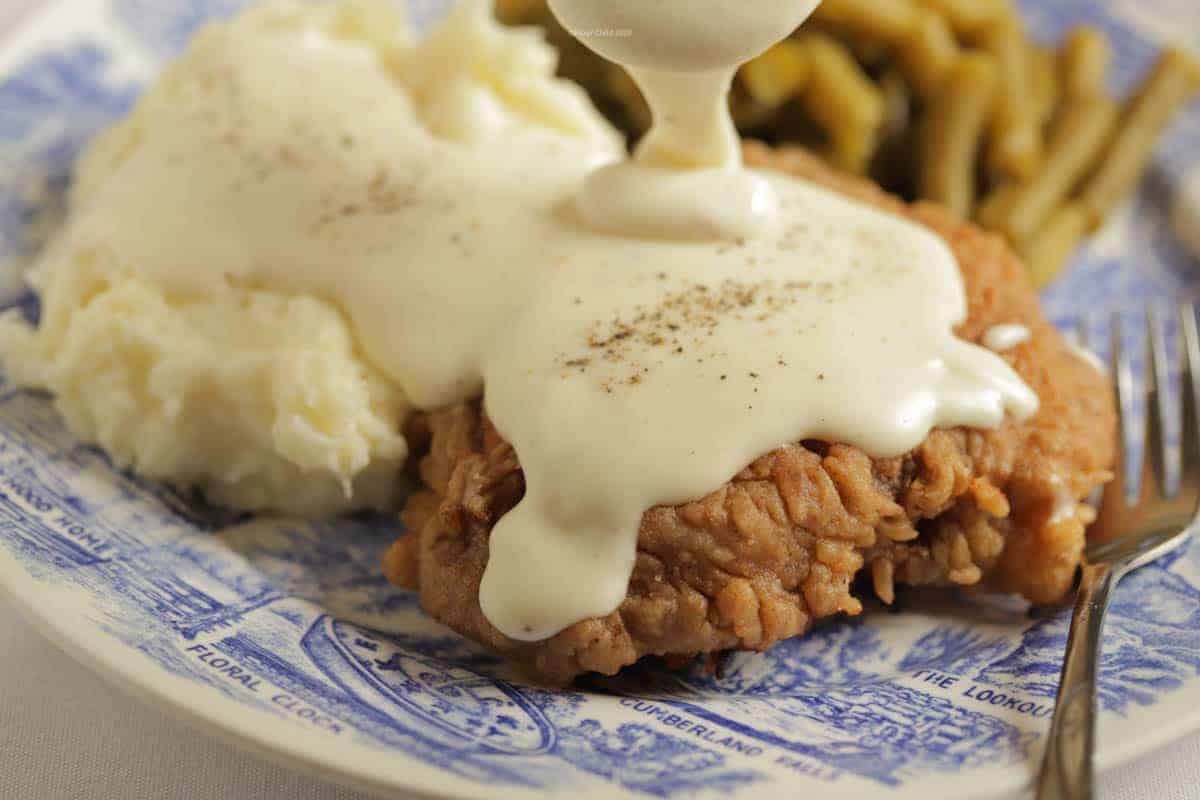 Ultimate Chicken Fried Steak with White Pepper Gravy is the Ultimate Comfort Food
When someone asks me what my favorite comfort food is, chicken fried steak is at the top of the list. Kevin loves it too, and with fall arriving in a few days he has been craving it, so I made it this week. I was lucky to even get this photo shoot done; he nearly bit my arm off in the process. You see, we actually eat the food we photograph after our photo shoots. Many food photographers doctor their foods with things to make them photograph better, but render them inedible. We hate the thought of wasting food, so if it has been featured here we have either eaten it or one of our neighbors has. We rush it from the oven or stovetop to our photography room and then to the dining table. Bentley runs after us picking up any crumbs that have dropped along the way.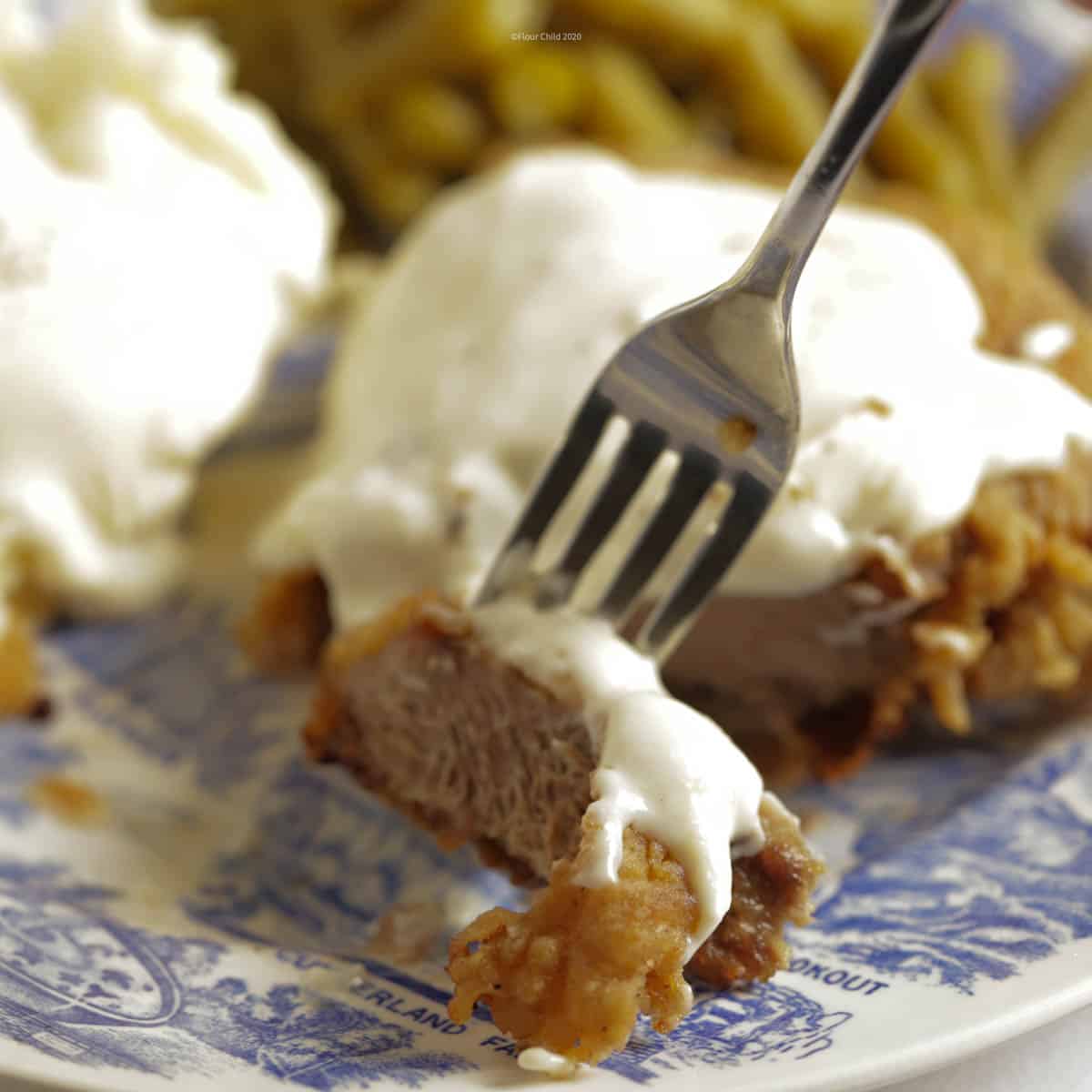 What Exactly is Chicken Fried Steak?
Cube steak is a term for meat that has been pounded flat by a meat tenderizer. The name comes from the shape left on the meat from the pounding, which is called "cubing." The cut of meat is typically top round or top sirloin. In some areas it is also called "minute steak" because it cooks up very quickly. It's called "chicken fried" because it is battered and fried like chicken.
A Dish With Strong Texas Roots
There's no way to know exactly who invented chicken fried steak, but it most likely evolved from German veal cutlets. Its early roots seem to come from Texas, quite possibly from German immigrants who settled there and used a more affordable cut of meat than veal to make their cutlets. However, various restaurants in the state of Texas lay strong claim to its origin.
My mom used to make chicken fried steak the traditional way with cube steaks. Served beside or over mashed potatoes, there was nothing more satisfying on a cold fall or winter night. It was a popular mid century dish for cost conscious cooks because it made lower priced, tougher cuts of meat tender and tasty after it was battered and fried. I've upped the game by switching to the more substantial, tender and flavorful ribeye steaks which are popular in Texas.
There are a Number of Variations of Chicken Fried Steak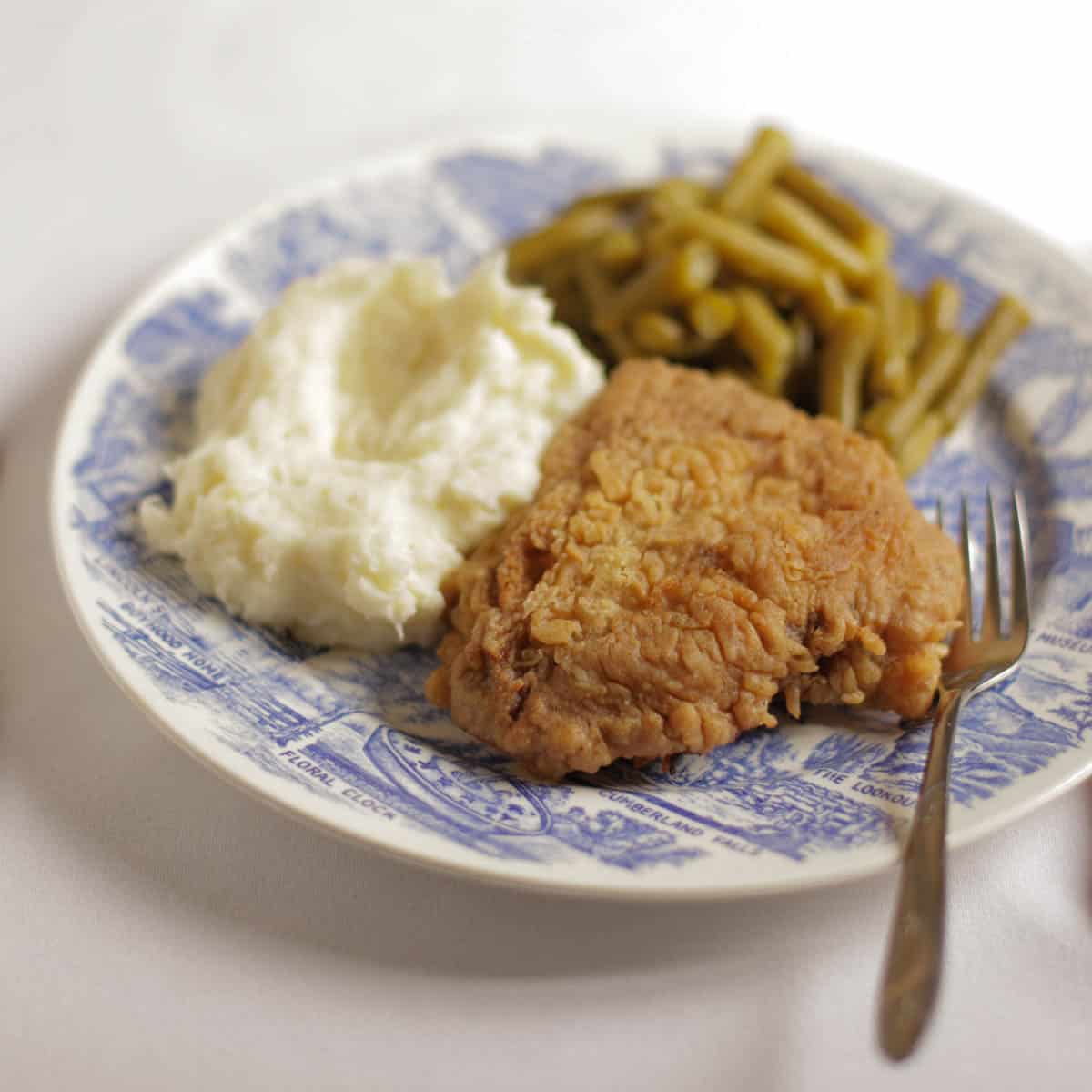 If you have made chicken fried steak before, you may have dipped it in egg and buttermilk, and then in a flour, cracker or bread crumb mixture before frying. Our family makes it differently using no egg at all, but simply a salt water brining dip before coating. You may be tempted to skip or modify this recipe as a result, but just look at that picture! It has not been altered; the steak comes out that beautifully breaded and crunchy. You won't be disappointed!
Here's What You'll Need:
Boneless ribeye steaks
Salt
All purpose flour
Baking soda
Baking powder
Paprika
Onion powder
Garlic powder
Kosher salt
Black pepper
Vegetable Oil
Preparing the Oil for Frying
An electric skillet is ideal for making this dish because you can set it to the exact temperature. If you do not have an electric skillet, of course you can make it in a deep, heavy frying pan. Using a cooking thermometer designed to withstand the high oil temperature is helpful. Otherwise you can judge the correct temperature by simply touching a wooden spoon to the oil. If small bubbles form around the spoon, then the oil is ready for frying. If it is bubbling hard, your oil is too hot and you should turn down the temperature before frying. (Oil temperature that is too high results in food that is overcooked on the outside and undercooked on the inside.) If there are no bubbles, your oil is not yet hot enough. (Oil temperature that is too low will result in food that is soggy and soaked in oil.)
Cooking Tips For Recipe Success
Brine the meat in saltwater for a minimum of 2 hours before cooking
Heat the oil to the proper temperature before putting the steaks in to cook
Set a timer so steaks are cooked evenly on both sides
Preheat an oven to 250 degrees if you will need to keep steaks warm while preparing the gravy
Serving Suggestions
My favorite side dishes with chicken fried steak with white pepper gravy are mashed potatoes and fresh garlic green beans or Southern sweet creamed corn.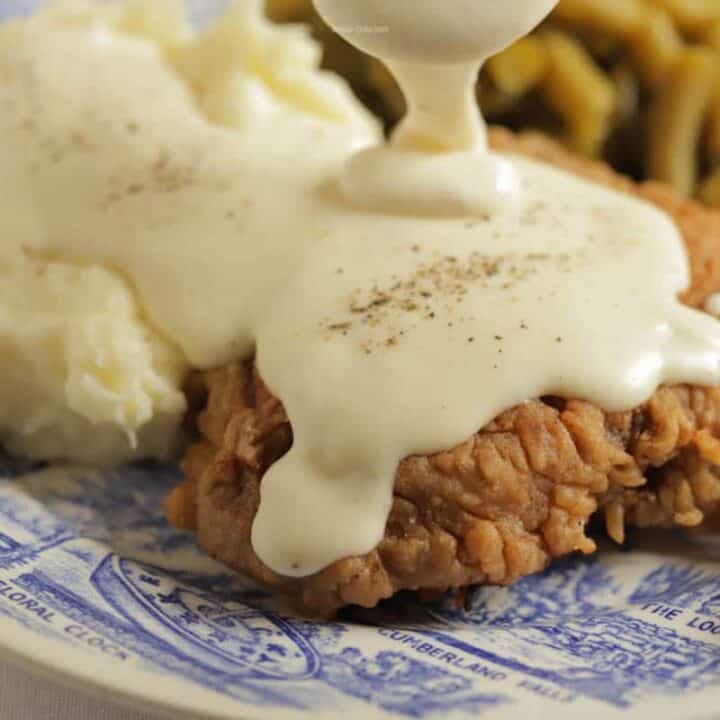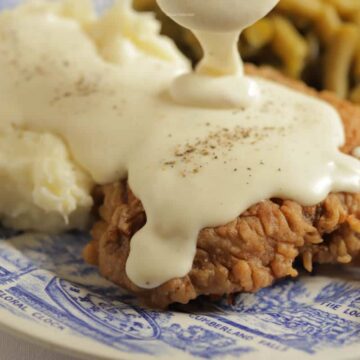 Ultimate Chicken Fried Steak With White Pepper Gravy
This chicken fried steak with white pepper gravy is more tender and delicious than even Grandma used to make because it's made with ribeye rather than cube steak.
Ingredients
4

boneless ribeye steaks

½" thick

2

tablespoons

salt

40

oz

vegetable oil

3

cups

all purpose flour

1

tablespoon

baking powder

1

teaspoon

baking soda

2

teaspoons

paprika

1

teaspoon

onion powder

1

teaspoon

garlic powder

1

teaspoon

freshly ground black pepper
Instructions
Tenderize and flatten the steaks by pounding them with the smooth side of a meat mallet, then place them in a shallow dish and cover them completely with a brining solution of cold water and 2 tablespoons of salt. Refrigerate them, covered, for 2-4 hours.

When brining is complete, add oil to a deep, heavy skillet and heat to 365 degrees.

In a large bowl combine flour, baking powder, baking soda, paprika, onion powder and garlic powder.

Using a pair of tongs, lift one steak from the brining solution, and dip into the flour mixture, coating it heavily with the flour. Then lift the steak from the flour mixture and quickly dip it back into the brining solution, then back to the flour mixture for another heavy coating of flour. Set each steak aside on a plate covered with parchment paper until all steaks are finished. 

Using the tongs, gently set each steak in the preheated oil. Set a timer for 6 minutes and don't touch the steaks while they are cooking. When the timer goes off, using the tongs gently grip one end of each steak and turn it over. Set a timer for another 6 minutes, leaving the steaks undisturbed while cooking. 

When cooking is complete, serve with a white pepper gravy. If you are using your cooking pan to prepare the gravy, remove the steaks from the frying pan to a baking dish lined with parchment paper, and set them in a preheated 250 degree oven while preparing the gravy. If you are using a separate pan to prepare the gravy, put 2 tablespoons of the oil used to cook the steaks into the gravy cooking pan, as well as some of the crumbs from the bottom of the steak pan. Then proceed with the gravy recipe and serve steaks with gravy when it is ready.
Notes
 Don't skip the meat brining step -- it adds both flavor and tenderness to the meat
Make sure oil is at the proper temperature before putting the steaks in to cook or the dish could easily be over or undercooked
Time your cooking to ensure steaks are properly cooked on both sides
Keep steaks warm in a 250 degree oven if you need time to prepare the gravy 
Nutrition
Calories:
1056
kcal
Carbohydrates:
74
g
Protein:
78
g
Fat:
49
g
Saturated Fat:
22
g
Polyunsaturated Fat:
3
g
Monounsaturated Fat:
23
g
Cholesterol:
207
mg
Sodium:
4260
mg
Potassium:
1039
mg
Fiber:
3
g
Sugar:
1
g
Vitamin A:
131
IU
Vitamin C:
3
mg
Calcium:
221
mg
Iron:
11
mg