These fresh garlic green beans are great for holidays and other large gatherings. They are easy to prepare and packed with flavor; they never fail to win rave reviews!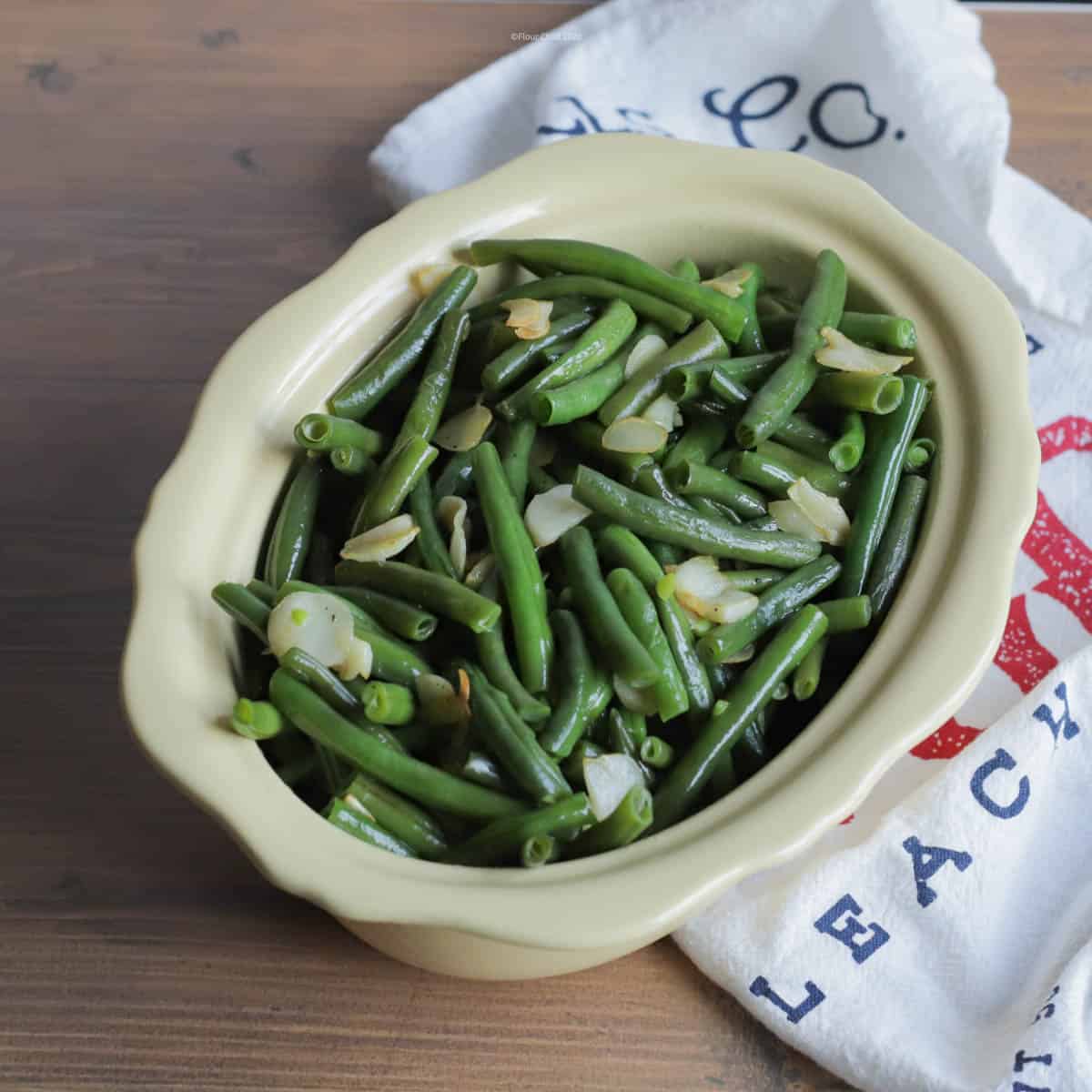 A Quick and Easy Side Dish
I grew up eating green bean casserole at almost every family gathering. No doubt, this perennial favorite has probably appeared at your table, too. While there are several variations, my mom always made it with canned green beans, french fried onions, and cream of mushroom soup. While it's definitely a popular comfort food (and I do love it), the flavor of the green beans is hidden by the other items in the dish.
I love this recipe because it's made with fresh green beans that still have some crunch to them. Plus, the flavor is enhanced by garlic and chicken broth which complement the flavor rather than cover it. It has good old-fashioned farm fresh taste that will have people reaching for seconds.
7 Ingredients in Fresh Garlic Green Beans
There are only 7 simple ingredients in this recipe:
Butter
Oil
Chicken Broth
Green Beans
Garlic
Salt
Pepper
Prepping the Green Beans
The most time consuming part of making this dish is prepping the green beans. The good news is that this can be done in advance. I usually prep them in the morning, then set them aside until I'm ready to cook.
When shopping, look for firm beans that snap when you bend them in half. To prep the beans, first rinse them in water, then snap or cut off the end with the stem. If you prefer (it's not absolutely necessary,) peel the fibrous string that runs along the length of the bean. You don't have to remove the other end of the bean, but I usually do because I prefer the way they look when both ends are removed. I enjoy hand-prepping green beans because it reminds me of spending time with Kevin's family in Kentucky, prepping mounds of "Greasy half-runners," our favorite bean variety (those were cooked in bacon fat, but I digress.) However, if you're pressed for time or don't like hand prepping green beans, feel free to take a knife to several at a time and slice off one or both ends, leaving the string in place.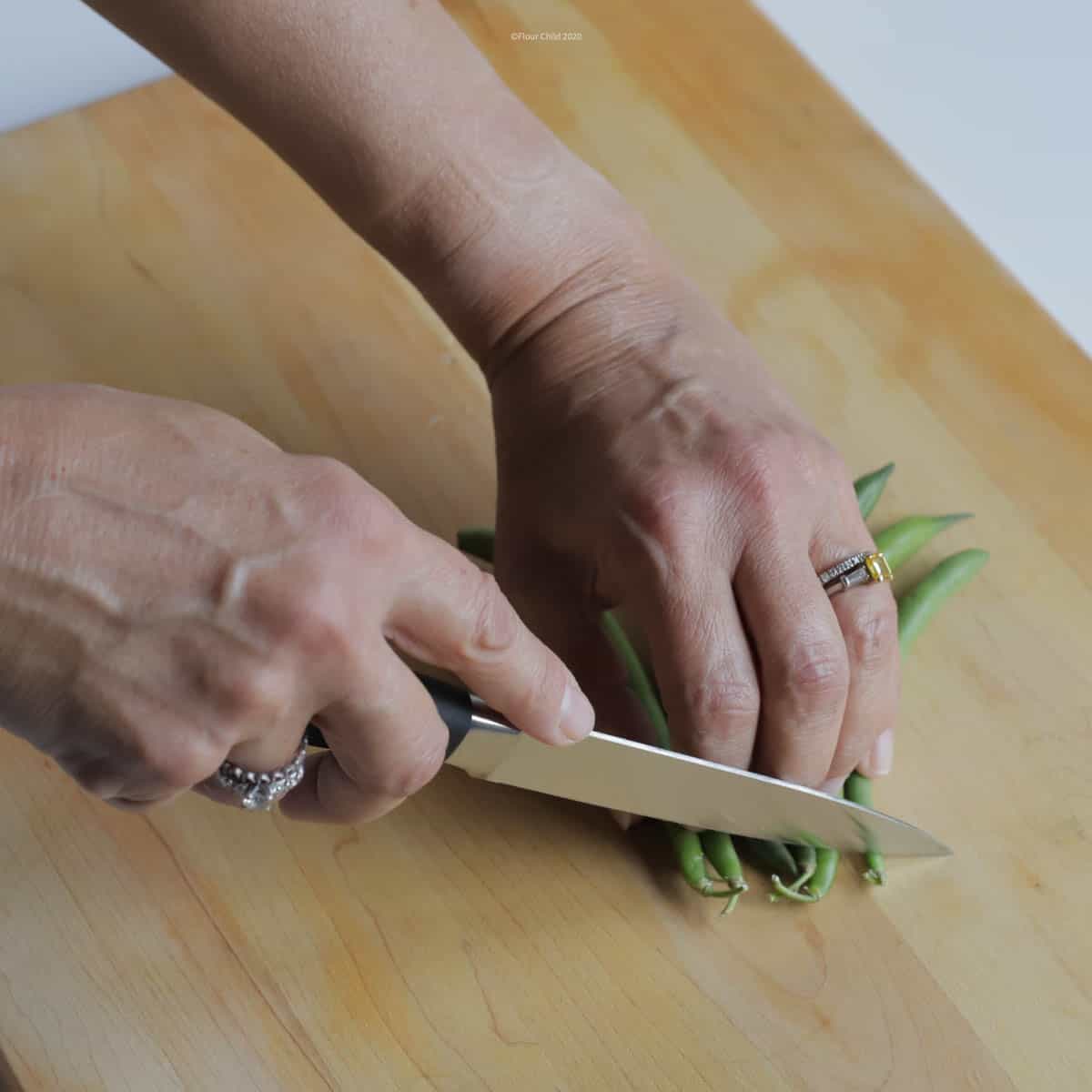 When you're ready to cook, simply have the rest of your ingredients prepped to go. It will only take a minute or two to slice some cloves of fresh garlic, and it all comes together quickly and easily.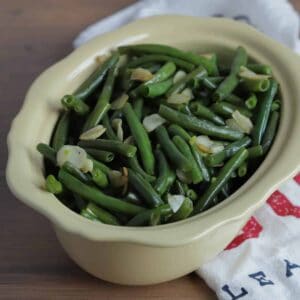 Fresh Garlic Green Beans
These fresh garlic green beans are easy to prepare and full of farm fresh flavor.
Ingredients
2

tablespoons

butter

2

tablespoons

vegetable oil

4

cloves

sliced garlic

2

pounds

fresh green beans

trimmed

1

cup

chicken broth

½

teaspoon

salt

¼

teaspoon

pepper
Instructions
Heat butter and oil over medium heat in a dutch oven until butter is melted. Add garlic and cook for 1 minute. Remove garlic and set aside.

Add green beans to dutch oven, cook 5 minutes or until crisp-tender. 

Stir in chicken broth, salt and pepper. Bring to a boil, then reduce heat and simmer uncovered, stirring occasionally,  for 10 minutes or until beans are tender and broth is almost evaporated. 

Add sliced garlic back into beans and place in a casserole dish for serving. 
Notes
Modern Twist: You may want to try one of these more modern variations:
Before sautéing garlic, add one thinly sliced sweet or red onion to the skillet and sauté until soft. Add garlic and cook for one more minute, then remove all and set aside until step 4.
Add a teaspoon of basil in step 3
Add a ½ teaspoon of chili powder in step 3
Add in ⅓ lb. cooked chopped bacon before serving
Shake parmesan cheese on top before serving
Substitute margarine for butter and vegetable broth for chicken broth to make it vegan
Nutrition
Calories:
94
kcal
Carbohydrates:
9
g
Protein:
2
g
Fat:
7
g
Saturated Fat:
2
g
Polyunsaturated Fat:
2
g
Monounsaturated Fat:
2
g
Trans Fat:
1
g
Cholesterol:
8
mg
Sodium:
285
mg
Potassium:
270
mg
Fiber:
3
g
Sugar:
4
g
Vitamin A:
871
IU
Vitamin C:
16
mg
Calcium:
48
mg
Iron:
1
mg