This is the best baked potato soup - creamy buttery potatoes, crunchy bites of bacon, gooey melted cheese...need I say more? This meal in a bowl is pure comfort on a chilly night.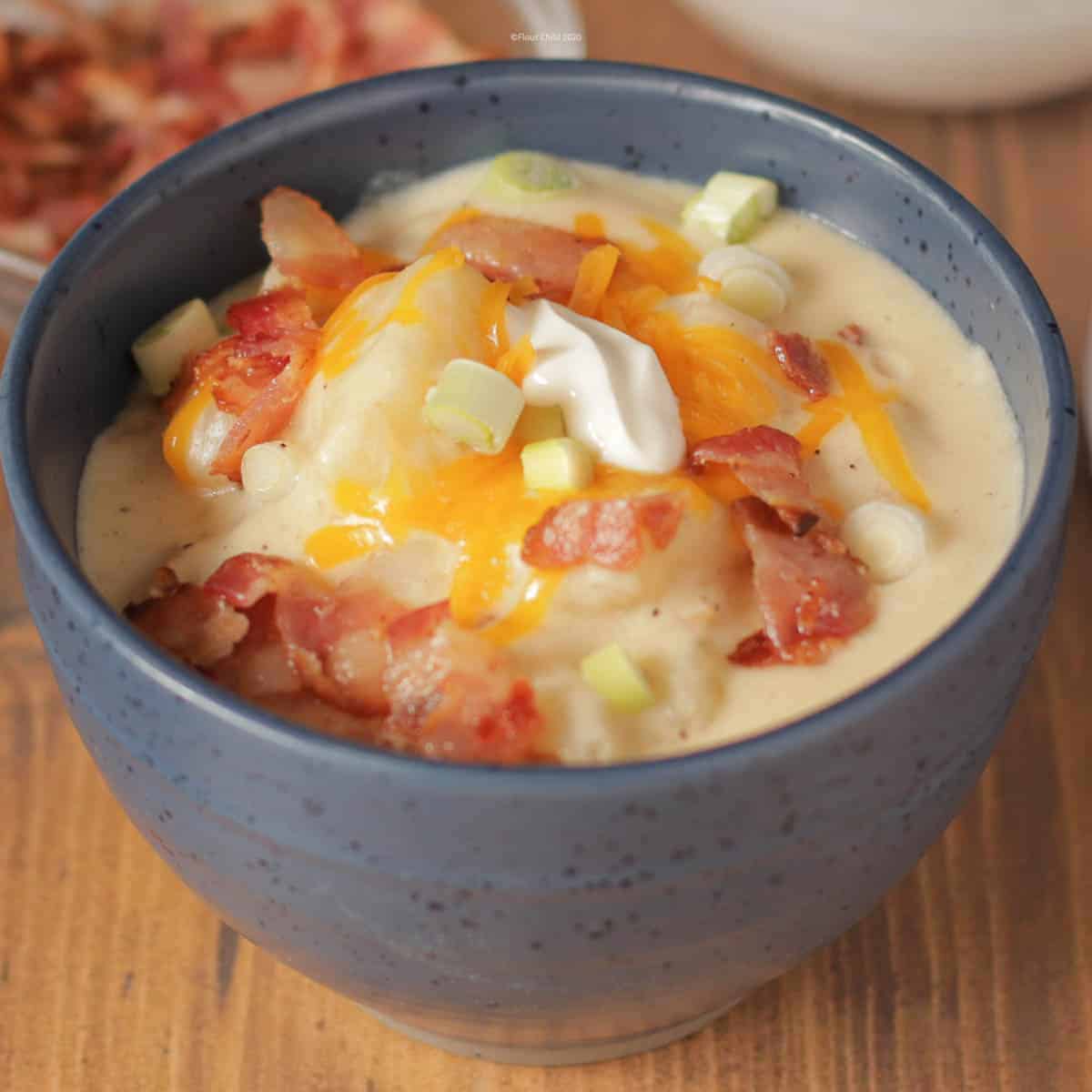 I've been in a soup and stew mood this week as the weather turns chillier for fall. No, we don't get the crisp cold days here in L.A. that many other places get, but it's not unusual for temperatures to drop into the 40's at night, and that's cold enough for comfort food!
Soups were popular in mid century because they were economical. You could toss vegetables in with water, add some seasonings and whatever meat or pasta was available and come up with a filling meal that could be stretched to serve many. Even if you had a tough cut of meat, boiling would tenderize it, and the seasonings would add flavor.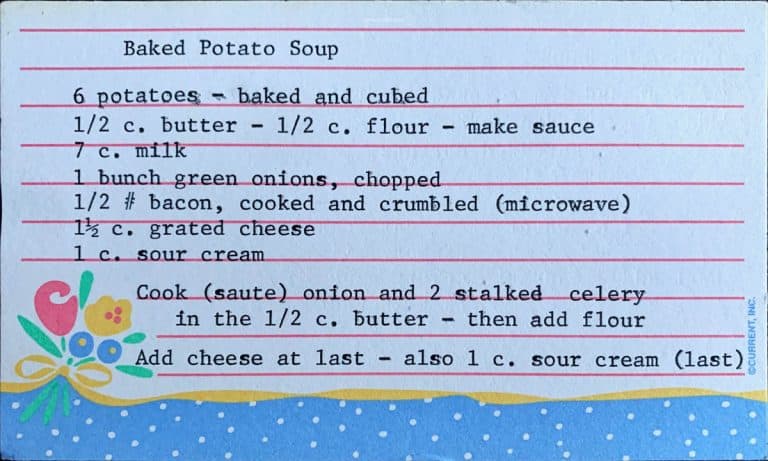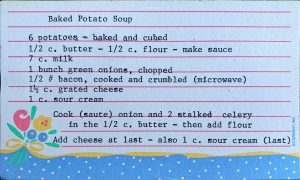 I was flipping through a box of mid century recipe cards when I came across this one for baked potato soup. Kevin loves potato soup; his mom used to make it all the time. After trying this recipe I have modified it slightly to add a little more flavor and creaminess to it. I cut the amount of milk it called for, and added in some chicken broth and half-and-half -- creamy delicious perfection!
If You Need A Little Time Saver...
If you're in a hurry for soup, you can save some time by dicing the potatoes, then boiling them for about 30 minutes until they are fork tender. The texture of a baked and boiled potato are different, but I don't notice a difference in the flavor or texture of the potatoes when they are mixed with everything else in the soup.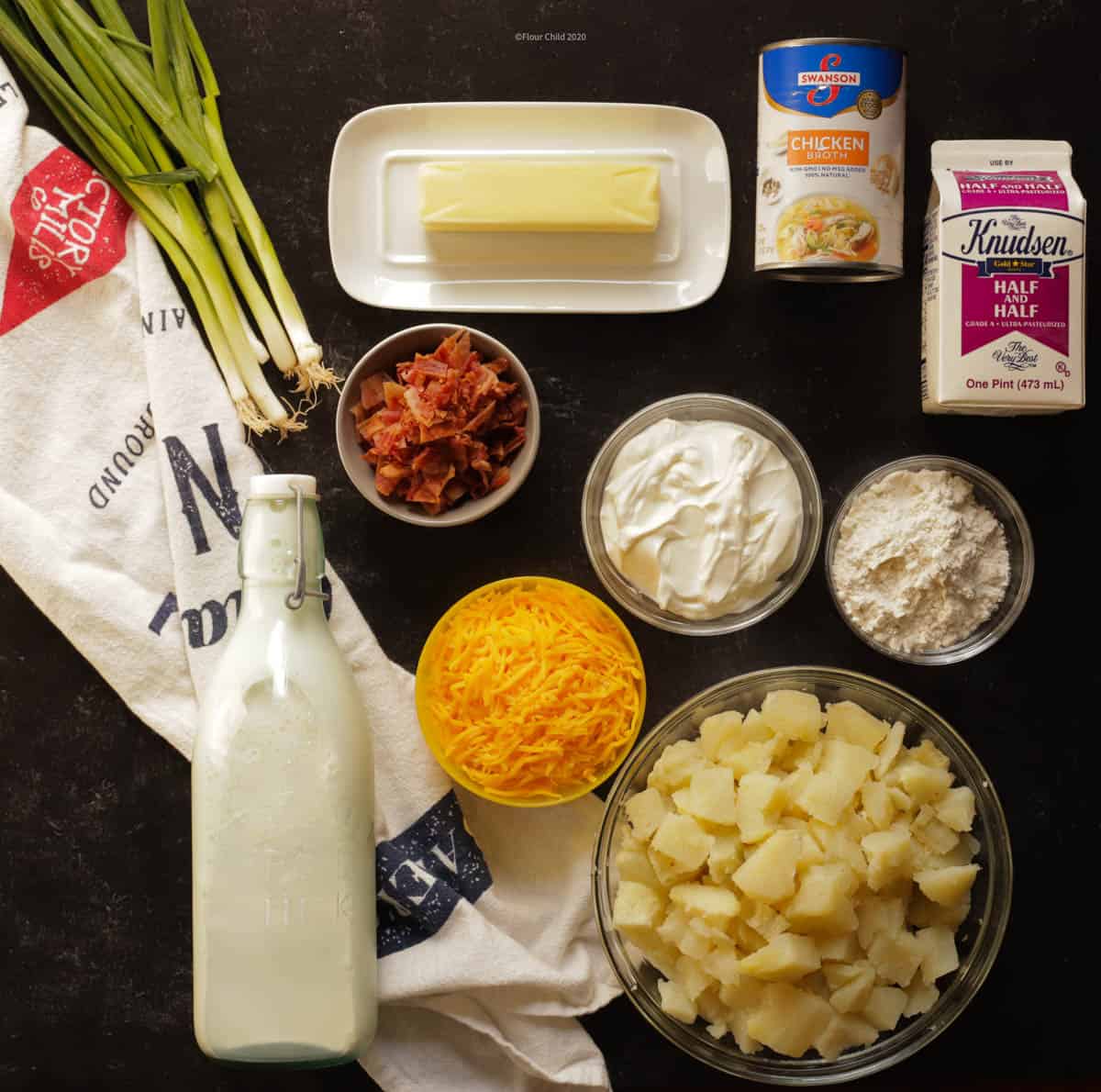 A Few Variations For Baked Potato Soup
Vegetarian substitutions -- eliminate the bacon, and use vegetable broth in place of chicken broth. If you'd like, you can add a tablespoon of imitation bacon bits to add a smokey flavor.
Add ¼ cup chopped celery when you saute the green onions for a flavor variation.
Use low-fat milk, low fat half and half, low fat shredded cheddar, and lower sodium chicken broth, plus cut the bacon in half for a healthier version of baked potato soup.
Use either mild or sharp cheddar. I prefer the milder taste of mild shredded cheddar cheese, but sharp cheddar tastes great in this recipe, too.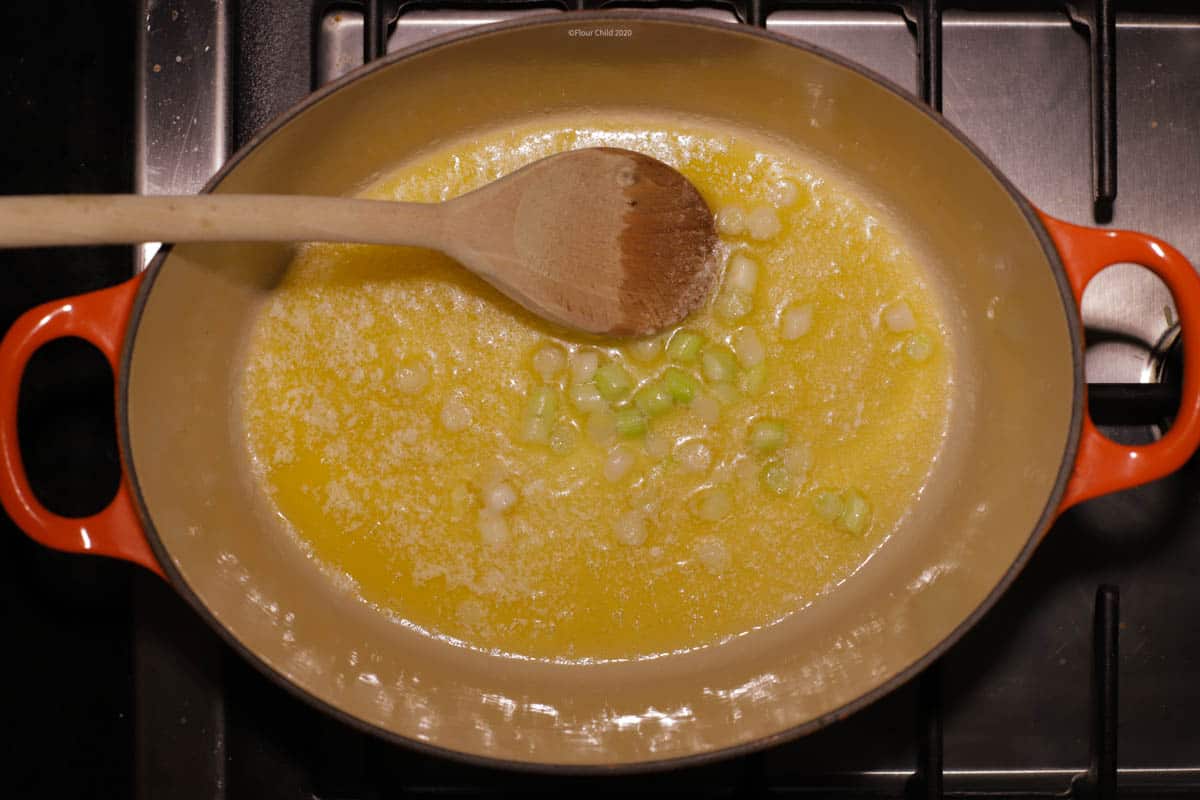 Leftover baked potato soup will keep in the refrigerator for 3-4 days and can be reheated on the stovetop. It will be very thick, so add milk to desired consistency.
If you're looking for hearty soups, also try our split pea and ham and navy bean soup recipes.
Baked Potato Soup
This is the best baked potato soup - creamy buttery potatoes, crunchy bites of bacon, gooey melted cheese...need I say more? This meal in a bowl is pure comfort on a chilly night.
Ingredients
6

large

russet potatoes

8

tablespoons

butter

2

bunches

green onions

chopped & divided

½

cup

flour

1

teaspoon

salt

½

teaspoon

pepper

14.5

oz.

chicken broth

1

cup

half-and-half

4

cups

milk

12

ounces

bacon

cooked and crumbled and divided.

1 ½

cups

shredded cheddar cheese

divided

1

cup

sour cream
Instructions
Prepare potatoes by piercing them all over with a fork and baking on a baking sheet at 350 degrees for 60-75 minutes until a sharp knife glides in easily. Cool potatoes completely, then peel and cube them.

In a dutch oven, melt butter, then sauté one bunch of the green onions for about 2 minutes.

Add flour and stir with a wooden spoon or spatula to form a roux. Stir in salt and pepper.

Whisk in the chicken broth. When it is fully incorporated, whisk in the half and half, and then then the milk until fully combined. 

Mix in the potatoes and two-thirds of the crumbled bacon. Simmer for 10 minutes.

Remove from heat; stir in 1 cup of the shredded cheddar cheese.

Serve bowls of soup with the remaining chopped bacon, green onions, shredded cheddar cheese and sour cream as toppings. 
Notes
If you want to cook the potatoes faster, you can cube them and boil them for about 30-35 minutes until they are fork-tender, then drain them and set aside for the soup. I have not noticed a difference in flavor between using baked or boiled potatoes. 
Nutrition
Calories:
988
kcal
Carbohydrates:
65
g
Protein:
18
g
Fat:
74
g
Saturated Fat:
36
g
Polyunsaturated Fat:
6
g
Monounsaturated Fat:
28
g
Trans Fat:
1
g
Cholesterol:
131
mg
Sodium:
877
mg
Potassium:
1487
mg
Fiber:
4
g
Sugar:
9
g
Vitamin A:
1110
IU
Vitamin C:
21
mg
Calcium:
403
mg
Iron:
3
mg