Simple baked spaghetti combines the ease of spaghetti with the complex flavors and gooey cheese layers of lasagna. It's a meal the whole family will love!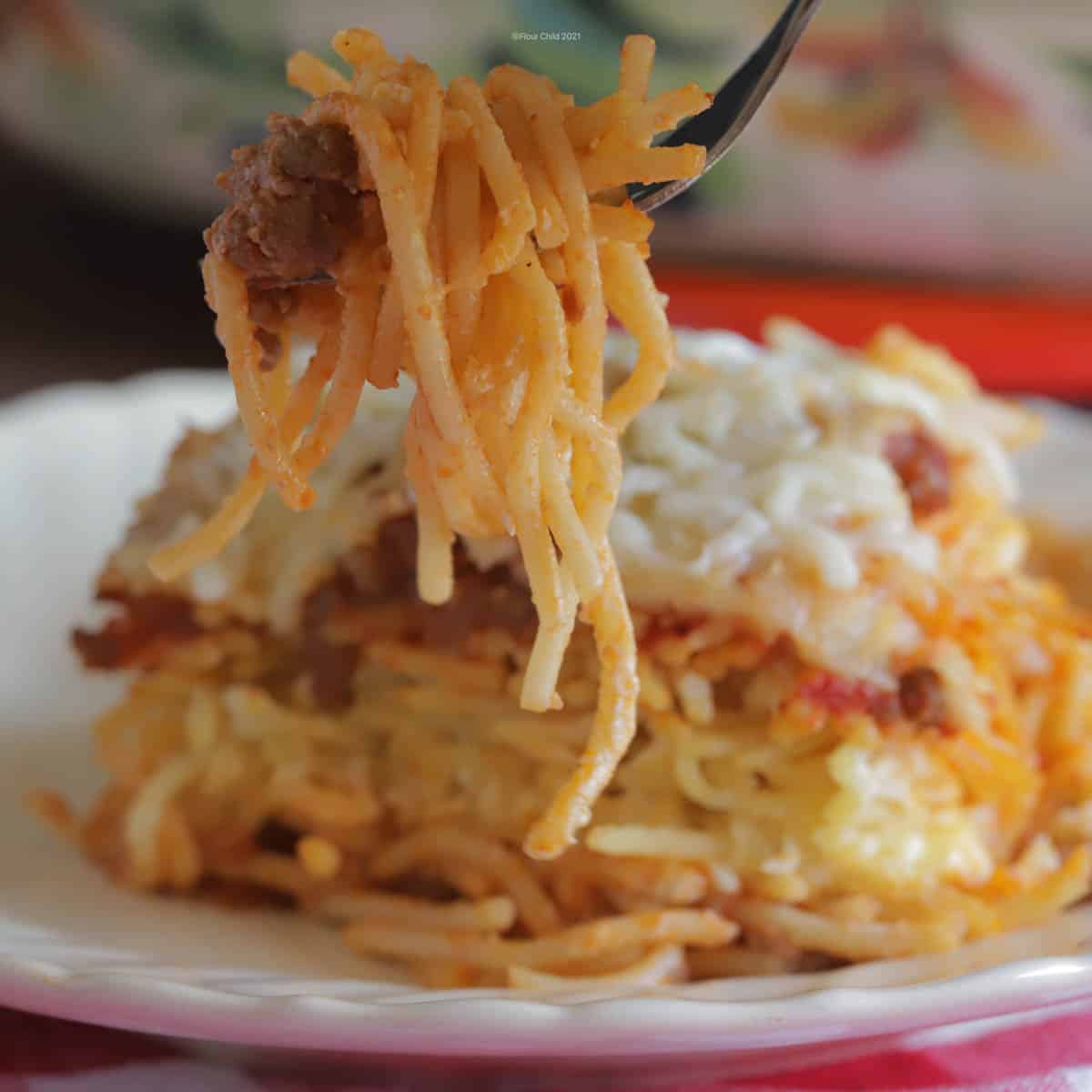 Where Did Spaghetti and Meatballs Originate?
Most Americans associate spaghetti and meatballs with Italy, but it is originated in the United States. Actually, it's not served at most restaurants in Italy unless the restaurant caters specifically to American tourists!
Italian immigrants that settled in the U.S. in the early 20th century did not have access to the same ingredients that they had in Italy. Dried, packaged pasta was inexpensive and readily available. Marinara sauce was made from canned tomatoes because fresh tomatoes were hard to find. In the U.S. beef and pork were easier to obtain and less expensive than in Italy (where a variety of meats and seafoods were used), so meatballs were made from that. The meal's flavors were reminiscent of Italian foods, but the actual dish of spaghetti and meatballs originated in America.
Baked Spaghetti: Where Italy Meets the U.S.
Baked pasta, also called pasta al forno (meaning "pasta baked in the oven") has existed in Italy for centuries. Originally it was a way for chefs to use up whatever ingredients they had on hand, so it was different every time it was made.
In Italy, baked pasta takes many forms including baked ziti, baked rigatoni, and lasagna to name a few. One form it doesn't take is baked spaghetti -- over there, baked pastas are made from large, hollow noodles such as ziti, mostaccioli and rigatoni. The U.S. adapted those recipes with the popular thin spaghetti noodle, incorporating all the wonderful flavors into a spaghetti and meat sauce dish that can be cut into slices.
Steps to Make Simple Baked Spaghetti
These easy-to-follow steps demonstrate how simple it is to make this luscious baked spaghetti!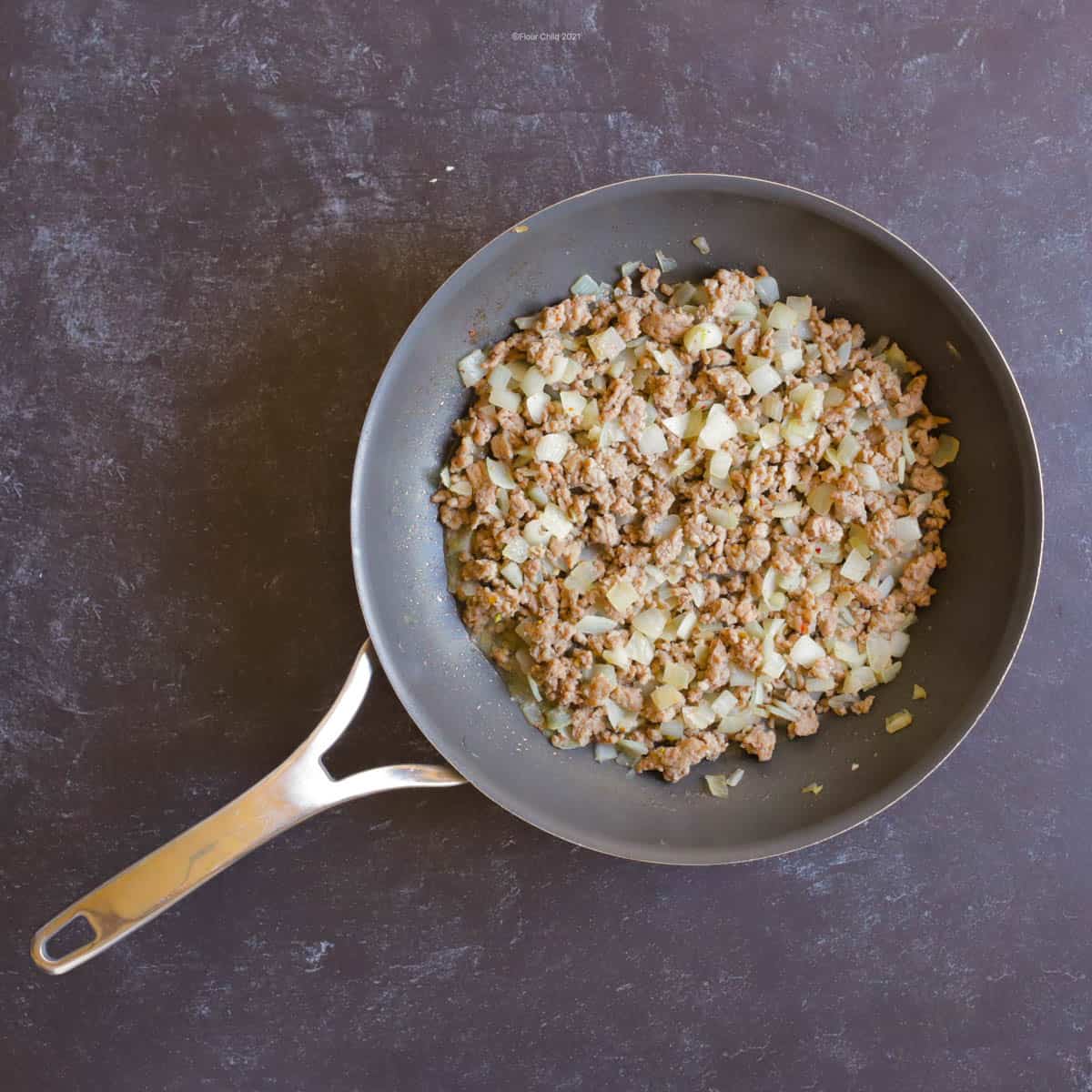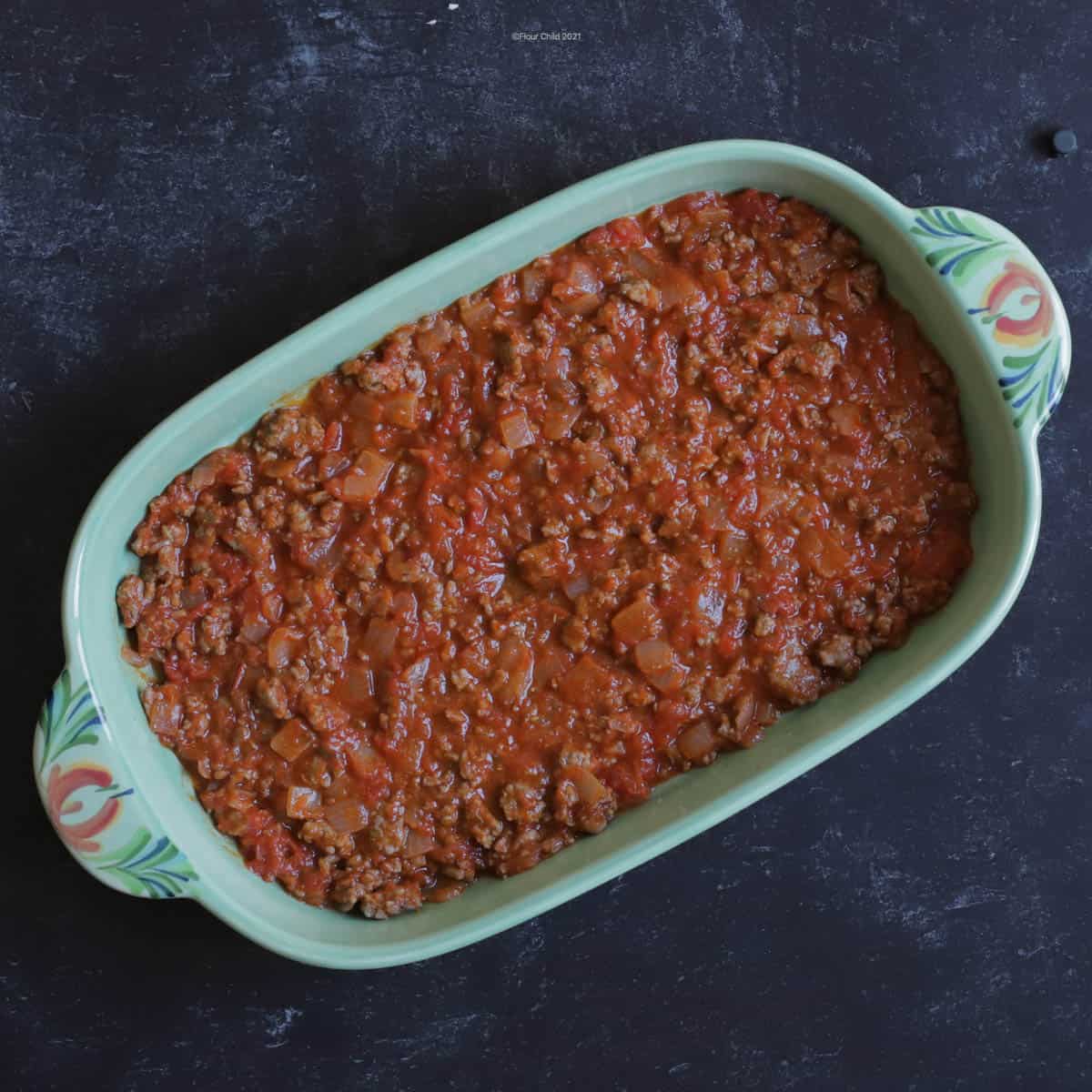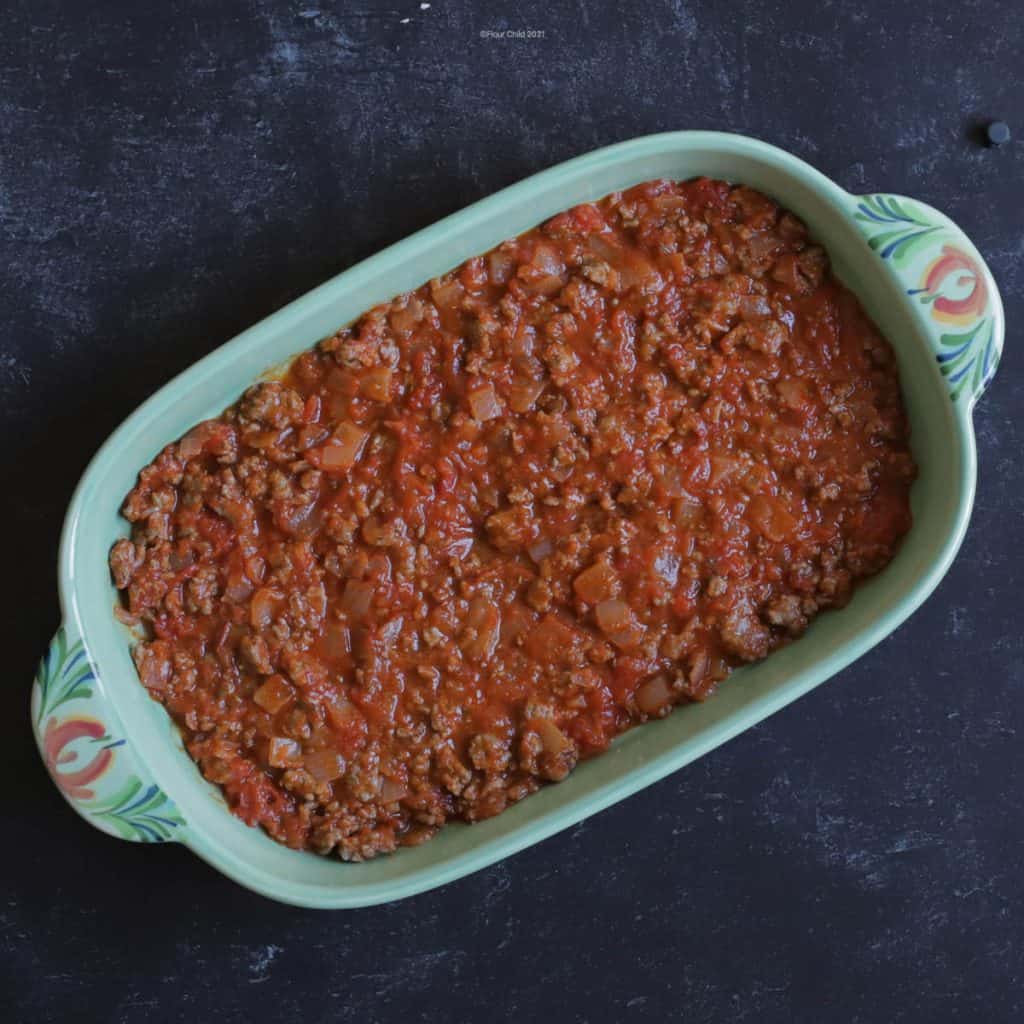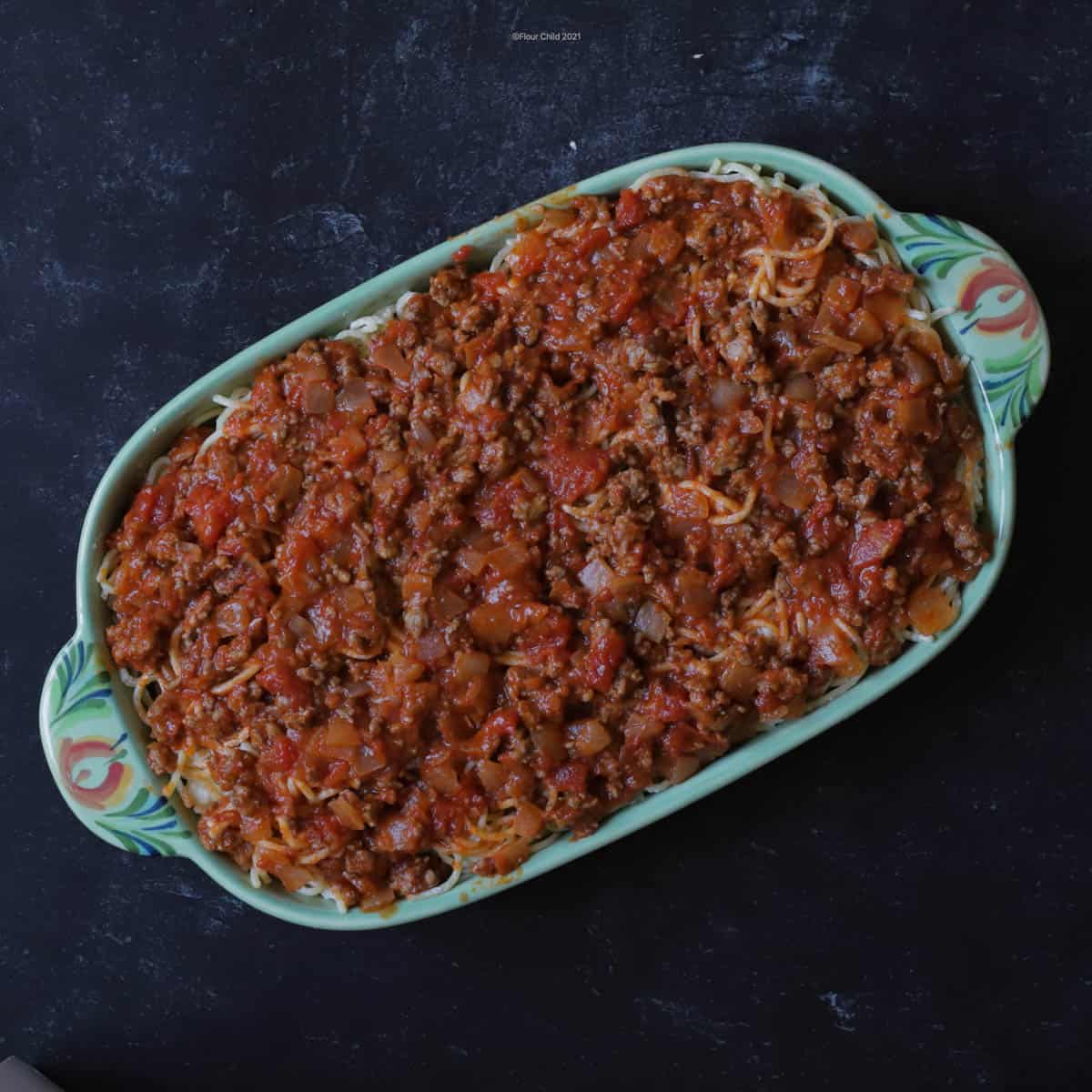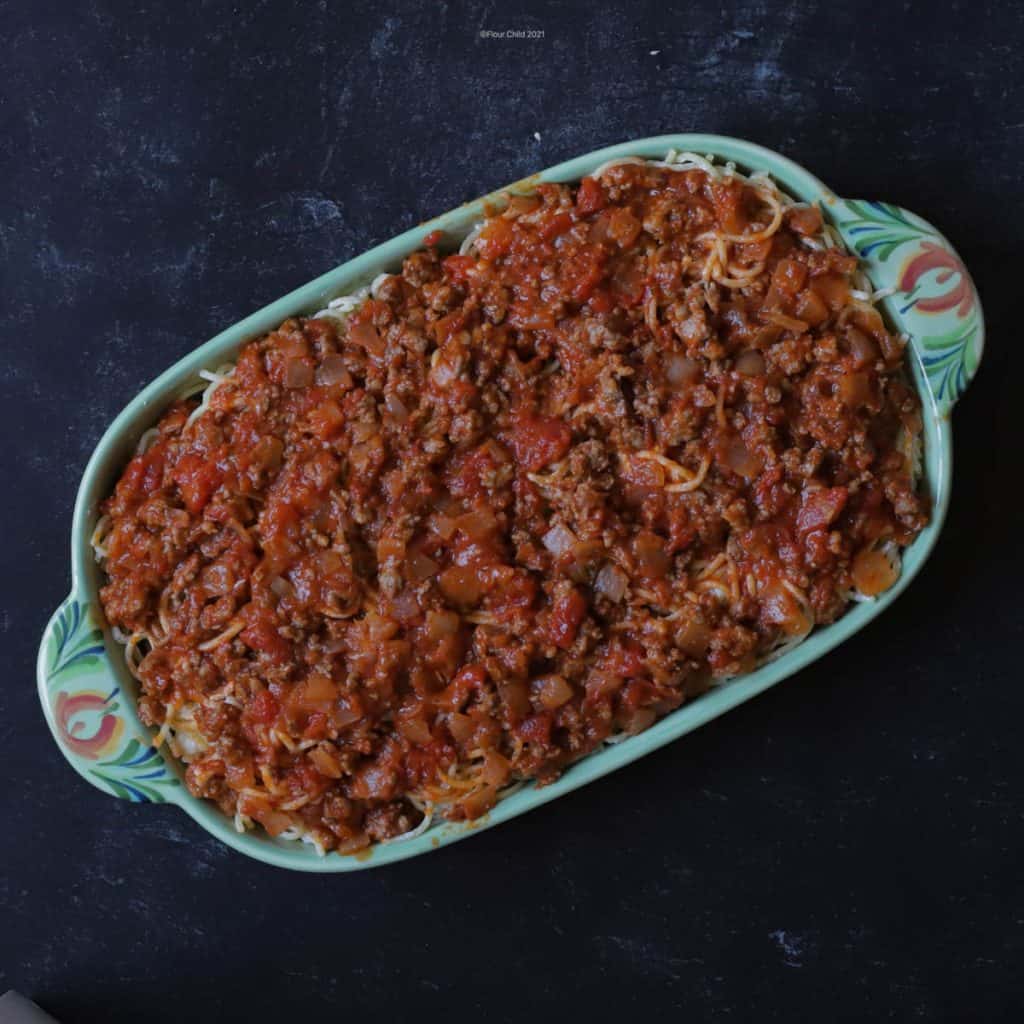 Baked Pasta FAQ
How long do you cook pasta before baking?
Cook noodles just until al dente -- the very minimum time indicated on the package. If you boil it longer and it gets too soft, it will turn to mush in your casserole.
Do you bake pasta covered or uncovered?
For the first 20 minutes bake it covered in aluminum foil, then remove foil and bake it uncovered for the remaining time. Baking it covered for the first 20 minutes will retain the moisture. If you bake it uncovered the entire time, the casserole will dry out.
If you love pasta dishes, try our from-scratch Old World Authentic Italian Meatballs, Old World Authentic Italian Sunday Sauce, Old World Authentic Italian Lasagna, and Penne Pasta in Vodka Sauce, aka Penne Alla Vodka.
If you have a vintage recipe you'd like share with us for possible publication, please scan it and email it to [email protected]. We'd love to hear from you!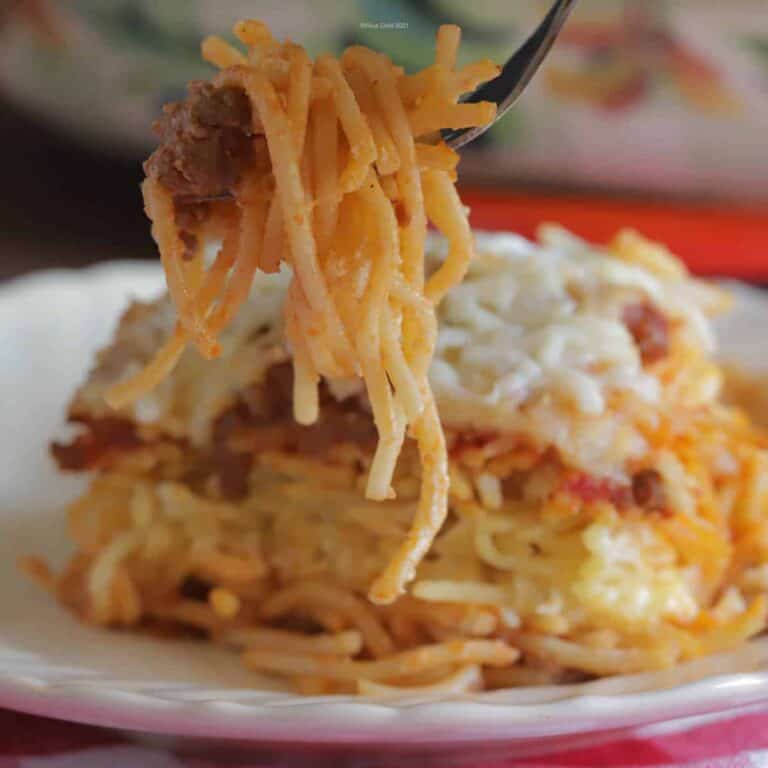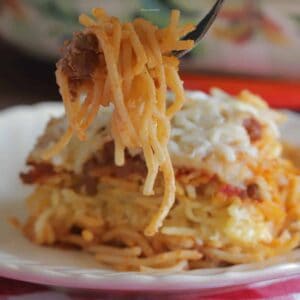 Simple Baked Spaghetti Recipe (Spaghetti al Forno)
Simple baked spaghetti combines the ease of spaghetti with the complex flavors and gooey cheese layers of lasagna. It's a meal the whole family will love!
Ingredients
½

lb.

lean ground beef

½

lb.

mild Italian sausage

1

medium yellow onion

diced

2

cloves

garlic

minced

32

oz.

jar marinara sauce

½

teaspoon

Italian seasoning

1

cup

low-fat cottage cheese

1

cup

shredded fresh parmesan

divided in half

1

large

egg

1

lb.

spaghetti

cooked to al dente

8

oz.

cream cheese

softened and cut into small squares

2

cups

Italian style shredded cheese
Instructions
Preheat oven to 350 degrees.

Combine ground beef, Italian sausage, diced onion and minced garlic in a large skillet. Cook over medium heat until meats are browned. Drain fat. While meats are browning, cook spaghetti to al dente and drain in colander.

When meats are browned, mix in marinara sauce and Italian seasoning.

In a medium bowl, combine the cottage cheese, shredded parmesan, and egg. 

In a large bowl, combine hot spaghetti and cubed cream cheese. Mix with spatula until cream cheese has melted and coated the spaghetti.

Assemble in a 9 x 13 casserole as follows: On bottom of casserole, layer half of the meat sauce. Place half of the spaghetti evenly over the top. Put all of the cottage cheese mixture layered over the top of the spaghetti. Place the rest of the spaghetti on top of the cottage cheese mixture. Cover spaghetti with remaining meat sauce. Sprinkle Italian style shredded cheese over all. 

Cover with foil and bake 20 minutes. Remove foil and sprinkle with the last ½ cup of fresh parmesan. Return to oven and bake, uncovered, for 30 minutes, or until cheese is melted and beginning to turn golden.

Remove from oven and let stand 10 minutes. Cut into squares and serve. 
Notes
It is okay to use low fat cream cheese
You can substitute 2 cups shredded mozzarella in place of 2 cups shredded Italian style cheese
Nutrition
Calories:
641
kcal
Carbohydrates:
53
g
Protein:
36
g
Fat:
31
g
Saturated Fat:
16
g
Polyunsaturated Fat:
2
g
Monounsaturated Fat:
10
g
Trans Fat:
1
g
Cholesterol:
125
mg
Sodium:
1415
mg
Potassium:
801
mg
Fiber:
4
g
Sugar:
9
g
Vitamin A:
1206
IU
Vitamin C:
10
mg
Calcium:
379
mg
Iron:
3
mg