These authentic Italian meatballs are the real deal! This well-loved family recipe, originating in Italy and passed down through generations, will make you think you're dining in a little Italian village.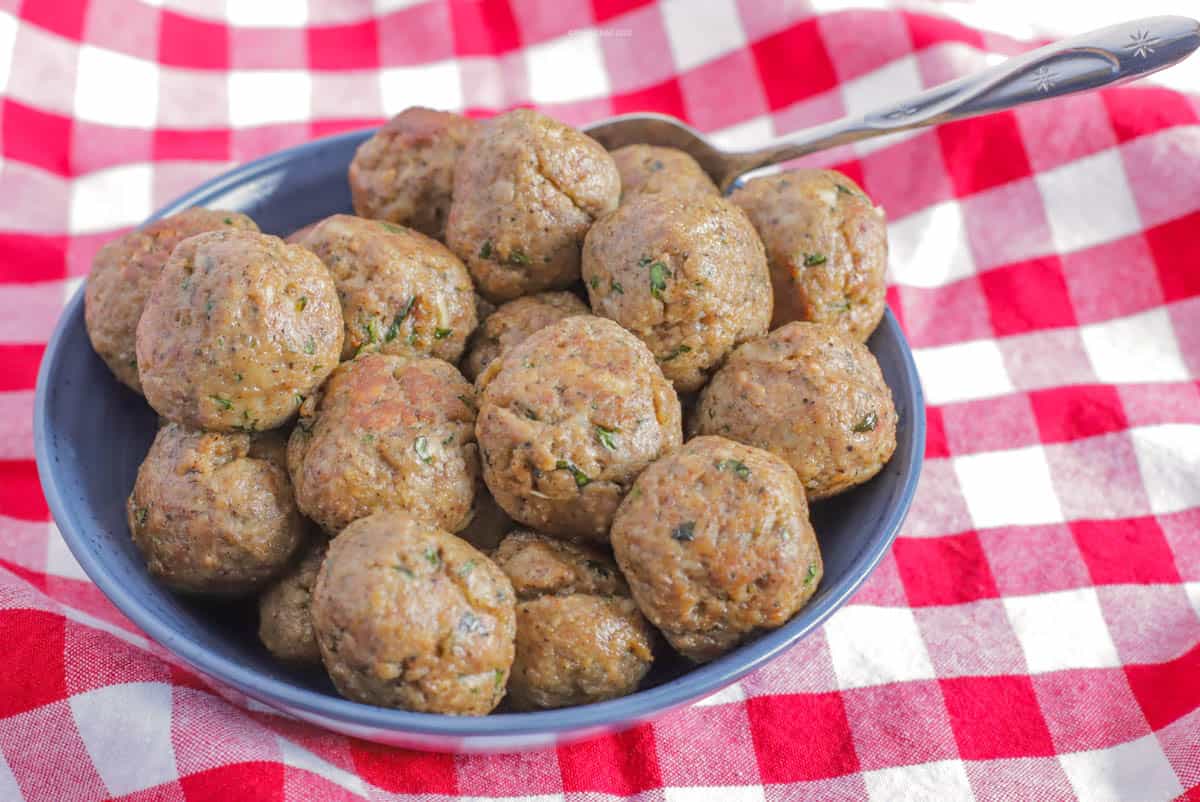 The Search for Authentic Italian Recipes
On a quest for authentic old Italian recipes, I called on my neighbor Joel, who grew up in an Italian-American family in Rochester, New York. He told me that his mom, Mary Ann, had put together a cookbook for him of his grandmother's from-scratch recipes. He offered to lend it to me and I nearly broke my legs running down the stairs to get it after he dropped it off. The three ring binder she compiled is a treasure trove of magnificent Italian recipes, and I couldn't wait to dive in.
The binder began with the most loving note from Mary Ann. She explained that although her family has never followed recipes while cooking, she wrote down and quantified her mom's Italian heritage recipes as a legacy to her children and grandchildren. I was so touched when I read it, because I could tell she feels the same way about preserving family recipes as I do. Families bond over food, sharing favorite meals for holidays, celebrations, Sunday gatherings, and even funerals. Smelling these foods while they're cooking and taking the first bite can bring back a flood of memories and emotions.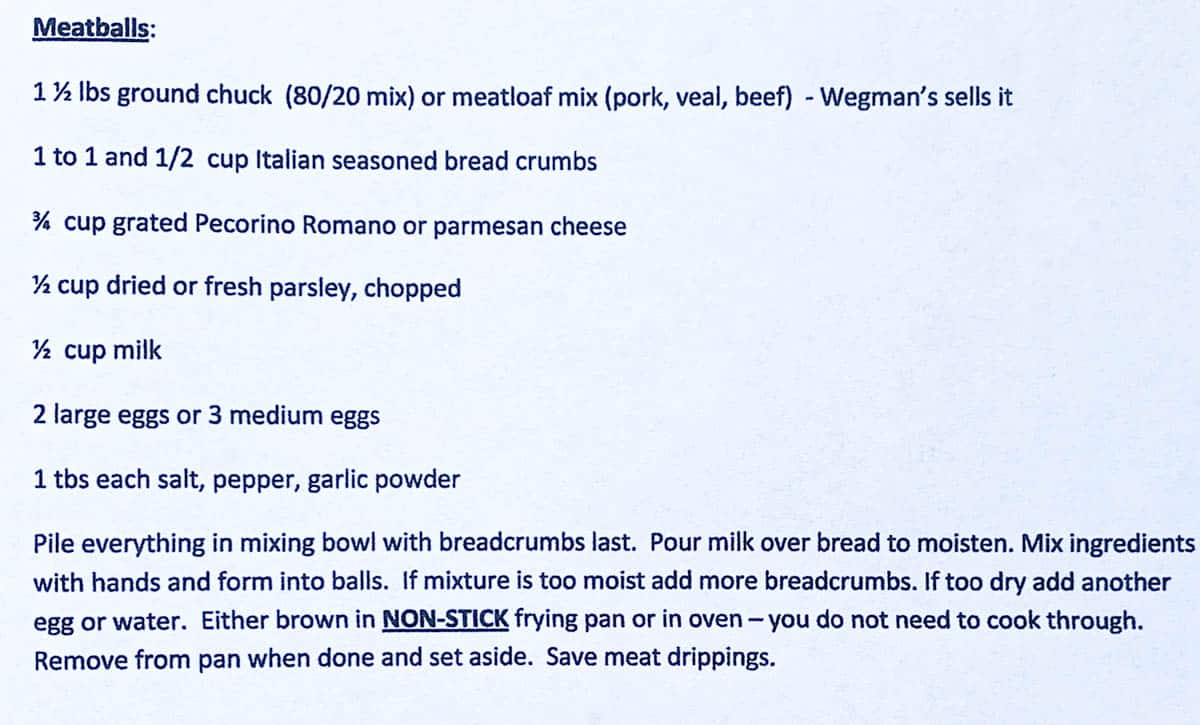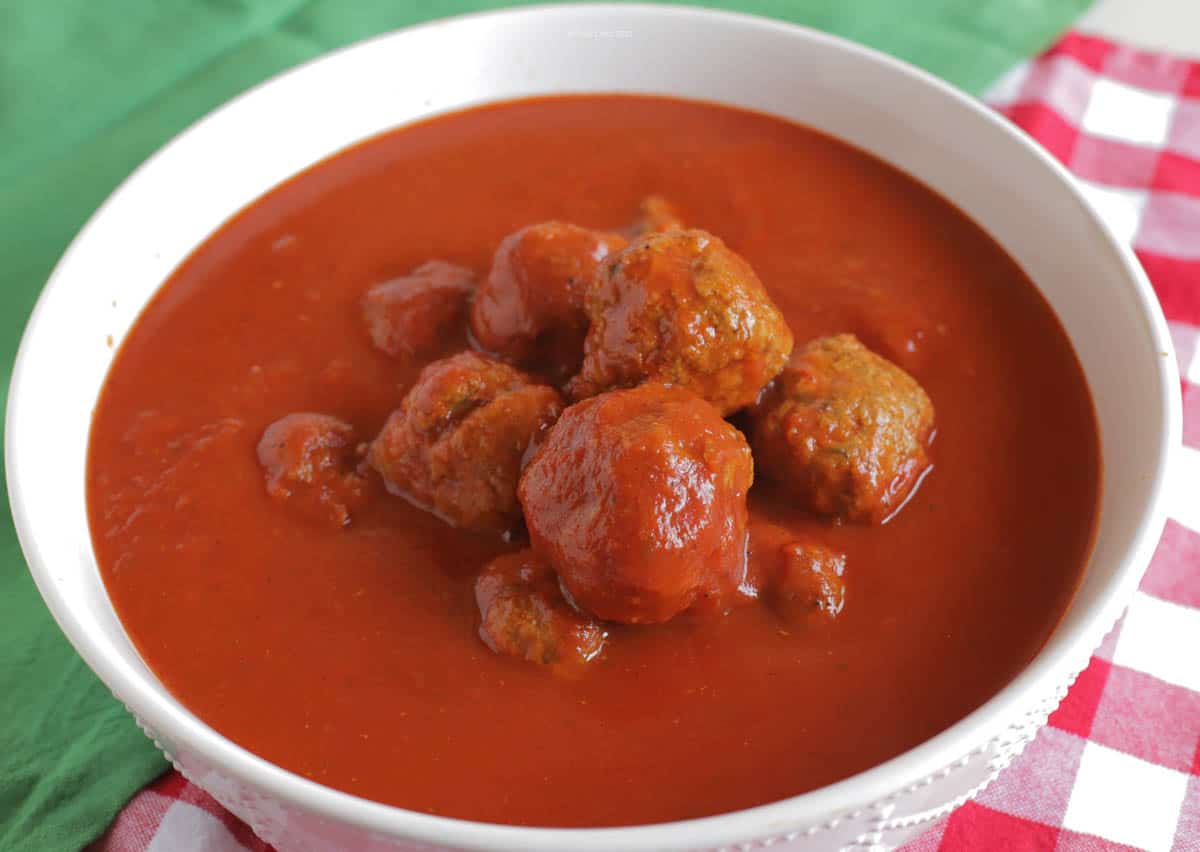 These meatballs were part of the family's Sunday Sauce recipe, and ideally should be served with that. If you will be having them with Sunday sauce, brown them in a skillet without cooking them all the way through. Then transfer to the pot of sauce, where they will simmer for 3 hours until they are thoroughly cooked. The meatballs add flavor to the sauce, and vice versa. A winning combination! The meatballs and sauce can also be used to make a tray or two of Authentic Italian Lasagna, which is absolutely out of this world!
Ingredients for Authentic Italian Meatballs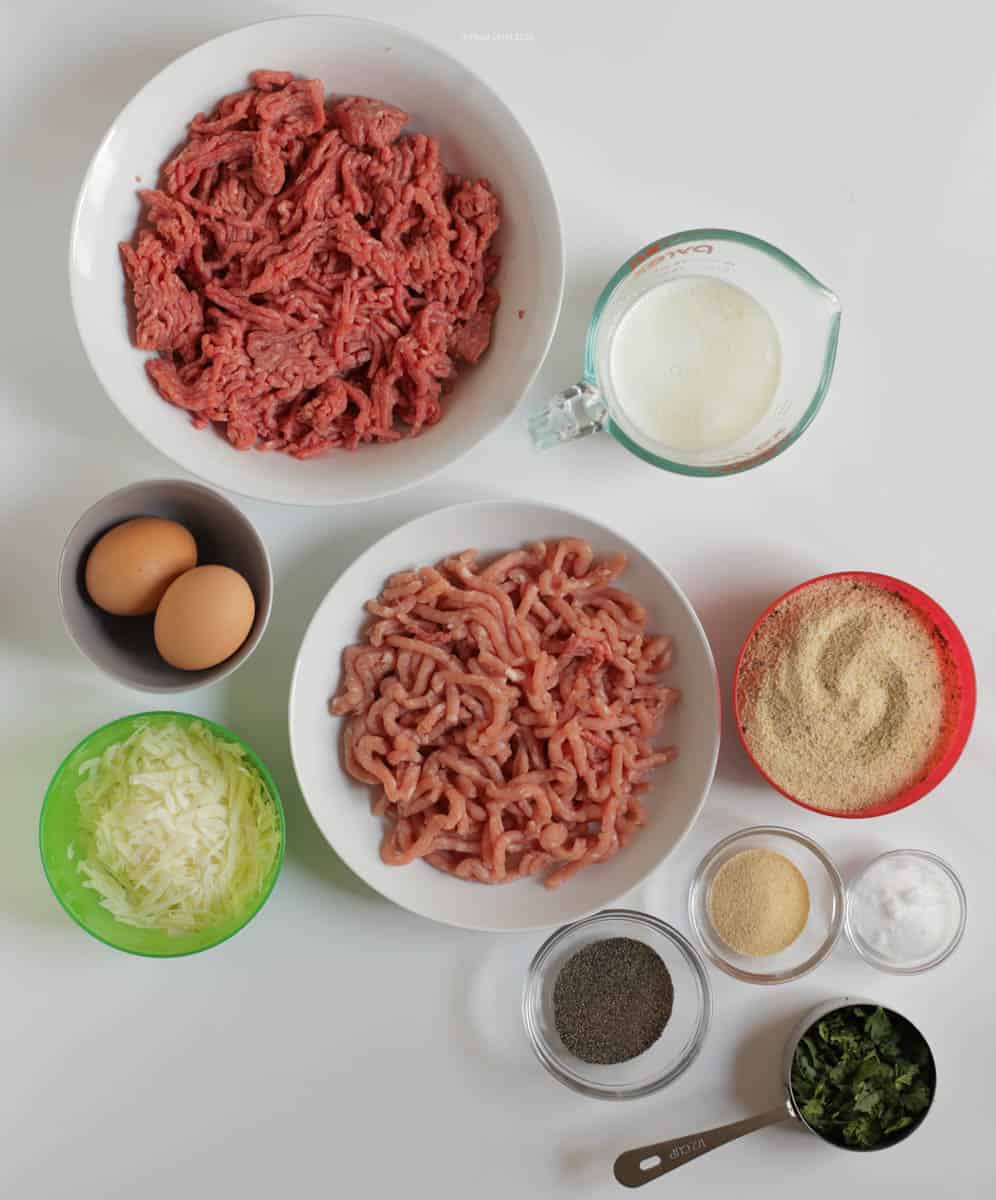 You will need the following ingredients to make these authentic Italian meatballs:
Ground beef
Ground pork
Eggs
Pecorino Romano cheese, grated
Fresh parsley, chopped
Garlic powder
Salt
Pepper
Italian breadcrumbs
Milk
For best results, put everything into a large bowl, adding the breadcrumbs and milk last. Then mix with your hands until well combined, and form into meatballs. It doesn't get much easier than that! This recipe will yield roughly 2 dozen 1-½ - 2 inch meatballs. Joel said his grandma made really large meatballs, roughly 2-½ - 3 inches. If you decide to do that, this recipe will yield approximately 12-18 meatballs.
You can use either all beef or a mixture of pork and beef. In all transparency, Italian recipes often include some veal in the meatballs, and Mary Ann's recipe mentions it as an option. I am opposed to eating veal so I do not purchase it. Joel told me he told me he uses 1 pound of ground beef and ½ pound of ground pork. That's how I made them, and they were perfect! For the best flavor you should use either ground chuck (80% lean) or close to it. I used 85% lean ground beef and the flavor was excellent.
These meatballs can be browned in a skillet, cooked through in a skillet, browned in an oven, or baked completely in an oven. Because they are normally served with Authentic Italian Sunday Sauce, it's best to brown them in the skillet and then remove them to a platter and use the skillet drippings to cook the sauce.
Print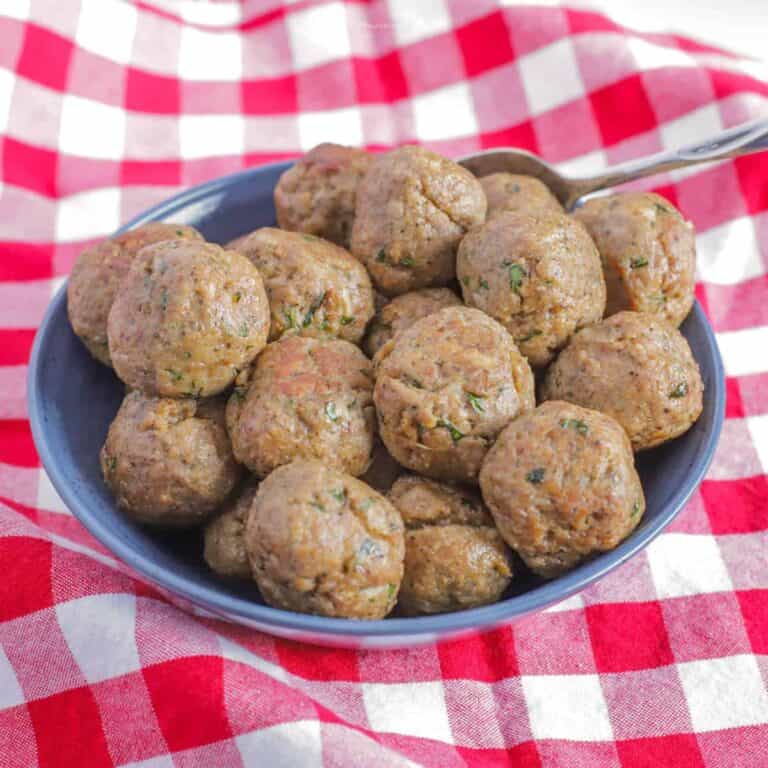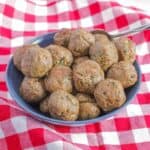 Old World Authentic Italian Meatballs
Author:

Nancy Blackstone

Prep Time:

15 Minutes

Cook Time:

20 - 90 Minutes, depending on method

Total Time:

35 Mins - 2 Hours depending on method

Yield:

2

Dozen Meatballs

1

x

Category:

Dinner

Method:

Stovetop or Oven

Cuisine:

Italian
---
1 pound ground chuck (80/20 mix)
½ pound ground pork
2 large eggs
¾ cup grated Pecorino Romano or Parmesan cheese
½ cup chopped fresh parsley or ¼ cup dried parsley
1 tablespoon garlic powder
1 tablespoon salt
1 tablespoon pepper
1-¼ cups Italian seasoned bread crumbs
½ cup milk
---
Instructions
1.  Add first 8 ingredients to a large mixing bowl.
2. Add breadcrumbs to the mixing bowl and top with milk. Using your hands, mix all ingredients together for several minutes until well combined, then form into balls.
If you are cooking in sauce: Heat 1 tablespoon of olive oil over medium-low heat in skillet. Add meatballs and brown on all sides, turning frequently to avoid scorching. Cook just until fully browned, then remove and cook in pasta sauce for at least 90 minutes, until fully cooked through.
If you are baking: Line large baking sheet with parchment paper and place meatballs on top of parchment paper. Bake in 400 degree preheated oven for 20 minutes or until internal temperature reaches 165 degrees on a meat thermometer.
If you are pan frying: Heat 1 tablespoon of olive oil over medium-low heat in a large skillet. Add meatballs and cook, turning frequently to brown evenly and avoid scorching. Cook 15-20 minutes depending on the size of the meatballs, until internal temperature is 165 degrees on a meat thermometer.
---
Notes
If the meat mixture is too dry, add another egg, or add milk or water by the tablespoon and mix in until it reaches desired level of moisture.
If the meat mixture is too wet, add breadcrumbs by the tablespoon and mix in until it reaches desired consistency.
Keywords: Authentic Italian Meatballs, Sunday Sauce and Meatballs, Authentic Italian spaghetti and meatballs, grandma's lasagna recipe, food for a crowd, food for a group