Slow cooked with Italian sausage and meatballs, this spicy and flavorful authentic Italian Sunday sauce is the best you'll ever have!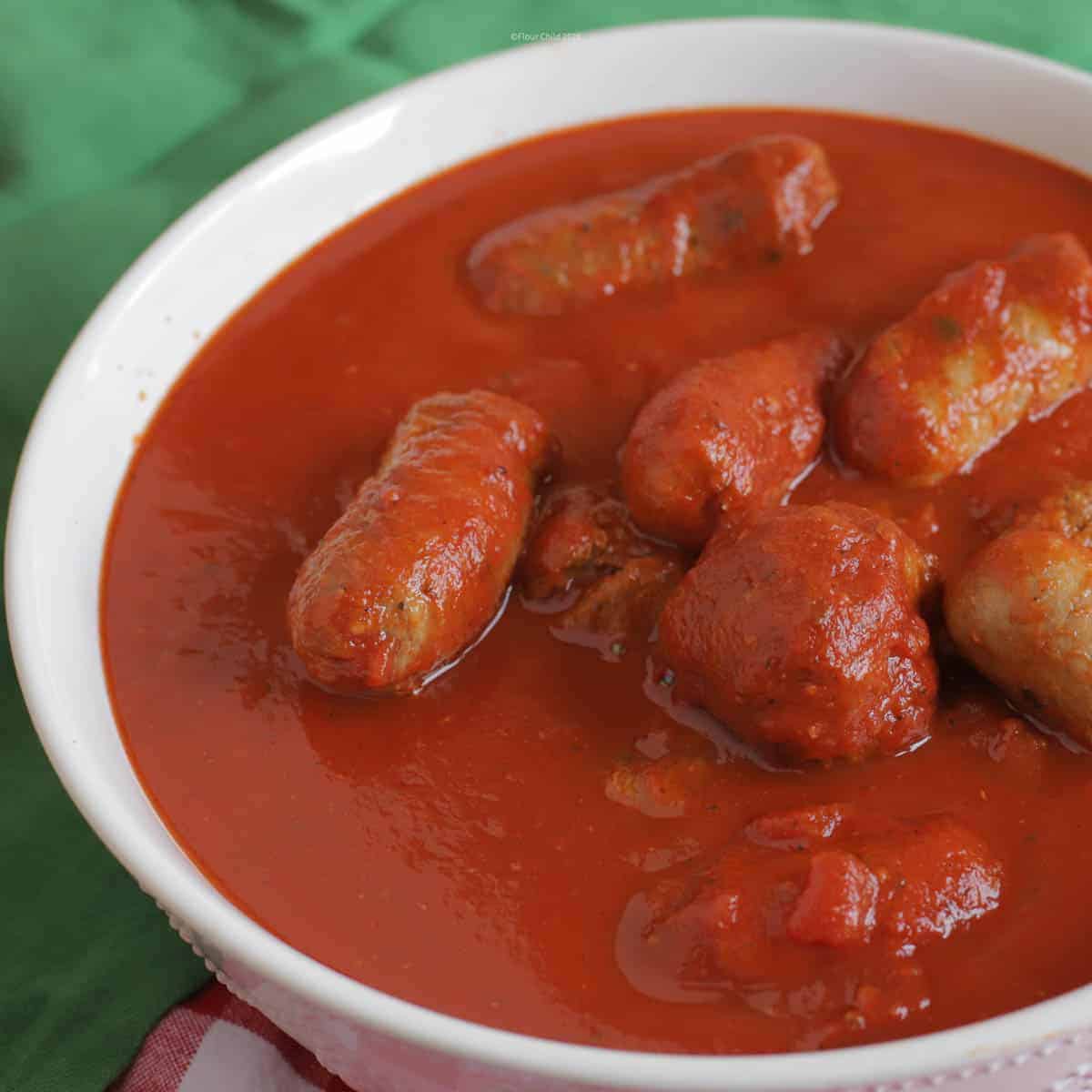 My friend Joel loaned me a charming book of generations-old family recipes that his mom, Mary Ann, put together for him. This is part 2 of a 3-part series of recipes from that book. The first recipe is for the Old World Authentic Italian Meatballs that go into this sauce. The third is for Old World Authentic Italian Lasagna, which uses this sauce in the recipe. Of course this Sunday sauce is also amazing over any pasta. One batch produces enough to both make lasagna and serve over pasta -- and that's exactly what I did!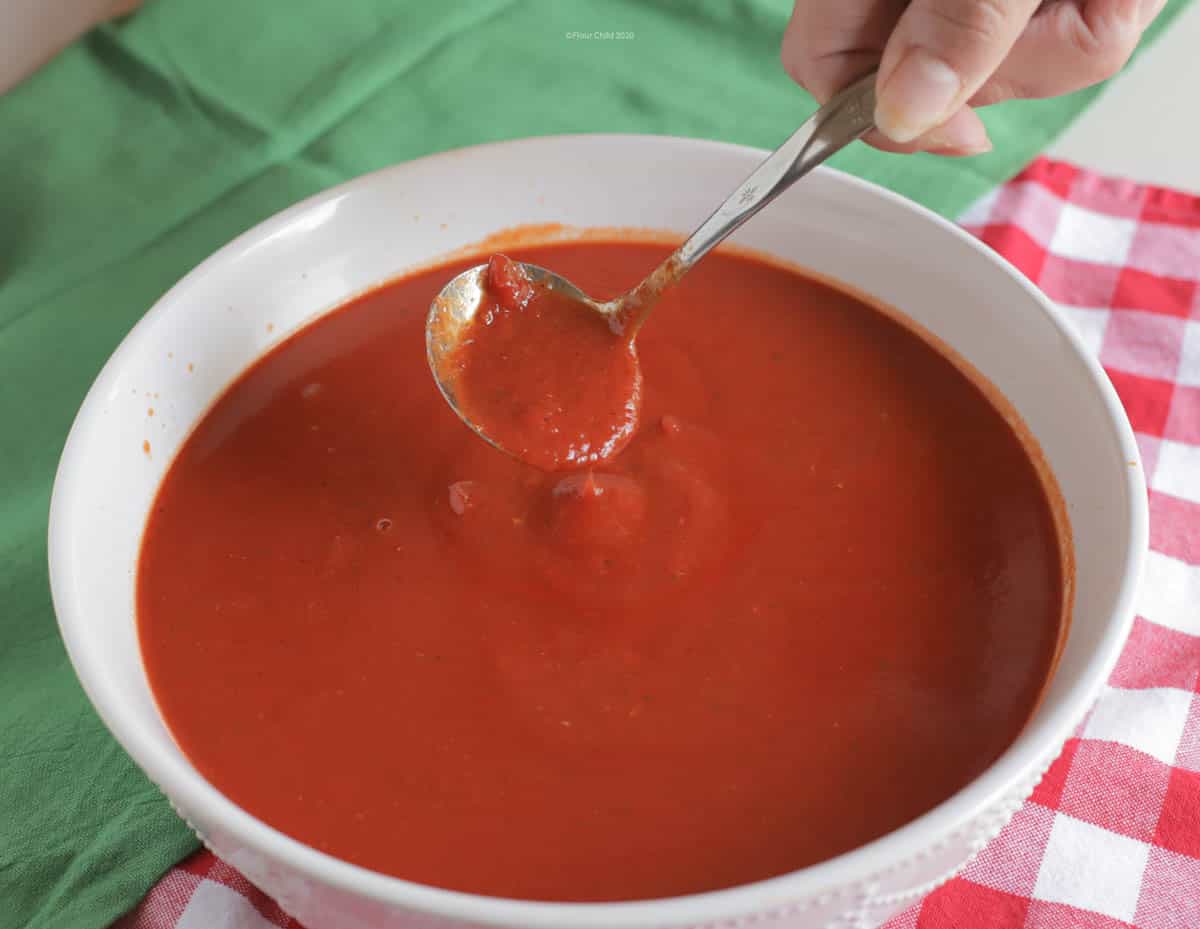 Is It Sunday Sauce or Sunday Gravy?
There is a long standing debate among Italian American families on whether this pasta topping should be called sauce or gravy. In a 2014 informal survey of New York restaurant owners, there was little agreement. Some said it depends on the color, others on whether there is meat in it. The two terms probably originated when Italian immigrants first settled in the U.S. Some adopted the American word gravy which was used to describe a topping for food, while others adopted sauce, derived from the Italian word salsa, meaning "topping." The term varied from neighborhood to neighborhood. In Brooklyn, one restaurant owner puts the same item on the menu twice, labeling one as "sauce" and the other as "gravy," and letting patrons order their preference. One thing everyone agrees on -- this is the meal that nonna made every Sunday when the family gathered together for dinner!
Sunday Sauce is Meant to Be Shared
This recipe makes A LOT of sauce! I was tempted at first to cut it in half because it was an overwhelming amount for Kevin and me. But as Mary Ann pointed out, it was created to feed a large family, and it can be used in so many ways. I used it to make two trays of lasagna and still had plenty left to serve over pasta for a couple of nights. This recipe was meant to be shared, so we invited Joel's family of 4 for dinner and let them take home leftovers. We gave some to other neighbors and still fed ourselves for a couple of nights. It can be stored in the refrigerator for 3-4 days, or in an airtight container in the freezer for up to 4 months.
You Can Make It Spicy or Mild -- or in Between
You can use either mild or hot Italian sausage when you make your Sunday sauce. Joel told me his family always makes it with hot Italian sausage and the red pepper flakes. Kevin and I don't tolerate super spicy very well, but we did want it to have a medium level of spice. So I used 3 links of mild Italian sausage and 3 links of hot Italian sausage, and I opted for 1 teaspoon of red pepper flakes instead of 2. It was still quite spicy, but not too much.
If you don't care for hot/spicy seasoning, then opt for all mild Italian sausage and just a few red pepper flakes, or even none at all. It will still have ridiculously delicious flavor, but it won't have the heat. I have always added a teaspoon of sugar when I make pasta sauce, but that wasn't listed in the ingredients here so I didn't do it. It was delicious and not too sharp, probably due to the excellent quality of the San Marzano tomatoes. But if you want to take the edge off of a strong tomato taste, add a teaspoon or two of sugar.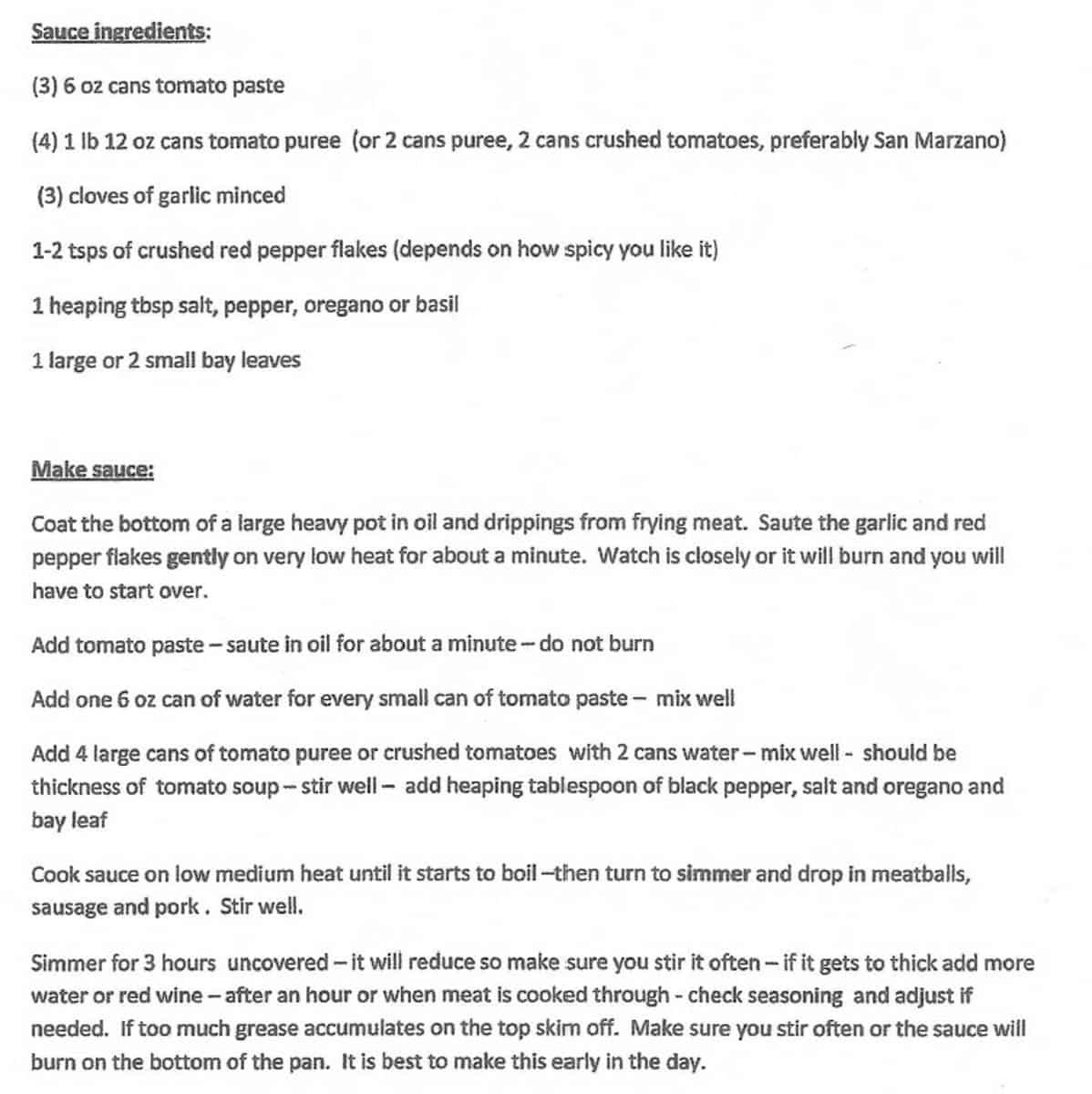 How to Cook the Sunday Sauce
Brown the meatballs and sausage in a skillet first, reserving the drippings. Put a thin coat of olive oil over the bottom of a large stockpot, then add the drippings from the skillet to your stockpot. (If you didn't just brown the meats, add enough olive oil to heavily coat the bottom of the pan.) Then add the tomato paste and water, cook for a minute and add the remaining tomatoes with water. You should not drain any of your cans before adding them to the pot. Bring the sauce to a boil, then turn it down to a very low heat to simmer.
When the sauce begins to simmer, add in the meatballs and sausage and continue cooking on a low simmer, uncovered, for 3 hours. It's important that you check on it frequently and stir it at least every 15 minutes to make sure nothing is sticking to the bottom of the pot and burning. If it gets too thick, add a little water. If grease accumulates at the top you can skim it; mine did not need to be skimmed.
A Note About the Tomatoes
You will need four 28 ounce cans of either tomato puree or crushed tomatoes. Not wanting to commit either way, I chose to purchase two of each. Mary Ann made it a point of saying that San Marzano tomatoes are preferred. I had never heard of them, and at first I thought it was a brand name. But San Marzano tomatoes are plum tomatoes grown in volcanic soil near Naples, in the small town of San Marzano Sul Sarno, Italy. They are considered the gold standard of tomatoes for their balance of sweetness and acidity. There are many brands, but they have to be produced in this region to be labeled San Marzano. Most large grocery chains carry them, although I had to visit two stores to find both the tomato puree and crushed tomatoes.
And Then There's Wine, Because...
About halfway through cooking I added ½ cup of red wine because, well, The Godfather. If you've seen The Godfather, you understand. And if you haven't, then you're not even allowed to make this!
I could have easily added a cup of red wine and it would have tasted great, but I used a light hand. "You never know, you might have to cook for 20 guys someday. You see, you start out with a little bit of oil. Then you fry some garlic. Then you throw in some tomatoes, tomato paste, you fry it; ya make sure it doesn't stick. You get it to a boil; you shove in all your sausage and your meatballs; heh…? And a little bit o' wine. An' a little bit o' sugar, and that's my trick." - Clemenza to Michael, The Godfather.
Salute!
Get Your Ingredients Together
To make this dish you will need:
Italian sausage
Tomato paste
Crushed tomatoes
Tomato puree
Garlic
Red pepper flakes
Salt
Pepper
Oregeno
Bay leaf
Red Wine (optional)
A Few Points To Remember
Determine the level of spiciness you want and plan the ingredients accordingly
Brown the meatballs and Italian sausage in a skillet before starting the sauce and reserve the pan drippings
Use San Marzano tomatoes for the best flavor
Simmer on a low heat and stir often to prevent sticking and burning on the bottom of the pot
Add some wine because...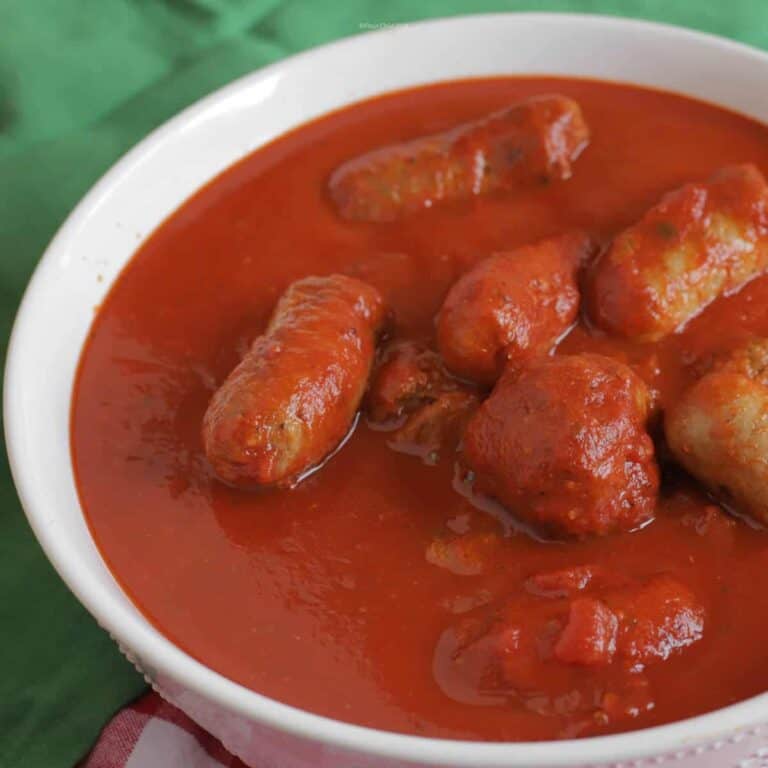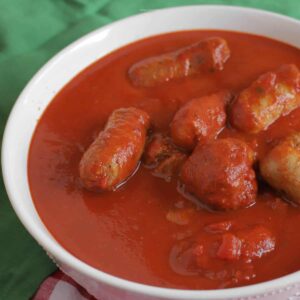 Old World Authentic Italian Sunday Sauce
Slow cooked with Italian sausage and meatballs, this spicy and flavorful authentic Italian Sunday sauce is the best you'll ever have!
Ingredients
3

cloves

minced garlic

1-2

teaspoons

crushed red pepper

18

ounces

tomato paste

56

ounces

San Marzano tomato puree

56

ounces

San Marzano crushed tomatoes

9-¼

cups

water

1

Tablespoon

salt

heaping

1

Tablespoon

black pepper

heaping

1

Tablespoon

oregano

heaping

1

large bay leaf

1 ½

pounds

Italian meatballs

browned

6

Italian fennel sausage links

browned and cut in half

½ - 1

cup

red wine

optional
Instructions
Coat the bottom of a large stockpot in oil and add the drippings from browning meatballs and sausage, if you have them.

Saute the garlic and red pepper in the pot over low heat for one minute.

Add the 3 cans of tomato paste and saute in oil for one minute, being careful not to burn.

Add the cans of crushed tomato and tomato puree, then stir in the water and mix well.

Stir in the salt, black pepper, oregano and bay leaf. 

Cook sauce on medium-low heat until it begins to boil, then turn it down to a simmer. 

Drop in the meatballs and sausage. Stir well. 

About half way through cooking, stir in ½ to 1 cup red wine if desired.

Simmer on low for 3 hours uncovered, stirring frequently. Sauce will cook down; if it gets too thick add water to desired consistency. 

After 3 hours, remove bay leaf. Serve over pasta, or reserve the sauce for the lasagna recipe.
Notes
You can substitute country style pork ribs or pork chops for Italian Sausage in this recipe, or you can use both. If using ribs or pork chops, brown on all sides in the same skillet used to brown the meatballs, and add them to the sauce at the same time you add the meatballs. Simmer in the sauce for 3 hours.
Use San Marzano tomatoes for the best flavor.
Use hot Italian sausage if you like it spicy/hot, use mild if you don't. Use a combination of the two if you like it somewhere in the middle.
Start out by gradually adding the red pepper, tasting as you go. You can't take it out once it's in, and it can get hot! It's okay to eliminate it if you prefer a milder sauce.
If you prefer a meat sauce to whole meatballs and sausage, after the sauce is done cooking mash the cooked meatballs and sausage well, and mix it into the sauce.
If you like your tomato sauce a little sweeter, add a teaspoon or two of sugar to cut the sharpness of the tomatoes. 
Store in airtight container in refrigerator for up to 4 days, or in the freezer for up to 4 months.
Nutrition
Calories:
170
kcal
Carbohydrates:
19
g
Protein:
9
g
Fat:
7
g
Saturated Fat:
2
g
Polyunsaturated Fat:
1
g
Monounsaturated Fat:
3
g
Trans Fat:
1
g
Cholesterol:
21
mg
Sodium:
699
mg
Potassium:
956
mg
Fiber:
4
g
Sugar:
11
g
Vitamin A:
1003
IU
Vitamin C:
22
mg
Calcium:
63
mg
Iron:
4
mg