Corned beef hash is a hearty favorite with its stick-to-your-ribs goodness. It takes a while to make but is definitely worth waiting for!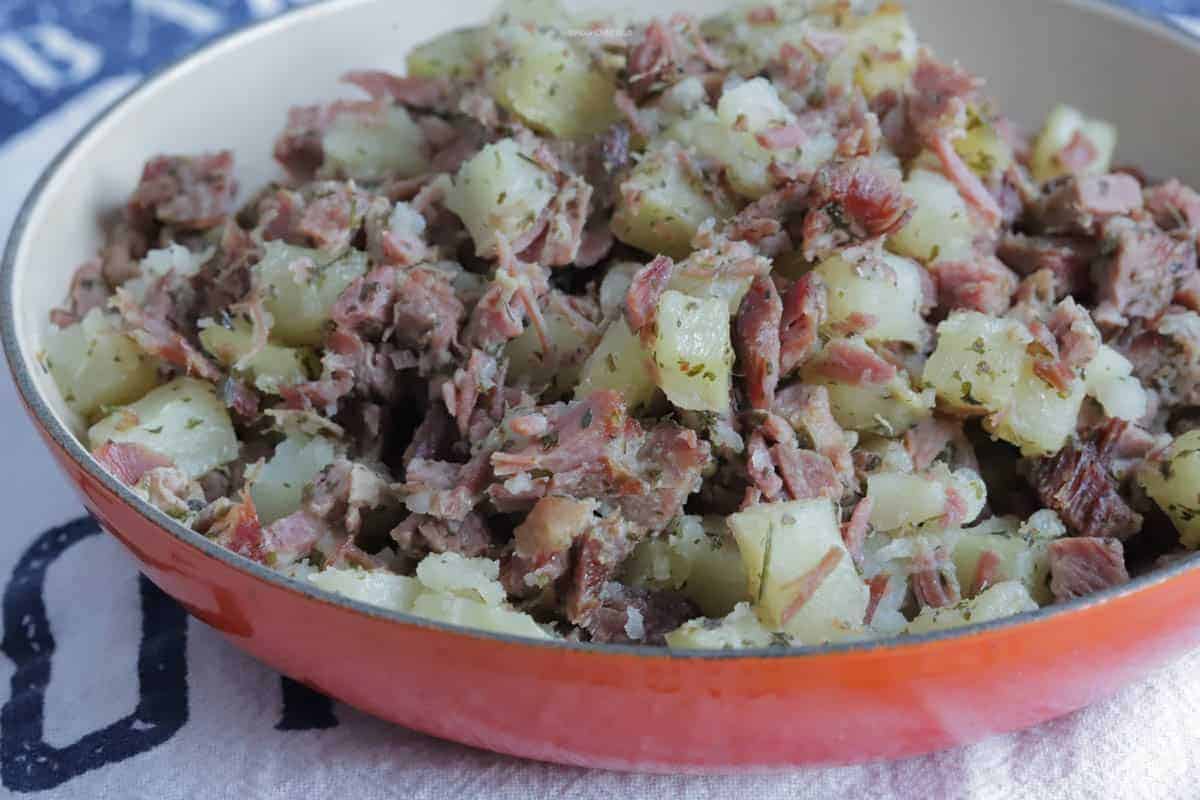 Guess What -- It's not Irish
Many people think corned beef is Irish because it is commonly served at St. Patrick's Day, but it has no origins in Ireland. It became popular in America with Irish settlers because corned beef was used as a less expensive alternative to bacon in the Irish dish of bacon and cabbage. Often served by Irish-Americans at celebrations, it then became associated with St. Patrick's Day.
Corned beef hash came about in post WWII England when foods were being rationed. Corned beef was readily available because it was stored in tins with a long shelf life, and shipped to England from various points around the world. When combined with potatoes, it provided a filling and cost effective family meal.
Until recently, I had only eaten corned beef in restaurants or from a can. It never occurred to me to make it from scratch. But one day as I was doing my "recipe archeology," as Kevin likes to call it, (studying my collection of vintage handwritten recipes) I came across this one. All I know about it is that it came from an estate sale in Utah. I thought I'd give it a try.
There were so few ingredients in the recipe that our expectations weren't high -- we thought it would be rather plain. WOW - were we wrong! Kevin took the first bite when it came out of the oven and gasped -- I thought that meant it was bad. Then he managed to sputter out that it was the best he had ever tasted. I took the next bite and had to agree, it was out of this world! There's no going back to canned corned beef hash now.
This recipe is super simple to make
Making corned beef hash only takes a few ingredients. Here's what you'll need:
Corned beef brisket with seasoning packet
Potatoes
Minced Onion
Minced Parsley
Salt (optional)
Though the recipe comes together quickly once the corned beef is cooked, you have to allow quite a bit of time to cook it. If you're planning on making corned beef hash for breakfast, I would cook the brisket the day before. I bought a packaged raw corned beef brisket that came with a seasoning packet at the grocery store meat counter, covered it in water and let it simmer according to package directions, about 2-½ hours. When it was done I removed the brisket to a cutting board but kept the corned beef stock it was cooked in. I used it for cooking the hash both on the stovetop and to moisten it periodically in the oven. Using the brisket stock enhances the flavor more than using plain water.
Tips for Success
While this dish is not complicated, there are a few things to keep in mind to ensure it stays moist and tender:
Cut the brisket into ¼ in thick slices and then cut that into cubes.
Don't over mix the ingredients so that they break down. The goal is to have distinct ingredients so that you can taste the various flavors.
Save the stock from cooking the brisket and add that to the frying pan when stovetop cooking.
Be sure to check for dryness every 10 minutes while it's in the oven. Add stock to keep it from drying out and getting too tough. I added 4 half-cups of stock at various points during baking.
The last thing you may want to do is fry some sunny side up or over easy eggs and set them on top when it comes out of the oven. This is one breakfast sure to satisfy the whole family!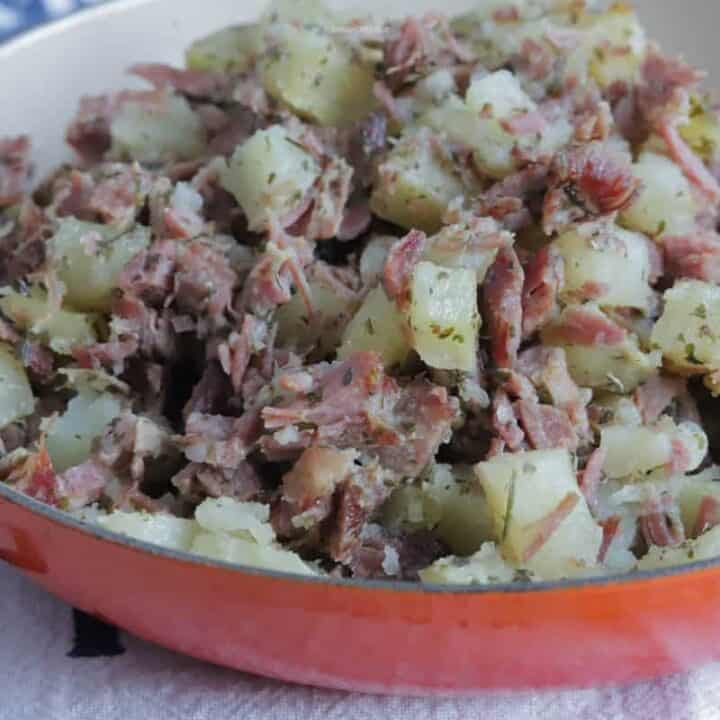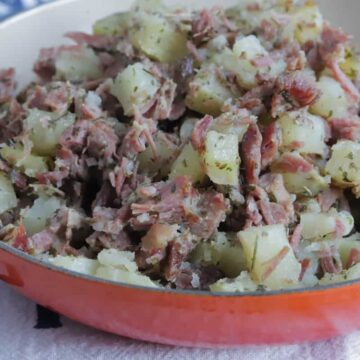 Corned Beef Hash From Scratch is the Best Breakfast Around
This hearty breakfast side dish is simple to make and sticks to your ribs. It is easy to make, but takes some time, so plan ahead. Serve it with a poached egg on top for a delicious start to your day.
Ingredients
1 ½

cups

cooked cubed corned beef

2

cups

cubed raw potatoes

1

teaspoon

minced onion

1

tablespoon

minced parsley

Salt

optional

1

cup

corned beef stock
Instructions
Preheat oven to 375 degrees

Mix the meat, potatoes and seasonings in a mixing bowl

Add ½ to 1 cup of corned beef stock, until mixture is moist

Pour into oven-safe frying pan and cook on stove top for 5 minutes

Transfer frying pan into oven and bake for 40-45 minutes

Add corned beef stock a half cup at a time as needed while baking to keep moist
Notes
Remember to keep the stock from cooking the corned beef because you'll need to add some in as you cook this in the oven and on the cooktop to ensure it stays nice and moist
Make sure your skillet is safe to use in the oven and doesn't have a  plastic handle
Nutrition
Calories:
269
kcal
Carbohydrates:
20
g
Protein:
16
g
Fat:
13
g
Saturated Fat:
4
g
Polyunsaturated Fat:
1
g
Monounsaturated Fat:
6
g
Cholesterol:
48
mg
Sodium:
1206
mg
Potassium:
842
mg
Fiber:
2
g
Sugar:
2
g
Vitamin A:
87
IU
Vitamin C:
47
mg
Calcium:
28
mg
Iron:
3
mg