These chewy and crunchy peanut butter oatmeal squares topped with a creamy peanut butter infused frosting make a great high-energy breakfast or dessert!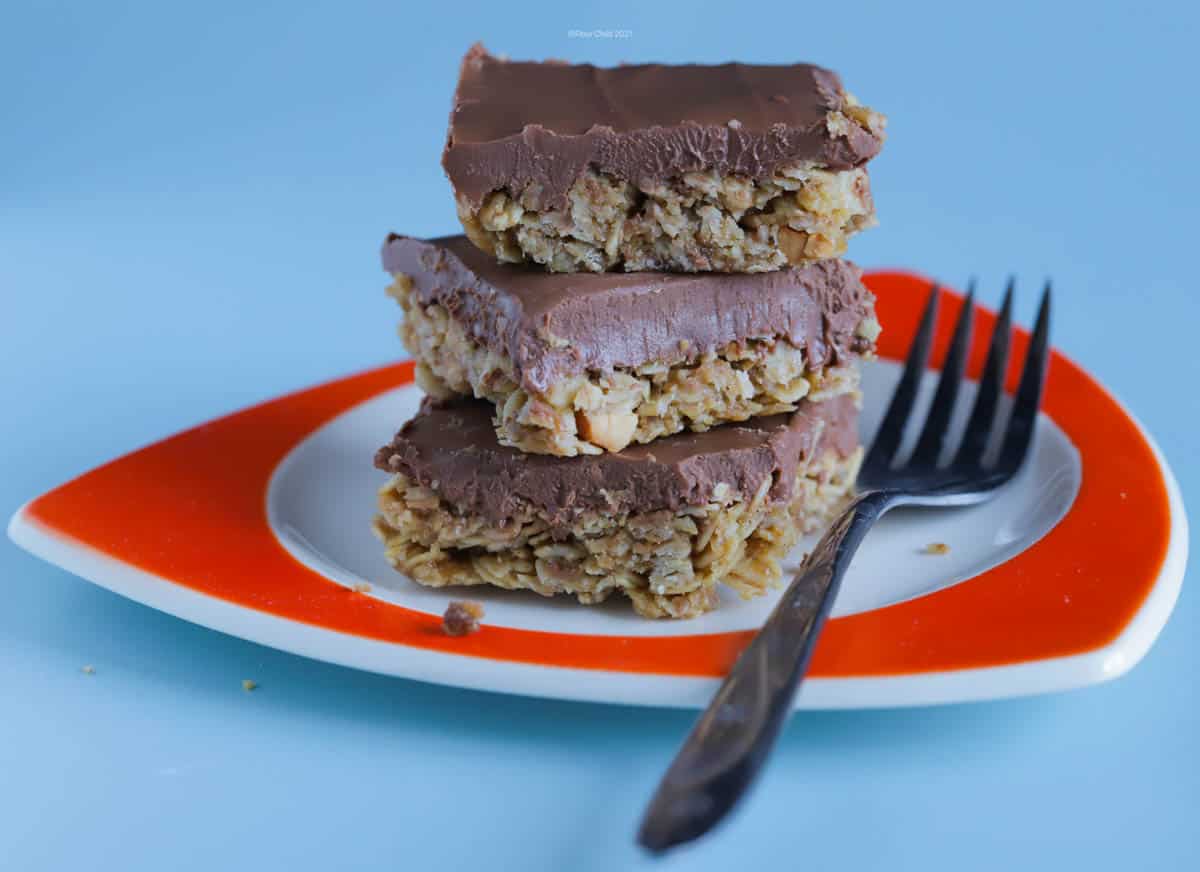 I love it when readers send me their family recipes, and this one is fantastic!
I wasn't sure how to classify this item -- is it an oatmeal breakfast bar? A high energy snack? A chocolatey-peanut butter dessert? It can be all three! But I noticed myself reaching for them most often in the morning for a quick, protein-rich breakfast, so I'm leaning toward favoring it as a breakfast bar.
This is a really flexible recipe - you can make the peanut oatmeal bar alone if you prefer to cut down on the sugar and calories, or you can top it with the irresistible frosting for an extra-special treat.
Why Bake A Breakfast Bar When You Can Buy One?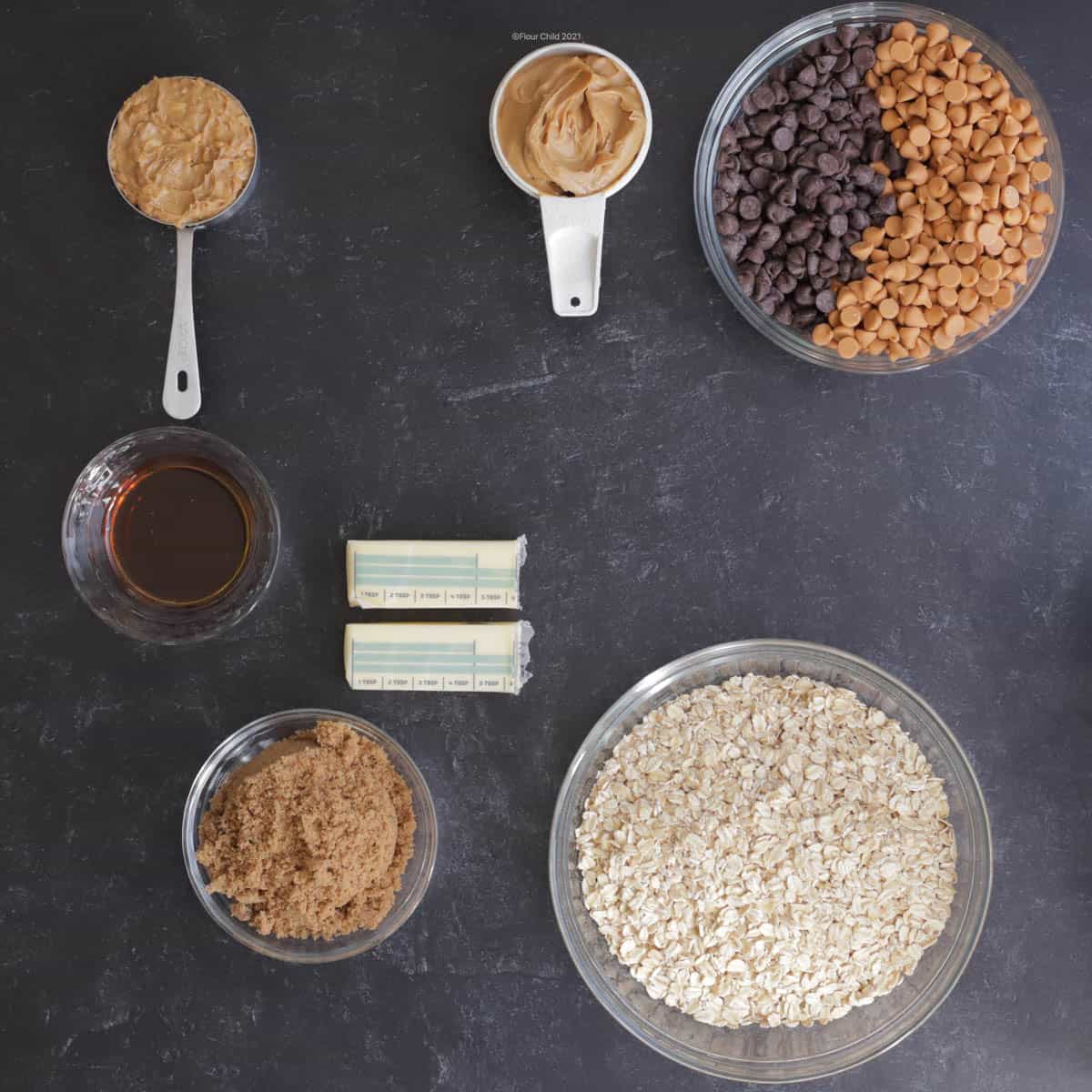 Because the peanut butter oatmeal bar itself has only 5 ingredients:
oatmeal
butter
brown sugar
crunchy peanut butter
dark Karo syrup (contains no high fructose corn syrup)
And the topping has only three:
semi-sweet chocolate chips
butterscotch chips
creamy peanut butter
When you compare that to a commercially sold breakfast bar (some containing over 30 ingredients) there's quite a difference. In this world of so many artificial colors, flavors, additives and preservatives, I prefer homemade whenever possible. To keep things extra-healthy, I recommend using organic ingredients in your cooking and baking whenever possible.
Why Is It Also Known as a Baby Ruth Bar?
The Curtiss Candy Company, located in Chicago near Wrigley Field, introduced the Baby Ruth Bar in 1921. Consisting mainly of chocolate nougat, caramel, and peanuts, the company claimed to have named the candy bar in honor of President Grover Cleveland's daughter, Ruth (often called baby Ruth when she was little.) This story is pretty weak considering that in 1921 famed baseball slugger Babe Ruth was the hottest commodity in the sport. Plus, Grover Cleveland had been out of office for 24 years, and his daughter Ruth had sadly been deceased for 17 years, having succumbed to diphtheria at the age of 12. But the court bought the story, and Curtiss was allowed to pedal the candy bar without paying royalties to its actual namesake, baseball legend Babe Ruth.
As the Baby Ruth Bar took off in popularity, this recipe for a similar chewy, chocolatey homemade peanut butter bar became a family favorite that is still much loved today.
The Origin of Our Recipe
Steve, a reader in Rochester, Michigan, originally wrote to me about his set of Salem Tricorne dishes, a 1930's dinnerware set that we both collect.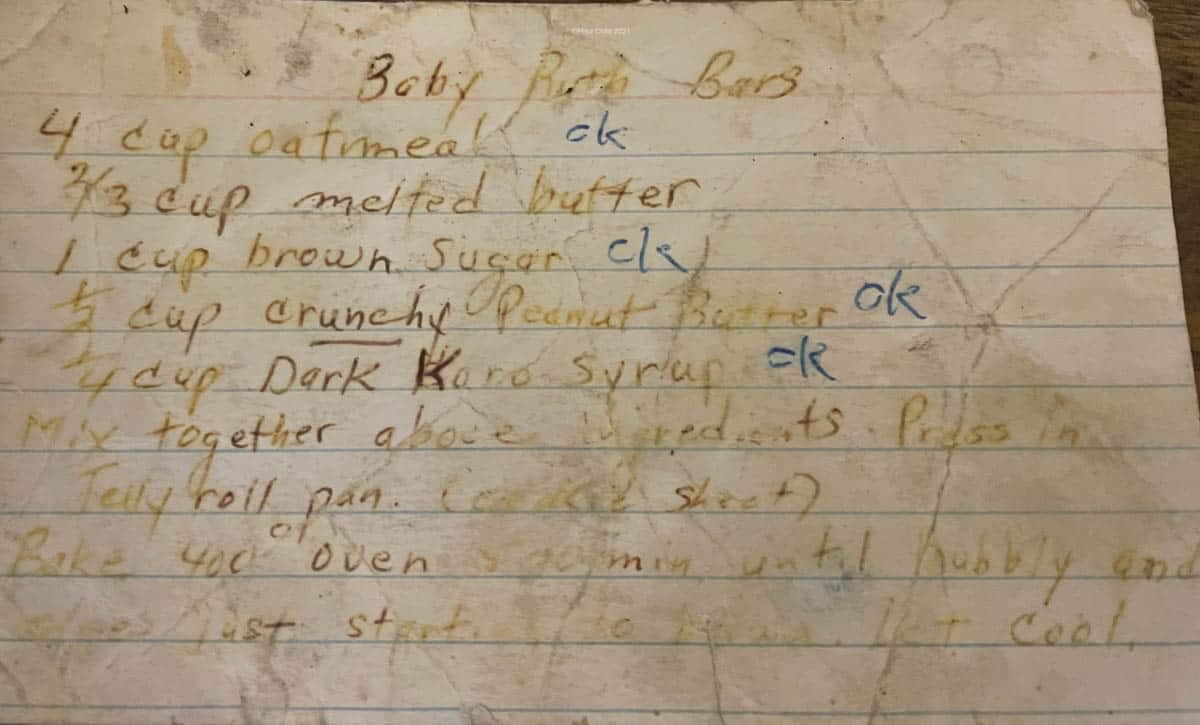 In a follow-up email, he sent me this well-loved handwritten recipe that was given to him by his 85 year old mom, Betty. She picked up the recipe years ago from one of his cousins at a high school graduation and open house. Tempted by the recipe, Steve decided to try his hand at baking them himself. The bars were an immediate hit, and ever since he's been the official cookie bar expert in his circle of family and friends!
Only 3 Steps To Make Peanut Butter Oatmeal Squares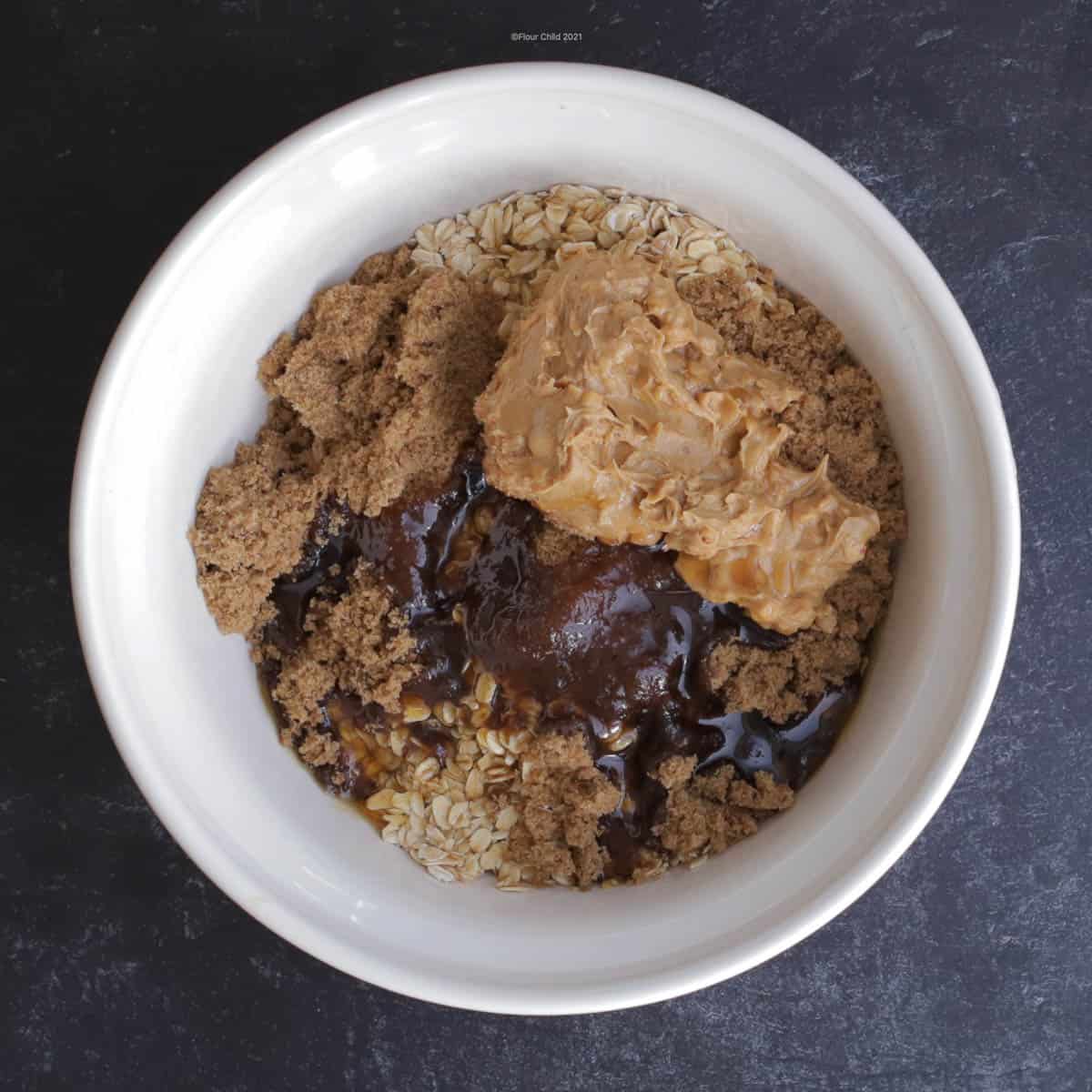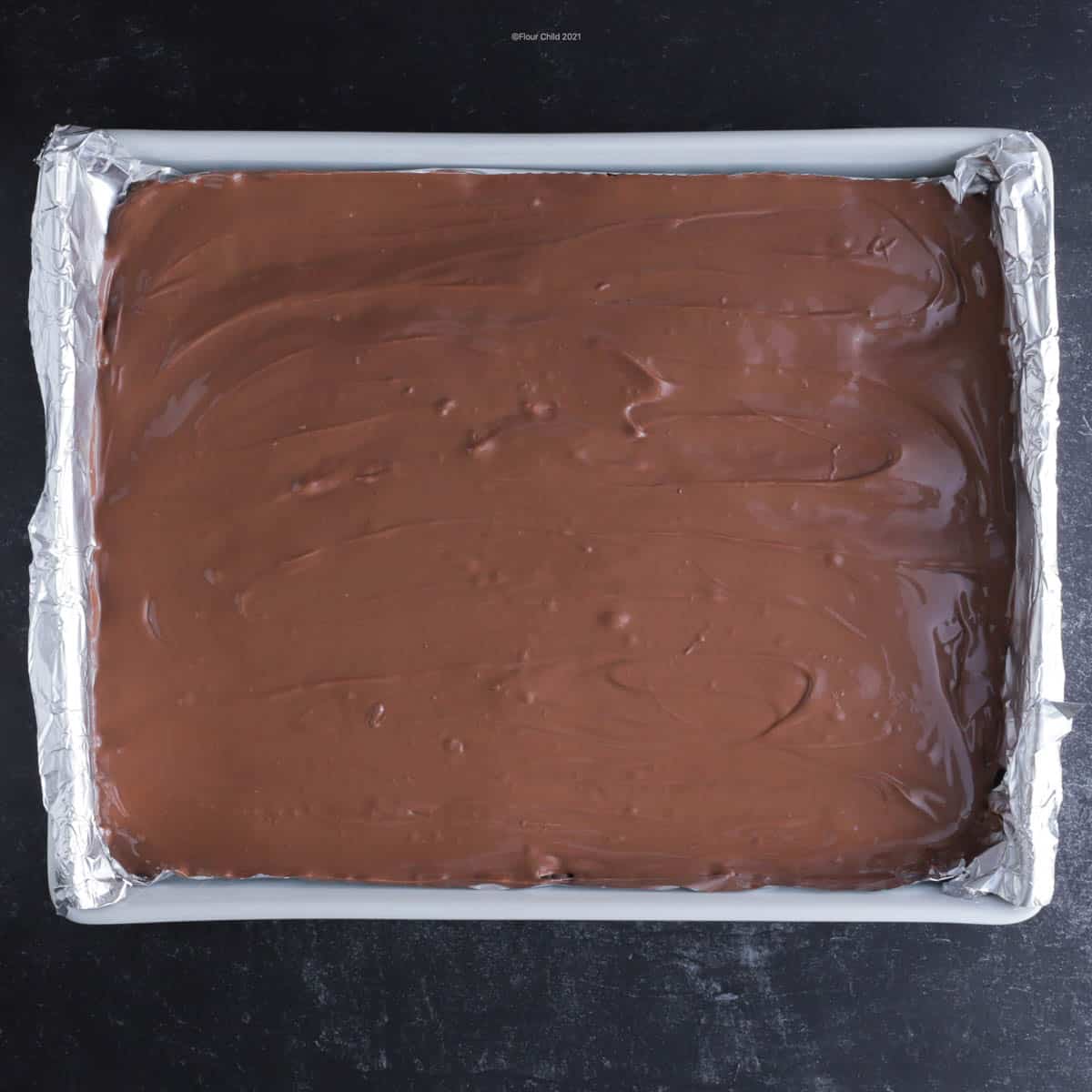 Hints for Making Peanut Butter Oatmeal Squares
Be sure to use old fashioned oatmeal and not quick cooking oats for the proper results.
Line the pan with non-stick foil for easy removal and clean up.
Cut into squares or bars after chilling for 20 minutes. If you try to cut them earlier, they will be too soft. If you let them chill longer, they get very difficult to cut.
Leave off the frosting if you prefer a lower calorie, lower sugar oatmeal breakfast bar. Without frosting, each square contains 171 calories and 12 grams of sugar.
Store in an airtight container in the refrigerator and serve cold.
With a prep time of just 15 minutes and a baking time of about 10 minutes, these treats are a snap to make and a great item to grab out of the 'fridge on your way to work or school. Enjoy!
If you have a vintage recipe you'd like share with us for possible publication, please scan it and email it to [email protected]. We'd love to hear from you!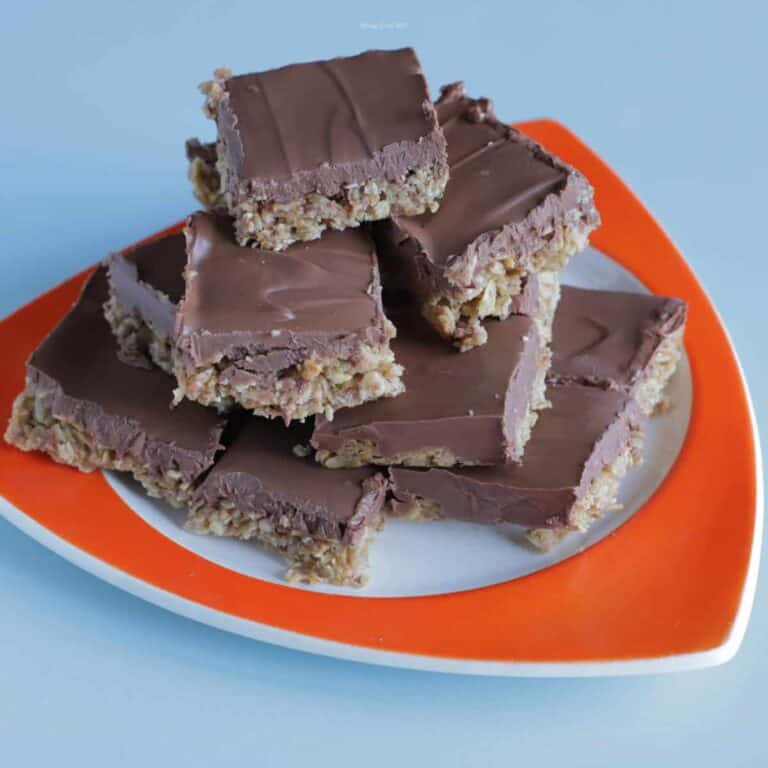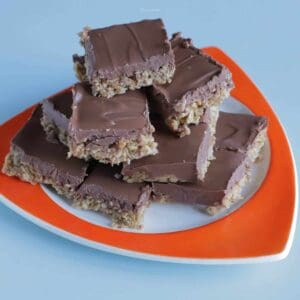 Peanut Butter Oatmeal Squares Recipe; aka Baby Ruth Bars
These chewy and crunchy peanut butter oatmeal squares topped with a creamy peanut butter infused frosting make a great high-energy breakfast or dessert!
Ingredients
Peanut Butter Oatmeal Squares
4

cups

old fashioned oatmeal

⅔

cup

melted butter

1

cup

brown sugar

½

cup

crunchy peanut butter

¼

cup

dark Karo syrup
Frosting
10

oz.

package semi-sweet chocolate chips

11

oz.

package butterscotch chips

¾

cup

creamy peanut butter
Instructions
Preheat oven to 400 degrees

In a large bowl, thoroughly mix the first five ingredients together.

Press into a 10 x 14 baking pan lined with non-stick foil.

Bake in oven for 6-10 minutes, until they begin to turn lightly golden and bubble slightly. Remove and let cool.

Combine the 3 frosting ingredients in a nonstick saucepan and melt over low heat, stirring constantly.

Pour over peanut butter oatmeal squares and spread over top.

Chill in refrigerator for 20 minutes. Remove and cut into squares or bars. Return to refrigerator and continue chilling for at least 2 hours before serving. Store covered in refrigerator and serve cold.
Notes
You can use a different size pan for the recipe. If you use a large (11 x 17) cookie sheet, your baking time will be approximately 6-8 minutes. If you use a smaller pan (9 x 13), your baking time will increase to approximately 12-15 minutes or maybe a little more. The smaller the pan, the longer the baking time will be because the bars will be thicker. Keep an eye on them so they don't over bake.
If you prefer just a chocolate-peanut butter frosting without the butterscotch, use 20 oz. of chocolate chips and 1 cup of creamy peanut butter.
Nutrition
Calories:
340
kcal
Carbohydrates:
42
g
Protein:
6
g
Fat:
18
g
Saturated Fat:
8
g
Polyunsaturated Fat:
3
g
Monounsaturated Fat:
6
g
Trans Fat:
1
g
Cholesterol:
15
mg
Sodium:
169
mg
Potassium:
224
mg
Fiber:
3
g
Sugar:
28
g
Vitamin A:
176
IU
Calcium:
31
mg
Iron:
2
mg