Adding these robin's egg blue pieces to our mid century collection of California Pottery Monterey dinnerware have added a touch of class to our photos.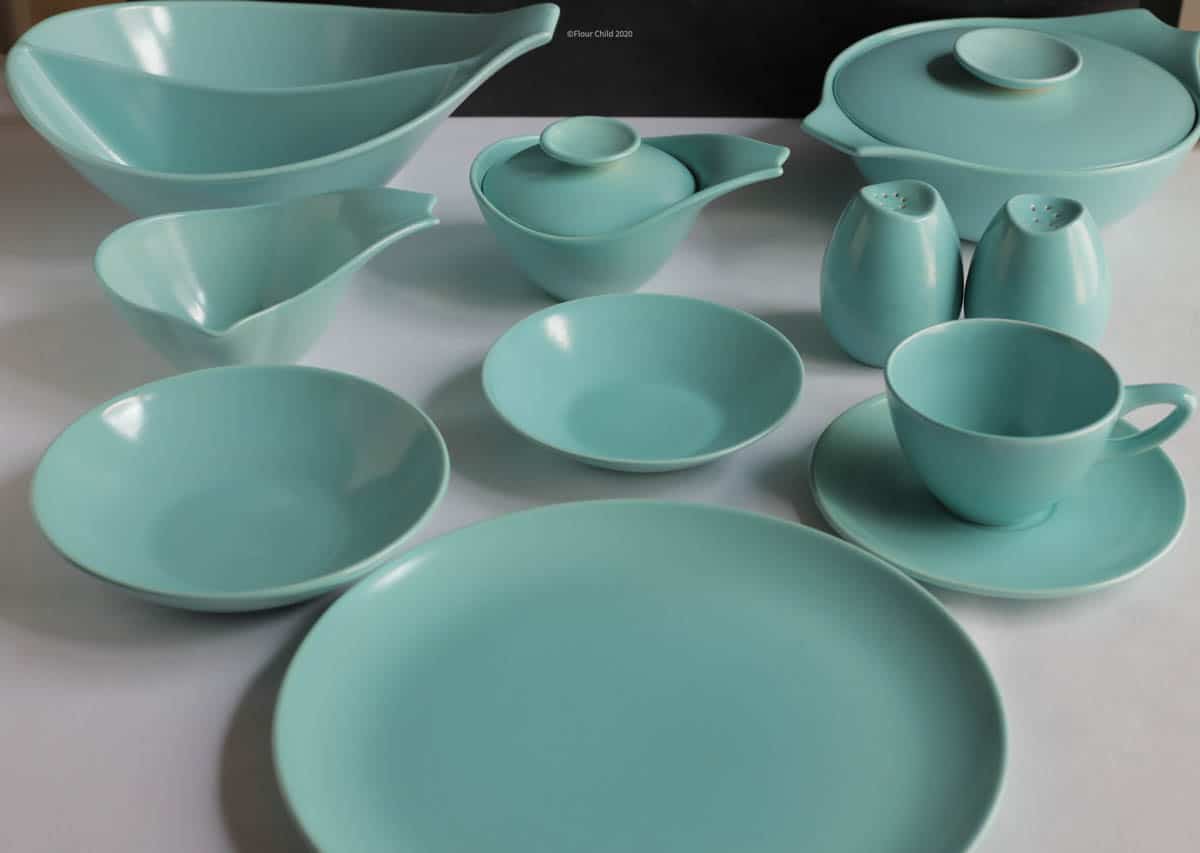 Adventures in Collecting: Temptation, Frustration, Patience!
You may have noticed that I have a thing about the Metlox California Pottery Monterey dishware from my previous post. I just love the modern shapes and speckled pastel colors. They look great in a mid century setting and really complement any dish you may be serving.
It is difficult to be responsible when collecting, especially something that was made fifty years ago in multiple colors. When I'm searching for pieces in one color or pattern, it never fails that I find the pieces I'm looking for in another color instead. When looking for blue, I always seem to find green, rose or yellow. The temptation is always there to purchase the other colors and collect them all. A good case in point are the somewhat rare salt and pepper shakers in this photo. I had found a set online and ordered them. I eagerly awaited their arrival, but was heartbroken to open the box and find they were crushed like little eggs during shipping. Sure, there was one other set for sale online -- in the color rose. I was tempted, but took a pass.
Thankfully. patience is its own reward. Soon, another pair of blue salt and pepper shakers came up for sale. I purchased them, and was very relieved when they arrived intact. I don't have anywhere near a complete set, but it's growing. The unique serving bowls have already appeared in one of our posts. Right now I'm on the lookout for the pitcher that goes with this set.
Southern California Craftsmanship in Monterey Dishware
One of the reasons I like Metlox Pottery, in addition to its mid century beauty, is that it was manufactured near where we live in Southern California. You can find pieces of it in virtually every antique market here, although not necessarily in great condition because it was a very practical and affordable everyday dinnerware set that was well loved and used by families. I have already written a brief history of the company in my previous post so I won't repeat the story, but if you're interested in reading about it you can do so here.
Even though it takes patience (not my greatest virtue) and can be frustrating, I truly enjoy collecting. I'm keeping my eyes peeled for more pieces -- hopefully in the right color. Are you also collecting this set? If so, please share photos of your favorite pieces!