This broccoli and cheese casserole is big and gooey and everyone's favorite way to eat broccoli. It's the perfect side dish for big family gatherings or holiday parties.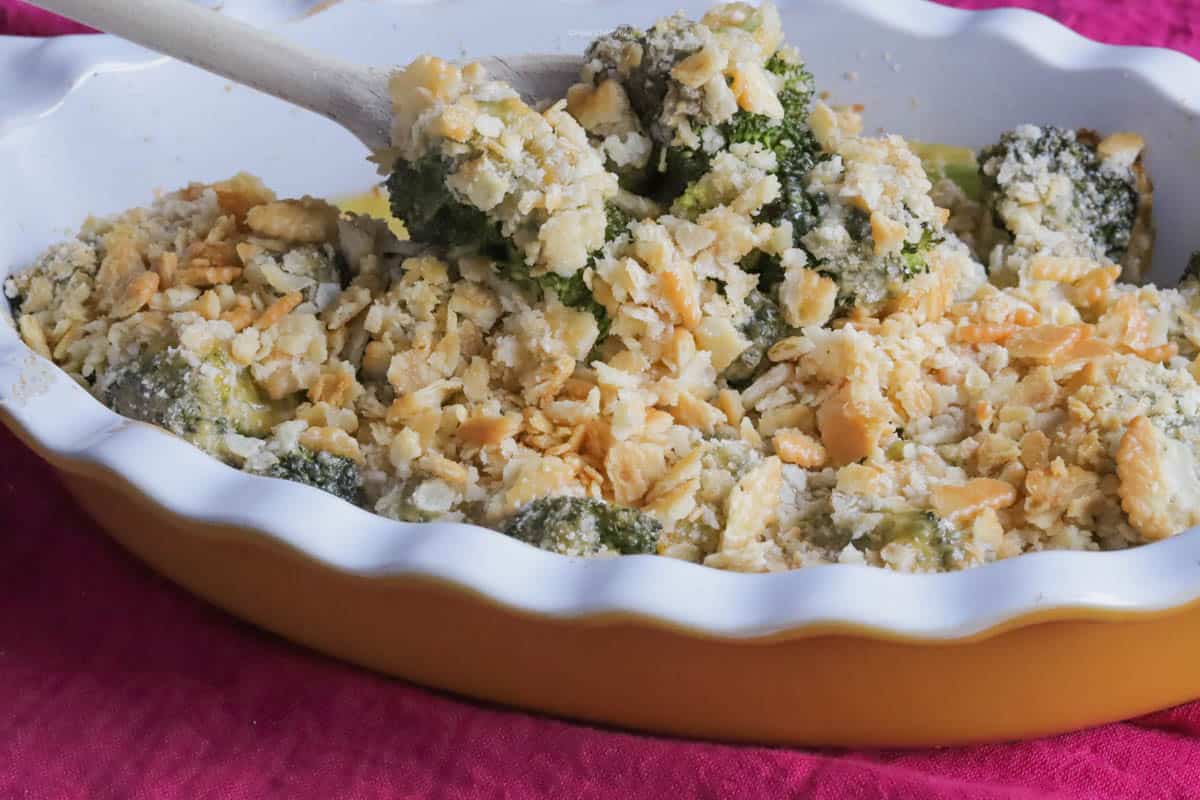 Cooking up a romance
When I was in high school in the 1970's, my mom had a part time job in the credit department at Sears. There was a 16-year old boy that worked in her department after school, and she was determined to fix me up with him. You can imagine how excited I was about that. Who wants to go out with someone their mother wants to fix them up with? I flatly refused to even meet him.
One day she asked me to pick her up at Sears at 3:00 with the promise of going clothes shopping in the mall after her shift. Asking a teen girl if she wants to shop for clothes is like asking an addict if they want crack. It was not possible to say no! At 3:00 I parked the car in front of her door and waited, but she didn't come out. We didn't have cell phones, so I finally went in to look for her. "You're early," she said. "No, you told me 3:00." "Did I? I don't get off until 4:00 today. Come in and sit at this desk while I finish working. By the way, John, meet my daughter, Nancy." Oh boy, I fell hook, line and sinker into her trap!
Guess who's coming to dinner?
Much to my surprise, my mom's sneaky plan worked. He asked me out and we ended up dating for about a year until we went away to college. We both had World War II era parents, and they were very traditional. When John's mom found out he was dating the daughter of a lady he worked with, she went into Sears and asked to see my mother. They talked briefly, and she invited my parents and me to dinner at their house. This would never happen now, and was even a bit old-fashioned for the 1970's. Most of my friends never meet the parents of their children's boyfriends/girlfriends. Even when they get married, most families now meet for the first time at the rehearsal.
The next weekend we went to John's parents house where his mom had obviously spent the day cooking up a feast. She served appetizers, cocktails, a beef roast, potatoes, and this broccoli and cheese casserole. My mother loved it and asked her to write down the recipe. The handwritten card we took home that night is in the photo here with the ingredients.
Is it really cheese in that broccoli?
Now before we go on, full disclosure: the cheese in the recipe is Velveeta, which is labeled "pasteurized cheese product" consisting primarily of whey and milk protein concentrate (in other words, not really cheese.) As much as people like to poo-poo Velveeta, it is a hugely popular product. A shortage nearly caused pandemonium just prior to the 2014 Super Bowl because it is used in so many Super Bowl snacks. Velveeta was invented in 1918 by Swiss immigrant Emil Frey when working for the Monroe Cheese Company in New York. Kraft Foods bought Velveeta in 1927, and they developed their own recipe for it rather than using Frey's. Velveeta is popular in chip dips, cheese soup recipes, and grilled cheese sandwiches, among other things. One of those other things is broccoli and cheese casserole, which I'm writing about today.
Easy Preparation Steps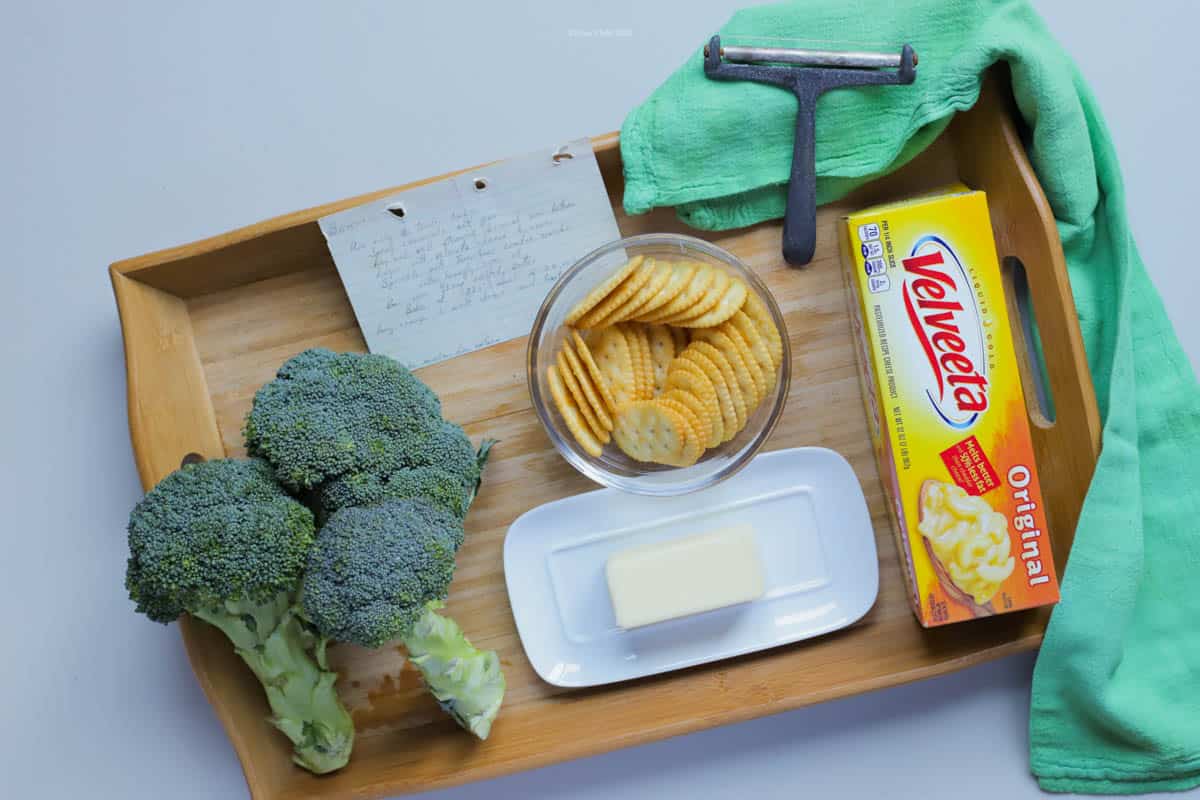 I love this recipe first because it is delicious, and second because it takes minutes to prepare but tastes like it takes much longer.
First, simply cut the florets off of the fresh broccoli stems, then steam them over boiling water for about 12 minutes just until they start getting soft and turning bright green. Don't boil them directly in the water or steam them for too long or they will turn mushy. We obviously want to avoid mushy broccoli. In my experience frozen broccoli florets do not work well in this recipe, so invest the couple of minutes it takes to cut them fresh.
When steaming is complete, arrange them in the casserole dish.
Using a rolling cheese slicer, slice Velveeta in long strips and place over the broccoli in the casserole dish.
Cover the Velveeta with a sleeve of crushed Townhouse crackers.
Last, melt a stick of butter in the microwave and drizzle over the casserole. Pop in the oven and twenty minutes later you're ready to eat!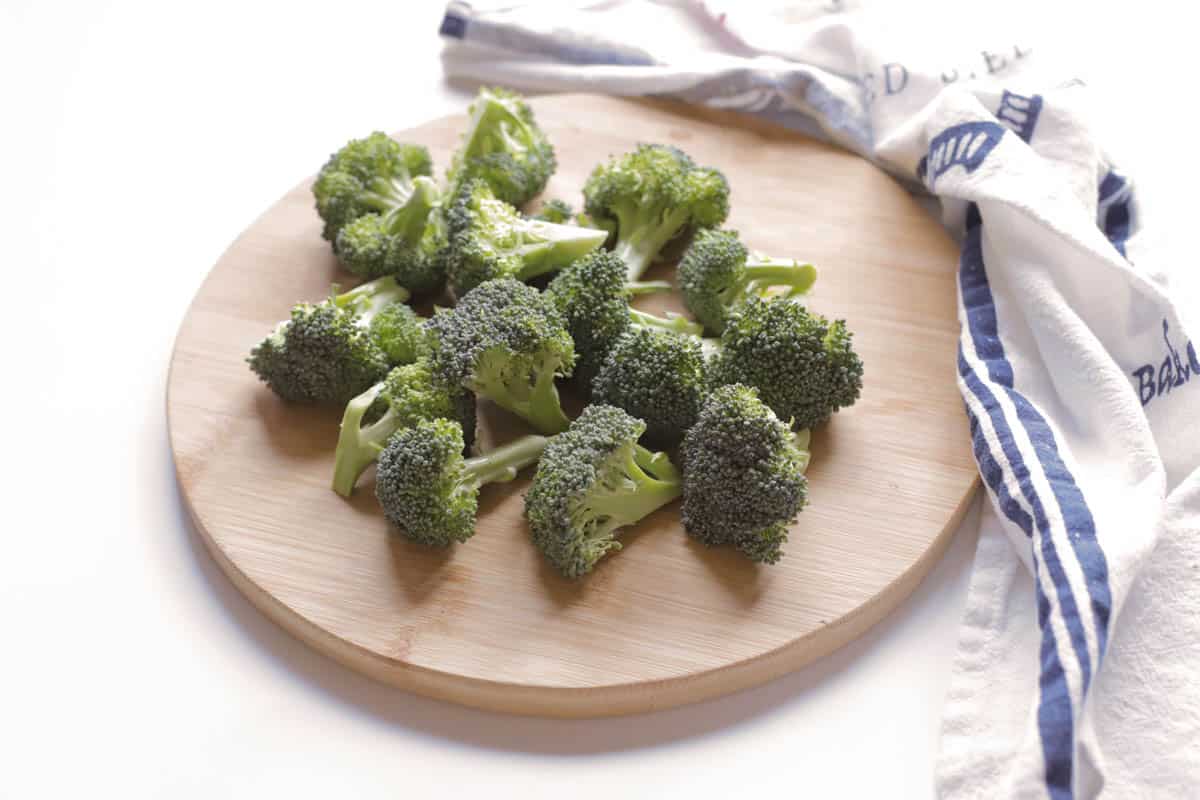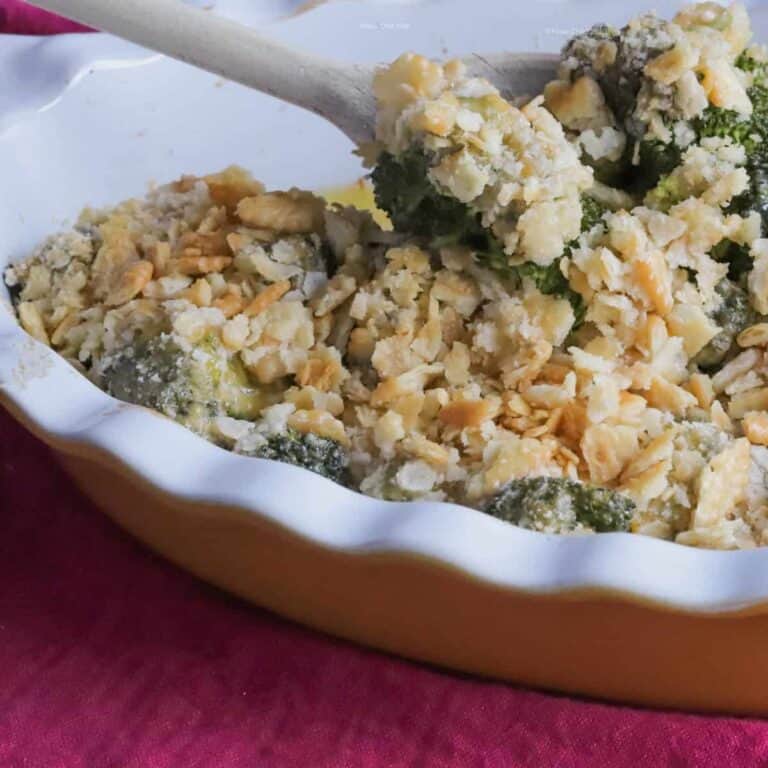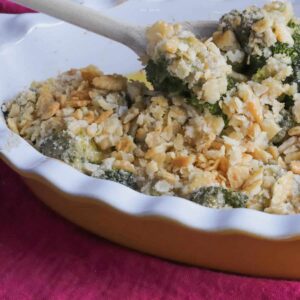 Broccoli and Cheese Casserole with Buttery Cracker Topping
This buttery, cheesy, crumb topped broccoli casserole is melt-in-your-mouth delicious. It will make you forget you're eating your vegetables!
Ingredients
2

pounds

fresh broccoli

cut into florets and steamed

Velveeta Cheese

cut into long thin strips

1

sleeve

Townhouse Crackers

crushed

8

tablespoons

melted butter
Instructions
Preheat oven to 350 degrees. Spray a 9 X 13 casserole with non stick spray.

Cut tips off of a head of broccoli; steam over boiling water for about 12 minutes, just until it starts to soften and color is bright green. Arrange over the bottom of the greased casserole dish.

Using a cheese slicer, slice long thin strips of Velveeta and place over the broccoli. Sprinkle crushed Townhouse crackers over the top of the casserole.

Melt 1 stick of butter and pour evenly over the top of the cracker crumbs. Bake at 350 degrees 20 minutes, until cheese is melted and cracker crumbs are toasted.
Notes
Can be made up to a day ahead and stored in the refrigerator. If you do that, top with crackers and butter right before putting it in the oven.
In my experience frozen broccoli florets do not work well in this recipe, so invest the few minutes it takes to cut them fresh.
Nutrition
Calories:
270
kcal
Carbohydrates:
15
g
Protein:
12
g
Fat:
20
g
Saturated Fat:
12
g
Polyunsaturated Fat:
1
g
Monounsaturated Fat:
4
g
Trans Fat:
1
g
Cholesterol:
56
mg
Sodium:
784
mg
Potassium:
613
mg
Fiber:
4
g
Sugar:
6
g
Vitamin A:
1780
IU
Vitamin C:
135
mg
Calcium:
293
mg
Iron:
1
mg
Looking for a summertime broccoli dish? Try our Fresh Broccoli and Cauliflower Summer Salad