These farfel garlic egg noodles are absolutely addictive! Hot spoonfuls of tiny egg noodle pasta in a garlic butter sauce are a bit of heaven on earth.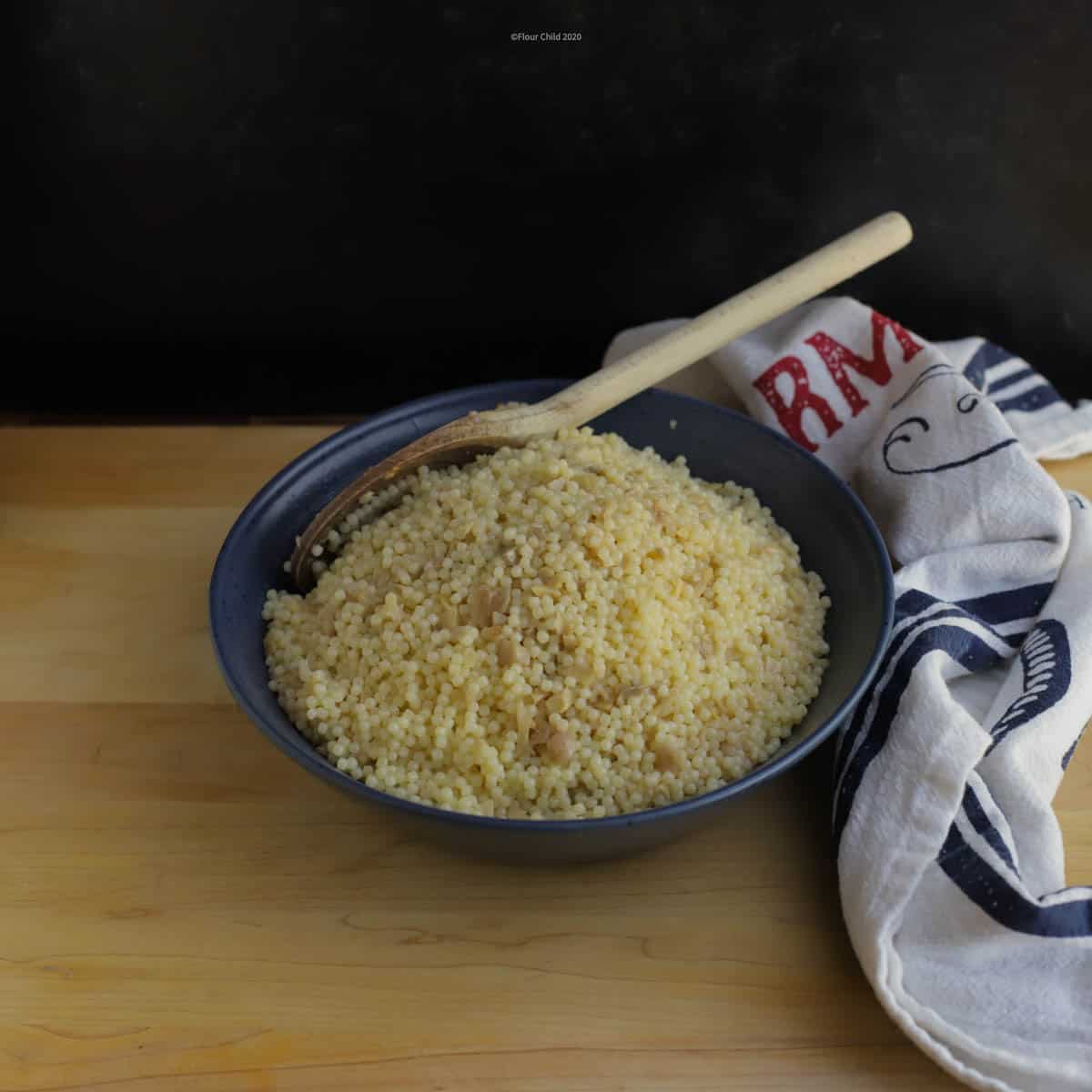 This side dish is seriously addictive. No matter how much we make, our family finds a way to consume it all.
Who can resist a dish with a name like farfel? The name is fun, the tiny noodles are fun -- and to top it all off, it's incredibly delicious!
What is Farfel?
Farfel is a traditionally Jewish pasta side dish consisting of a small egg or matzah noodle. The word farfel (farfl) is Yiddish and comes from the German word varveln, meaning "small noodle." It is similar to the German egg noodle dish, spaetzle.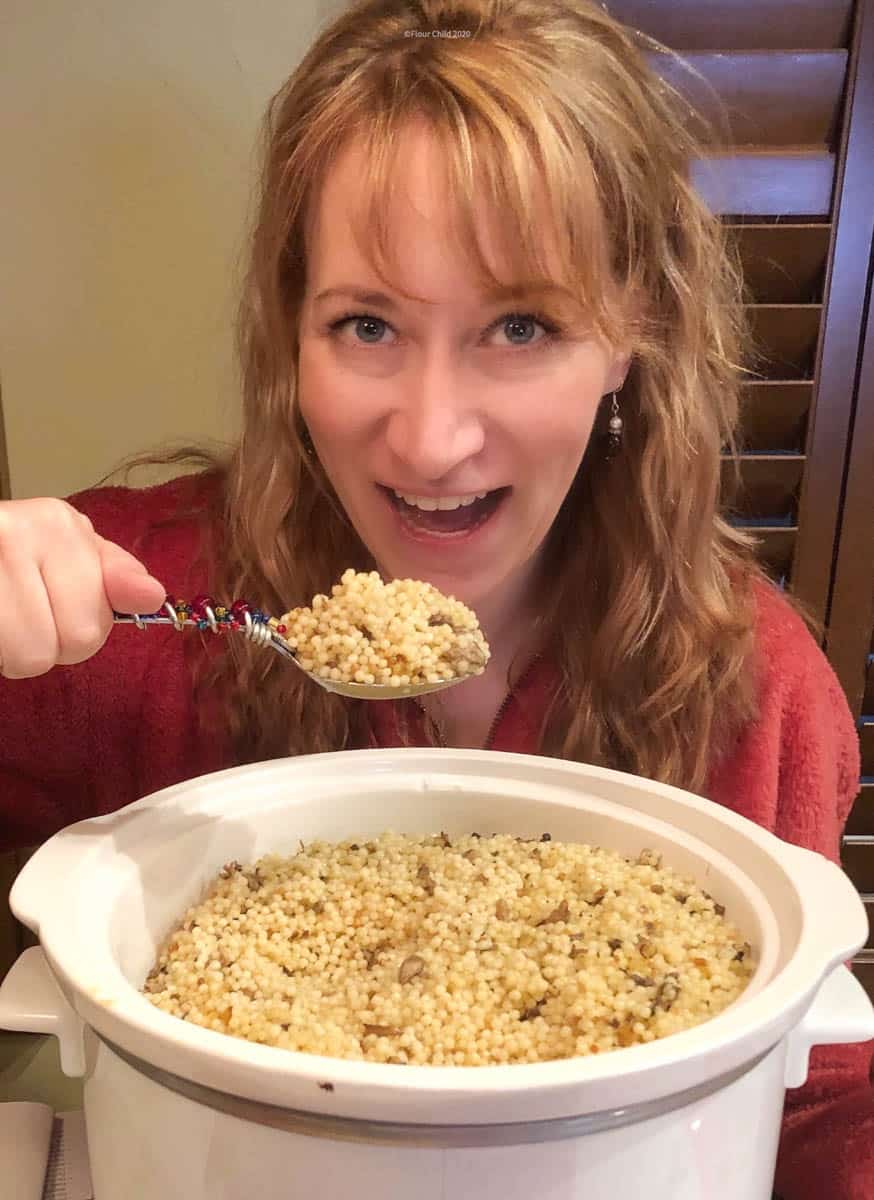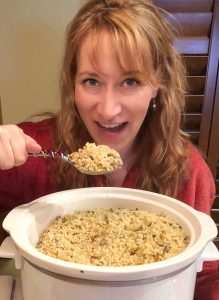 This particular recipe was introduced in my family in the 1940's by my dad's sister, my Aunt Lucille. She and her husband were members of the Club International at the Drake Hotel in Chicago, and this dish was served at a dinner they attended. Lucille enjoyed it so much that she asked the chef to come to the table. She paid her compliments and asked if he would be willing to share the recipe. He obliged, and it has been a family favorite that has been passed down through generations ever since. My family seriously loves this dish. Just take a look at my niece Tracy over this massive crockpot of farfel at Thanksgiving last year!
Just 5 Easy Ingredients
Farfel is so simple to make and takes only 5 ingredients:
Box of tiny egg noodles
Can of sliced mushrooms
Butter
Garlic
Salt
Use The Proper Egg Noodles
Make sure you use a very small egg noodle. I like to use Acini di Pepe because is very tiny and pretty in the dish. Orzo is small and works well too, but I don't think it looks as attractive.
Mushrooms are a Must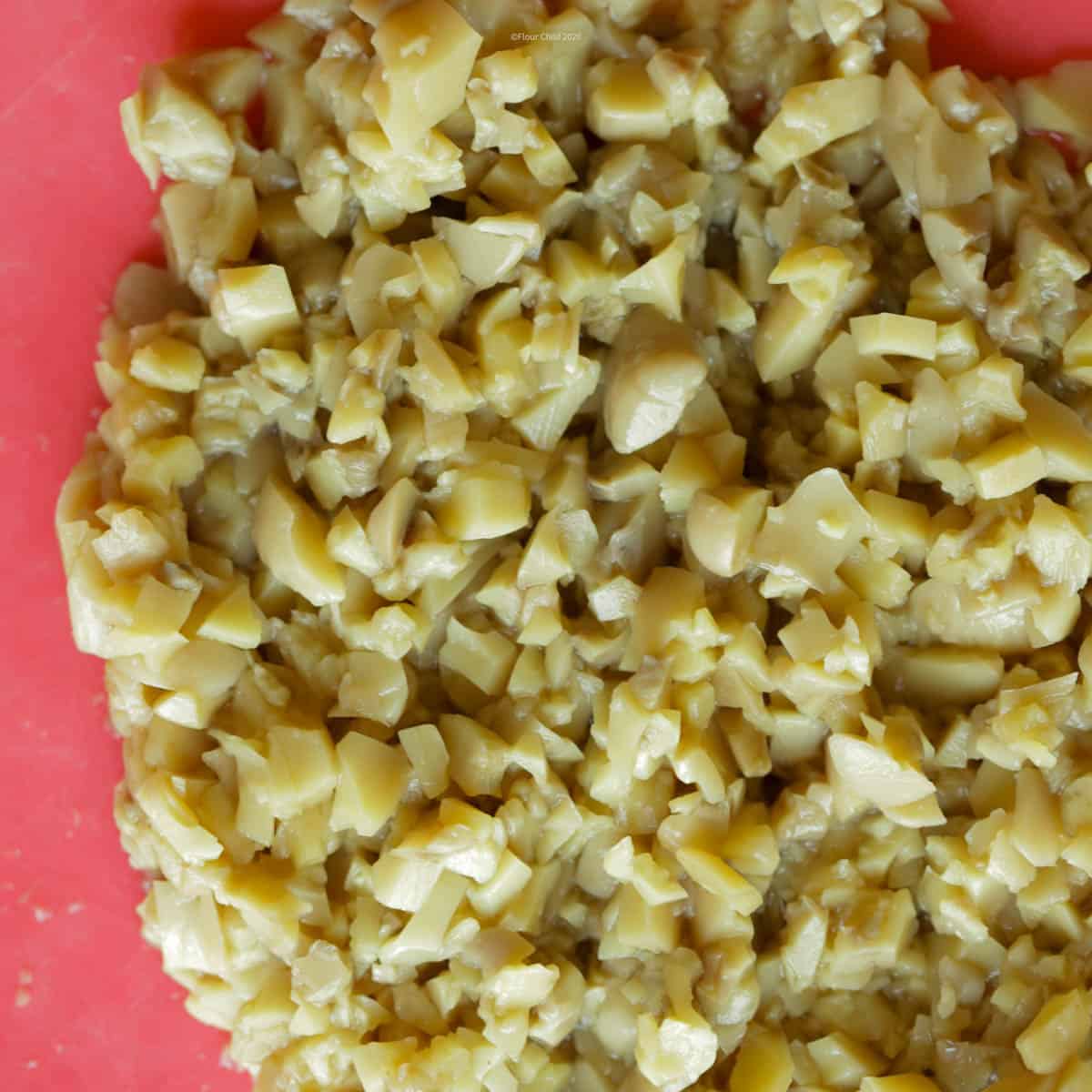 If you are not a mushroom fan, put the mushrooms in this dish anyway! Almost everyone in my family dislikes mushrooms, but leaving them out really leaves it lacking something important. It doesn't have a mushroom flavor or texture because you chop them so finely, and they add an important element to the dish. Trust me, mushroom haters will gobble it up and not even know they're there. The secret is to chop the mushrooms into very fine pieces. This helps enhance the flavor of the farfel garlic noodle recipe, and the mushroom haters won't even notice. If they ask what those tiny flecks are, just say "seasonings!"
This recipe should be made several hours or a day in advance of serving, therefore I usually make it in the morning to serve with dinner. This allows the noodles to absorb the flavors, making it even tastier at dinnertime. My sister has a large family and usually doubles or triples the recipe. She makes it in the morning and leaves it in a warm crockpot all day until serving time which saves space in the refrigerator. But f you do that, remember to stir it often so it doesn't stick or burn on the bottom.
Tips for Making Garlic Farfel Egg Noodles
Watch the butter carefully when you're melting it in the skillet because it burns easily, and if that happens there is no saving it.
Taste as you salt. Noodles tend to need salt, and everyone likes a different amount. Therefore after you have mixed in the initial teaspoon of salt taste it, and if necessary add more to your liking. I usually add two or more teaspoons.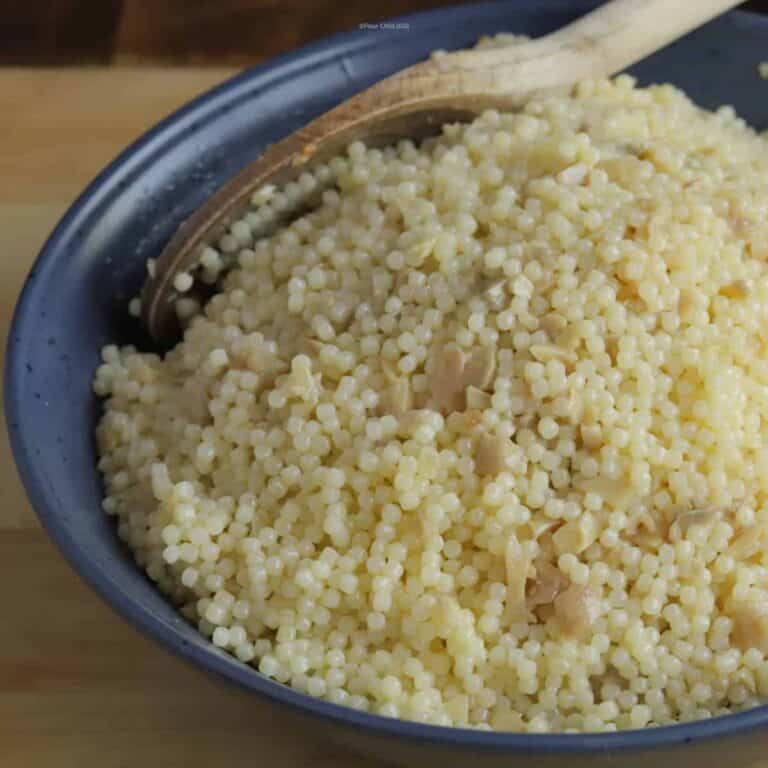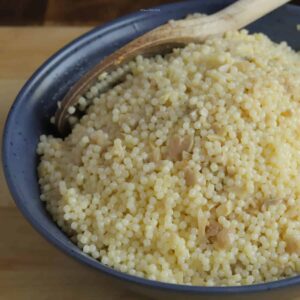 Farfel Garlic Egg Noodles
Farfel Garlic Egg Noodles are a delicious side dish to meat entrees, and are a must-have on a holiday buffet. Easy to make ahead and keep warm in a crock pot until serving.
Ingredients
1

box

acini di pepe pasta

16

tablespoons

butter

5

cloves

garlic

chopped

6.5

ounces

canned sliced mushrooms

1

teaspoon

salt

plus more to taste, if necessary
Instructions
Prepare noodles in salted water according to package directions. Drain and rinse in cold water.

Grease casserole dish with butter and set aside.

Mince garlic cloves and chop mushrooms as finely as possible.

Melt butter over low heat in a large skillet. Add minced garlic, mushrooms and one teaspoon of salt to melted butter and cook on low heat, stirring constantly for one minute.

Place drained noodles in a large bowl and pour garlic/mushroom/butter/salt mixture over the top; mix thoroughly.

Put noodles in casserole dish greased with butter. Refrigerate for several hours or overnight to allow the flavors to set in.

Before serving, bake in a covered casserole dish at 325 degrees for 30 minutes.
Notes
If you want to make this dish ahead and keep it warm in a crockpot, after noodles are combined with butter mixture put them into the crockpot. Set crockpot on the lowest setting and stir noodles frequently so they don't burn or stick to the bottom.
If you're using minced garlic from a jar, use 2 - ½ teaspoons.
After mixing the butter mixture into the noodles, taste for salt and add more to your liking. Noodles absorb a lot of salt. It may need 2 or more teaspoons.
Recipe can easily be doubled or tripled to feed a crowd.
Nutrition
Calories:
359
kcal
Carbohydrates:
33
g
Protein:
6
g
Fat:
24
g
Saturated Fat:
14
g
Polyunsaturated Fat:
1
g
Monounsaturated Fat:
6
g
Trans Fat:
1
g
Cholesterol:
60
mg
Sodium:
589
mg
Potassium:
44
mg
Fiber:
2
g
Sugar:
2
g
Vitamin A:
700
IU
Vitamin C:
1
mg
Calcium:
13
mg
Iron:
2
mg