The Pink Squirrel is a fun fifties cocktail that is perfect for Valentines Day. Remember to make enough for two, though!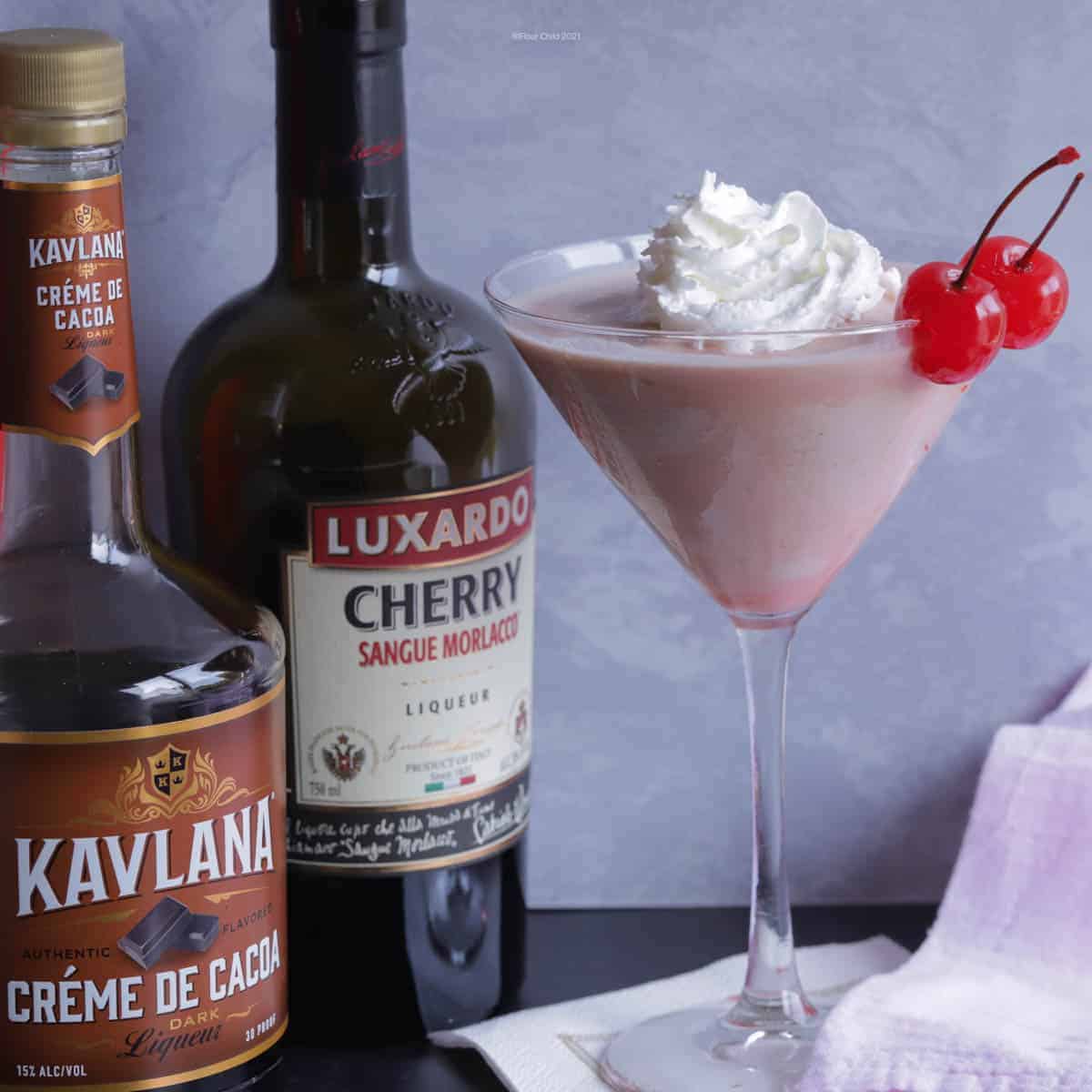 Fun Frozen Cocktails Hit the Big Time
Americans fell in love with blender cocktails and ice cream drinks in the 1950's for good reason. They finally had a cheap and ready supply of ice, and many homes now sported modern conveniences like a blender.
The Pink Squirrel comes to us from Wisconsin, the same region that created the Grasshopper. This cocktail was invented in the 1940's by John Dye of Bryant's Cocktail Lounge in Milwaukee.
While this cocktail was a popular drink in the 50's, by the 60's it had already started to fade from view. Probably because the main ingredient was expensive and not used very often. By the 70's this drink was relegated to the memory banks. But proving that everything old is new again, it started popping up in television shows and movies such as Cocktail, starring Tom Cruise.
It turns out there a few variations on the Squirrel cocktails depending on what color the ingredients turn when mixed together. There's a Black Squirrel made with Cynar, a Brown Squirrel made with amaretto, and a Chocolate Squirrel that features more chocolate liqueur. I'm guessing there are probably several others if you look hard enough. The recipes are very similar, featuring creme de cacao, another liqueur, and heavy cream or ice cream. Typically, these drinks are served with a dusting of nutmeg or a dash of whipped cream.
You can make this drink a couple of different ways -- shaken, or blended with ice. Some folks prefer to use vanilla ice cream rather than heavy whipping cream for an even richer dessert drink.
Ingredients for a Pink Squirrel
I'm pretty sure you probably don't have the main ingredient for this drink, which is Creme de Noyaux. I know I didn't. In fact, I had never even heard of it. Knowing I probably wouldn't see a lot of demand for this specialized liqueur, I decided to improvise. I replaced it with one of my favorite cherry liqueurs that provides a nice shade of pink color and tastes delicious.
Here's what you need:
Creme de Cacao
Creme de Noyaux--if you have it. This red liqueur is what gives the drink its pink coloring. It's an almond-flavored liqueur made from apricot kernels and probably a bunch of artificial red dye. If you don't have it sitting on your bar waiting to be used, I recommend something that you can use in several cocktails such as Luxardo Cherry liqueur. It tastes delicious and can be used in a variety of drinks such as the Martinez, and is also a wonderful addition to a Rye Manhattan. Using this liqueur gives the drink the perfect color and a tasty cherry flavor that blends well with the chocolatey Creme de Cacao.
Heavy whipping cream
Tips for a Successful Pink Squirrel
Since I'm already deviating from the recipe, let's go even more off-script.
Add a few Luxardo Maraschino cherries to the blender in addition to the cherry liquor for a stronger cherry flavor.
Swirl in some of the cherry syrup to the finished drink to give it the perfect shade of pink.
Top it with a spritz of whip cream and/or nutmeg, and garnish with a cherry or two.
If you have had a traditional Pink Squirrel, let me know if you feel strongly about the Creme de Noyaux and I'll give it a go.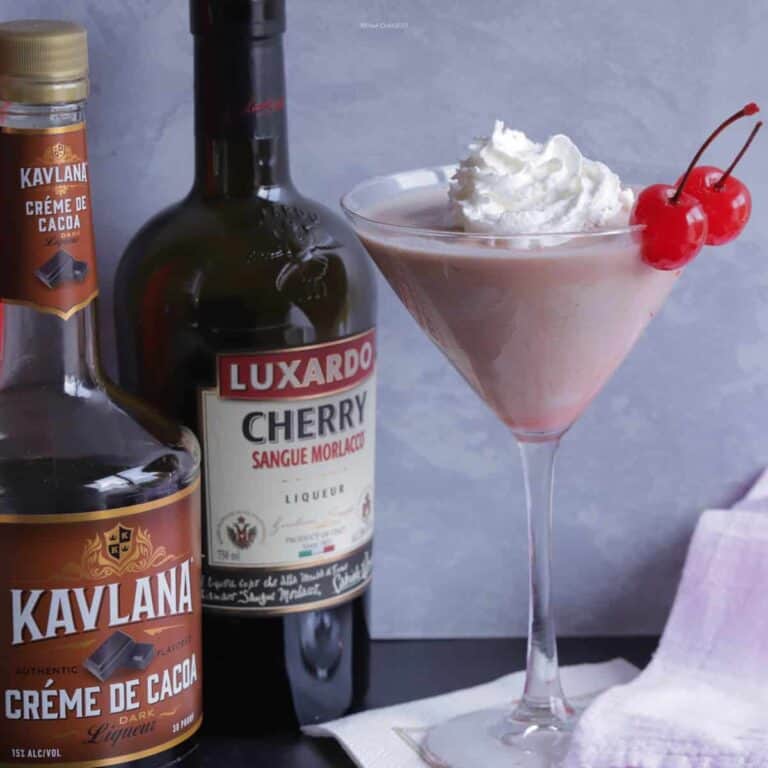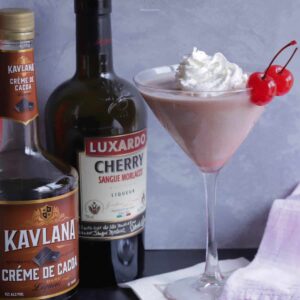 The Pink Squirrel Valentine's Day Cocktail
This delicious frozen cocktail is perfect to celebrate Valentine's Day. Made with Cherry liqueur and cream it is a fun, tasty retro drink.
Ingredients
1

ounce

Creme de Cacao

1

ounce

Creme de Noyaux or Luxardo Cherry Liqueur 

1

ounce

Heavy Whipping Cream

4

Cocktail cherries

Nutmeg (optional)
Instructions
Place a cup of fresh ice in a blender

Pour the ingredients in and blend for approximately one minute

1 ounce Creme de Cacao,

1 ounce Heavy Whipping Cream,

1 ounce Creme de Noyaux or Luxardo Cherry Liqueur 

Pour into a stemmed cocktail glass

Add a couple of Luxardo cherries into the drink with a splash of syrup from the jar, then lightly stir to mix

Dust with a garnish of ground nutmeg (optional)

Add a couple of stemmed cherries for garnish
Notes
You can replace the heavy whipping cream and ice with vanilla ice cream in the blender if you prefer. 
Nutrition
Calories:
98
kcal
Carbohydrates:
1
g
Protein:
1
g
Fat:
10
g
Saturated Fat:
7
g
Polyunsaturated Fat:
1
g
Monounsaturated Fat:
3
g
Cholesterol:
39
mg
Sodium:
11
mg
Potassium:
21
mg
Sugar:
1
g
Vitamin A:
417
IU
Vitamin C:
1
mg
Calcium:
18
mg
Iron:
1
mg