The Champagne Cocktail never goes out of style. Combining the fun of Champagne and the luxury of Cognac, this drink became a mid century favorite.
Celebrate Good Times, Come On!
This cocktail more than any other is associated with parties, holidays and special occasions. It was a popular mid century cocktail because it embodied the optimistic, affluent lifestyle of tail fins and luxury. The dashing Victor Laszlo ordered one while sitting at the bar of Rick's Café Americain in Casablanca.
It is one of the original cocktails, and a version first appeared in the 'Bon Vivant's Companion' in 1862. Like most drinks, it has changed over the years and ingredients have come and gone, but this paired down, simple version is the one I prefer. Some people leave out the Cognac, but I feel it takes away some of the smooth, nutty flavor of the drink and turns it into a sweet glass of Champagne.
This drink made a comeback in the mid century and was especially popular with ladies of that era. There's a funny scene in the 1960's-set comedy Blast from the Past, where Brendan Frazer's character declares it was his mom's (Sissy Spacek's) favorite drink.
Mixed Feelings
Some Champagne purists may scoff at adding anything to a fine champagne, but people keep coming back to this fun classic. There are many recommendations to use a Prosecco or other sparkling wine, but I find those to be too sweet, and adding a sugar doesn't make them better. I prefer mixing with a Brut or Dry California sparkling white wine for a crisp, light drink with just the right amount of sweetness.
A quick word about the sugar cube is probably in order. It really should be a sugar cube and not just a measure of granulated sugar. As you can see in the picture above, that dark cube floating just off the bottom of the glass generates the bubbles that keep the drink lively and fun.
Champagne Cocktail Ingredients
This is not a complicated drink to mix up but it helps to have the right ingredients.
A quality Brut or Dry Champagne
Cognac
Angostura bitters
Sugar cube
Lemon twist
It's up to you which Champagne glass to serve it in, either a flute or a saucer. I prefer a flute, because the dramatic rise of the bubbles is part of the fun.
Tips for a Successful Champagne Cocktail
Just a few pointers to ensure this cocktail makes a splash:
Use a Dry Champagne so that the drink does not come out too sweet.
It is important to note that you really do need to use a sugar cube rather than just spooning some granulated sugar into the bottom of the glass.
Before you go, did you try this cocktail? Why not leave a comment in the comments section along with a rating? I always appreciate hearing from you and getting your feedback.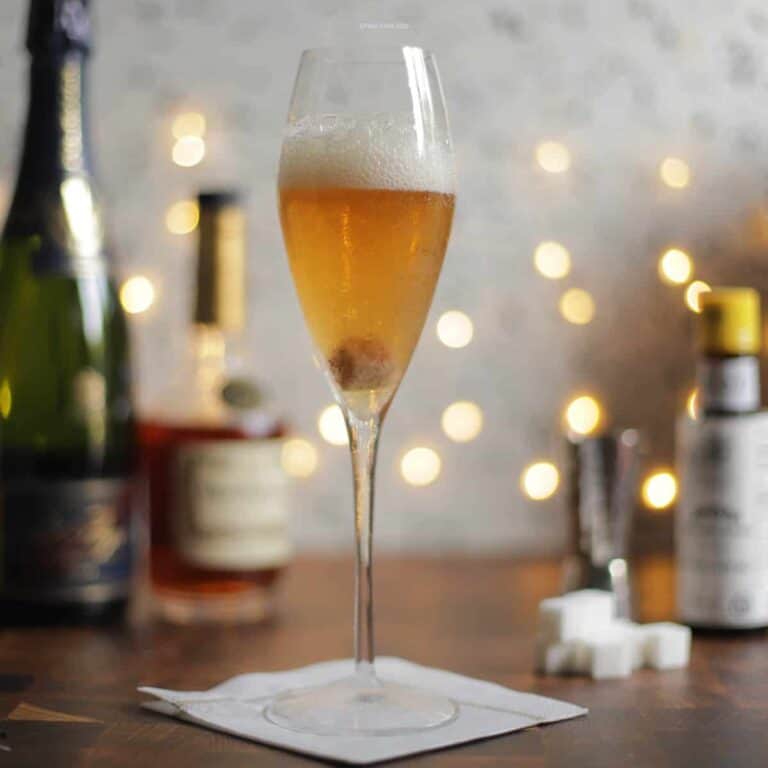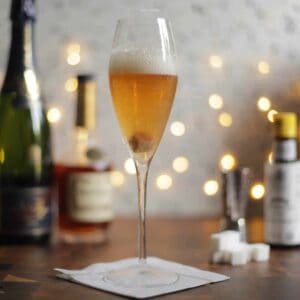 Champaign Cocktail is a Blast from the Past
The fun, classy and tasty Champagne Cocktail was a mid century favorite.
Ingredients
3-4

Ounces

Dry Champagne

1

Ounce

Cognac

1

Sugar Cube

3-4

dashes

Angostura bitters

Lemon twist
Instructions
Place a sugar cube on a cocktail napkin and add 3-4 dashes of Angostura bitters to soak the cube.

Add sugar cube to Champagne flute.

Add Cognac to glass.

Fill glass with 3-4 ounces of Dry Champagne or until appropriately full.

Express the lemon twist over the rim of the glass and discard.
Notes
Ensure you chill the Cognac before adding, otherwise warm Cognac can 'kill' the drink and make it flat.
You can experiment with the sugar cubes and use a Demerara sugar cube if you like.
Nutrition
Calories:
137
kcal
Carbohydrates:
6
g
Protein:
1
g
Sodium:
6
mg
Potassium:
75
mg
Sugar:
5
g
Calcium:
8
mg
Iron:
1
mg