This homemade bolognese sauce has chunks of Italian sausage and ground beef in a white wine tomato sauce. It also contains a secret ingredient that makes it extra flavorful!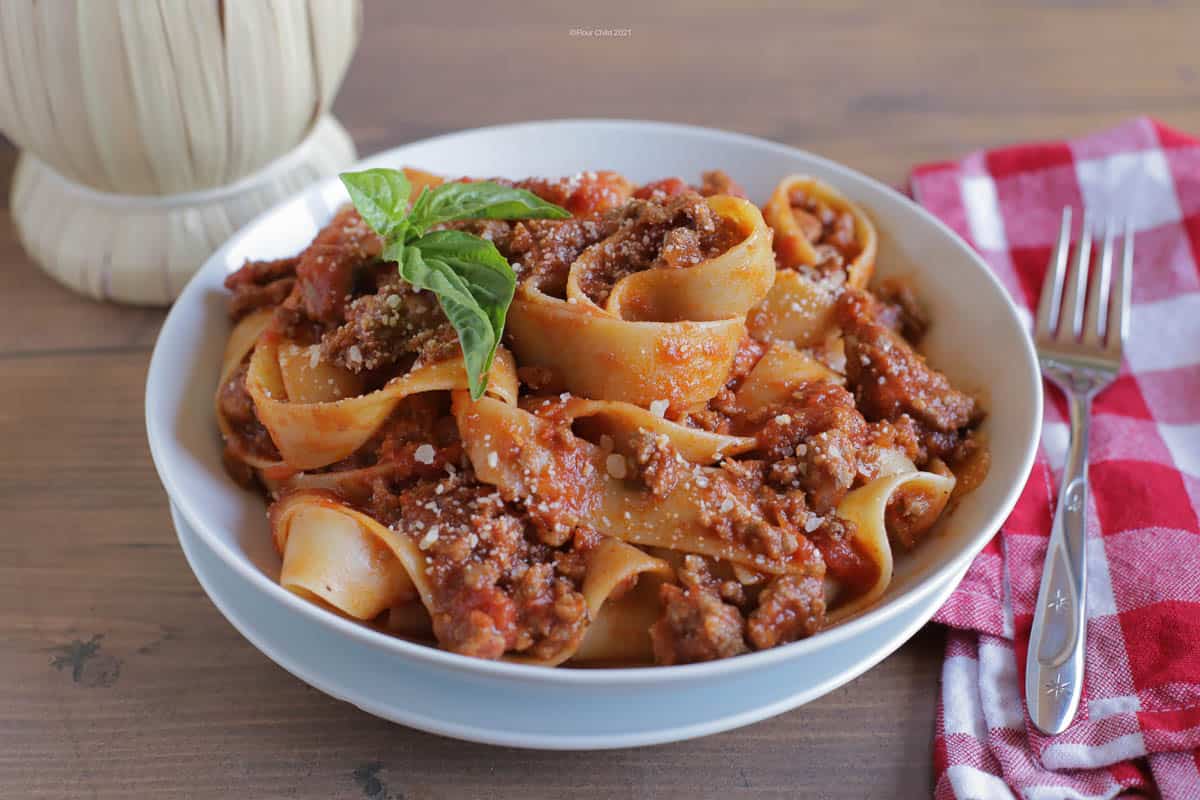 If it's true that you eat with your eyes, then I have just devoured this bowl of pasta...again! Every time I look at this photo with chunks of Italian sausage and ground beef clinging to the wide, swirling pappardelle noodles in a smooth, white wine tomato sauce topped with fresh grated parmesan cheese...wait...I'm about to faint.
Okay I'm back. This dish makes me weak in the knees, and looking at the picture makes me want to rush in the kitchen and start cooking it all over again! My husband Kevin, who doesn't normally care for leftovers, has no problem eating this dinner three days in a row. Of course I could freeze it rather than eat it for so many nights, but that would mean it would have to pass our faces on the way to the freezer, and honestly it would never make it that far.
What is Bolognese Sauce?
Bolognese sauce is a tomato-based meat sauce that originated in the 18th century in Bologna, Italy. The recipe was developed by Alberto Alivisi, the chef for Pope Pius VII. It was first published in 1891 by Pellegrino Artusi in the cooking manual La Scienza in Cucina e l'Arte di Mangiar Bene. For those of you who are fans of Stanley Tucci's show Searching for Italy, this historic book is discussed when he visits Bologna in Season 1, Episode 3.
The Difference Between Ragu and Bolognese Sauce
Of course there are regional differences and recipes will vary. And while most recipes for these two items use a red tomato sauce base, as my neighbor Joe pointed out to me today, not all do. These sauces are called white Bolognese and white ragu, and they are slow-cooked with a variety of meats and non-tomato based seasonings.
But the traditional ragu and Bolognese sauces are very similar; ragu is typically made with ground meat (the type of meat varies), finely chopped vegetables, red wine and a small amount of tomato sauce. Ragu literally means "meat sauce" in Italian, and it's heavy on meat and light on tomato sauce.
Bolognese is a ragu alla bolognese, meaning a meat sauce from Bologna. It is traditionally made with ground meat, finely chopped vegetables white wine, a small amount of nutmeg, and also a minimal amount of tomato sauce.
Both the ragu and Bolognese sauces are usually served with a tagliatelle or pappardelle pasta. These pastas are flat and wide, which allows the meat sauce to cling to them much better than they do on a thin, round noodle like spaghetti. In Italy, there is no such dish as spaghetti Bolognese!
The Secret Ingredient In This Non-Traditional Sauce
This is my own take on a Bolognese recipe -- you will not find it in Italy, and I am not claiming it is authentically Italian. But it is delicious! This is a mild sauce that is slightly sweet -- it is not hot and peppery, and the tomato sauce is very smooth tasting and flavorful.
What's different about my recipe? Three things. First, I skip the traditional ¼ teaspoon of nutmeg. I just don't care for the taste of nutmeg in tomato sauce -- but by all means, add it in if you do.
Second, mine has some minced garlic. That might not sound so surprising, but typically Bolognese sauce does not contain garlic.
Third is my surprise secret ingredient -- I add a tablespoon or two of grape jelly. Yep, you read that right, grape jelly!
Southern Italians have been adding a tablespoon or two of sugar to their tomato-based sauces for decades. It was originally used to balance the flavor of sharp tasting or late season tomatoes that weren't completely ripe.
The grape jelly serves the same purpose. It reduces the sharpness of the tomato sauce, and adds a delicate hint of sweetness to it. Come on, give it a chance. After all, the sauce already has grapes in it...from the wine!
Bolognese Sauce Ingredients
It's a long list, but it's easy because it all goes into one pot!
Olive oil
Minced garlic
Onion
Carrot
Celery
Ground Beef
Ground sweet Italian sausage
Salt/Pepper
Milk
White wine
Diced tomatoes
Tomato sauce
Tomato paste
Grape jelly
Italian seasoning
Basil
Parmigiano Reggiano or Parmesan cheese
Pick a Great Pasta
Look at these gorgeous pastas! I found them in a little Italian market near my house, but you can find some beautiful pastas at stores such as Whole Foods, Trader Joes, and Cost Plus World Market.
Hints For Cooking Bolognese Sauce
Cook it a day ahead if you can. Letting the flavors steep overnight always makes for a better tasting sauce.
Cook over a low heat and stir frequently to avoid meat sticking to the pot and scorching.
Taste-test it as it's cooking and tweak seasonings to your preferences if necessary.
Choose an artisan pasta made in Italy rather than the popular grocery store brands. If you're putting the time and effort into cooking a lovely sauce, serve it with a lovely Italian pasta.
Store pasta sealed in the refrigerator for up to 5 days. If you want to freeze it, let it cool completely, then store it in an airtight container for up to 3 months.
What is the difference between Bolognese sauce and marinara?
Marinara is a garlic tomato sauce with no meat, and Bolognese contains meat and is typically made without garlic.
What meats can you use to make a Bolognese or Ragu?
You can use ground beef, pork, Italian sausage, veal, or ground poultry.
What kind of white wine works best in Bolognese sauce?
A dry white wine such as sauvignon blanc, pinot grigio or pinot blanc works well. You can use a dry white cooking wine, but it won't have the depth of flavor that a bottled drinking wine will have.
What can I substitute for white wine in Bolognese sauce?
You can use white wine vinegar (it's alcohol-free) or apple cider vinegar.
Serve this fabulous pasta dish with a bottle of wine, a side of garlic bread, and some freshly grated Parmigiano Reggiano on top.
Delizioso!
For some truly authentic Italian pasta dishes, try our Old World Authentic Italian Sunday Sauce, Old World Authentic Italian Meatballs, and Old World Authentic Italian Lasagna.
If you have a vintage recipe you'd like share with us for possible publication, please scan it and email it to [email protected]. We'd love to hear from you!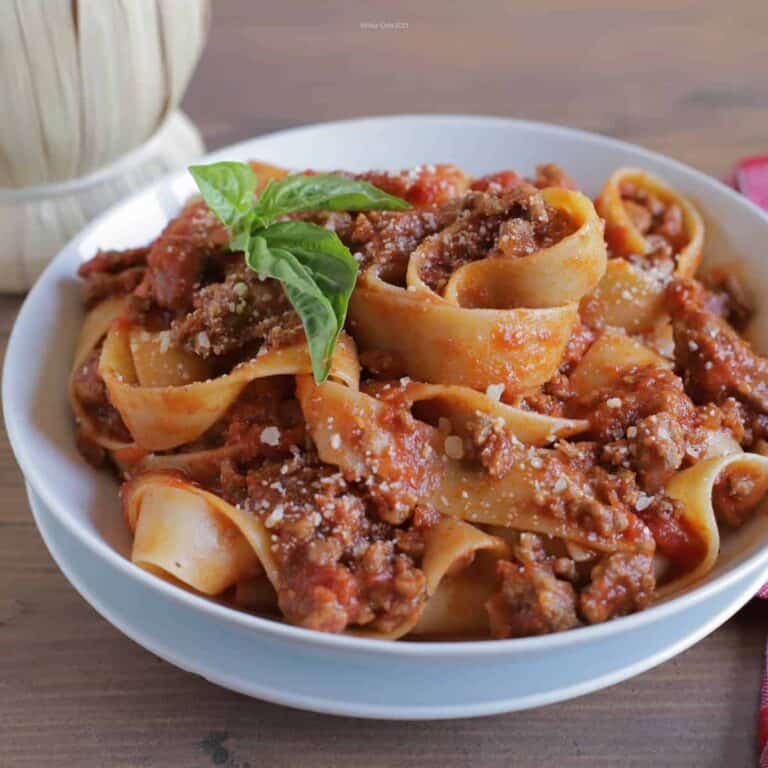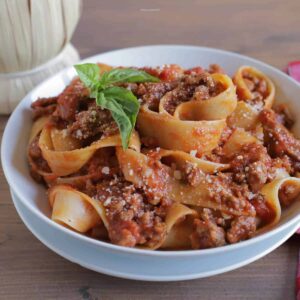 Homemade Bolognese Sauce With Pappardelle Pasta
This homemade bolognese sauce with chunks of Italian sausage and ground beef in a white wine tomato sauce also contains a secret ingredient that makes it extra flavorful!
Ingredients
2

tablespoons

olive oil

4

cloves

garlic

minced (or 2 teaspoons minced garlic from jar)

1

yellow onion

diced

1

carrot

diced

1

stick

celery

diced

1

pound

ground beef

1

pound

ground sweet Italian sausage

1

teaspoon

kosher salt

1

teaspoon

black pepper

⅓

cup

whole milk or half and half

½

cup

dry white wine

white cooking wine is okay

14.5

ounce

can petite diced tomatoes

6

ounce

can tomato paste

30

ounce

tomato sauce

2 cans

1-2

tablespoons

grape jelly

1

teaspoon

Italian seasoning

2

teaspoons

fresh chopped basil

or 2 teaspoons dried basil

2

Tablespoons

freshly grated Parmigiano Reggiano cheese or parmesan cheese

plus enough for garnishing.

1

pound

pappardelle pasta noodles

cooked to al dente and drained
Instructions
In a large stockpot, heat olive oil over medium-low heat. Add minced garlic and sauté one minute. 

Add diced onions, carrots and celery and sauté 7 more minutes, stirring constantly to ensure garlic doesn't burn. 

Add ground beef and Italian sausage to the pot, mixing with vegetables. Brown over medium heat, breaking up the meats with a spatula as you cook. 

Add in milk and simmer until nearly gone, about 20 minutes.

Stir in white wine and simmer 10 minutes.

Add salt and pepper, diced tomatoes, tomato sauce, tomato paste, and grape jelly until thoroughly combined. 

Add in Italian seasoning, basil, parmesan cheese. Cover and simmer on low for 2 hours. Stir occasionally and add small amounts of water as needed to avoid the sauce from reducing too much.

In the last 15 minutes of cooking, boil a large pot of salted water and cook the pappardelle pasta. Drain in colander.

Serve Bolognese sauce over pasta.
Notes
Serve with freshly grated 

Parmigiano Reggiano cheese and some 

garlic bread.
Sauce can be made the day before and refrigerated to let flavors steep overnight.
If you want some heat in your sauce, add in a teaspoon of red pepper flakes with the tomatoes, or you can serve red pepper flakes as a condiment at the table.
Nutrition
Calories:
692
kcal
Carbohydrates:
60
g
Protein:
30
g
Fat:
36
g
Saturated Fat:
12
g
Polyunsaturated Fat:
4
g
Monounsaturated Fat:
17
g
Trans Fat:
1
g
Cholesterol:
133
mg
Sodium:
1584
mg
Potassium:
1250
mg
Fiber:
6
g
Sugar:
13
g
Vitamin A:
2260
IU
Vitamin C:
20
mg
Calcium:
123
mg
Iron:
6
mg