This sweet bourbon cranberry sauce with a little spice and a splash of bourbon is a holiday favorite. It is fast and easy to prepare and can be served warm or chilled.
It's as American as Apple Pie
The earliest recipe for cranberry sauce appears in the first known cookbook written by an American author in the late 1700's. It has been a holiday staple side dish in the U.S. as well as in the U.K. and Europe. Cranberry sauce became available in the canned form in the 1940's, and was a popular side dish of mid century Thanksgiving dinners.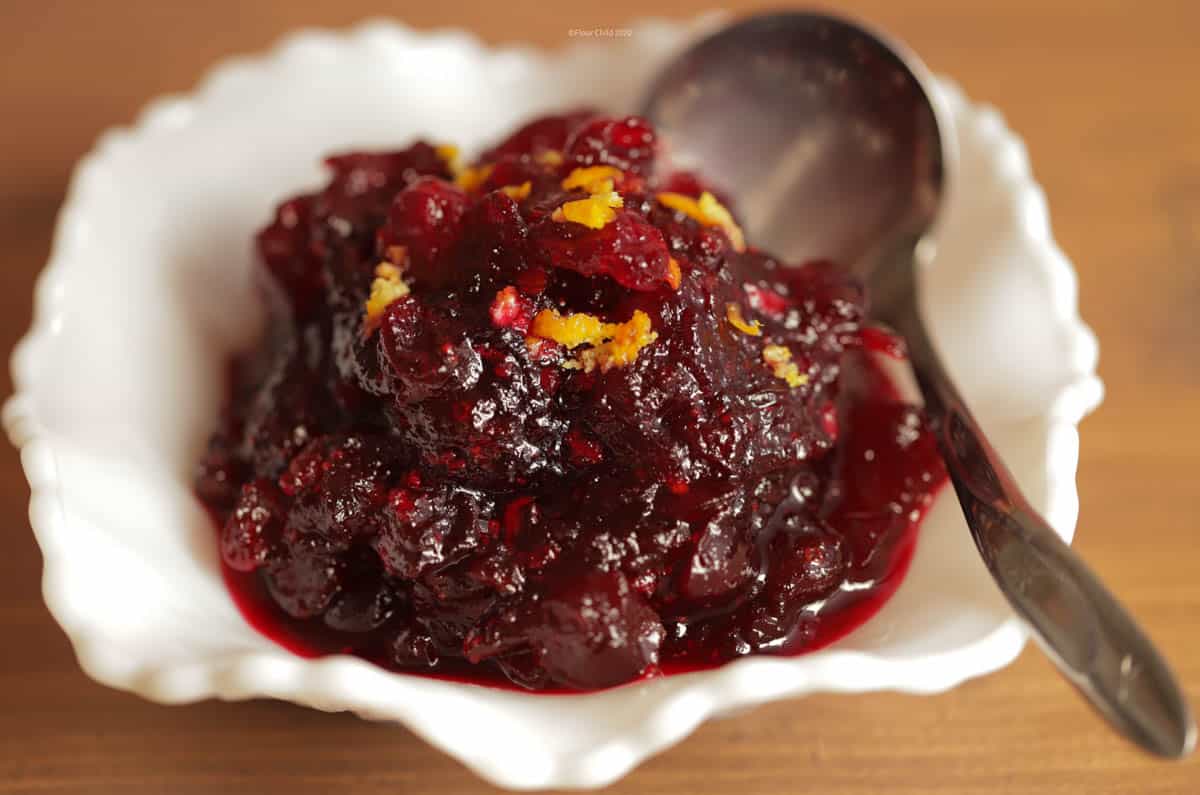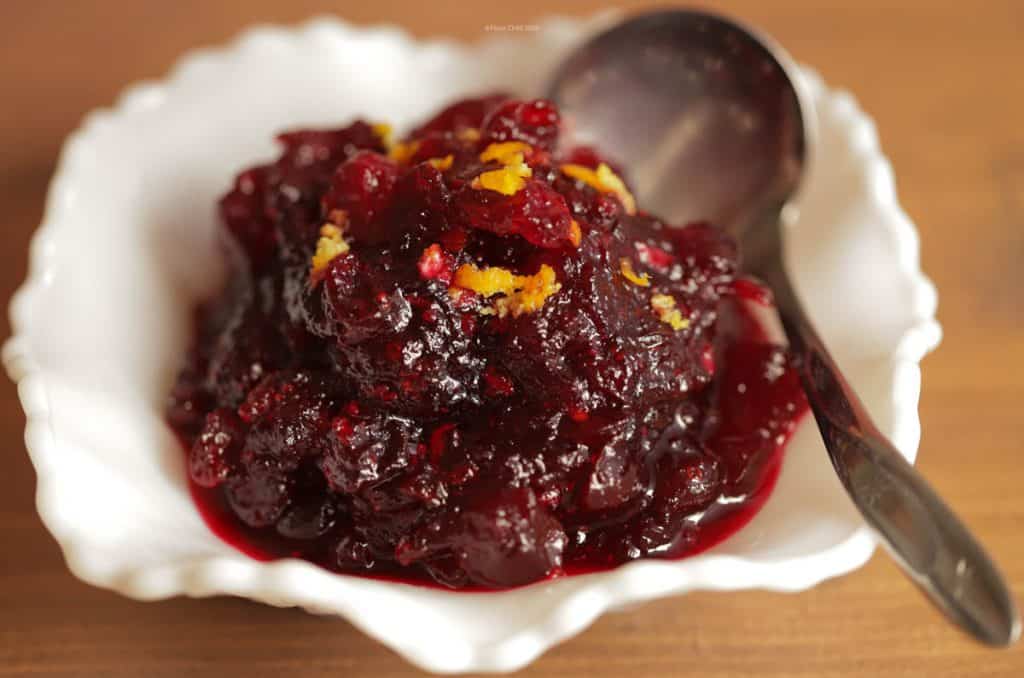 It took a few years to get the recipe right
I'm not sure how it started that I got assigned to cook cranberry sauce at the holidays. I mean, I didn't even like cranberry sauce. I have memories of my mom shaking the red gel out of its container; it plopped into a bowl with the impression of the ribs from the inside of the can all around it. Not a very appealing sight! We were determined not to serve that at our Thanksgiving table, so while Nancy was busy with bigger things I guess this simple dish got delegated to me. The first time I made it I followed the directions on the cranberry package and it turned out fine, but it was still too sour and bitter for me. So I made it a point to experiment until I came up with a recipe that I liked.
I do like the flavor of cranberries but to me they are really, really sour. So, over the holiday seasons I began experimenting by adding more sugar to the recipe. Instead of just one cup of sugar to one cup of water, I decided to add another to see if that helped make the sauce less sour. That was better, but still not quite all the way there. Finally, I landed on 2-½ cups of sugar to one cup of water. Now the sweetness was good, but the flavor was a little bland so I decided to keep working on it.
A barbecue buddy of mine was raving about his bourbon barbecue sauce around the holidays, and that got me thinking that perhaps bourbon might work for my cranberry sauce. A jigger of good, strong bourbon was just the ticket. Later I added cinnamon sticks while cooking and I finally had the flavor profile I was going for. When you take a bite it's nice and sweet, with a hint of spiciness from the cinnamon and a little bite of bourbon. And after just a second, the tart cranberry finish! An overnight success that was several years in the making.
Ingredients Needed for Making Bourbon Cranberry Sauce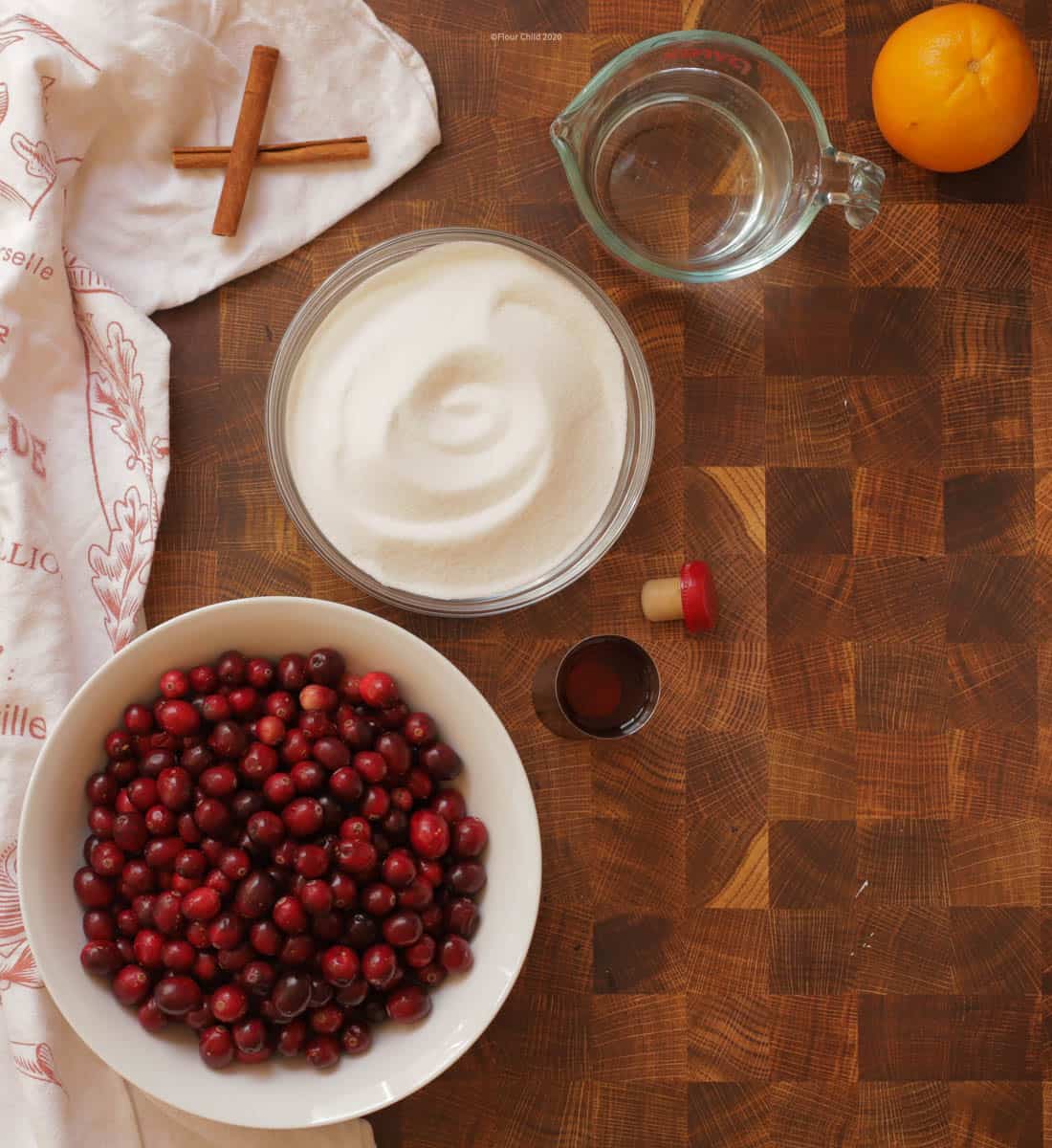 It only takes a few ingredients to make this delicious sauce.
Cranberries
Bourbon
Sugar
Water
Cinnamon sticks
Orange
The bourbon is very diluted and most alcohol will cook off, so there is very little in the end product.
Tips for Success
These are a couple things to keep in mind as you try and make this side dish:
If possible it's always better to cook with fresh cranberries, but it can be a challenge to find them in season.
Always use 'good' bourbon when cooking. Our rule of thumb is that if you wouldn't drink it, don't use it. Cheap whiskeys can taste harsh and leave an unpleasant taste rather than complimenting your dish.
What do you add to your holiday cranberry sauce?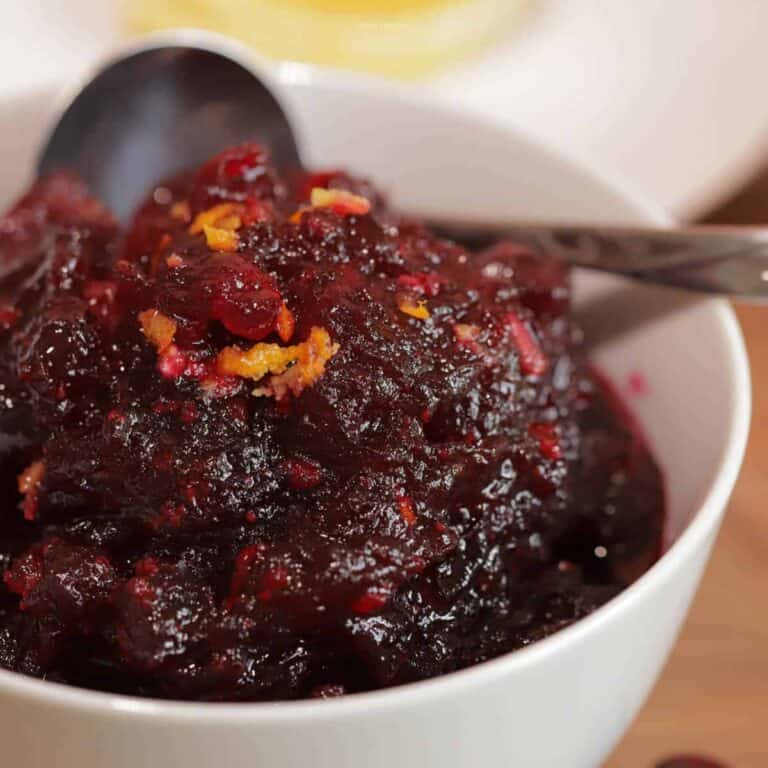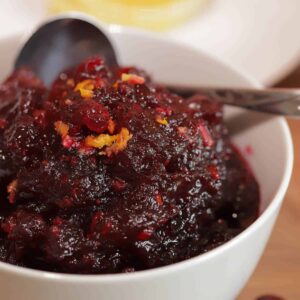 Bourbon Cranberry Sauce will be a Family Favorite
This sweet, bourbon flavored cranberry sauce is a family favorite.
Ingredients
4

cups

cranberries

2 ½

cups

sugar

1

cup

water

1.5

ounces

bourbon

2

cinnamon sticks

1

tablespoon

orange zest
Instructions
Wash and rinse the cranberries and set aside to dry.

Pour the cup of water into a large saucepan. Add 2-½ cups of sugar and stir to dissolve.

Add the cinnamon sticks. Bring to boil and stir until all sugar has been dissolved. 

Add the bourbon.

Add the cranberries to the boiling water. After about 3-5 minutes you should hear the cranberries start to 'pop'. Reduce the heat a little and keep cooking and the sauce will begin to thicken. Stir frequently to ensure the sauce does not stick to the pan.

Add in the orange zest, leaving a small bit aside to use as garnish.

Cook 25-30 minutes, until the cranberries have broken down and the sauce has thickened. Remove from heat and take out the cinnamon sticks. Let cool.

Garnish with orange zest before serving.
Notes
You can add 1 teaspoon of vanilla extract to the mix for additional flavor.
This dish can be served warm or chilled. The chilled version will have a gelatin-like consistency.
This cranberry sauce is sweet; if you prefer a more tart cranberry sauce cut the sugar back to 1-½ to 2 cups.
Nutrition
Calories:
280
kcal
Carbohydrates:
69
g
Protein:
1
g
Fat:
1
g
Saturated Fat:
1
g
Polyunsaturated Fat:
1
g
Monounsaturated Fat:
1
g
Sodium:
3
mg
Potassium:
49
mg
Fiber:
3
g
Sugar:
64
g
Vitamin A:
36
IU
Vitamin C:
8
mg
Calcium:
15
mg
Iron:
1
mg