This lucious baked orange Creamsicle cheesecake with a Golden vanilla Oreo crust contains a just hint of Grand Mariner and has a fluffy whipped cream topping. Candied orange peel tops it all off for a burst of citrus flavor. A light-tasting dessert that is the perfect ending to any meal!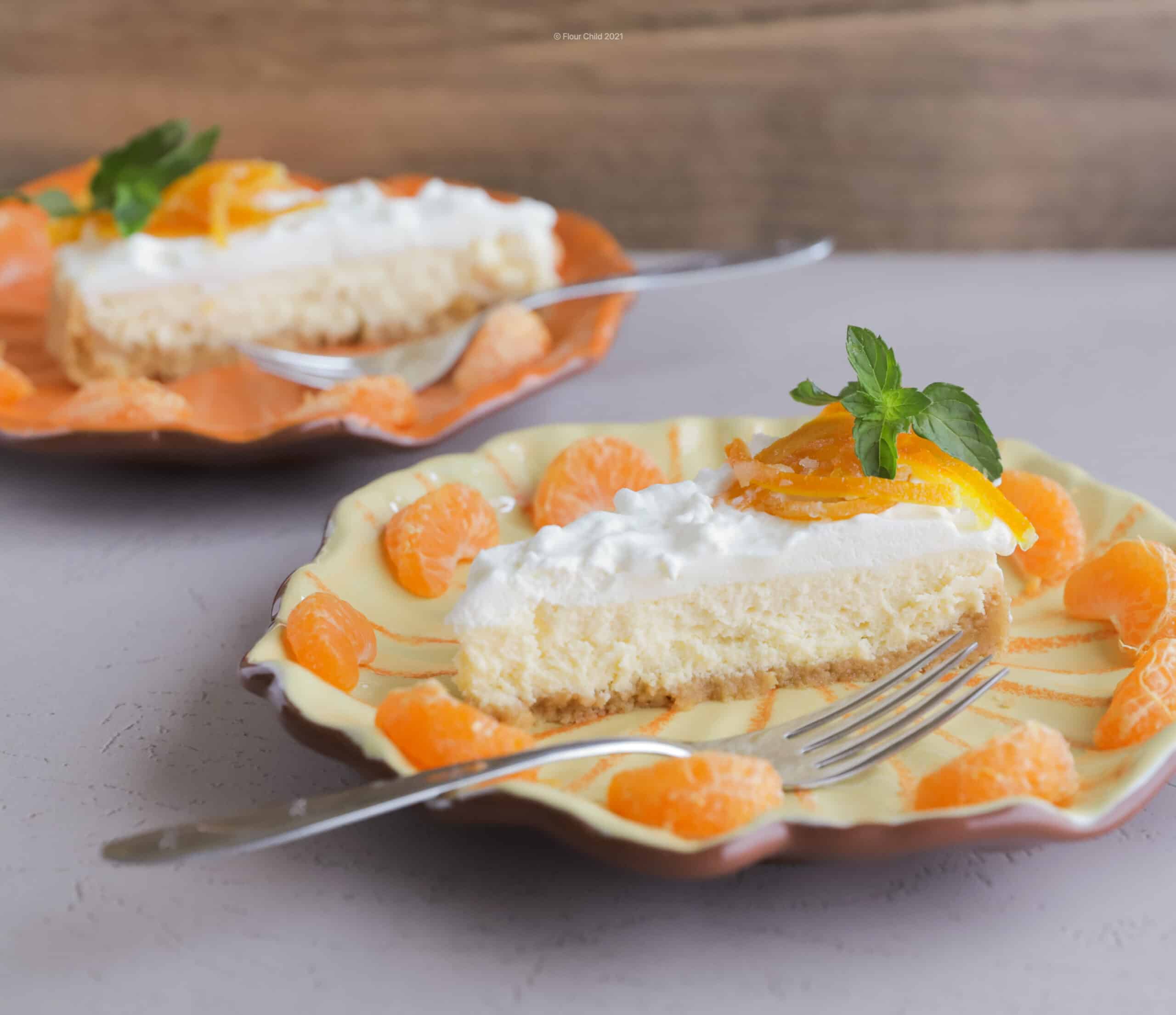 Why This Recipe Works
When you think of cheesecake, you probably think of the tall, dense, rich kind that you find at The Cheesecake Factory. But if you find that's too heavy after a big meal, you're going to love this orange Creamsicle version. Unlike our New York Style Cheesecake which is oh-so-rich and filling, this one is light, fluffy and just the right end to a nice dinner.
I remember chasing down the ice cream truck to buy a Creamsicle as a kid growing up in the 1960's. This cheesecake really does taste like an orange Creamsicle, and who doesn't love that? Just like the ice cream, its citrus flavor makes a lovely summertime dessert. But I find I make it most often as a light end to a heavy holiday meal, when everyone is foraging for a delicate treat to top off their dinner.
There are several no bake orange Creamsicle cheesecake recipes made with Jello to be found. This is a baked Creamsicle cheesecake recipe. It contains eggs and natural orange flavoring, which I believe give it a richer taste and lighter, fluffier texture.
Equipment You'll Need
Five Tips For a Perfect Cheesecake
There are 5 things I do to ensure a perfect cheesecake:
Bring all cold cheesecake ingredients to room temperature before mixing (to prevent lumpy batter that is unevenly distributed.)
Use only a springform pan (the sides remove; a cake this soft cannot be lifted out.) All springform pans are not created equal -- I prefer this springform pan which is pricier than others but worth it. It is heavy duty, cooks evenly, doesn't leak, and won't damage the sides of the cheesecake upon removal. Plus, it's made in the USA!
Always wrap the springform pan in heavy duty, wide aluminum foil and use a circle of parchment paper in the bottom. This prevents the cake from sticking and makes it easy to slide off the pan. I use pre-cut parchment circles, but you can cut your own circle from a roll of parchment if you prefer.
Grease the sides of the pan and the top of the parchment paper with butter before pouring in the batter (prevents the cheesecake from sticking.)
Bake the cheesecake in a water bath. When ready to bake, place the foil-wrapped pan in a larger pan (I use a roasting pan) with hot water coming a half inch up the side of the pan (ensures even cooking, a smooth texture, and helps prevent cracks.)
These steps are not difficult, and they seem like small details that are tempting to skip. But they make a HUGE difference in getting the proper cheesecake consistency, texture and finish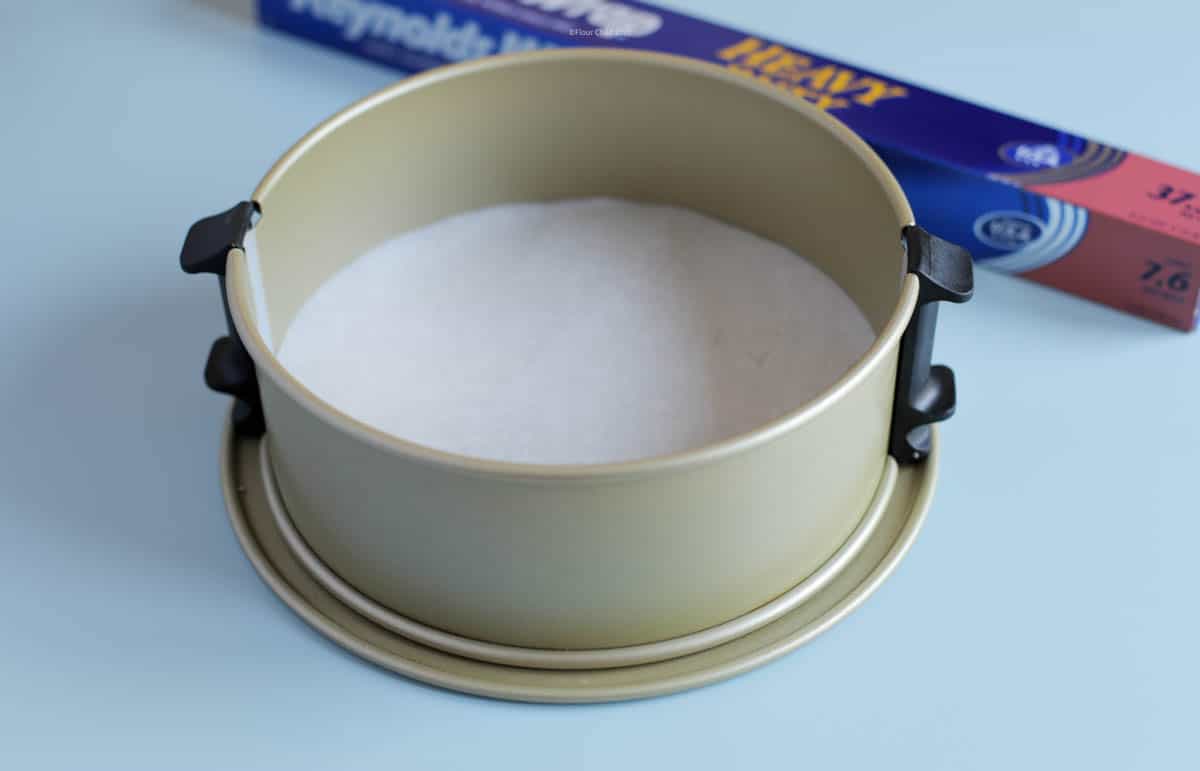 Ingredients You'll Need For Baked Orange Creamsicle Cheesecake
Here's everything you're going to need for the crust, filling, and topping:
Golden Oreo Cookie Crust Ingredients
Golden Oreo cookies (vanilla)
butter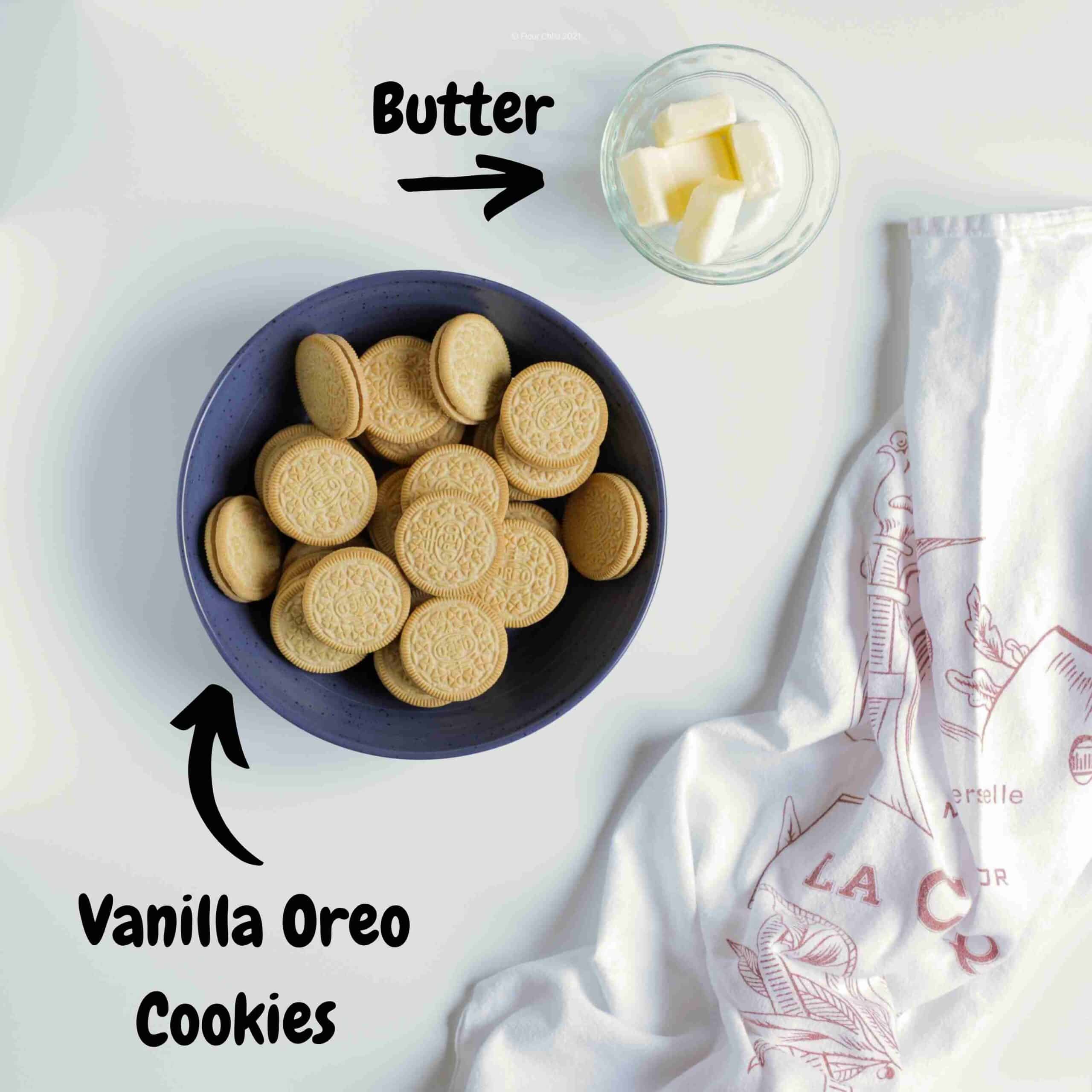 Cheesecake Filling Ingredients
cream cheese
sugar
Grand Mariner liqueur
orange juice
orange zest
vanilla
eggs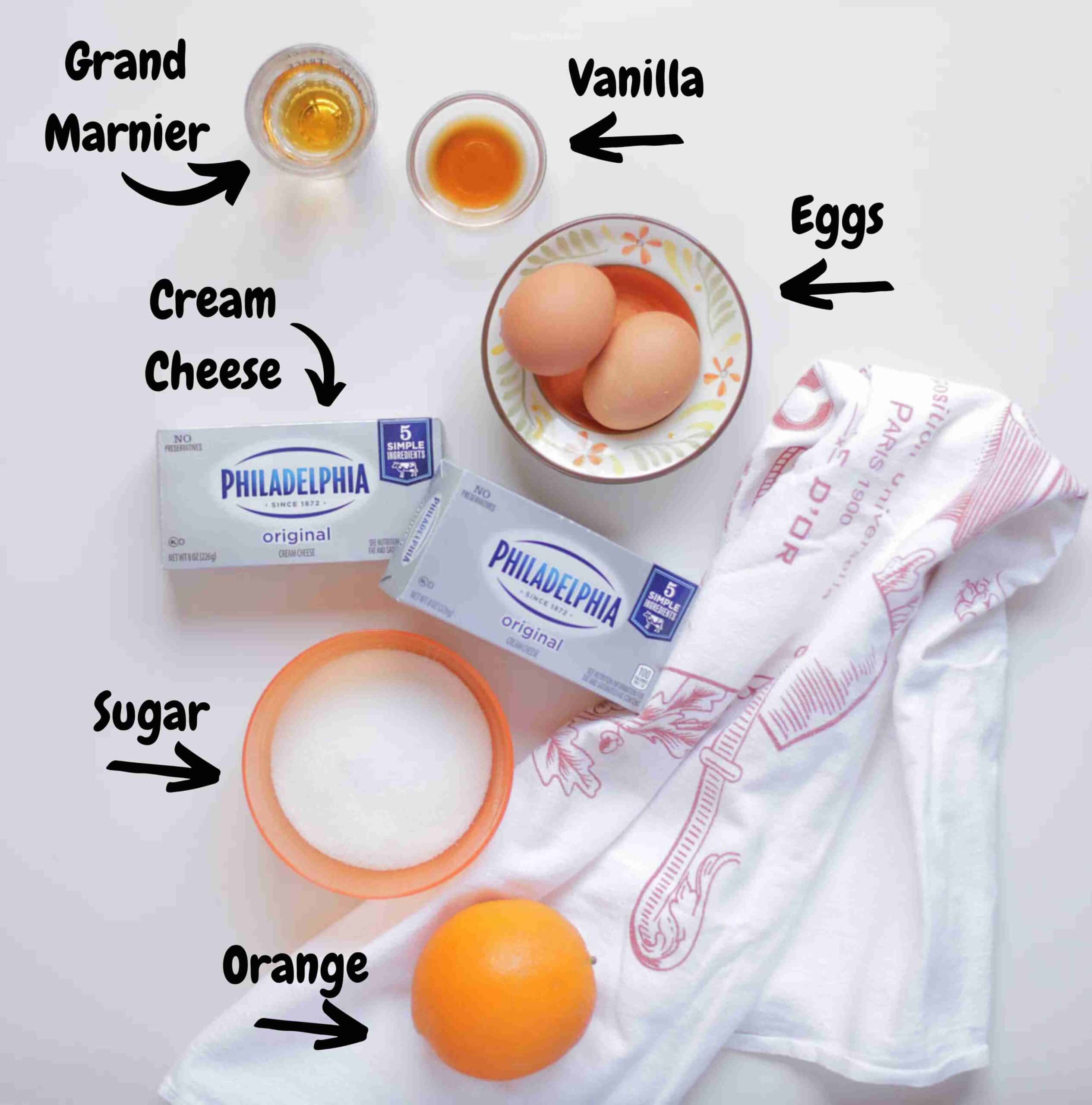 Stabilized Whipped Cream Topping Ingredients
heavy whipping cream
powdered sugar
cream cheese
orange slices and/or candied orange peel for garnish (optional)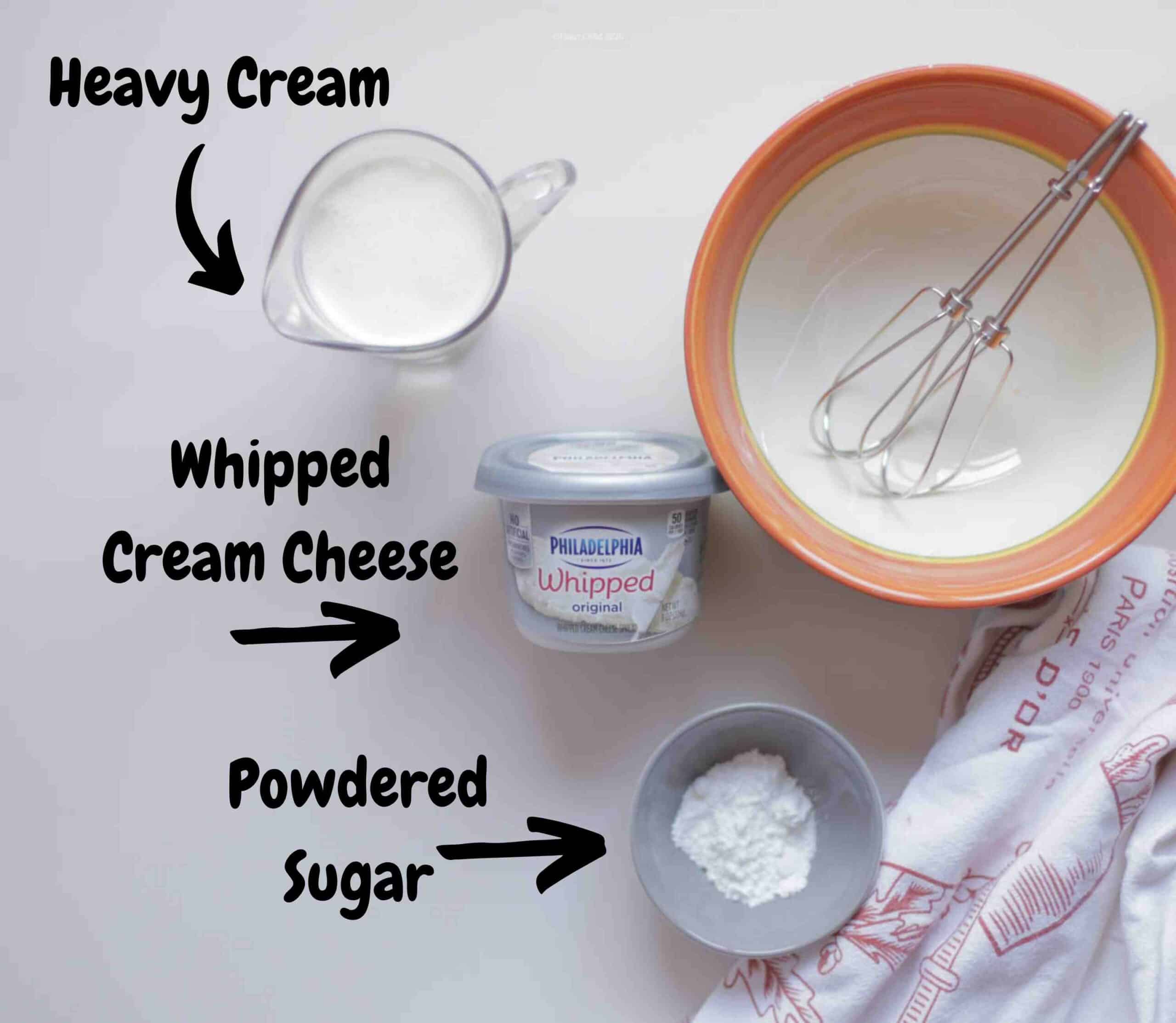 Fast and Easy Golden Oreo Cookie Crust Prep
With only two ingredients in the orange creamsicle cheesecake crust, preparing it is a breeze!
Place the cookies in a food processor and pulse until they turn into a fairly fine crumb, then transfer to a mixing bowl. Melt the butter in the microwave, then combine it in with the cookie crumbs. Using the back of a tablespoon, press the crumb mixture into the bottom of the springform pan, on top of the parchment circle. Bake for 10 minutes, then you're ready to add the filling!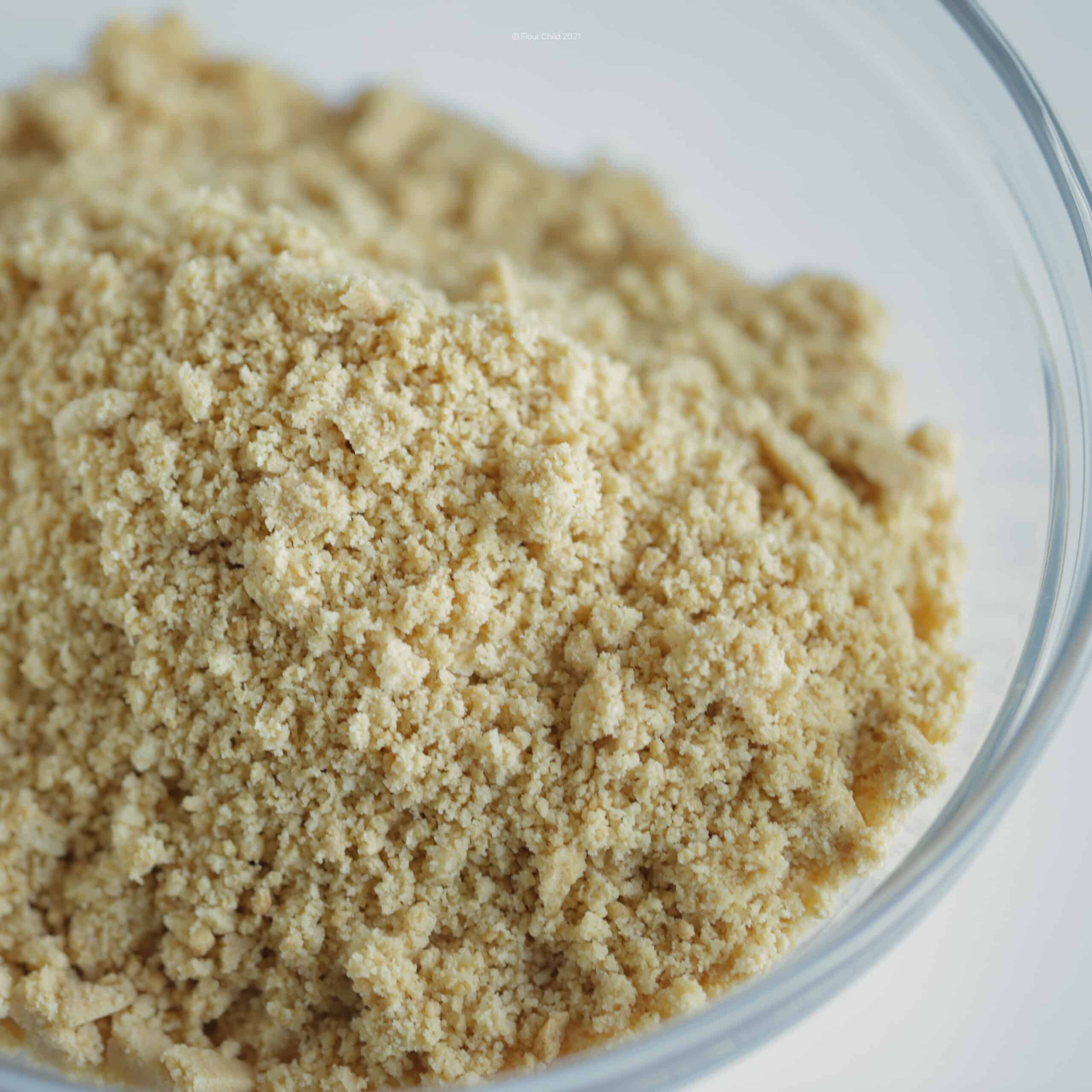 Making the Creamsicle Cheesecake Filling is Easy, Just Don't Rush the Process
It's surprisingly simple to make the cheesecake filling. If you're in a hurry, it may be tempting to use cold ingredients, but I can't emphasize enough how important it is to let the ingredients come to room temperature. They need to sit out on the counter for about one hour before they're ready to mix.
Once your items are at room temperature, there are only a few steps to preparing the filling:
Put all filling ingredients except the eggs into a large mixing bowl. Mix at low speed until items are blended, then turn the speed up to medium and mix until well combined, about 1-2 minutes.
Add the eggs one at a time, beating on low just until fully incorporated. It's important not to over beat the batter.
Make sure your beaters are completely clean and dry, then whip the egg whites until they form stiff peaks.
Using a spatula, gently fold the eggs whites into the batter until fully combined. Do not mix or stir the egg whites, just lightly fold them in to create a thick, fluffy batter. Then pour the batter into the springform pan over the prepared Oreo cookie crust.
Expert Tip: Use only full fat cream cheese in your cheesecake. Reduced fat cream cheese can negatively impact the consistency and flavor.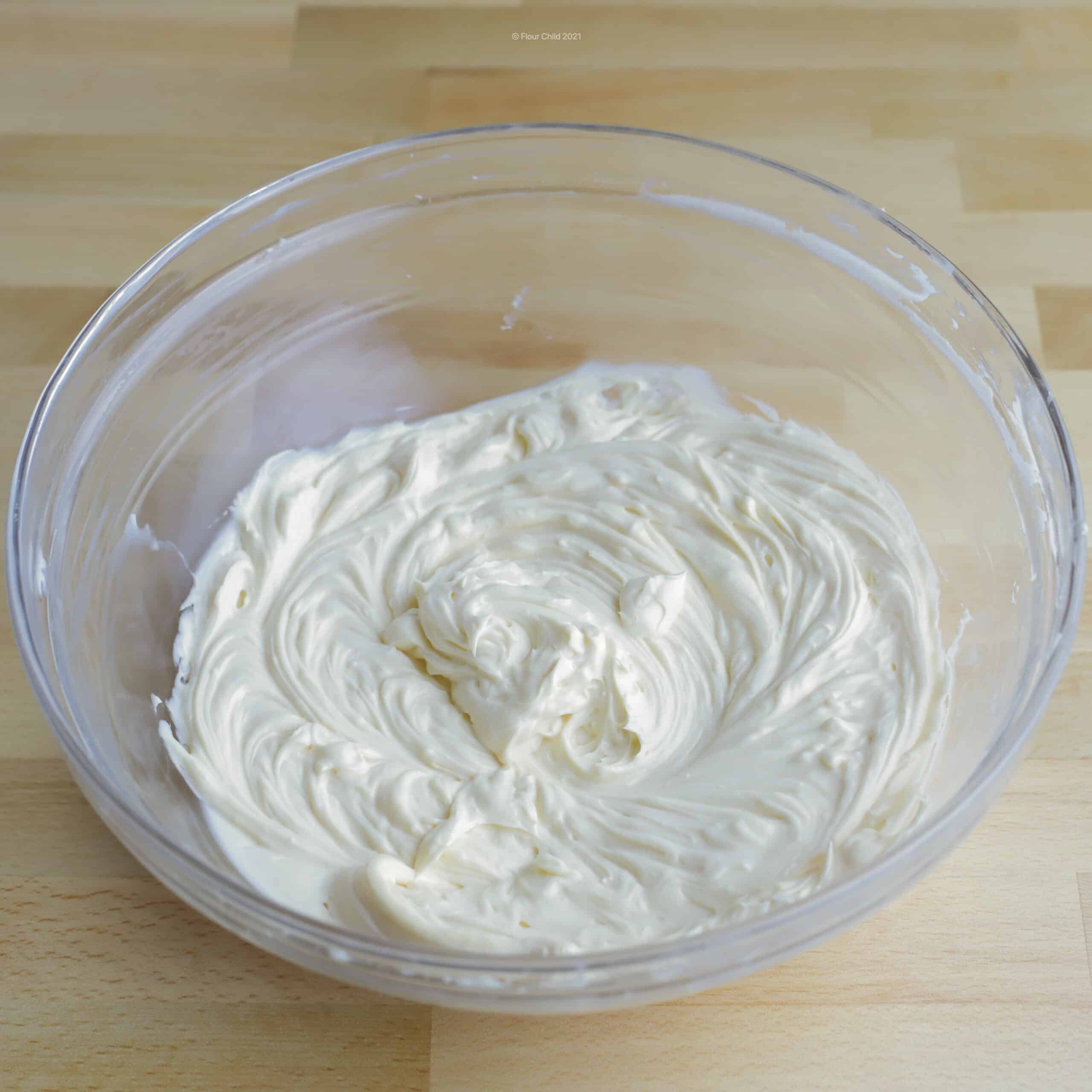 Substitutions
If you don't have Golden Oreo cookies for the crust, you can substitute 1-¼ cups of graham cracker crumbs, 3 tablespoons of sugar, and 4 tablespoons of melted butter. Combine the graham cracker crumbs and sugar, melt the butter and mix in, and follow the same baking directions.
You can use margarine in place of butter in the cookie crust.
In place of Grand Mariner in the filling, you can use Cointreau or any orange flavored liqueur. If you prefer not to use alcohol, add another teaspoon of orange juice.
If you don't have whipped cream cheese for the stabilized whip cream, you can substitute a tablespoon of brick cream cheese. Just make sure it is softened so that it mixes in smoothly.
Instead of a whipped cream topping, you can substitute a non-dairy topping such as Cool Whip. I think you lose a bit of the Creamsicle flavor with a non-dairy topping, but it is still delicious.
Prepare a Water Bath for Your Cheesecake
You may be tempted to skip this step and place your pan directly into the oven. Don't do it! You've come this far, and a water bath helps your cheesecake bake evenly, results in a smooth texture, and prevents cracking on top.
It's important to start with a foil-wrapped high quality springform pan that doesn't leak. After adding the cheesecake batter to the pan, place it on top of a shallow rack inside a large roasting pan. Fill the roasting pan with hot tap water until it comes up ½ inch on the side of the springform pan. Carefully place the water filled pan into the preheated oven and bake.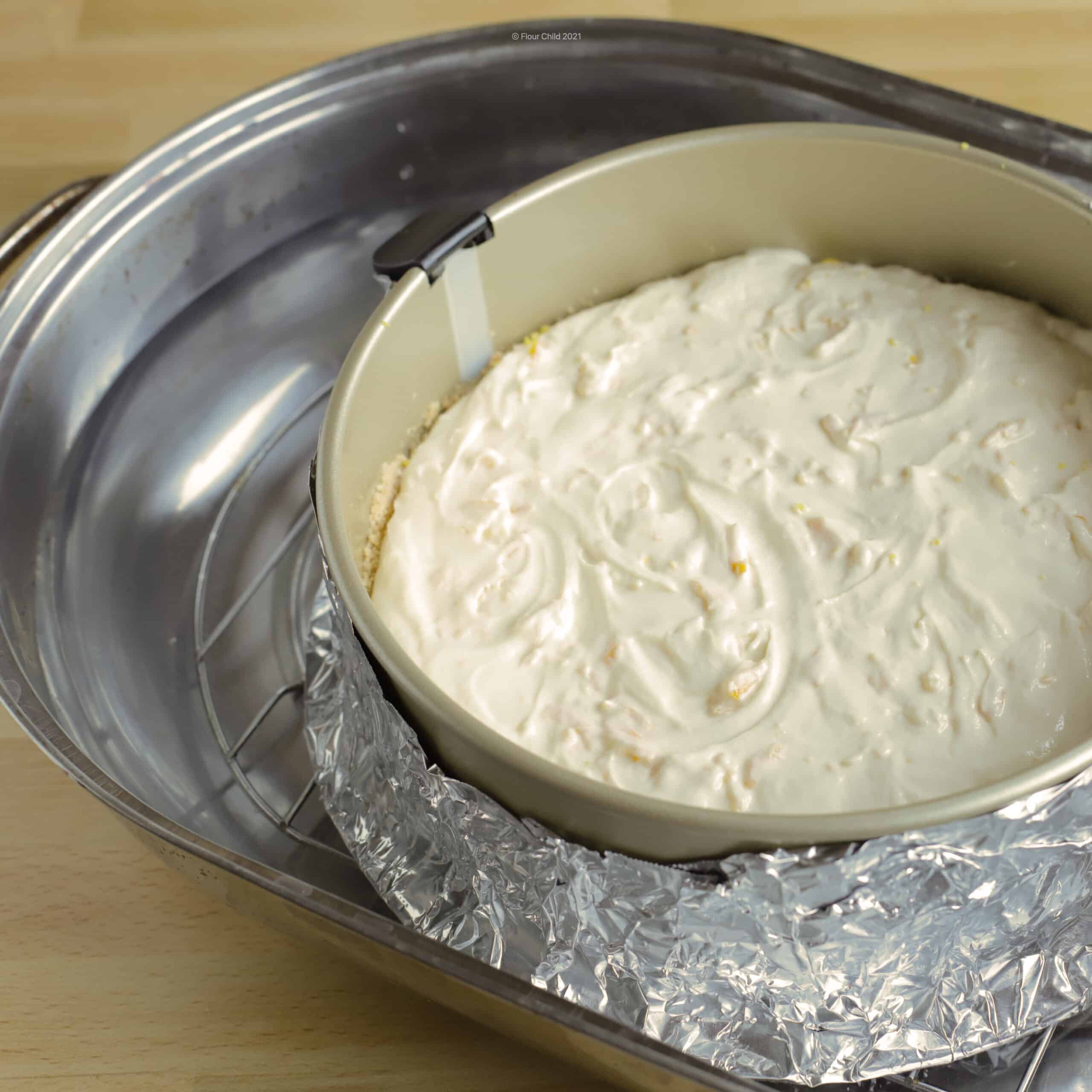 Expert Tips for Cheesecake Baking
No matter how tempting, do not open the oven door while the cheesecake is baking! Cheesecake success depends on having an even baking temperature and no disruption in the baking process. The door and the pan should never be touched until it is ready to come out of the oven.
Cheesecakes should bake at the recommended temperature for the recommended baking time. To ensure an accurate oven temperature, use an oven thermometer. I always have to set my oven to 5 degrees higher than the recommended baking temperature, because the oven thermometer shows that it runs 5 degrees low. You may need to adjust yours up or down, too.
When the timer rings, remove the cheesecake to a nearby waiting cooling rack. Check for doneness by holding the edge of the pan with your oven mitt and very gently shaking the pan. If it jiggles slightly in the center, it is finished.
Let the cheesecake sit on the wire rack untouched for two hours. Then cover it with plastic wrap and gently place it in the refrigerator to chill completely for at least 6 hours, but preferably overnight. Chilling overnight allows it to set completely and firm up.
Once the cheesecake is fully chilled, gently release the sides of the springform pan and add the topping and garnish.
How to Make the Stabilized Whipped Cream Topping
With just three ingredients, you can create a tasty topping for your cheesecake that complements the orange flavor without overpowering it with too much sweetness.
I use a little cream cheese blended into the whipping cream to make it a stabilized whipping cream, meaning that it won't melt or fall away before you can serve it. It holds together nicely, even when you store it in the refrigerator for a couple of days (if it lasts that long in your house -- it definitely doesn't in mine!)
Begin by beating the whipping cream at low speed until it starts to thicken. Then add the powdered sugar and turn the speed up to medium and beat until it is thicker, but not all the way. Then add the cream cheese, turn the beater on high and whip until it is finished; the consistency should be very thick. Apply a thick layer of the whipped cream to the top of your cheesecake and you're done!
Expert Tip: When making whipped cream, always chill your bowl and beaters in the freezer for at least 15 minutes before starting, and keep the whipping cream in the refrigerator right until you're ready to begin. This helps increase the volume and fluffiness of the whipped cream. If the ingredients and equipment are warm, the whipped cream can flatten.
Garnishing Your Orange Creamsicle Cheesecake
Now that it's ready, here are several things you can garnish your cheesecake with to make it look pretty for serving:
candied orange peel
orange zest
thin orange slices
orange fruit slice candies
small Mandarin orange wedges
mint leaves
Or, use your creativity to come up with a completely different garnish!
How to Slice a Cheesecake
Cheesecake is sticky, so you can't cut it like a regular flour cake and get good results. To slice a perfect piece of cheesecake, follow these steps:
Run a long, sharp knife under hot water for a few seconds, then dry it.
Place the tip of the knife to the center of the cheesecake. Push the knife down to the bottom of the cheesecake, then drag it straight out of the cake without lifting. Rinse the knife in hot water, then dry it and repeat on the opposite side of the cake, so that it is cut completely in half.
Rinse the knife in hot water, dry it, reposition the knife and press down firmly to the bottom of the cake to cut your first slice.
Slide a pie server spatula gently underneath the slice, lift it straight up and and pull it out.
Expert tip: It's important to rinse the knife in hot water and dry it in between each slice. This prevents residue from building up on the knife and tearing the sides of your delicate cake.
Now you should have a perfect slice of cheesecake! Enjoy!
If you have a vintage recipe you'd like share with us for possible publication, please scan it and email it to [email protected]. We'd love to hear from you!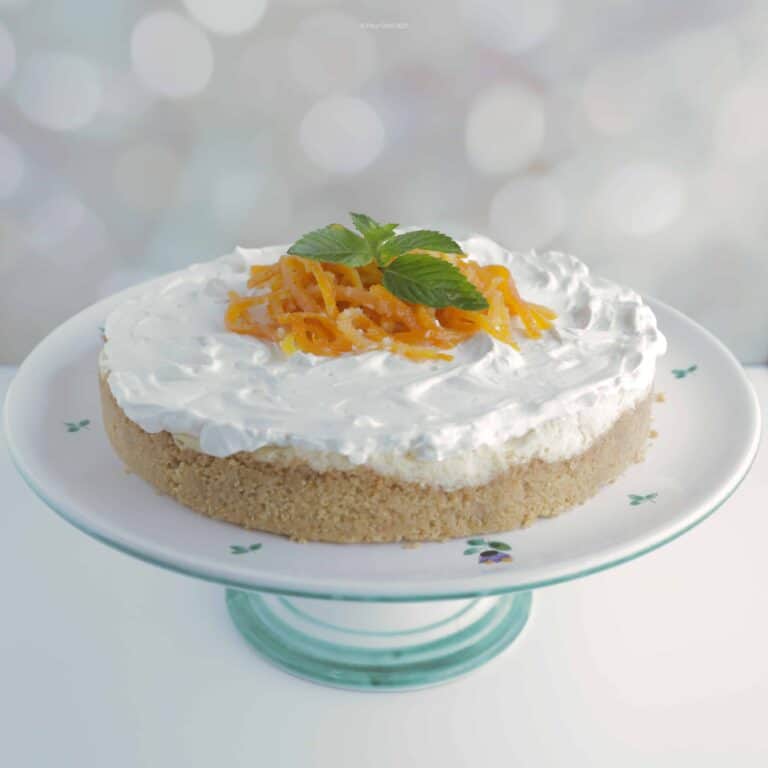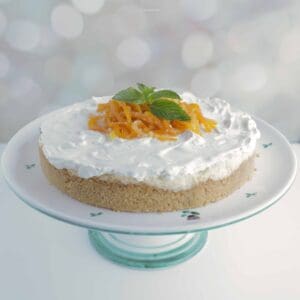 Orange Creamsicle Cheesecake
This orange Creamsicle cheesecake is a grown up version of your favorite childhood dessert! The delicious orange filling is sandwiched between a vanilla cookie crust and a fluffy whipped cream topping. Every bite just melts in your mouth!
Ingredients
Crust:
30

vanilla Oreo cookies

crushed

5

tablespoons

melted butter
Cheesecake:
2

packages

cream cheese, room temperature

8 oz each

½

cup

sugar

1

teaspoon

Grand Marnier liqueur

1

tablespoon

fresh squeezed orange juice

1

tablespoon

orange zest

1

teaspoon

vanilla

2

large

eggs

separated
Topping:
1

cup

heavy whipping cream

1

tablespoon

powdered sugar

1

tablespoon

of tub cream cheese

room temperature

Candied orange peel or orange zest for garnish

optional
Instructions
Prepare Pan:
Preheat oven to 325 degrees. Prepare a 9-inch springform pan by lightly greasing the sides, setting a parchment circle in the bottom, then wrapping the exterior in heavy duty foil.
Prepare Crust:
Place cookies in a food processor and pulse until they form fine crumbs. Transfer to a mixing bowl.

Melt butter in microwave, the pour into mixing bowl with cookie crumbs and stir until combined.

Using the back of a spoon, firmly press crumb mixture onto the bottom of the springform pan.

Bake at 325 degrees for 10 minutes. 
Prepare Cheesecake Filling:
Using an electric mixer, in a large bowl beat the cream cheese, sugar, Grand Marnier, orange juice, orange zest and vanilla on medium speed for about 2 minutes, until smooth.

Reduce mixing speed to low and add egg yolks one at a time, mixing only until completely combined (do not overmix.)

Beat the eggs whites until they form stiff peaks. Gently fold into the cream cheese batter until completely combined.

Pour over the graham cracker crust and bake in a shallow hot water bath at 325 degrees for 50 minutes. Do not open the oven door while baking.

Remove from the oven and place on a wire rack. Check for doneness by gently shaking the pan with your oven mitt. If it jiggles slightly only in the center, it is finished. 

Allow to cool undisturbed on wire rack for 2 hours, then cover with plastic wrap and move to refrigerator to chill six hours, or preferably overnight.

When completely chilled, carefully remove the sides of the springform pan. 
Prepare Topping:
Chill a glass bowl and beaters in freezer for 15 minutes.

When chilled, add cold whipping cream to bowl and beat at low speed until the mixture begins to thicken.

Add the powdered sugar and blend in at low speed, then gradually increase the speed on the mixer to medium and beat until thickened more, but not all the way.

Add in the cream cheese and mix in at medium speed, then increase mixing speed to high and beat until whipped cream is very thick.

Using a flat spatula, smooth whipped cream over top of cheesecake. Garnish with candied orange peel, mandarin orange slices or orange zest. 
Notes
You can substitute a graham cracker crust in place of a Golden Oreo crust by using 1-½ cups of graham crackers, 3 tablespoons of sugar, and 4 tablespoons of butter. Bake as directed.
Margarine can be substituted for butter in the crust, if desired.
It is best to use full fat cream cheese in cheesecake recipes. Low fat cream cheese may affect the consistency as well as the taste.
You can substitute Cointreau or any orange liqueur for Grand Marnier. Or leave out the alcohol and add another teaspoon of orange juice.
In the whipped topping, you can substitute a tablespoon of room temperature brick cream cheese in place of the tub cream cheese.
A non-dairy whipped topping such as Cool Whip can be used in place of whipped cream, although it loses some of the Creamsicle taste.
Cheesecake can be wrapped in an airtight container and stored in the freezer for up to one month.
Nutrition
Calories:
712
kcal
Carbohydrates:
58
g
Protein:
8
g
Fat:
51
g
Saturated Fat:
25
g
Polyunsaturated Fat:
6
g
Monounsaturated Fat:
15
g
Trans Fat:
1
g
Cholesterol:
170
mg
Sodium:
476
mg
Potassium:
181
mg
Fiber:
1
g
Sugar:
38
g
Vitamin A:
1517
IU
Vitamin C:
2
mg
Calcium:
103
mg
Iron:
2
mg
Are you making cheesecake for the first time? Let me know how it turns out!