Atomic orange cheesecake with whipped cream topping is a flavor explosion in your mouth! Most cheesecake recipes call for lemon, but this delicate-tasting orange cheesecake with a hint of Grand Marnier liqueur (now we're talking!) will have everyone sneaking seconds.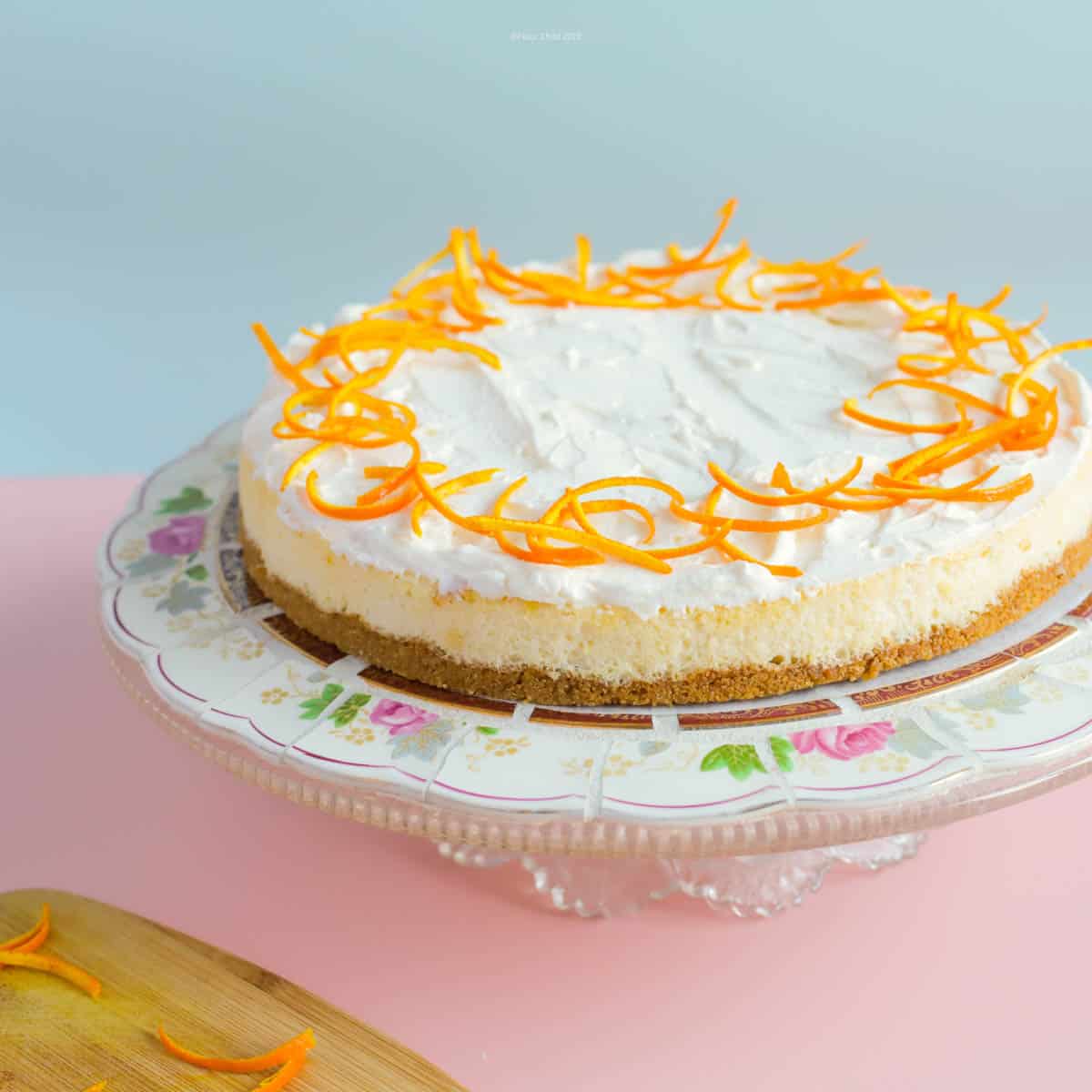 Are you a cheesecake-baking virgin?
When it comes to cheesecake, it seems like people fall into one of two categories -- those who make them fairly regularly, and those who have never made one in their life. I fell in the latter category, until...
Shortly after we were married, Kevin came home from a morning of running errands with a book in hand. It was one of those thin, spiral-bound cookbooks that are often placed at the checkout counter of a grocery store. He handed it to me, and on the front it simply said Cheesecakes. "If we're going to stay married," he said, "you're going to have to learn how to make these!"
Kevin is not the first person to crave cheesecake. This dessert dates back over 4000 years to ancient Greece, where excavations show it may have been used as a wedding cake for newlyweds, and as energy food for the olympic athletes.
My humble cheesecake beginnings
I had never made a cheesecake before, (yep, I was a cheesecake-baking virgin) and in fact I had only tasted one a couple of times. The photo on the cover of the book Kevin gave me looked intimidating, and it seemed like it would be hard to make. But I was always up for a cooking challenge, and I wanted to stay married! So I set off on a mission to buy a springform pan and bake my first cheesecake.
Those beginning attempts did not turn out well. They cracked badly and stuck to the pan because I had not yet learned proper technique. Though they weren't pretty, they still tasted good. Fortunately Kevin was willing to eat ugly cheesecakes while I worked at improving my skills.
By now I have mastered the art of the giant, rich New York cheesecake, but I started out making small ones like this with only two packages of cream cheese in them. After playing around with some different sugars and flavors, I came up with this recipe which is a favorite of ours. I like it because it is a nice light follow-up to a heavy dinner (great after a holiday meal!) Plus, it has a whipped cream topping that covers any cracks or other imperfections that might occur on the top, making it perfect for beginners.
Increase your odds of atomic orange cheesecake success
There are 5 things I do to ensure a perfect cheesecake:
Bring all cold cheesecake ingredients to room temperature before mixing (to prevent lumpy batter that is unevenly distributed.)
Use only a springform pan (the sides remove; a cake this soft cannot be lifted out.) All springform pans are not created equal -- I prefer this springform pan which is pricier than others but worth it. It is heavy duty, cooks evenly, doesn't leak, and won't damage the sides of the cheesecake upon removal. Plus, it's made in the USA!
Always wrap the springform pan in heavy duty, wide aluminum foil and use a circle of parchment paper in the bottom. This prevents it from sticking and makes it easy to slide off the pan.) I use a product called parchment circles.
Grease the sides of the pan and the top of the parchment paper with butter before pouring in the batter (prevents the cheesecake from sticking.)
When ready to bake, place the foil-wrapped pan in a larger pan (I use a roasting pan) with hot water coming a half inch up the side of the pan (ensures even cooking and helps prevent cracks.)
These steps are not difficult, and they seem like small details that are tempting to skip. But they make a HUGE difference in getting the proper cheesecake consistency, texture and finish.
Easy graham cracker crust prep
There are only three ingredients to the atomic orange cheesecake crust:
Graham cracker crumbs
Sugar
Butter
It couldn't be easier to make. You just mix the graham cracker crumbs and sugar together, melt the butter in the microwave, then combine it in with the crumb mixture. Using the back of a tablespoon, press it down in the bottom of the springform pan, on top of the parchment circle. Bake for 10 minutes and you're ready to add the filling!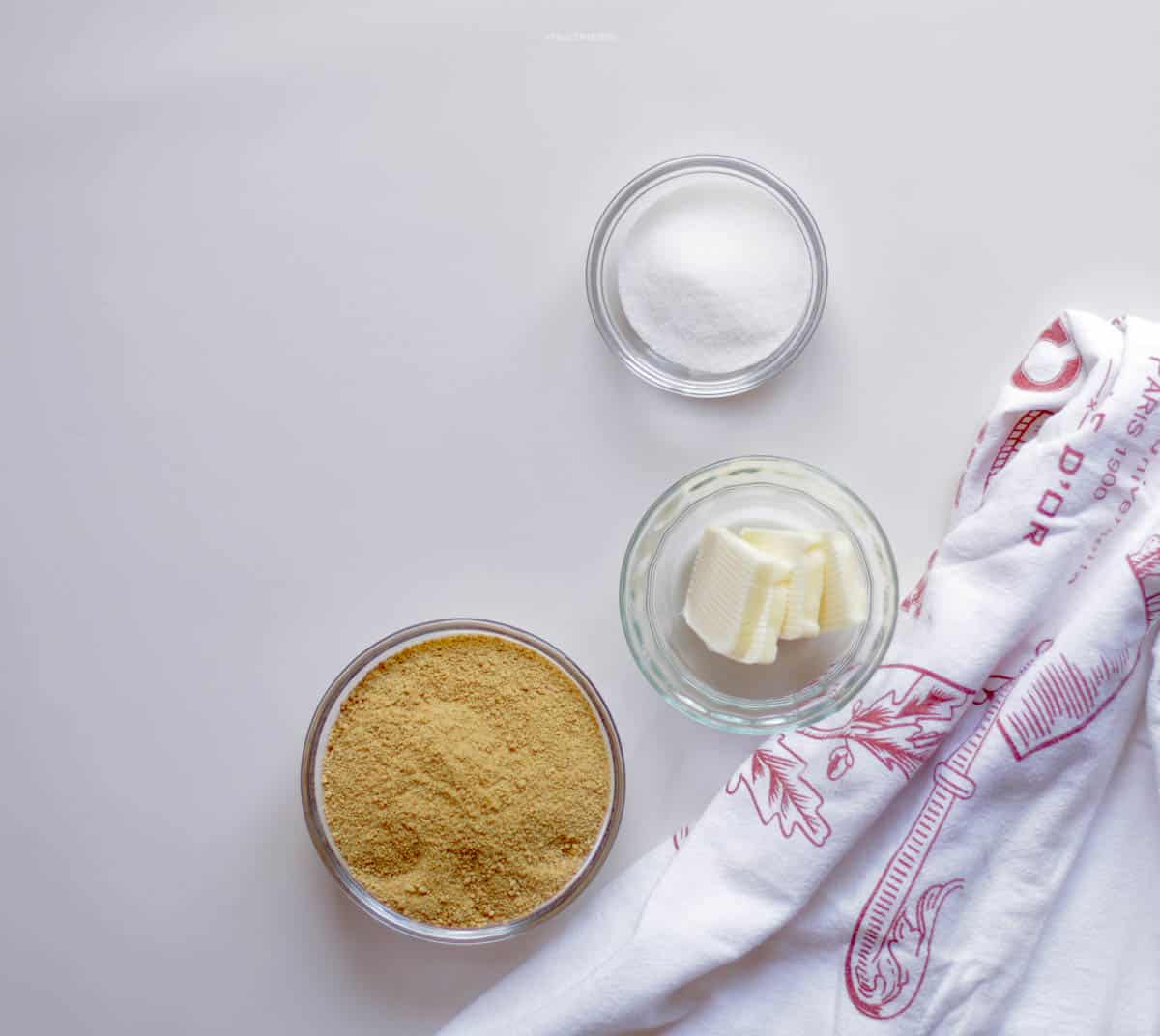 The filling is easy, just don't rush the process
It's surprisingly simple to make the filling. If you're in a hurry it may be tempting to use cold ingredients, but I can't emphasize enough how important it is to let the ingredients come to room temperature. They need to sit out on the counter for about an hour before they're ready to mix.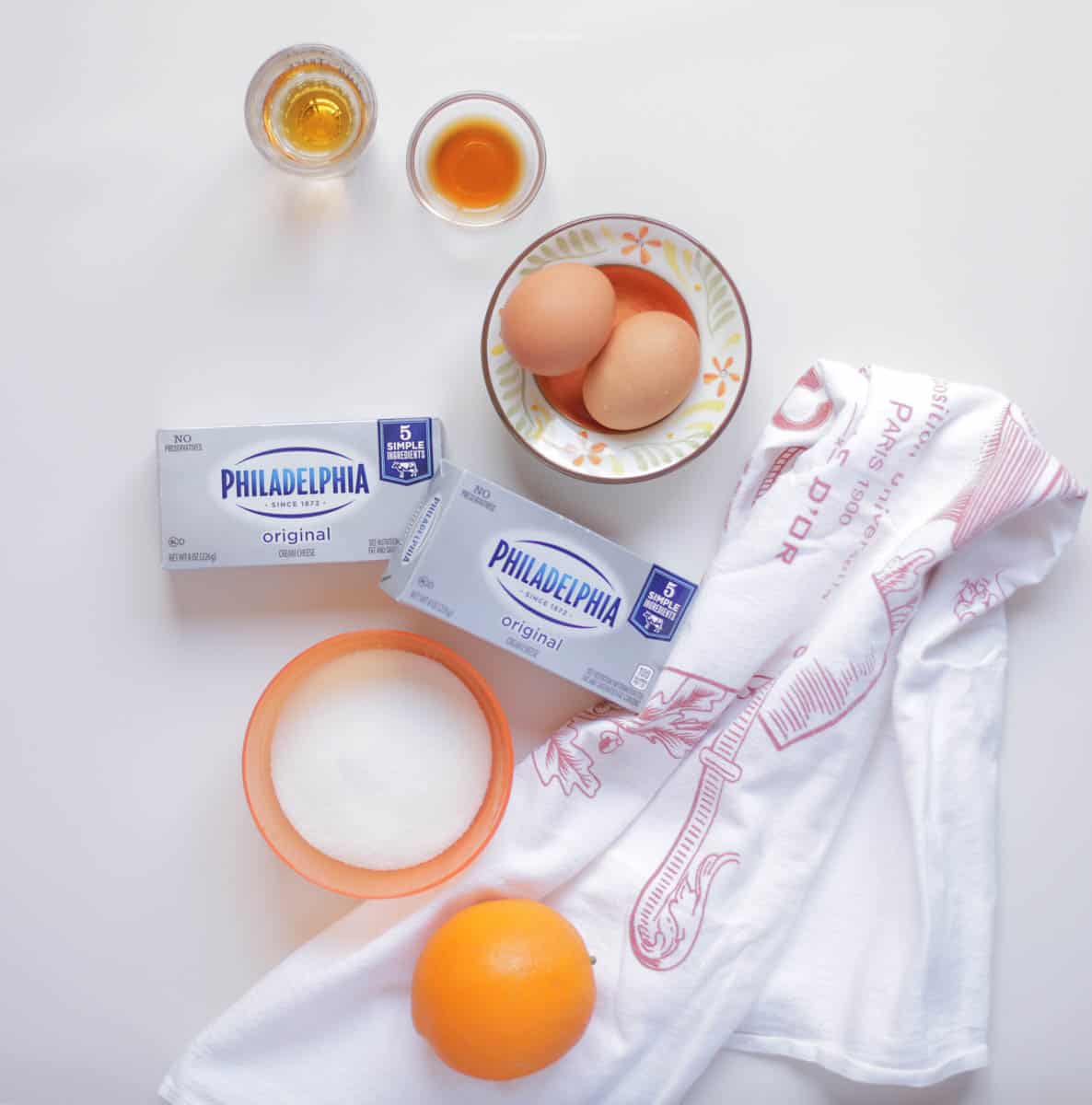 Topping it all off with stabilized whipped cream
With just a few ingredients you can create a tasty topping for the cheesecake that complements the orange flavor without overpowering it with too much sweetness. I use a little cream cheese blended into the whipping cream to make it a stabilized whipping cream, meaning that it won't melt or fall away before you can serve it. It holds together nicely, even when you store it in the 'fridge for a couple of days (if it lasts that long in your house -- it definitely doesn't in mine!)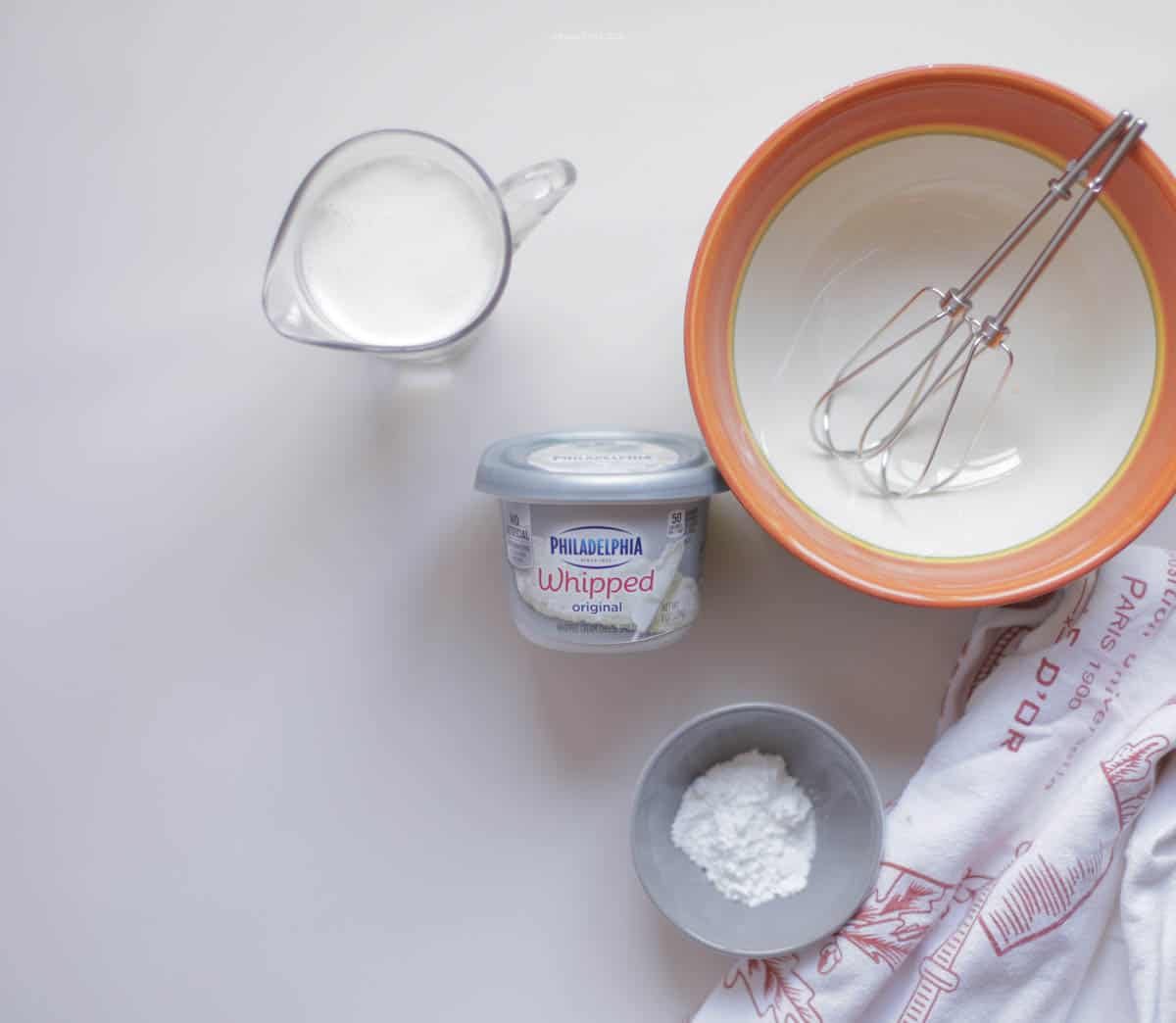 Print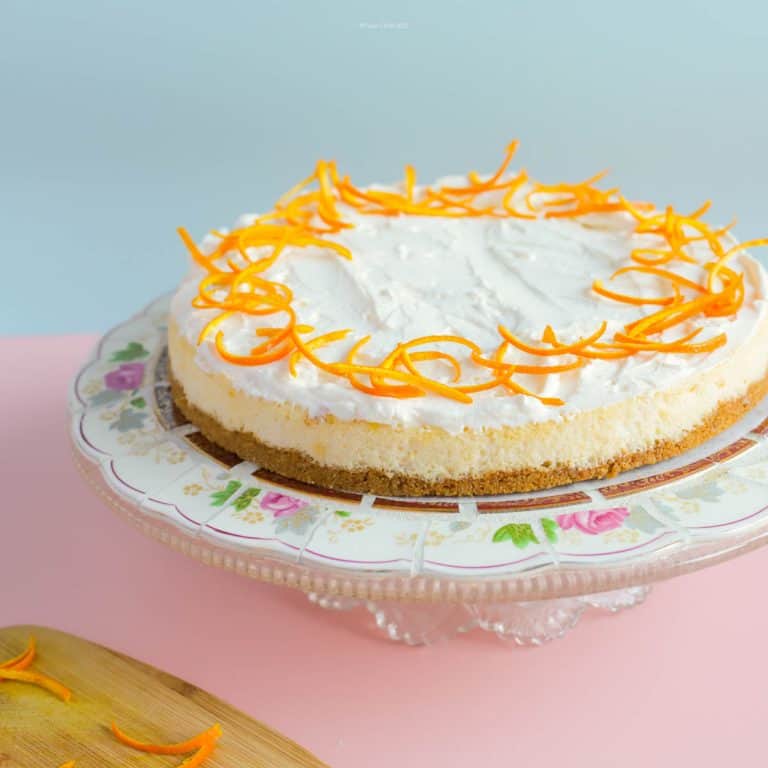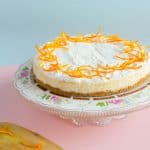 Atomic Orange Cheesecake
Author:

Nancy Blackstone

Prep Time:

20 minutes

Cook Time:

55 minutes

Total Time:

1:15

Yield:

8

-

10

servings

1

x

Category:

Desserts
---
Description
This cheesecake is lighter than most because it only uses two packages of cream cheese. It's perfect when you want a tasty dessert that's not too heavy. It's also a great cheesecake for beginners because even if the top cracks, the whipped cream topping covers it up so no one will know!
---
Crust:
1-¼ cups graham cracker crumbs
3 tablespoons sugar
4 tablespoons melted butter
Cheesecake:
2 packages (8 oz each) cream cheese, room temperature
½ cup sugar
1 tablespoon Grand Marnier liqueur
1 tablespoon fresh squeezed orange juice
1 tablespoon orange zest
1 teaspoon vanilla
2 eggs, separated
Topping:
1 cup heavy whipping cream
1 tablespoon powdered sugar
1 tablespoon of tub cream cheese, room temperature
Orange slices or orange zest for garnish (optional)
---
Instructions
1. Prepare Pan: Preheat oven to 325 degrees. Prepare a 9-inch springform pan by lightly greasing the sides, setting a parchment circle in the bottom, then wrapping the exterior in heavy duty foil.
2. Prepare Crust:  In a small bowl, mix all crust ingredients together. Using the back of a spoon, firmly press onto the bottom of the springform pan. Bake at 325 degrees for 10 minutes. Remove from oven and turn the oven temperature down to 300 degrees.
3. Prepare Cheesecake Filling:
Using an electric mixer, in a large bowl beat the cream cheese, sugar, Grand Marnier, orange juice, orange zest and vanilla on medium speed for about 2 minutes, until smooth.
Reduce mixing speed to low and add egg yolks one at a time, mixing only until completely combined (do not over mix.)
Beat the eggs whites until they form stiff peaks. Fold gently into the cream cheese batter until completely combined.
Pour over the graham cracker crust and bake in a shallow hot water bath at 300 degrees for 50 minutes.
Allow to cool undisturbed on wire rack for 2 hours, then cover with plastic wrap and move to refrigerator to chill four hours or overnight.
4. Prepare Topping:
Before serving, chill a glass bowl and beaters in freezer for 15 minutes.
When chilled, add whipping cream to bowl and beat at low speed until the mixture begins to thicken.
Add the powdered sugar and blend in at low speed, then gradually increase the speed on the mixer to medium and beat until thickened more, but not all the way.
Add in the cream cheese and mix in at medium speed, then increase mixing speed to high and beat until whipped cream is very thick.
Remove sides of springform pan. Using a flat spatula, smooth whipped cream over top of cheesecake. Garnish with orange slices or orange zest. 
---
Notes
It is best to use full fat cream cheese in cheesecake recipes. Low fat cream cheese may affect the consistency as well as the taste.
You can substitute Cointreau for Grand Marnier. If you prefer not to use alcohol at all, use an extra tablespoon of fresh squeezed orange juice.
Cheesecake can be wrapped in an airtight container and stored in the freezer for up to one month.
Are you making cheesecake for the first time? Let me know how it turns out!