This creamy New York style cheesecake has a delicious cookie-like shortbread crust that is out of this world. It's rich and full of flavor without being overly sweet.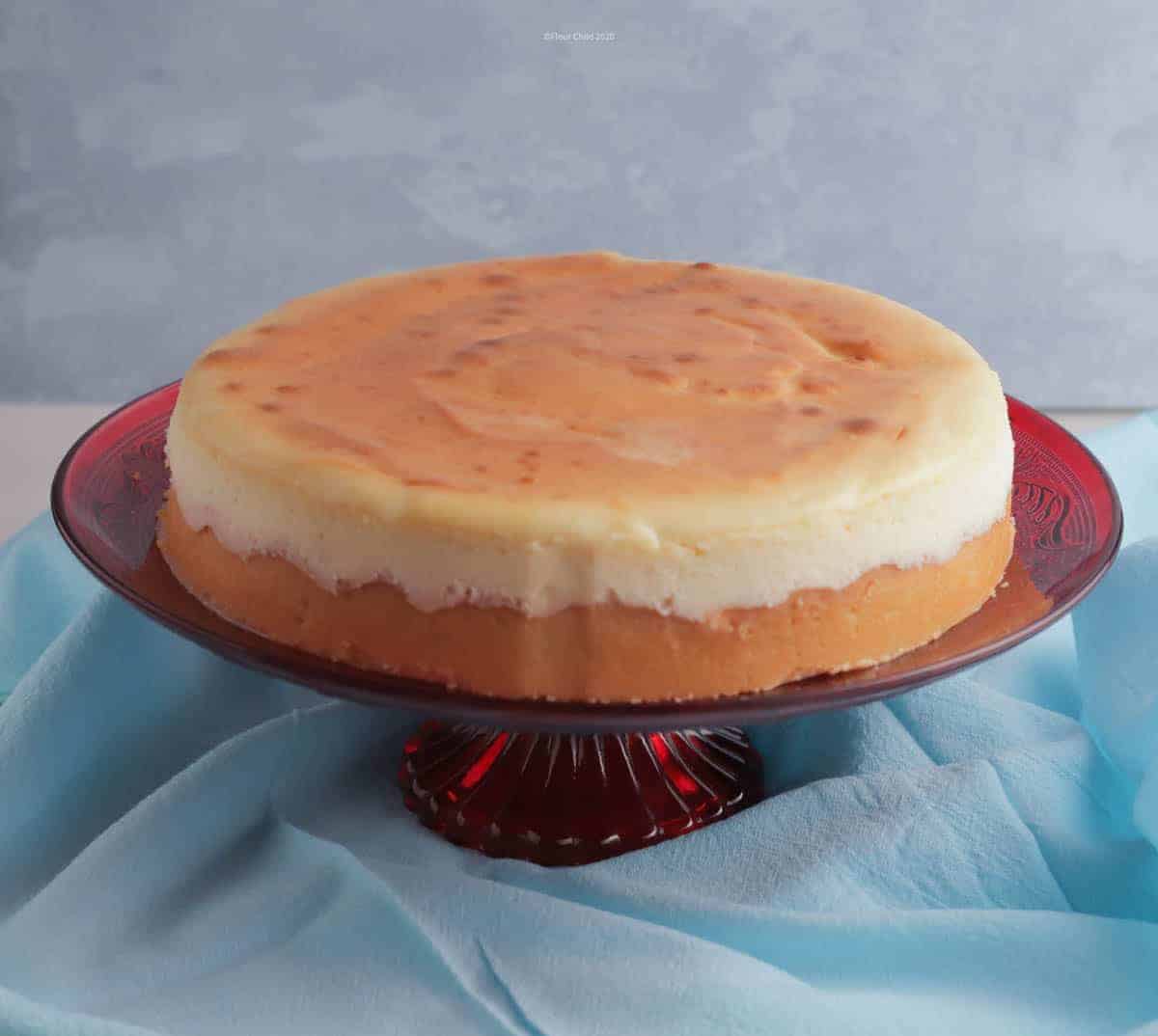 Cheesecake baking is my superpower. My friends and family know this, so when a party dessert is needed it's automatically assumed that "You're going to bring one of your cheesecakes, right?" I make a lot of flavored cheesecakes, but this one is my most requested. And it is jaw dropping FANTASTIC, if I do say so myself!
New York Style Cheesecake - Simply the Best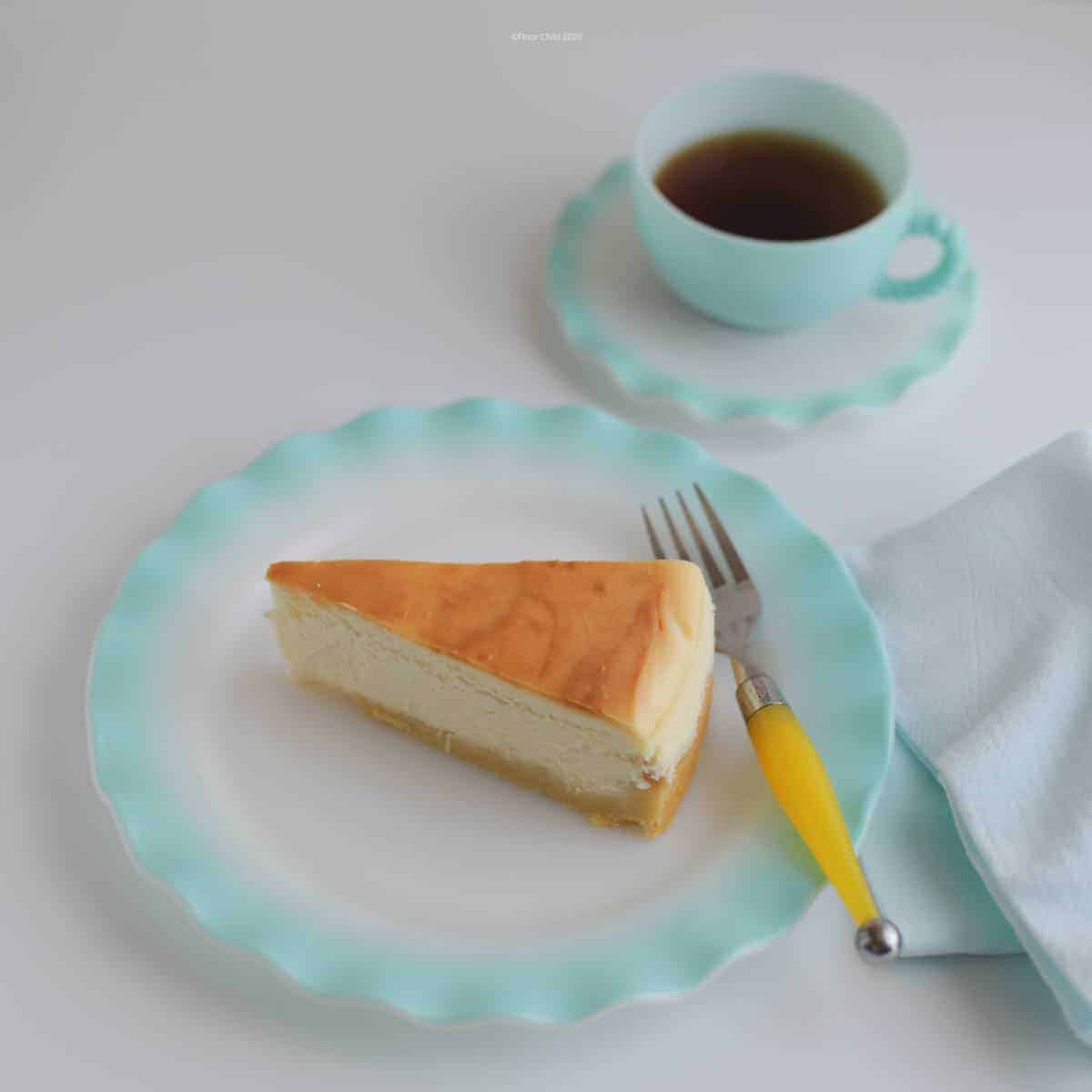 I thought I knew what cheesecake was until I started taking regular business trips to New York. No one makes them better than the restaurants and delis there. Cheesecake may have been invented in Greece, but it was perfected in New York. New York style cheesecakes have golden flat tops and tend to contain a lot more cream cheese and heavy cream than others, making them the tallest, thickest, richest cheesecakes in the world. I don't even want to know how many calories are in a slice -- it's something I eat only on rare occasions, and I want to forget about calories and enjoy it when I do!
One of the best cheesecakes on the East Coast comes from Junior's, a landmark restaurant founded in 1950 on Flatbush in Brooklyn. This New York style cheesecake recipe uses their shortbread crust and a version of their Original New York Cheesecake that I have slightly modified to be less sweet and more lemony. I am not a big fan of ultra-sweet tasting desserts, so I tend to pare down the sugar and increase other flavorings when I bake.
What You'll Need to Make It
For the crust:
All Purpose Flour
Salt
Unsalted butter
Sugar
Egg yolk
Vanilla extract
For the filling:
Cream cheese
Sugar
Corn starch
Vanilla extract
Lemon Juice
Eggs
Heavy whipping cream
Eight Steps to Cheesecake Success
It is not difficult to make cheesecake, but there are steps you need to follow to ensure it turns out properly. Skipping any one step can ruin the consistency of the cheesecake.
There are eight steps I always take to ensure cheesecake baking success:
Bring all cold cheesecake ingredients to room temperature before mixing (to prevent lumpy batter that is unevenly distributed.)
Use only a springform pan (the sides remove; a cake this soft cannot be lifted out.) All springform pans are not created equal -- I prefer this springform pan. It is made in the USA and pricier than others but so worth it. It is heavy duty, cooks evenly, doesn't leak, and won't damage the sides of the cheesecake upon removal.
Always wrap the springform pan in heavy duty, wide aluminum foil and use a circle of parchment paper in the bottom. This prevents it from sticking and makes it easy to slide off the pan.)
Grease the sides of the pan with butter before pouring in the batter (prevents the cheesecake from sticking.)
When making the batter do not over mix the ingredients. Once you add the eggs, beat the batter the minimum amount of time necessary to get it fully mixed.
When ready to bake, place the foil-wrapped pan into a larger pan (I use a roasting pan) with hot water coming a half inch up the side of the pan (ensures even cooking and helps prevent cracks.)
Make sure your oven is fully pre-heated to the appropriate temperature before placing the cheesecake inside.
Do not open the door of the oven during baking as it can cause cracks and other problems with the consistency of the cake.
It's important not to skip any of these steps if you want picture-perfect results!
When it is Done Baking
Carefully remove baked cheesecake from oven to a cooling rack and do not move or touch it until it is fully cooled.
After it is fully cooled, carefully remove the sides and chill the cheesecake in the refrigerator.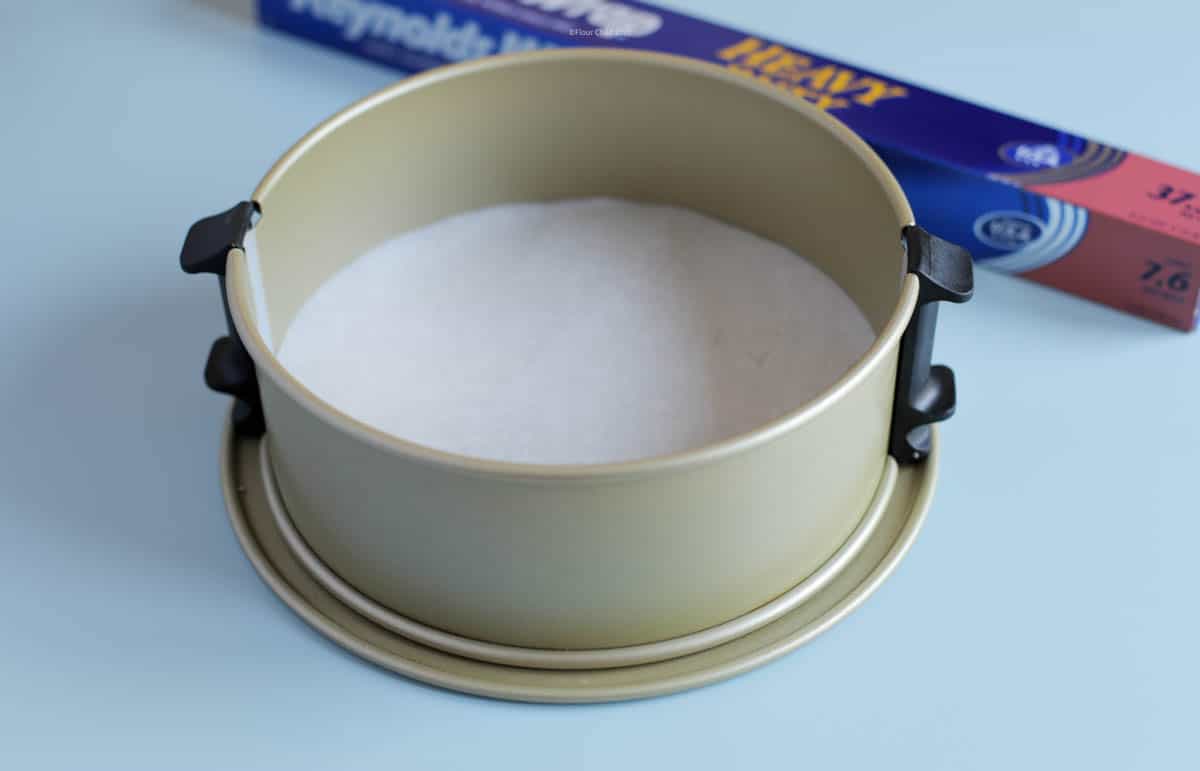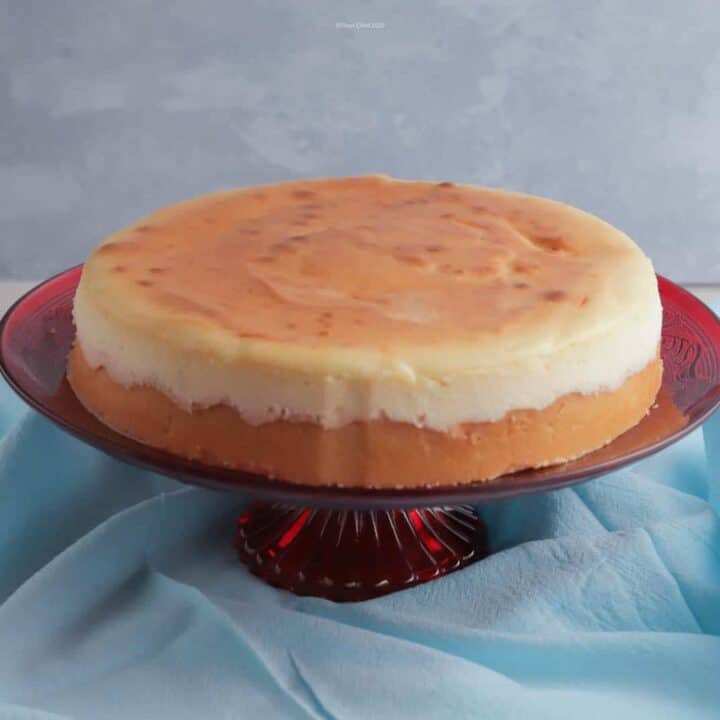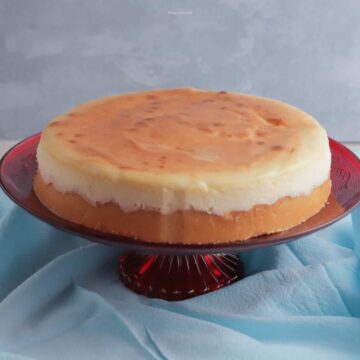 New York Style Cheesecake With Shortbread Crust
A rich and creamy deluxe New York style cheesecake with a heavenly shortbread crust that will make you the hit of any party. The not-too-sweet filling with a hint of lemon is absolutely divine!
Ingredients
Junior's Shortbread Crust:
1

cup

all purpose flour

1

tablespoon

cornstarch

¼

teaspoon

salt

½

cup

unsalted butter at room temperature

1 stick

⅓

cup

sugar

2

extra large

egg yolks

2

teaspoons

pure vanilla extract
New York Style Cheesecake filling:
32

ounces

cream cheese

full fat at room temperature

1 ⅓

cups

sugar

divided

¼

cup

cornstarch

1

tablespoon

vanilla extract

1

tablespoon

freshly squeezed lemon juice

2

extra large

eggs

¾

cup

heavy whipping cream
Instructions
Shortbread Crust:
Wrap the outside of a 9 inch springform pan in aluminum foil; grease the sides of the pan with butter and insert a parchment circle in the bottom of the pan.

Mix the flour, cornstarch and salt in a small bowl and set aside.

In a large bowl mix the butter and sugar on the high setting of an electric mixer. Add vanilla and egg yolks and mix just until fully blended.

Add the flour mixture and beat on low until dough forms. Using your hands, form the dough into a ball, wrap in cellophane and chill in refrigerator for 30 minutes. 

When dough is chilled, preheat oven to 350 degrees. Flour your hands, then place the dough in the springform pan and press the dough from the center outward using the heel of your hands. Fill the bottom and go partially up the sides of the pan. Poke the crust generously with a fork, which prevents bubbling and allows the crust to bake evenly.

Bake at 350 degrees approximately 15-20 minutes, until crust is firm and golden. Transfer to a wire rack when baking is complete and leave oven on while preparing cheesecake filling.
New York Cheesecake Filling
In a large bowl beat cream cheese, ⅓ cup of the sugar and cornstarch with an electric mixture several minutes, until well blended and creamy. 

Beat in remaining 1 cup of sugar, then add the vanilla extract and lemon juice. Continue mixing until fully blended. Add in the eggs, mixing until well combined.

Add the cream and beat on low just until fully incorporated. Do not overmix. Pour over shortbread crust.

Place the springform pan on a shallow rack in a large roasting pan. Add hot water to the roasting pan until water comes up approximately 1 inch on the side of the foil wrapped pan. 

Bake approximately 75 minutes, until the top is a golden tan color. Very carefully remove the cheesecake pan from the roasting pan over a sink, and gently remove the foil. Be careful not to cause too much movement or shaking to the cake pan. Set the cake pan on a wire rack and leave it to cool for 2 hours. Cover lightly with plastic wrap and refrigerate overnight or until cold -- approximately 8 hours. 
Notes
Avoid opening the oven door when baking. Temperature fluctuations can harm the cake.
Handle warm cheesecake carefully, as it is easily damaged. Handle it as little as possible until fully cooled. 
Cut cheesecake with a sharp, wet knife. Carefully wipe knife and dip in water again before each cut is made. Dragging a dry knife through a cheesecake will tear it apart.
Nutrition
Calories:
564
kcal
Carbohydrates:
43
g
Protein:
8
g
Fat:
41
g
Saturated Fat:
23
g
Polyunsaturated Fat:
2
g
Monounsaturated Fat:
11
g
Trans Fat:
1
g
Cholesterol:
191
mg
Sodium:
313
mg
Potassium:
150
mg
Fiber:
1
g
Sugar:
31
g
Vitamin A:
1564
IU
Vitamin C:
1
mg
Calcium:
97
mg
Iron:
1
mg
Love cheesecake? Try our lighter, faster, easy-to-make Atomic Orange Cheesecake With Whipped Cream Topping as an alternative.
What is your favorite cheesecake flavor? What other cheesecake recipes would you like to see from us?