Another forgotten mid century classic cocktail combines scotch whisky and a liqueur made from scotch and honey for a smoky sweet delight.
The Rusty Nail is a relative newcomer to the scene as it appears to have been created in the 1960's by a famous New York bar. This drink is a duo cocktail, meaning that there are only two ingredients. Don't let the simplicity fool you though. The Scotch provides a smokey smoothness and the liqueur, Drambuie, is a sweet complex blend of scotch, honey and spices.
Drambuie is a wonderful liqueur that has been produced in Scotland since at least the late 1800's from a secret blend of scotch, honey, spices and herbs. I can still remember their advertising jingle from when I was a little kid--back when they could advertise alcohol on TV.
Some versions of the recipe call for equal parts scotch and Drambuie, but I prefer to go the more traditional route and use more scotch than Drambuie so that I get the full effect of the smokey whisky.
What you'll need
The list of ingredients is very straightforward for this mid century cocktail.
Large ice cube--round or square is fine
Blended Scotch Whisky
Drambuie liqueur
This cocktail is perfect to pour into an Old Fashioned glass. Use a large ice cube to keep it cold while you sip it. You can always use a twist of lemon as well to give the drink more of a citrus taste if you like.
Tips for a Successful Rusty Nail
This cocktail was probably so popular because it was so tasty and simple to put together. But I will invoke my major rule for cocktail making:
Always mix with spirits that you would drink neat. Meaning never mix with an inferior-tasting spirit and hope that the mixer will 'cover it up'. It doesn't. My golden rule is that if I wouldn't drink it or serve it to guests on its own, then I will not mix with it either.
In the spirit (see what I did there?) of the above tip, I prefer to use a Johnny Walker Black 12- year old scotch to make this drink. It is smooth and smokey and consistently good because the Scotts have been blending whiskys for centuries and know how to make a consistent winner every time.
Which version of the Rusty Nail do you prefer? More whisky or equal parts ingredients?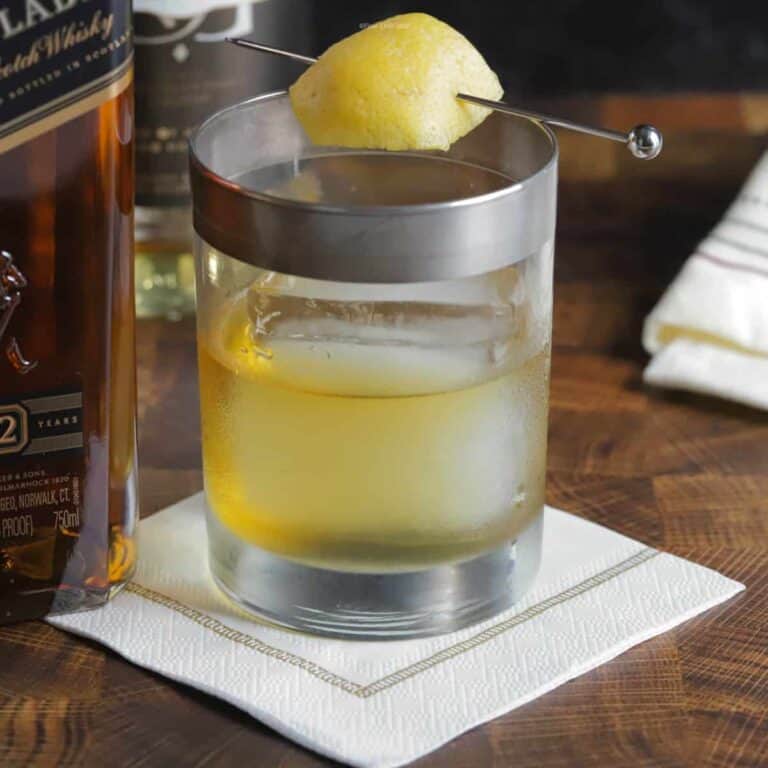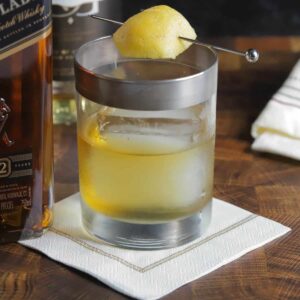 The Rusty Nail is Double Scotch and Honey Goodness.
This mid century staple cocktail is a wonderful blend of smokey Scotch whisky and spicy, honey flavored Drambuie.
Ingredients
1.5

ounces

of blended scotch whisky

¾

ounce

of Drambuie

Lemon peel garnish
Instructions
Place a large ice cube in a rocks glass and pour scotch and liqueur over.

Stir to mix.

Top with a lemon twist for garnish.
Notes
Feel free to mix with equal part ingredients for an even sweeter drink.
Remember to use a quality blended scotch.
Nutrition
Calories:
159
kcal
Carbohydrates:
1
g
Potassium:
1
mg
Sugar:
1
g
Iron:
1
mg