Colorful bell peppers stuffed with seasoned ground beef in tomato sauce and rice make this a comforting old fashioned dinner worth revisiting!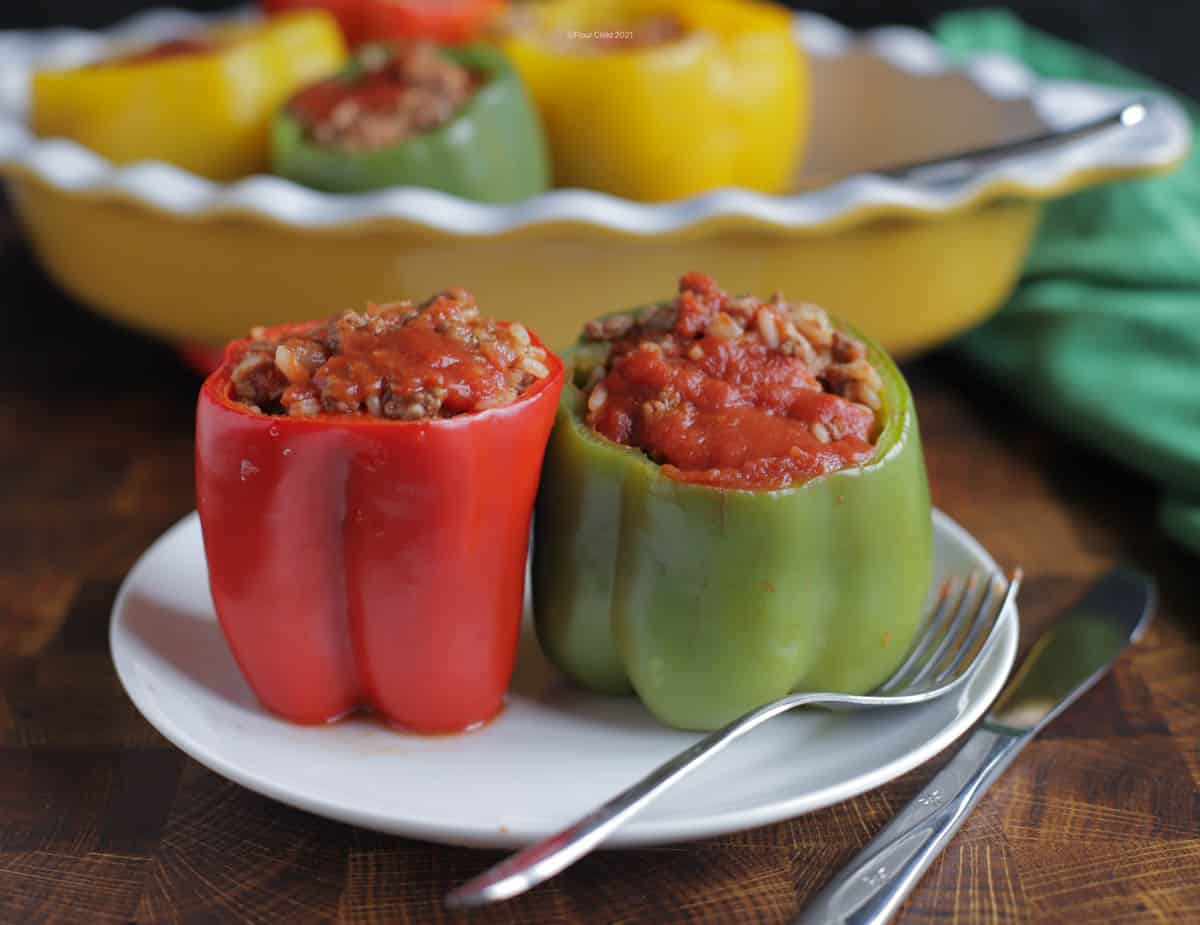 Stuffed pepper recipes first started popping up in cookbooks in the 1890's. Virtually every country has their own unique version of this recipe.
In the U.S., stuffed peppers were at peak popularity in the 1950's. Like many recipes of the mid century era, it contained meat stretched with a starch like crackers, bread crumbs or rice. Add a few vegetables and tomato sauce, cook them inside the peppers, and you had a filling and budget-friendly family meal.
Mid century cooks did not have easy access to the many spices we have in our kitchens today. Modern recipes for stuffed peppers often include a variety of seasonings and even cheese toppings.
Origin of This Recipe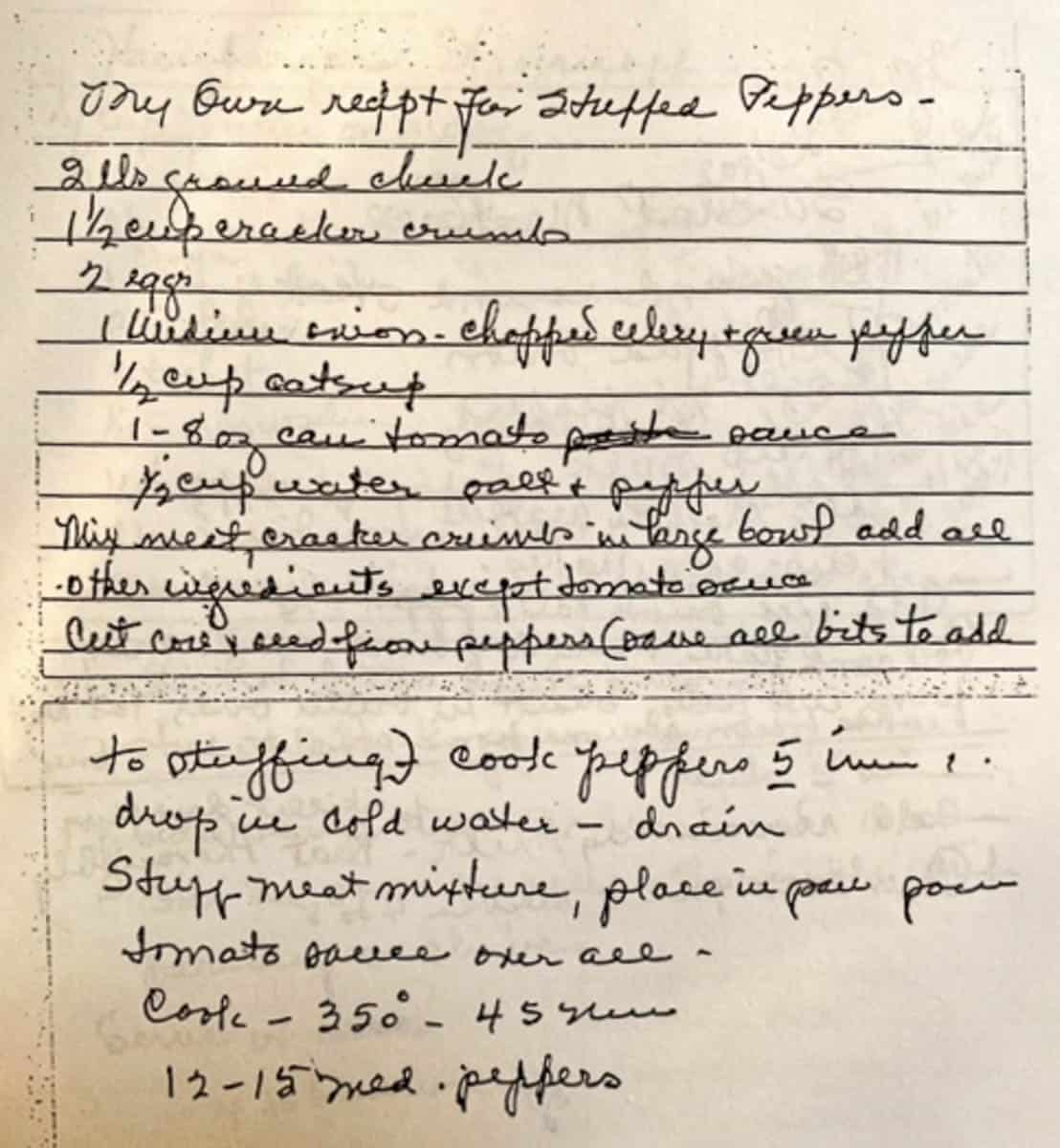 This mid century handwritten recipe was given to me by my friend, Anne. It was written by her maternal grandmother, "Mama Leigh," who was from Bedford, Virginia. Mama Leigh lived to the ripe old age of 100, and in honor of her 100th birthday a family cookbook was made to preserve her recipes. I highly recommend doing this for your family -- there are so many recipes of my grandma's I wish I had. I cherish the few that I do have!
What is the Difference Between the Colors of Bell Peppers?
Green yellow, orange and red bell peppers are all the same variety of pepper in different stages of ripeness. Green is the least ripe, and red is the most ripe. The color does affect the flavor, with green being the most bitter, and red being the most sweet. I like to use a variety of colors because it makes a beautiful presentation on the table!
Ingredients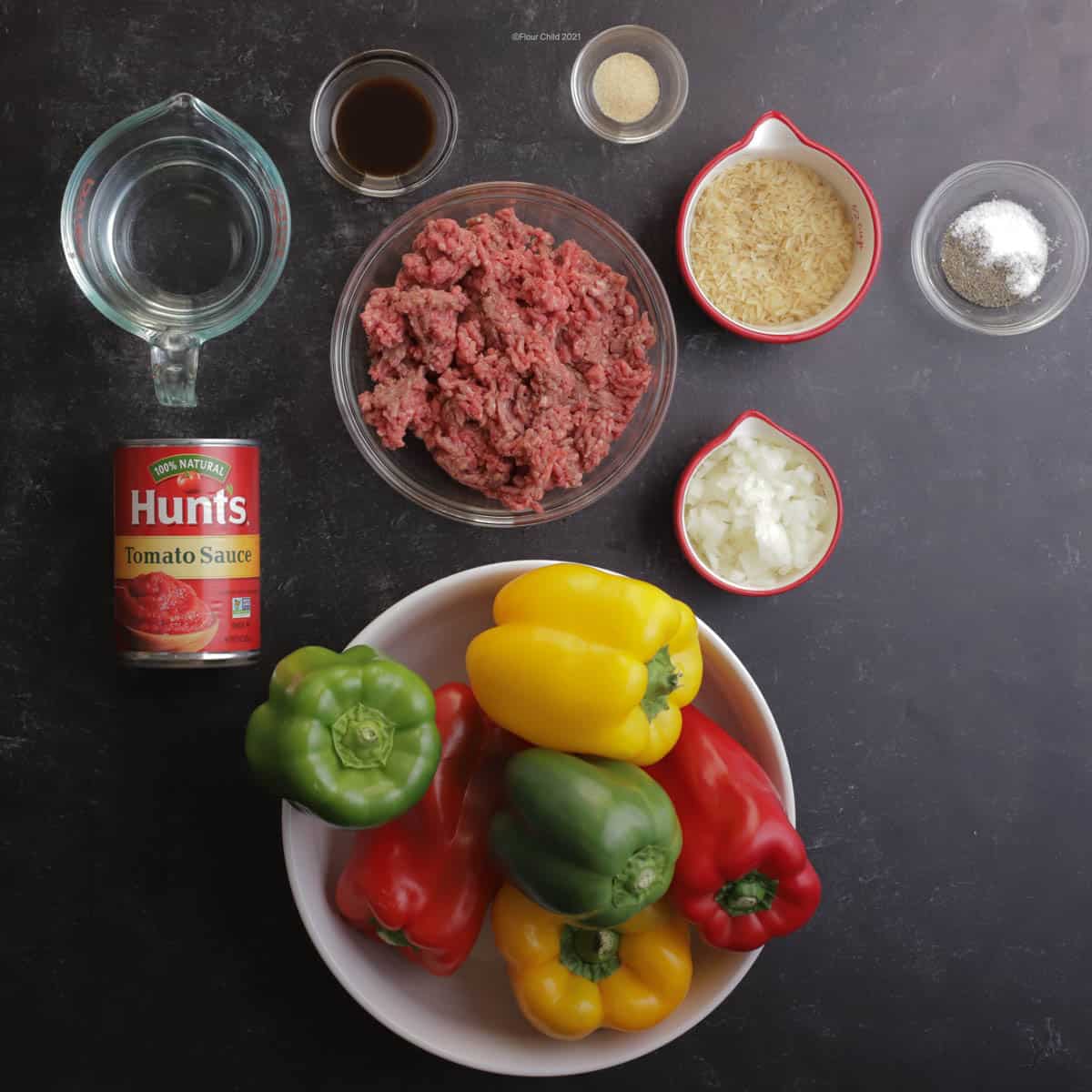 To make this recipe, you will need:
bell peppers, any color
ground beef
onion
garlic
long grain white rice
tomato sauce
Worcestershire sauce
salt/pepper
Preparing The Peppers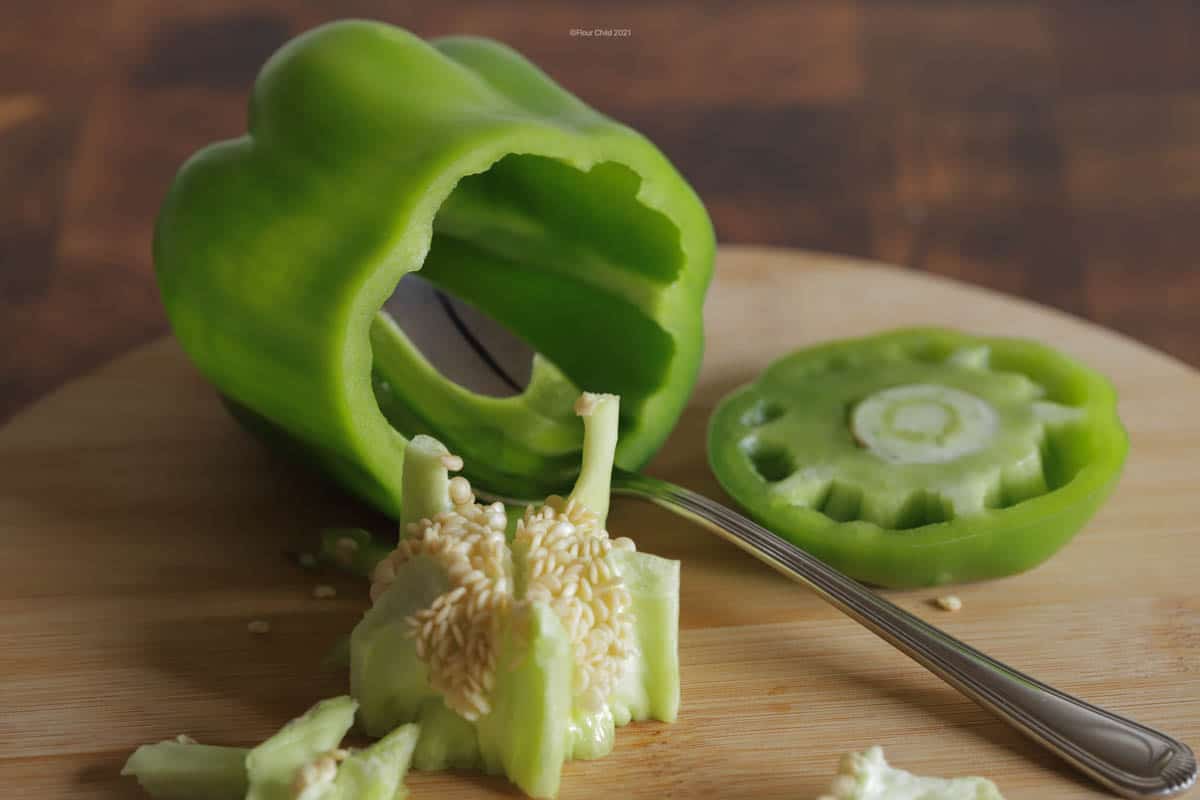 To prepare a pepper, wash and dry it, then cut the top off. Using a spoon, remove the center seed pod and shake out any remaining seeds. Use a knife to cut any protruding inside ribs.
Hints For Preparing Stuffed Bell Peppers
Choose peppers that are even in size for uniform cooking and serving portions.
Boil peppers for no longer than 5 minutes to ensure they don't break down.
Chop some green pepper (most flavorful) from the cut-off pepper tops to add to the ground beef mixture.
Use long grain, long cooking rice rather than instant rice for the best flavor and texture.
Soak rice in water for 30 minutes before cooking for maximum tenderness.
Mama's Leigh's recipe feeds a crowd, as it calls for 2 pounds of beef and 12-15 peppers. I cut it in half which perfectly filled 6 peppers. I also added some garlic and Worcestershire sauce for added flavor. In an effort to keep it gluten free I used rice, but as her recipe indicates you can use cracker crumbs, or even bread crumbs or Panko.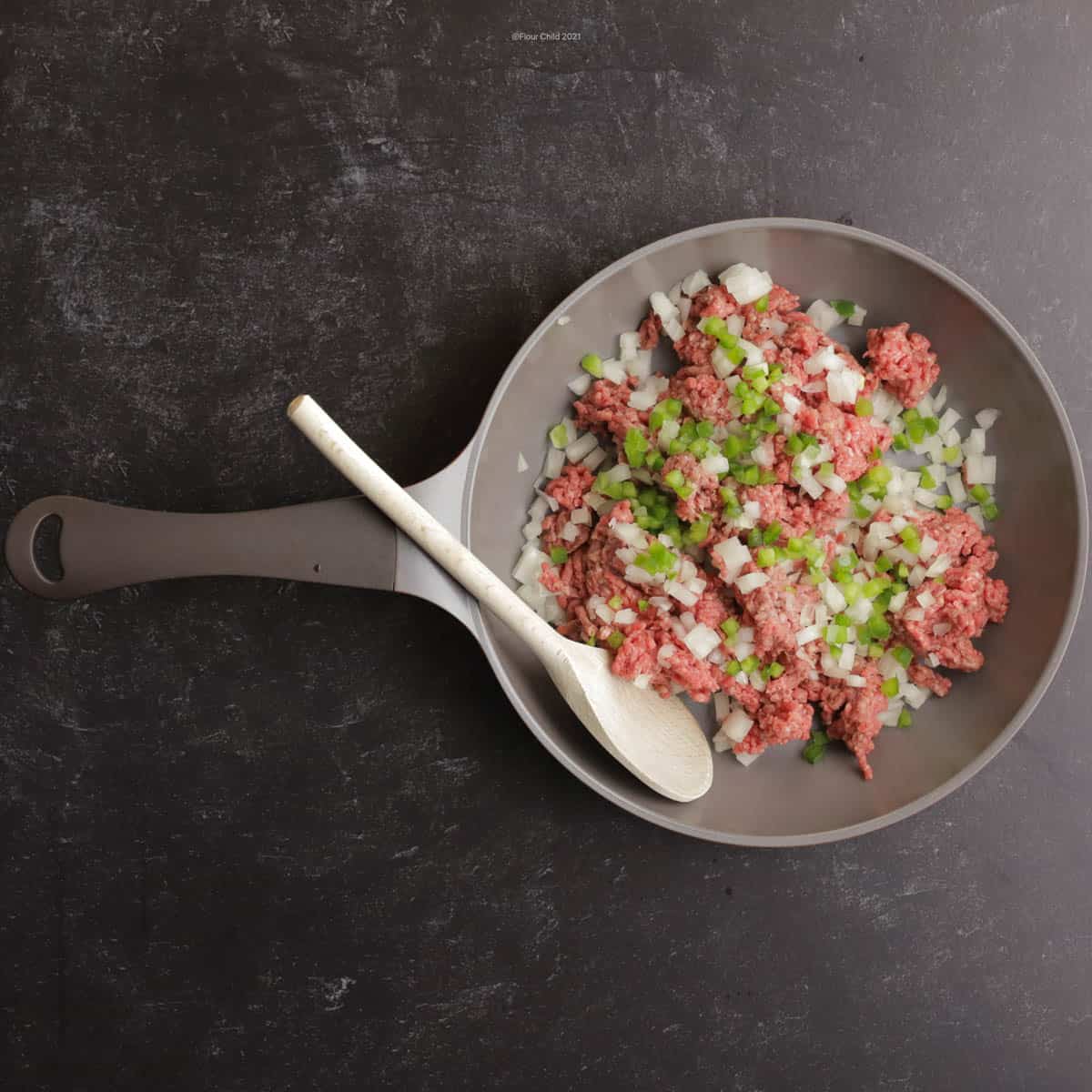 Some modern stuffed pepper recipes call for a lot more tomato sauce, seasonings, and as mentioned earlier, cheese on top. I like this recipe because it stays true to the original vintage taste without overpowering it with a lot of other ingredients. It's true 1950's comfort food!
If you have a vintage recipe you'd like share with us for possible publication, please scan it and email it to [email protected]. We'd love to hear from you!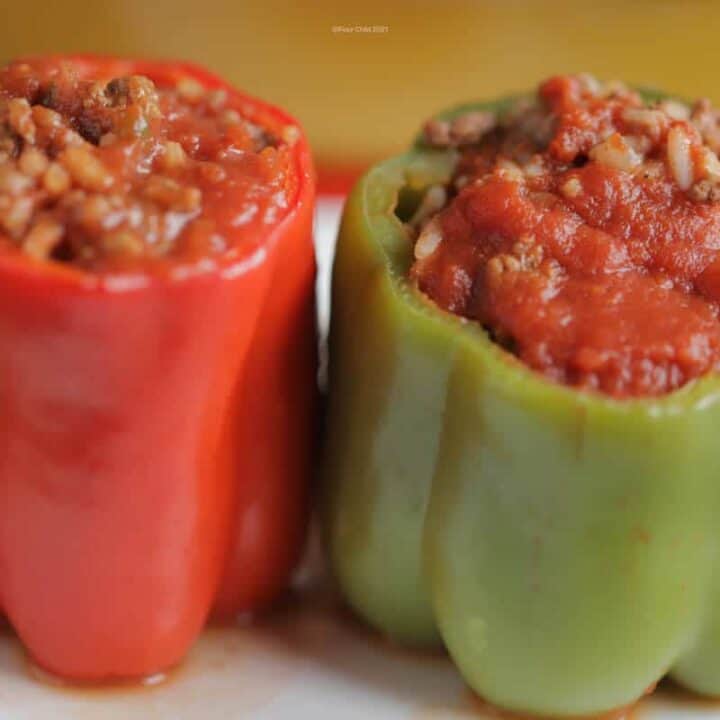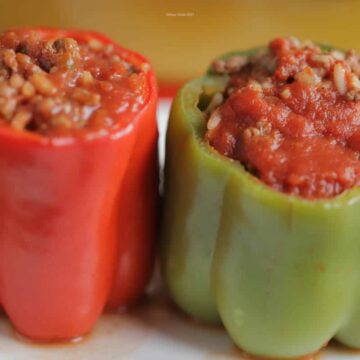 Stuffed Bell Peppers
Colorful bell peppers stuffed with seasoned ground beef in tomato sauce and rice make this a comforting old fashioned dinner worth revisiting!
Ingredients
6

bell peppers

any color

2

lbs.

lean ground beef

½

cup

long grain white rice

1

cup

water

½

cup

chopped onion

2

cloves

minced garlic

15

oz.

tomato sauce, divided in half

1

tablespoon

Worcestershire sauce

½

teaspoon

kosher salt

¼

teaspoon

pepper

¼

cup

chopped green pepper
Instructions
Soak rice in 1 cup of water for 30 minutes, then place rice and water in a pot. Bring to a boil, then turn down heat and simmer on low for 20 minutes or until all liquid is absorbed. Remove from heat.

While rice is cooking, bring a large stock pot of water to a boil. Wash peppers; cut off tops, remove seeds and hollow out the inside.

When water begins boiling, place peppers inside and boil for 5 minutes. Remove them from the pot and place them open side down on paper towels to allow them to drain and cool. 

In a skillet, combine ground beef, onion, garlic and chopped green pepper over medium heat. Cook until beef is browned and onion and pepper are soft, 8-10 minutes. When finished, drain excess liquid from pan.

In a mixing bowl combine ground beef mixture, rice, salt, pepper, Worcestershire sauce, and half of the tomato sauce. Using your hands or a wooden spoon, mix ingredients well. 

Using kosher salt, generously salt the inside of each pepper, then spoon the beef mixture inside until full. Top with remaining tomato sauce.

Spray a 13 x 9 inch pan with oil, then place peppers inside standing up. Cover tightly with foil and bake at 350 degrees for 45 minutes until peppers are tender and filling is hot. 

Remove peppers from oven and baste tops with juices from bottom of pan. Serve immediately.
Notes
For some added texture, add ½ cup of celery to the ground beef, onion and garlic while browning.
In place of rice you can substitute cracker crumbs, bread crumbs or Panko.
Nutrition
Calories:
328
kcal
Carbohydrates:
26
g
Protein:
36
g
Fat:
8
g
Saturated Fat:
3
g
Polyunsaturated Fat:
1
g
Monounsaturated Fat:
3
g
Trans Fat:
1
g
Cholesterol:
94
mg
Sodium:
701
mg
Potassium:
1085
mg
Fiber:
4
g
Sugar:
9
g
Vitamin A:
4059
IU
Vitamin C:
164
mg
Calcium:
46
mg
Iron:
5
mg