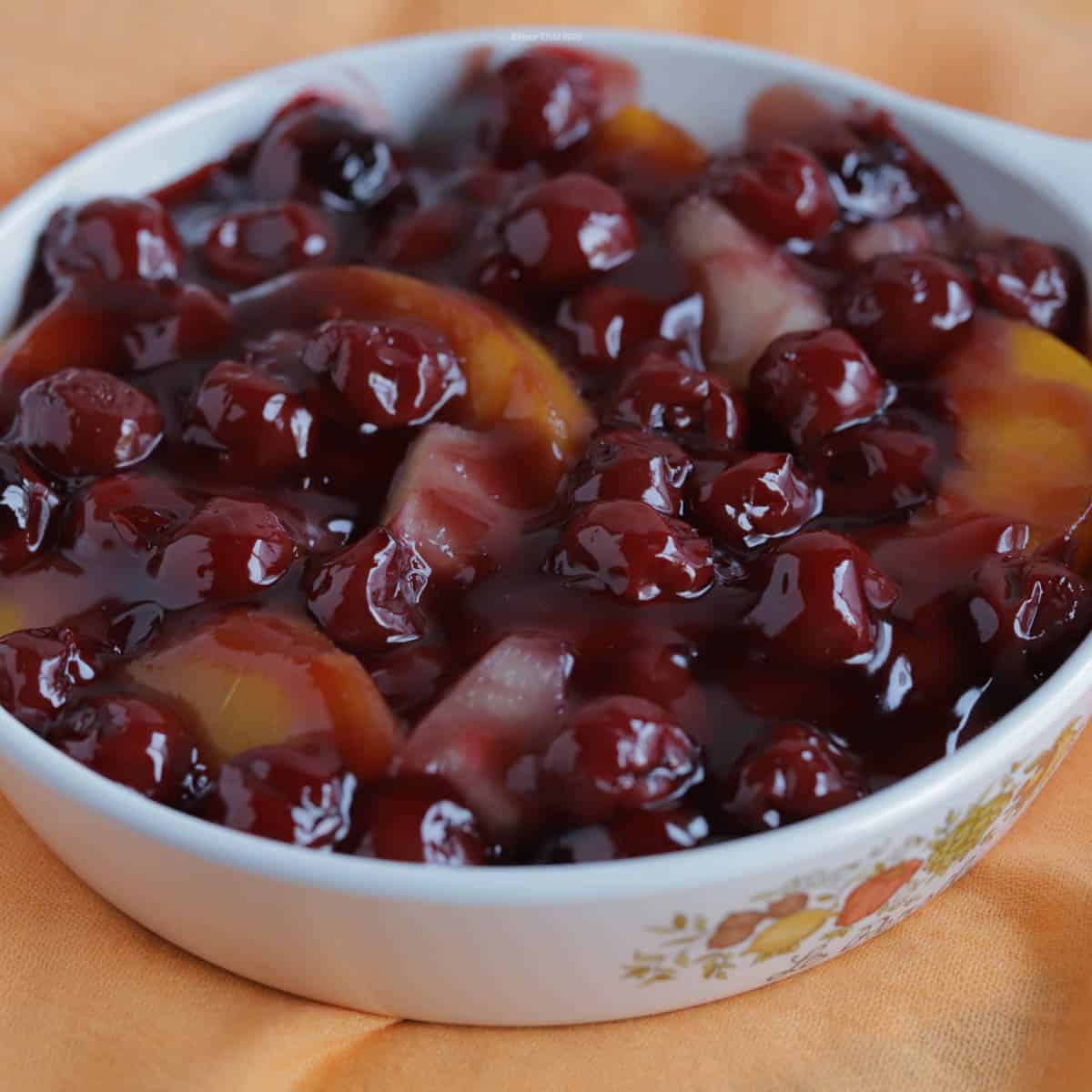 This easy peach pineapple cherry hot fruit compote is a pleasing side dish or dessert. It's fast to prepare and kids love it.
When to serve fruit
I grew up always having some type of fruit as a salad or side dish with dinner. My husband thinks it's insane. The first time I served fruit as a salad with dinner he said "Fruit is a dessert, you don't eat it with a meal!" My family wouldn't think of having fruit as a dessert. Our philosophy was if it's not chocolate, it's not dessert! It's so funny how families have different ways of thinking about food. So when it comes to this hot fruit compote dish, we debated about whether it's a salad, side dish or dessert (maybe even breakfast?) Since we eat it differently, I tagged it as all four!
My aunt Dorothy brought this hot and juicy fruit dish to a potluck one year and everyone really liked it. It's colorful on a holiday buffet, and it's a nice complement to white meats like turkey and pork. Think of it as an alternative to cranberry relish or cranberry sauce. It's also a good salad or dessert option for vegetarians and vegans. My girlfriend serves it as a hot topping on ice cream.
Just three ingredients in hot fruit compote
All you need to make this inviting dish is two cans of fruit and one can of a fruit pie filling. I use peaches and pineapple packed in their own juice and not in heavy syrup so the dish is not overly sweet. This particular combination of fruit is a nice balance between sweet and tart, but feel free to mix it up and substitute other fruits. Some that work well include sliced mandarin oranges, apricots, or pears. If you prefer, you could also use a pie filling other than cherry. Generally the rule of thumb is two canned fruits packed in their own juice to one pie filling, but you can vary it according to your liking.
Make it for a crowd
If you need this for a large buffet or potluck, you can choose larger cans of fruit or simply double the recipe. To keep it warm, put it in a chafing dish or crockpot on the lowest setting. The fruit doesn't need to be cooked, you just need to get it hot for serving.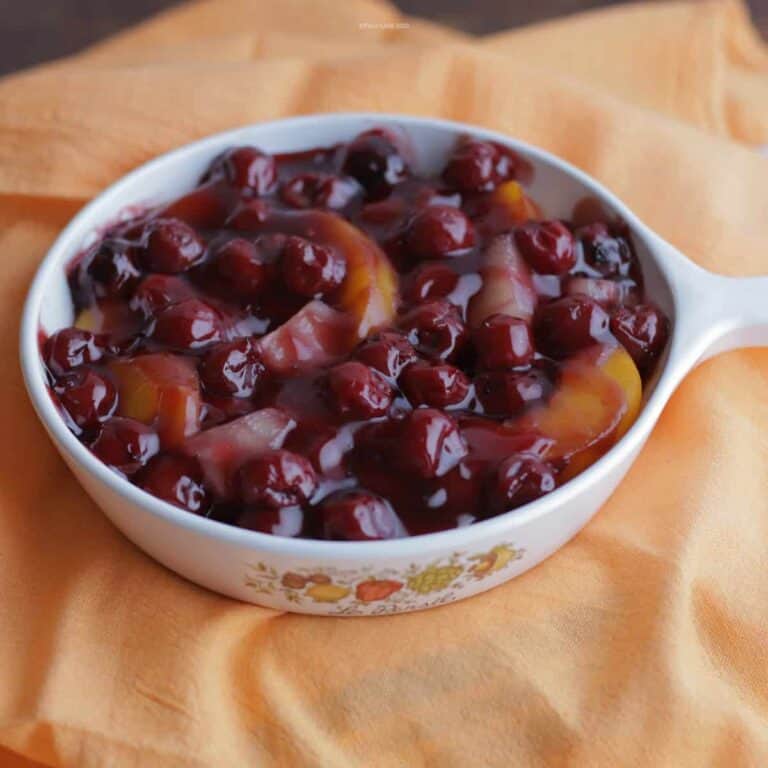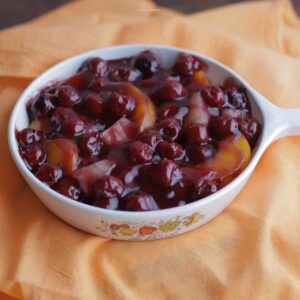 Easy Peach Pineapple Cherry Hot Fruit Compote
This hot fruit compote takes only a minute or two to put together and is great for a potluck or buffet. 
Ingredients
14.5

ounces

sliced peaches packed in their own juice

20

ounces

pineapple chunks packed in their own juice

21

ounces

cherry pie filling
Instructions
Drain peaches, then put them in a 9 x 13 pan. Add pineapple, then top with cherry pie filling.

Bake in a 325 degree oven for 25 minutes, until hot and bubbly. Serve immediately.
Notes
If you don't care for one of the fruits you can substitute other canned fruits such as apricots, mandarin oranges or pears.
Cover and refrigerate any leftovers, then reheat at 325 degrees for about 20 minutes or until hot.
Nutrition
Calories:
148
kcal
Carbohydrates:
37
g
Protein:
1
g
Fat:
1
g
Saturated Fat:
1
g
Polyunsaturated Fat:
1
g
Monounsaturated Fat:
1
g
Sodium:
14
mg
Potassium:
264
mg
Fiber:
2
g
Sugar:
14
g
Vitamin A:
356
IU
Vitamin C:
13
mg
Calcium:
23
mg
Iron:
1
mg