One bite of this delicious ground beef meatloaf with onion and tomato sauce will take you back to a time when this was a tasty and economical dinner staple.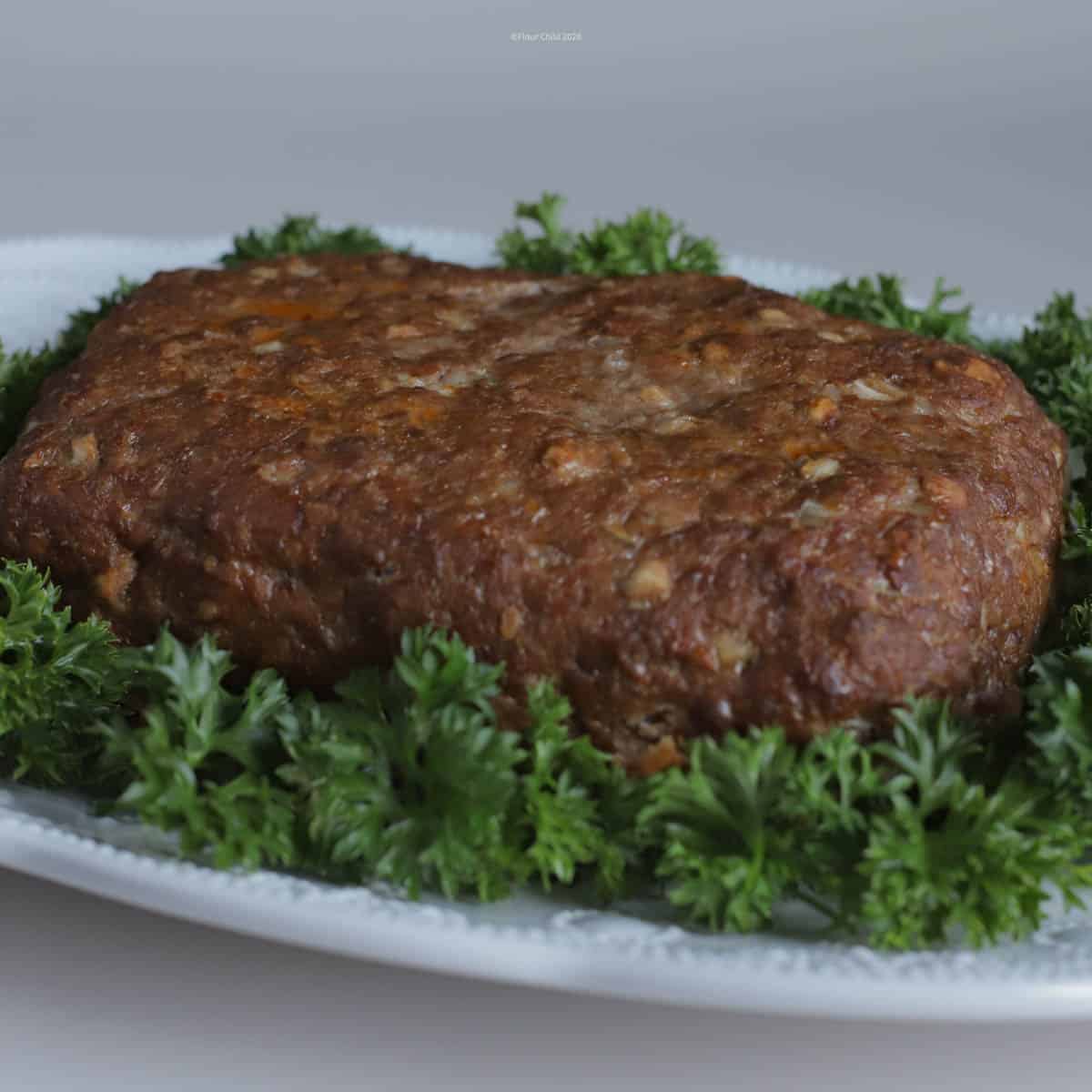 A classic recipe of mid century moms
Kevin's best buddy, Jim, recalls eating this meatloaf once a week as a little boy in the early 1960's. It was one of his favorite dinners growing up. Years later when he moved into his own place, his mom jotted the recipe down on an index card and gave it to him. When Kevin and I tasted it we both felt like we had stepped into a time machine -- the flavor is very different (delicious!) from the more modern versions of meatloaf we're used to. Would you believe that Jim has never made it? That's okay, when he comes to visit us, I'll make it for him!
Mom, Where does meatloaf come from?
Meatloaf is of German origin and got its start in the United States from the Pennyslvanial Dutch settlers in colonial Pennsylvania. It became popular during the WWII era of the 1940's as it was economical, hearty, and easy to stretch. At that time it was made with whatever ground meats were available, sometimes including a combination of ground beef, pork, sausages and organ meats. Filler such as cornmeal, breadcrumbs or crackers were used to bind it together and stretch it.
What is modern day meatloaf?
Today when someone says they are making meatloaf, it could mean anything from a vegetarian or vegan version made with something like lentils or chickpeas, a turkey version, or one made with a combination of different meats. There are so many variations that you really don't know what you're going to get. But in the 1950's and 60's, virtually everyone's mom made meatloaf with ground beef, onion and tomato sauce. In the 70's, sometimes my mom would skip chopping the onions and add a pouch of dried onion soup instead.
It Takes Just a Few Basic Ingredients
Here's what you'll need to make delicious meatloaf with ground beef, onion and tomato sauce:
Ground Beef
Tomato Sauce
Egg
Salt
Onion
Crackers
Making the meatloaf couldn't be any easier -- just put all the ingredients in a bowl and mix with your hands. Then form it into a loaf and bake! Serve it with classic sides like mashed potatoes and green beans.
Tips for Success
This recipe calls for ground chuck, which is generally 80% - 85% lean. I like a leaner version, so I use one pound of 90% or 92% lean ground beef, and ½ lb. of 85% lean ground beef for the extra flavor a little more fat adds.
I like to shape my meatloaf and then place it on a low fat roasting pan with a drainage rack to cook rather than put it in a loaf pan. In my experience it cooks faster and more evenly when the air is allowed to circulate around it. If you prefer a loaf pan, it may need a few minutes longer to cook.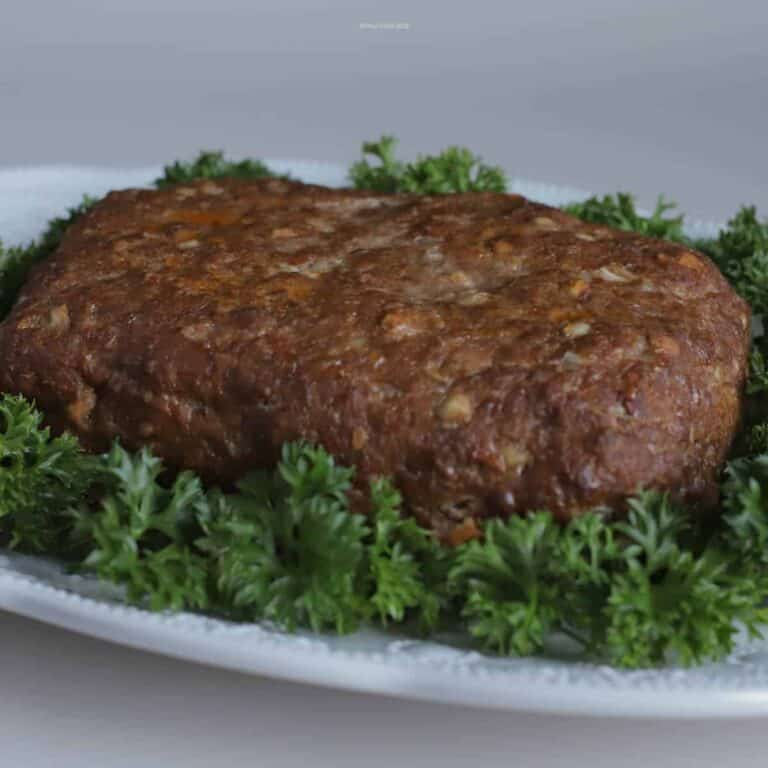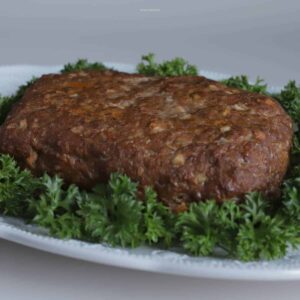 Meatloaf with ground beef, onion and tomato sauce
This hearty meatloaf is packed with old fashioned flavor that's hard to resist. The best thing about making meatloaf is having it on sandwiches the next day!
Ingredients
1 ½

pounds

ground beef

8

ounces

can tomato sauce

1

large

egg

1 ½

teaspoons

salt

½

cup

yellow onion

chopped

12

saltine crackers

crushed
Instructions
Preheat oven to 350 degrees

Put all ingredients into a large mixing bowl. Using your hands, mix together until fully combined.

Form into the shape of a loaf, and place on a roasting pan that allows drainage.

When done baking, remove from oven and let sit for 5 minutes before slicing. 
Notes
Modern Twist: Use ground turkey in place of ground beef for a modern meatloaf meal
If you like, spread ketchup over top of the meatloaf before baking
Cooking this on a roasting or broiling rack with drainage will make for a leaner and more evenly cooked meatloaf.
The original recipe calls for ground chuck; I use ½ lb. of ground chuck (80-85% lean) and a pound of leaner ground beef to lower the overall fat without losing the taste.
Meatloaf leftovers make excellent sandwiches!
Nutrition
Calories:
255
kcal
Carbohydrates:
6
g
Protein:
16
g
Fat:
18
g
Saturated Fat:
7
g
Polyunsaturated Fat:
1
g
Monounsaturated Fat:
8
g
Trans Fat:
1
g
Cholesterol:
84
mg
Sodium:
697
mg
Potassium:
354
mg
Fiber:
1
g
Sugar:
2
g
Vitamin A:
157
IU
Vitamin C:
3
mg
Calcium:
26
mg
Iron:
2
mg