Tart cranberry muffins with a hot, sticky, sweet butter sauce come together in a delicious cranberry pudding holiday dessert (or breakfast!) that is impossible to resist!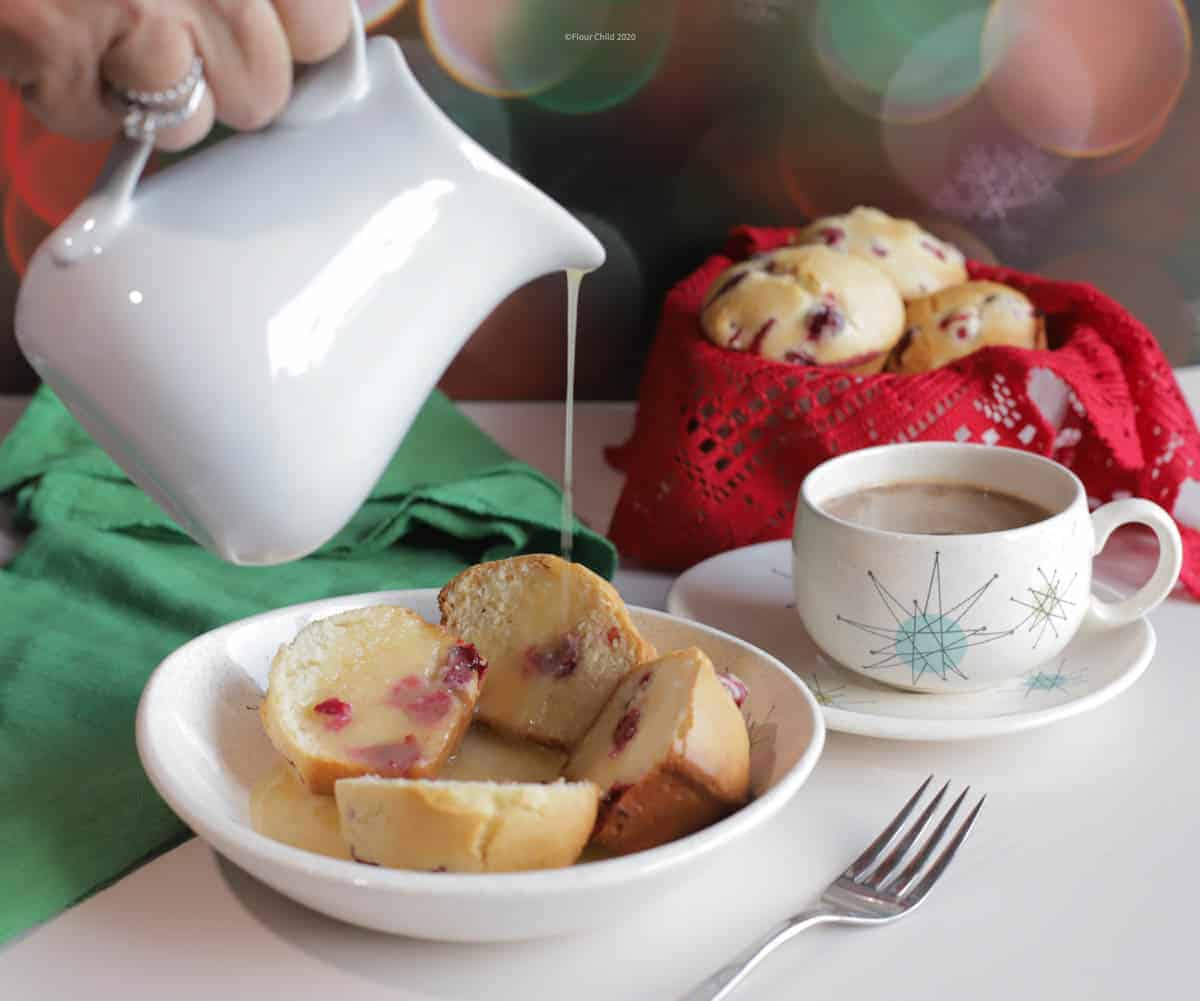 One thing I love about producing this website is that it challenges me to try recipes I probably would not have made otherwise. This is a recipe I most likely would have skipped over, and it would have been a huge mistake! The hot, creamy, sweet butter sauce flowing over the tart cranberry muffins is pure heaven. When I made this, Kevin and I both ate so much that we had to skip dinner!
Wait a Minute -- That Doesn't Look Like Pudding!
When I first read this mid century recipe and saw that it required baking muffins, I thought there was a mistake in the title. It didn't sound anything like pudding! If you grew up in the U.S., pudding is a creamy, milk based dessert in flavors like chocolate, vanilla and butterscotch. There are no muffins in pudding! So what's the deal?
I mentioned the recipe to my sister who majored in home economics in college during the 1960's, and she immediately said "That's a British recipe." I began researching the dish and learned that it is indeed British, and that the term pudding means something different in England than it does in the U.S.
Are You Posh, or Not?
According to the 1956 linguistics book "Noblesse Oblige" by mid century British writer Nancy Mitford, the elite upper class Britons used the term pudding to mean the final course of a meal, or what Americans refer to as dessert. The working class used the word sweets. So not only were there two different words for dessert in England, but they indicated your place in society. I had to giggle when I realized that Pink Floyd used the posh term at the end of their song Another Brick in the Wall ("If you don't eat your meat, you can't have any pudding!") Forty years later I finally understand that lyric, but I digress. Today, there is less of a class distinction with these terms and they are frequently used interchangeably.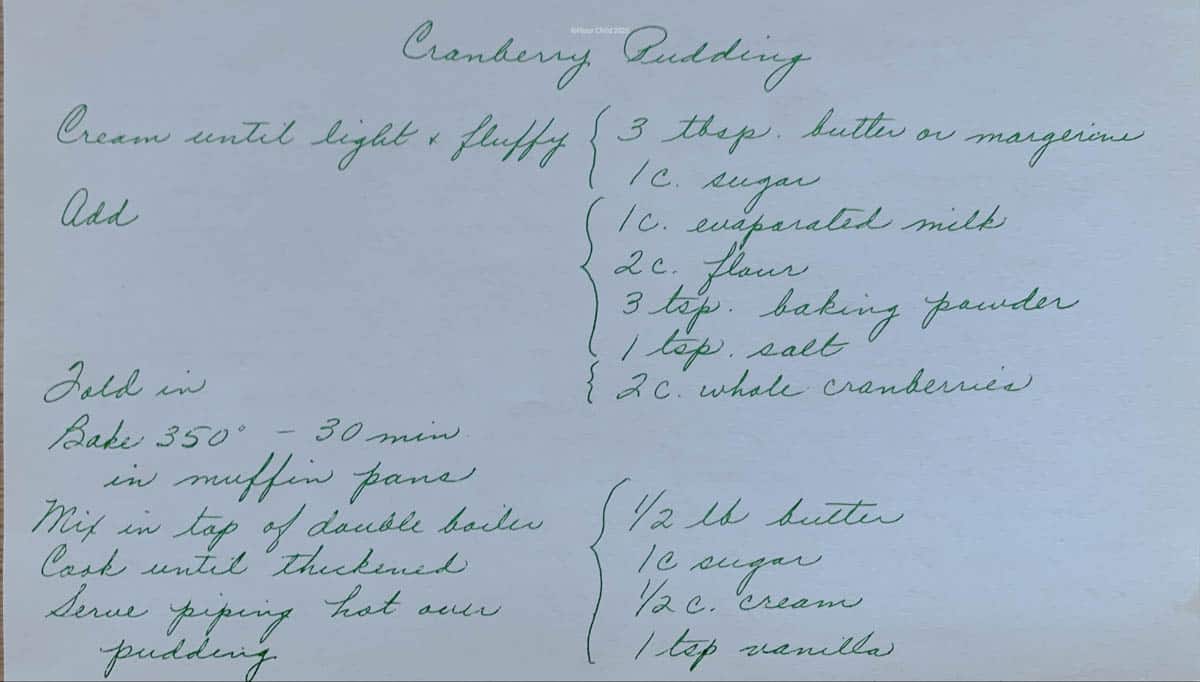 Start By Making the Cranberry Muffins
Because these muffins are intended to be served with a sweet butter sauce poured over the top, they are quite tart. Therefore, you probably won't want to eat them without the sauce as they are not as sweet as a traditional cranberry muffin.
If you aren't careful when preparing the batter, the muffin exterior can turn out tough and chewy. Therefore, follow these guidelines when making them:
Mix the butter, sugar, milk, baking powder and salt with an electric mixer. Then, gently fold the flour in by hand using a spatula. and only until you no longer see any white powder. Over-mixing brings out the gluten in the flour and can cause tough, chewy muffins.
Gently fold in the cranberries after adding the flour, mixing as little as possible.
Grease the muffin tin well with butter or non-stick baking spray before pouring in the batter. I used a regular sized muffin pan that makes 12 muffins. It was the exact right size for the amount of batter this makes.
Don't bake longer than necessary. Keep an eye on the muffins, and as soon as they turn golden take them out. For a 12-tin muffin pan, 20 minutes or so should be sufficient. You will need 25-30 minutes if you're making larger muffins. When a wooden toothpick inserted in the center comes out clean or with only a few crumbs they're ready.
Remove the muffins from their pan after they have been out of the oven for 5 minutes. Leaving them in the pan longer can cause them to stick.
Quick & Easy Butter Sauce For Cranberry Pudding
The butter sauce only takes about five minutes to make. You should make it right before serving and serve it hot over the muffins.
Melt the butter first, then add in the cream and vanilla and stir for 30 seconds before adding sugar.
Stir in sugar, bring it to a boil and keep stirring until it is a thick, smooth consistency, like syrup.
Serve immediately, while hot. Place in a serving pitcher to pour, or in a bowl to ladle over the cranberry muffins. You can store it covered in the refrigerator, then reheat it on the stovetop before serving.
Enjoy your cranberry pudding!
If you love cranberries, also try our recipes for Bourbon Cranberry Sauce and Cranberry Orange Quick Bread.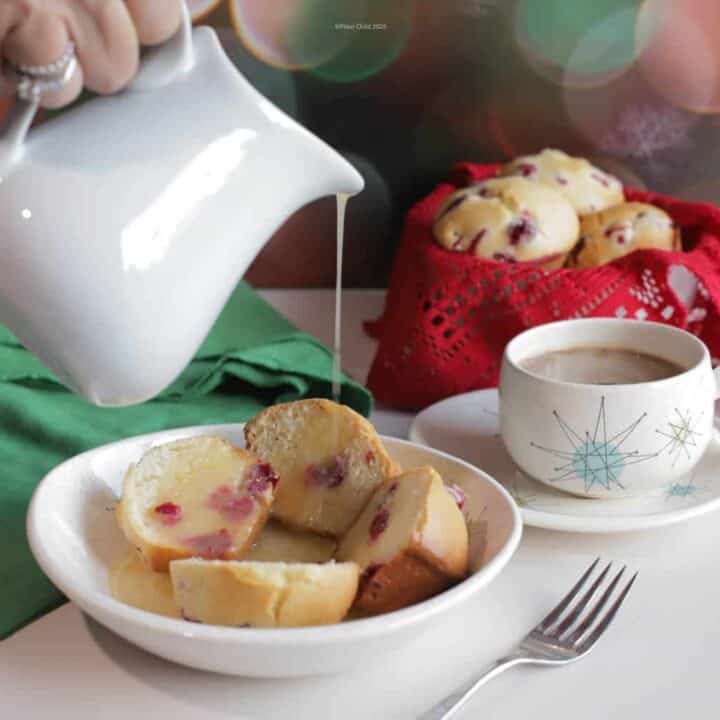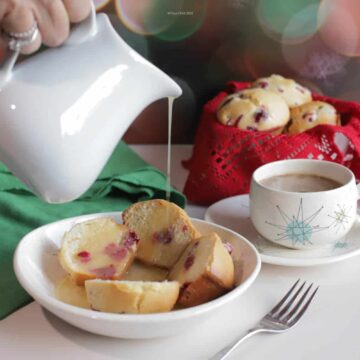 Cranberry Pudding With Butter Sauce - A Tasty British Dessert
Tart cranberry muffins with a hot, sticky, sweet butter sauce come together in a delicious cranberry pudding holiday dessert (or breakfast!) that is impossible to resist!
Ingredients
Cranberry Pudding
3

tablespoons

butter

1

cup

sugar

1

cup

evaporated milk

3

tablespoons

baking powder

1

teaspoon

salt

2

cups

flour

2

cups

fresh whole cranberries
Hot Butter Sauce
½

pound

butter

16 tablespoons

½

cup

cream

1

teaspoon

vanilla

1

cup

sugar
Instructions
Cranberry Muffins
Preheat oven to 350 degrees. Generously grease a 12-muffin pan with butter or non-stick baking spray.

Bring butter to room temperature. In a large mixing bowl, use an electric mixer to beat butter and sugar until fluffy. 

Add in evaporated milk, baking powder, and salt. Mix until fully combined.

Using a spatula, gently fold in the two cups of flour by hand, just until all of the white powder disappears. Do not over mix or muffins will be tough and chewy.

Very gently fold in the cranberries just until combined.

Pour into greased muffin pan and bake approximately 20 minutes, until a wooden toothpick comes out clean or with just a few crumbs. 

Cool for 5 minutes, then remove muffins and place in a serving basket. 
Butter Sauce
Melt ½ pound (16 tablespoons) butter in a non-stick pan over low heat. 

When melted, add cream and vanilla, and stir for 30 seconds.

Add in sugar. Turn up heat and bring to a boil, stirring constantly. Sauce will be ready in about 5 minutes, when the sugar has melted and it is a thick and creamy consistency. 

Pour into a small pitcher or a bowl with a ladle and serve immediately, while hot. 
Notes
Carefully watch muffins and do not over bake or they become tough on the outside.
Promptly remove muffins from muffin tin after 5 minutes of cooling. Waiting longer can result in them sticking to the pan. 
Store cooled muffins in an airtight container.
Store leftover butter sauce in an airtight container. Reheat on stovetop.
Nutrition
Calories:
439
kcal
Carbohydrates:
55
g
Protein:
4
g
Fat:
24
g
Saturated Fat:
15
g
Polyunsaturated Fat:
1
g
Monounsaturated Fat:
6
g
Trans Fat:
1
g
Cholesterol:
68
mg
Sodium:
699
mg
Potassium:
116
mg
Fiber:
1
g
Sugar:
36
g
Vitamin A:
767
IU
Vitamin C:
3
mg
Calcium:
249
mg
Iron:
1
mg