These chocolate frosted pecan cookies are a delicious melt-in-your-mouth shortbread with a swirl of irresistible chocolate cream cheese frosting on top. Get your glass of milk ready!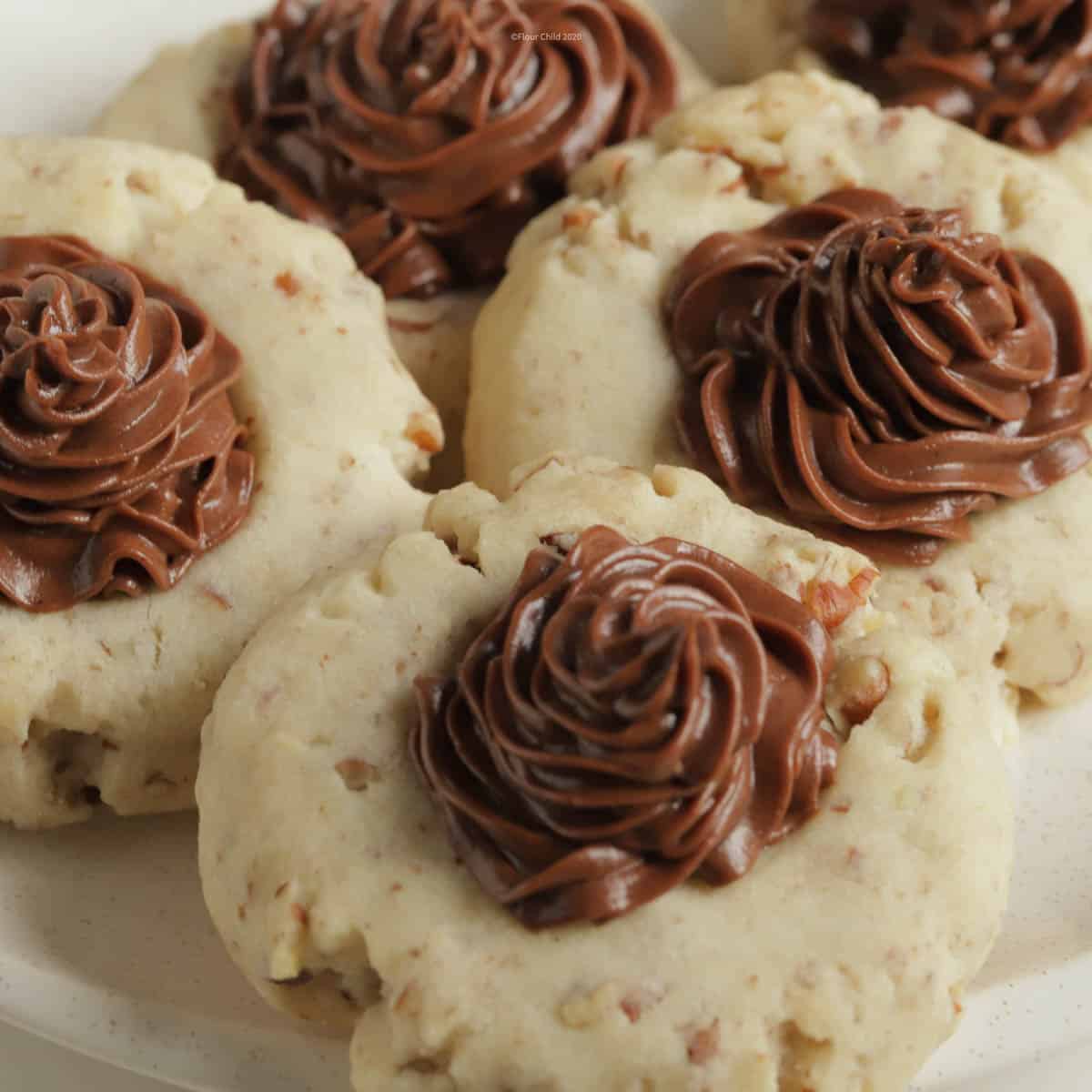 A Mid Century Cookie Recipe Handed Down
This is Kevin's VERY FAVORITE cookie recipe. It is a staple in our house every year during the holiday season, and occasionally at other times as a special treat. It was passed down to me by his mom, who used to make them for him when he was a little boy. I must admit, they are really delicious! They've got a flaky pecan shortbread bottom that melts in your mouth, and a creamy swirl of chocolate on top.
A Few Hints For Perfect Pecan Cookies
These cookies are easy to make, but they take a little time because the butter needs to be brought to room temperature for mixing. And after mixing, the dough should be refrigerated for an hour before you form it into cookies. If it is too warm and soft, the sticky dough is hard to work with and won't shape or bake well.
Once the dough comes out of the refrigerator, shape it into balls just large enough to accommodate a center indentation. If you use a medium cookie scoop, it's about 1-¼ to 1-½ scoops of dough per ball. This recipe makes 1-½ dozen cookies, so you should have 18 evenly sized balls (I often double the recipe.) A depression then needs to be made in the center, which is where the frosting will go when the cookies have cooled. Kevin came up with the idea of using the back of a round teaspoon to make the center indentation. It works perfectly!
A Nut Grinder Is Helpful
One thing that makes my life easier for so many of my baking recipes, including this one, is a nut grinder. My friend Susan gave me one for Christmas a couple of years ago, and when I first opened it I thought it would rarely get used. Boy was I wrong! What I love about mine is that it has two settings for a course or fine chop, and the nuts fall into a measuring cup so I know exactly when to stop. Plus, the chopped nuts are all a consistent size, just perfect for baked goods.
All About The Frosting
This frosting is sooooo lucious! And thanks to the cream cheese it's not too sweet, so it compliments the sweet cookie nicely. The cream cheese needs to be brought to room temperature first, so I usually take it out of the refrigerator when the cookies go in the oven. By the time they bake and cool, the cream cheese is ready.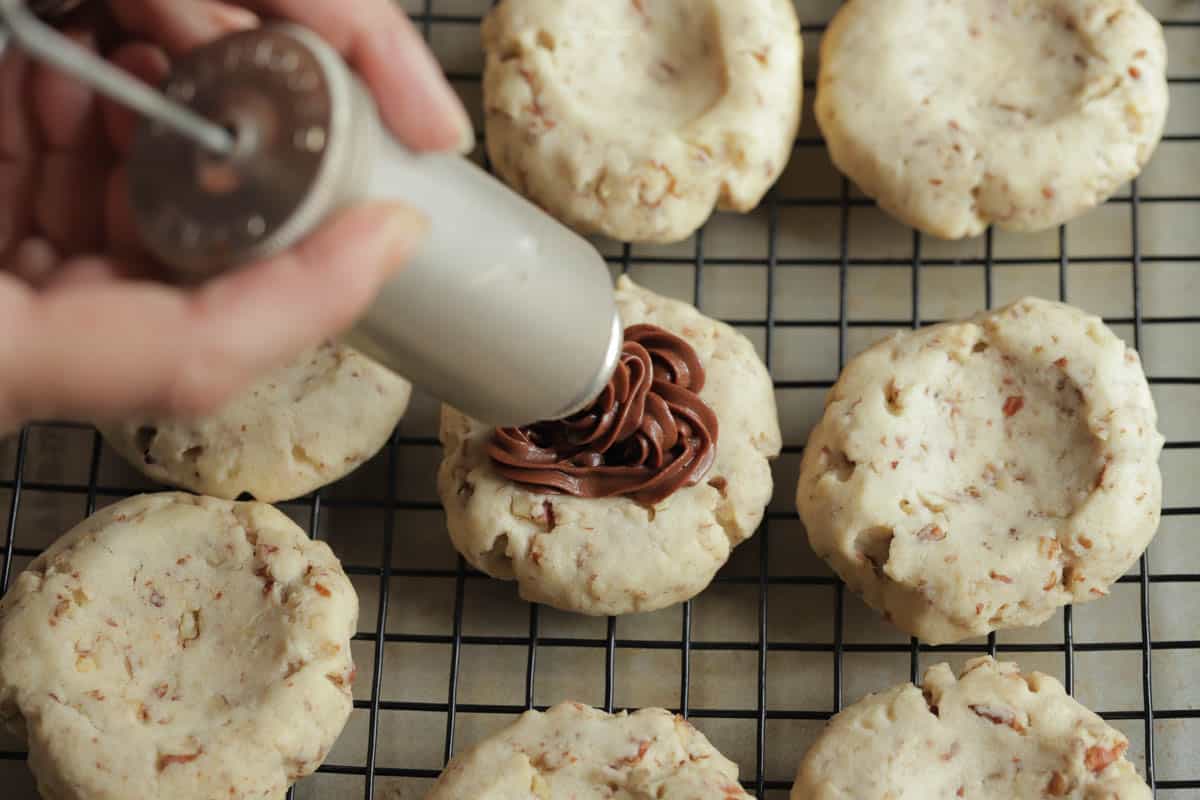 Ingredients You'll Need For Pecan Cookies
The recipe calls for 2 oz. of unsweetened chocolate; I break it up into its individual pieces (there should be 4) and then put them in a microwavable safe glass container. Then I heat it at 30 second intervals, stirring in between, just until it is melted. When the first 4 ingredients are in the bowl, I mix in 1 tablespoon of milk which usually makes it the perfect consistency. If your frosting is still too thick, gradually add in more milk, one teaspoon at a time, until it reaches desired consistency. For decorating, I'm lucky to have a box of my mom's original 1950's decorating tools -- I use this old fashioned piping tool with a flower tip to decorate the top of these cookies. But there are inexpensive ones available that make it so easy. If you don't have a decorator, simply spoon some chocolate on the top of each cookie. After all, who cares how fancy it looks -- it's the taste that counts!
For the cookie:
Butter
Flour
Powdered sugar
Heavy cream
Vanilla
Chopped pecans
For the frosting:
Cream cheese
Powdered sugar
Unsweetened chocolate squares
Vanilla
Milk
Tips to make you look like one smart cookie when you're baking these
Chill cookie dough in refrigerator for 1 hour before forming into cookies
Use the back of a round teaspoon to make the center indentation
Melt the chocolate for the frosting in the microwave for 30 second intervals, then stir and repeat just until melted
Pipe the frosting in the center of a cooking using the flower tip of a dessert decorator for bakery-style beauty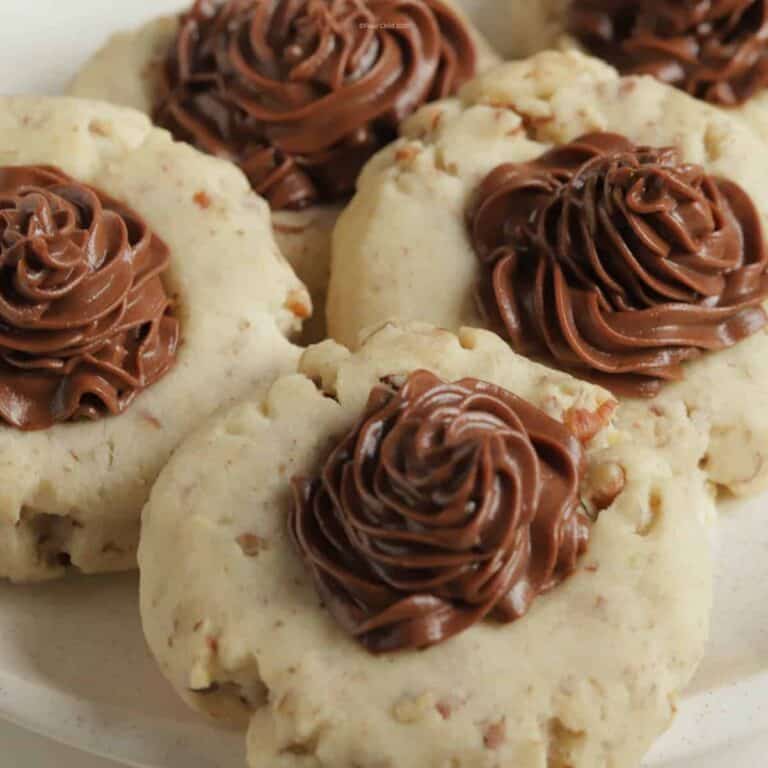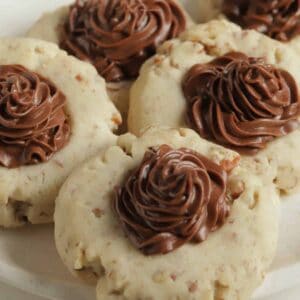 Chocolate Frosted Pecan Cookies
These amazing chocolate frosted pecan cookies are a special treat any time of year.
Ingredients
Cookies:
¾

cup

butter

room temperature

¼

cup

heavy cream

1

teaspoon

vanilla

1 ¾

cup

flour

6

tablespoons

powdered sugar

1

cup

chopped pecans
Frosting:
3

oz

package cream cheese

room temperature

2

cups

powdered sugar

2

oz.

unsweetened chocolate

melted

1

teaspoon

vanilla

1-2

tablespoons

milk
Instructions
Cookies:
Preheat oven to 325 degrees.

Cream butter until light and fluffy, then beat in heavy cream and vanilla. 

Blend flour and 6 tablespoons of powdered sugar together and gradually add to the creamed mixture. Mix pecans in by hand.

Form the dough into one large ball, wrap it in plastic wrap and chill in the refrigerator for 1 hour.

Form dough into 18 small balls and place 2 inches apart on a greased cookie sheet. Using your thumb or the back of a rounded teaspoon, make a depression in the center for the frosting.

Bake at 325 degrees for 20 minutes. Remove to cookie rack and cool completely, about 45 minutes to one hour.
Frosting:
In a large bowl, combine cream cheese, powdered sugar, melted chocolate, vanilla, and 1 tablespoon of milk.

Beat with an electric mixer until fully blended and frosting has a creamy texture. If it is too thick, add additional milk 1 teaspoon at a time until it reaches desired consistency. 

Using a dessert decorator with a flower tip, pipe the frosting onto the top of each cookie. If you don't have a dessert decorator you can use a spoon to dollop frosting on the top of each cookie. 
Notes
You can double the recipe to make 3 dozen cookies if you like
Take the cream cheese out of the refrigerator when you put the cookies in the oven and it will be ready once the cookies have cooled
Melt the chocolate in a microwave safe glass container in the microwave at 30 second intervals, stirring in between just until chocolate is melted
Nutrition
Calories:
261
kcal
Carbohydrates:
27
g
Protein:
3
g
Fat:
17
g
Saturated Fat:
8
g
Polyunsaturated Fat:
2
g
Monounsaturated Fat:
6
g
Trans Fat:
1
g
Cholesterol:
30
mg
Sodium:
86
mg
Potassium:
77
mg
Fiber:
1
g
Sugar:
16
g
Vitamin A:
353
IU
Vitamin C:
1
mg
Calcium:
19
mg
Iron:
1
mg