This birthday favorite and all occasion classic is as delicious as it is beautiful. Whether you're celebrating or just satisfying chocolate craving, this cake will have you craving seconds.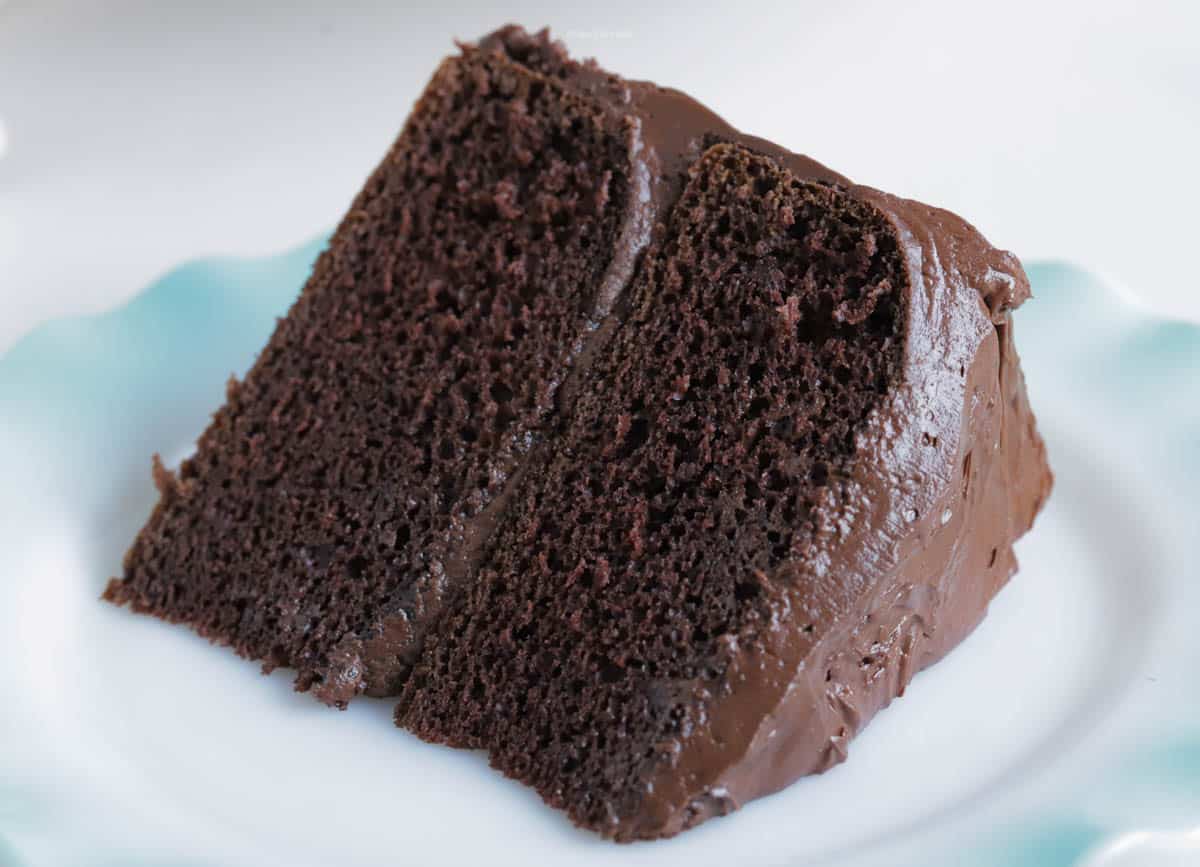 Forbidden Chocolate Brings a Smile
I was sitting up in my hospital bed when my girlfriend Liz walked in with her mom and two year old son, Carlo. I had recently turned 38 and had a serious heart attack -- a complete heart block -- and just had a pacemaker implanted. Everyone, including myself, was completely stunned by this odd occurrence at such a young age. So cards, flowers, and candy were pouring in. Liz sat Carlo down on the bed next to me, which instantly cheered me up. I started talking to him, and he stared at me with a skeptical look on his face. I reached over to my bedside table and grabbed a box of chocolate, took out a piece, and handed it to Carlo. "Want some chocolate?" I asked. After all, what better way to make friends than with candy? He took it from me and stuck it in his mouth. His face lit up with a big smile! "He likes chocolate?" I asked Liz. "I don't know," she deadpanned. "That's the first time he's ever had it." OOPS!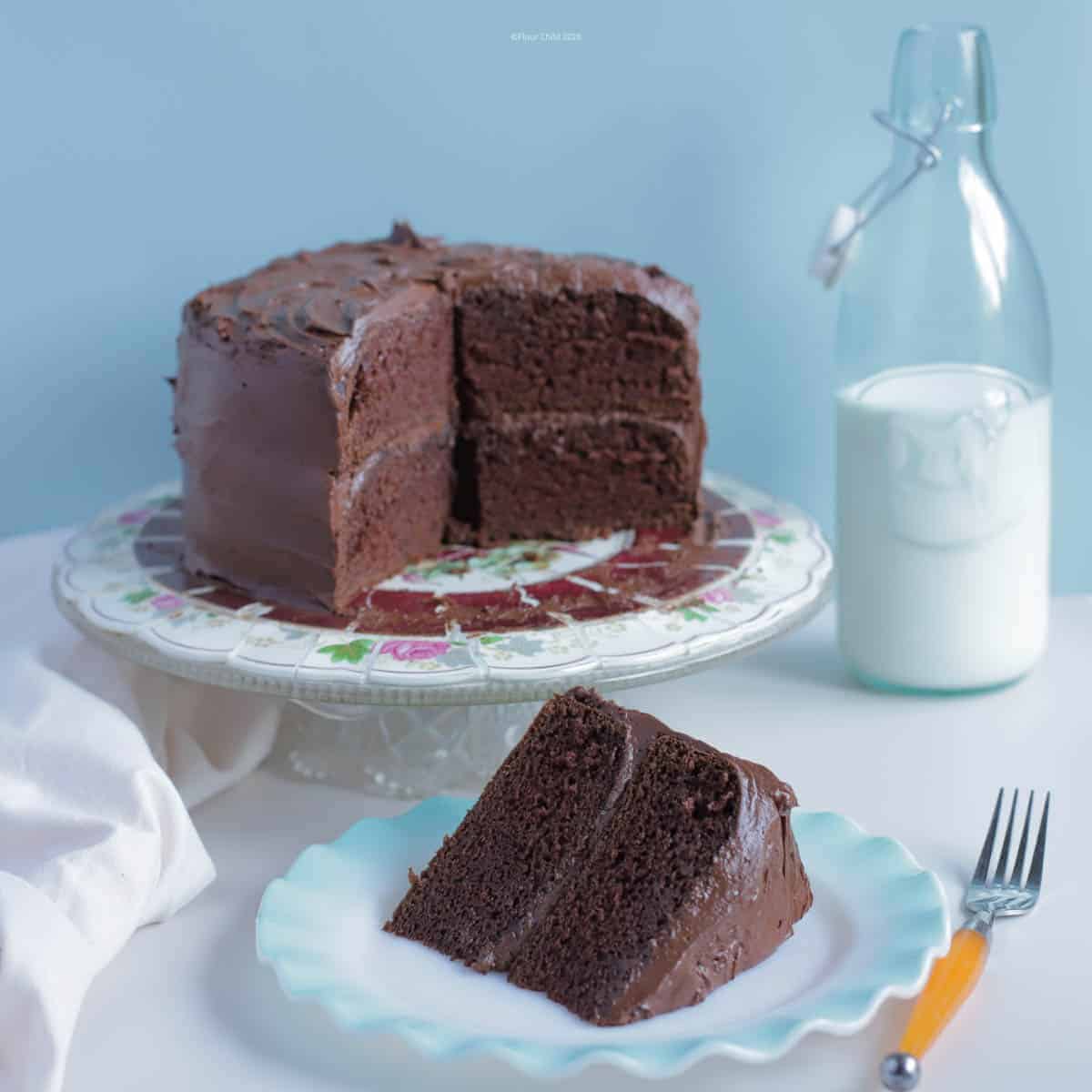 The Origins of Chocolate Cake
Chocolate is universally loved, and chocolate cake is the most popular cake for birthday parties and other celebrations across the globe. It appears to have originated around 1900 after Rodolphe Lindt, in Switzerland, made a silky smooth version of chocolate that was easy to add to cake batter. For roughly 100 years or so prior to that, chocolate was primarily used in drinks.
Chocolate cake in 1950 vs. 2020
My favorite handwritten recipe book has this from-scratch chocolate cake recipe dated 1950. The photos on this page show the chocolate cake using the exact recipe as handwritten below. The cake was beautiful and had a good, chocolatey flavor, however the consistency was drier than what we are accustomed to today. That's because it doesn't contain any butter and/or oil. We also had to really stretch the frosting to cover the entire two layer cake, including the center. So in my final recipe card I have adjusted the ingredients to produce a version of this chocolate cake with buttercream frosting that is more moist and with a larger quantity of frosting, more in line with our tastes 70 years later. Try both recipes and let me know what you think!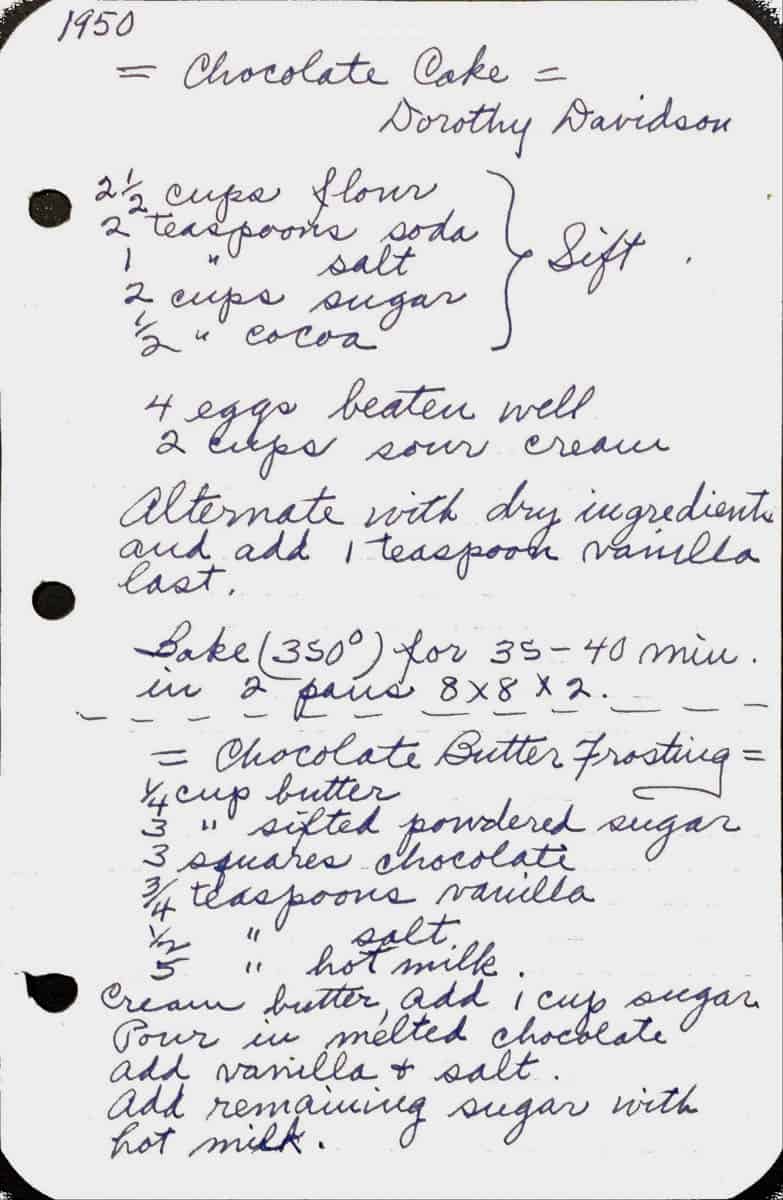 For the cake you will need:
Flour
Baking soda
Salt
Butter
Sugar
Brown sugar
Vegetable oil
Eggs
Unsweetened baking chocolate
Unsweetened cocoa
Sour cream
Vanilla extract
Helpful Hints For Perfect Chocolate Cake
Beat the batter at the lowest speed possible as you're adding the flour, and only until it is completely combined. Overbeating will release the gluten from the flour and can cause the cake to have a more dense, less fluffy texture.
Scrape down the sides of the bowl frequently to make sure all ingredients are fully mixed in.
Carefully monitor the cakes as they are baking because ovens vary in temperature. Avoid opening the door until you think they are ready to test, because releasing the heat from the oven can negatively affect the cake.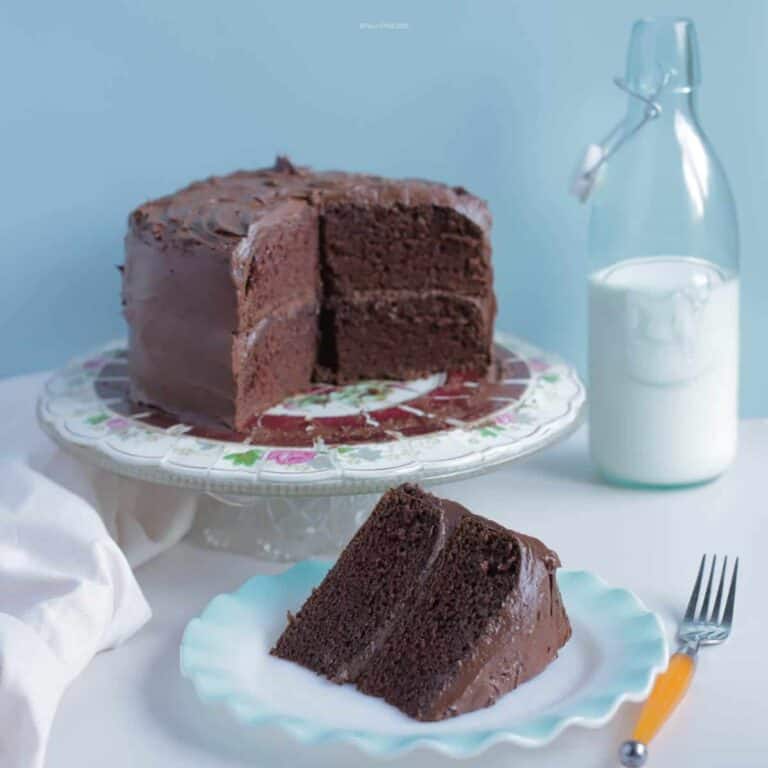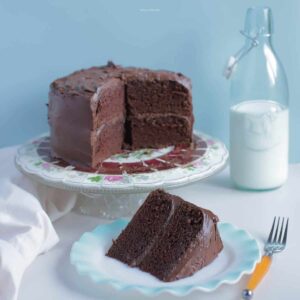 Chocolate Cake with Chocolate Buttercream Frosting
A moist, delicious, from-scratch chocolate cake -- delicious for a special occasion or simply to satisfy your chocolate cravings!
Ingredients
2

cups

all purpose flour

¾

teaspoon

baking soda

1

teaspoon

salt

½

cup

unsalted butter

room temperature

¾

cup

sugar

1

cup

firmly packed brown sugar

½

cup

vegetable oil

3

large

egg yolks

room temperature

3

large

whole eggs

room temperature

¾

cups

water

boiling

4

ounces

unsweetened baking chocolate

chopped

¼

cup

unsweetened cocoa

¾

cup

sour cream

full fat

1

tablespoon

vanilla extract
Instructions
Preheat oven to 350 degrees. Generously grease and flour two 8-inch cake pans.

Sift together flour, baking soda and salt and set aside.

Cream the butter, sugar and brown sugar together. Slowly add the vegetable oil and mix well at medium-high speed until fluffy. 

Add in the egg yolks one at a time, mixing at low speed just until incorporated. Then do the same with the whole eggs.

Heat the water until boiling. 

Put the cocoa and unsweetened chocolate in a bowl and add the hot water. Let stand for one minute, then mix with a fork or whisk until chocolate is combined. Mix in the vanilla extract and sour cream. 

Alternately add the flour mixture and chocolate mixture into the bowl with the sugar mixture, mixing on low speed and scraping down the sides of the bowl frequently.

Divide batter equally between the two prepared pans and bake approximately 35-40 minutes or until center springs back lightly when touched. 

Cool on wire rack for 30 minutes before removing from pans. Finish cooling completely, then frost cake with chocolate buttercream frosting, putting a layer of frosting in the center of the cake.
Notes
Avoid over mixing the batter when you add the flour and eggs
Watch the cake as it nears the end of baking and remove promptly to avoid drying it out
Nutrition
Calories:
456
kcal
Carbohydrates:
51
g
Protein:
6
g
Fat:
27
g
Saturated Fat:
12
g
Polyunsaturated Fat:
6
g
Monounsaturated Fat:
7
g
Trans Fat:
1
g
Cholesterol:
120
mg
Sodium:
304
mg
Potassium:
199
mg
Fiber:
3
g
Sugar:
31
g
Vitamin A:
455
IU
Vitamin C:
1
mg
Calcium:
62
mg
Iron:
3
mg