Citrusy-tart and candy-sweet all at the same time, this candied orange peel recipe is easy to follow and and makes a fresh tasting snack or a beautiful, edible garnish.
When I was looking for a garnish for my Orange Creamsicle Cheesecake, I kept thinking about how candied orange peel would have the exact right flavor profile and eye-catching appeal for the center of the cake. I considered buying candied orange slices to set on top, but they have an artificial look and taste that wouldn't go with the mid century classic orange Creamsicle flavor. So, I set out to make my own -- I'm glad I did, and you will be, too!
Why You Should Make This Recipe
Besides being oh-so-fresh and flavorful, candied orange peel has health benefits. Eating the peel helps lower blood pressure and cholesterol, protects your respiratory system, and lessens the effects of seasonal allergies. To learn more about the benefits of orange peel, check out this article from Spoon University: https://spoonuniversity.com/lifestyle/health-benefits-of-eating-orange-peels.
Ingredients You'll Need
Large navel oranges (I prefer organic)
Granulated sugar
Vanilla extract
Salt
Water
Grand Marnier or other orange liqueur (optional). May be be substituted with fresh squeezed orange juice.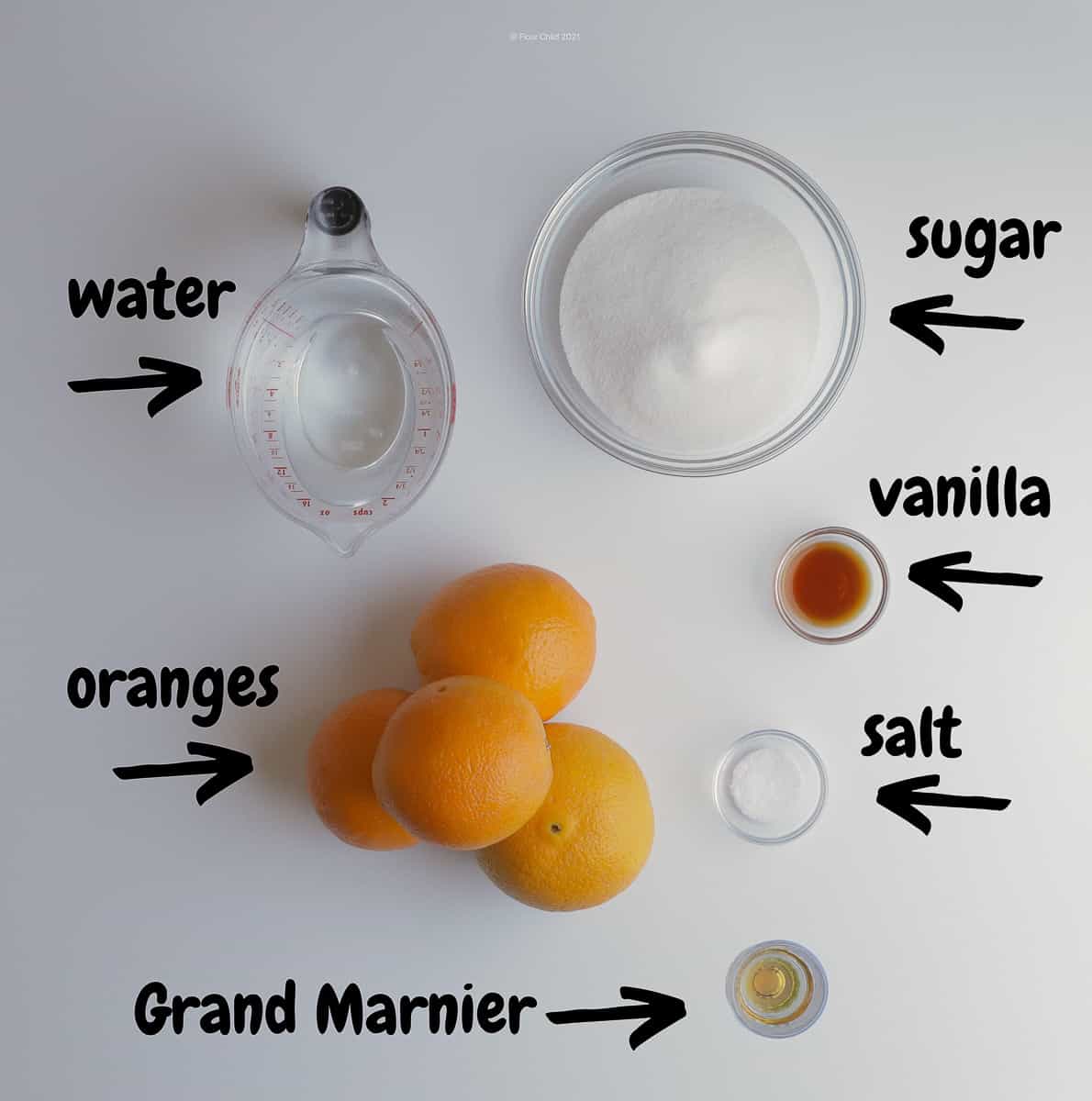 How to Remove Orange Peel
There are a few simple steps to removing the peel, or rind, from an orange:
Set a freshly scrubbed orange on a cutting board. Use a sharp knife to slice off both ends.
Stand the orange on one of the cut ends. Using a peeler, slice in a downward motion.
Be careful to slice off only the outside edge, as you simply want to remove the outer orange rind and leave the spongy white pith on the fruit. The pith can have a bitter taste which will affect the flavor of your candied peel.
Once the citrus peel is removed, slice it into the desired size. In photo 4 (below), the rind is being cut into thin slices to use as a cheesecake garnish. If you prefer to make an orange peel candy for snacking on, cut it into larger, bite-sized pieces.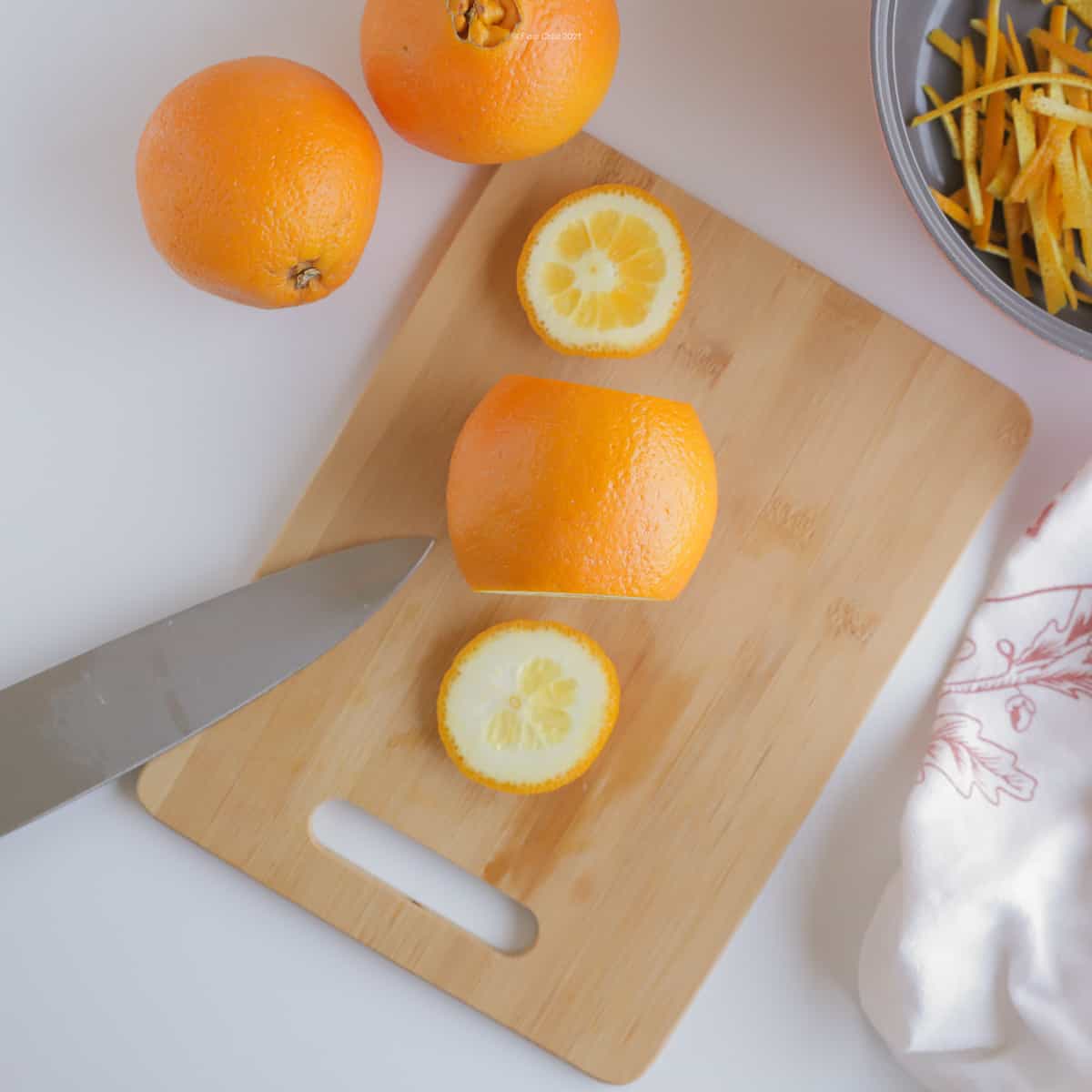 How to Candy Orange Peel
Now that you have your citrus rind prepared, it's time to turn it into candied peel in five easy steps.
Place all the sliced orange peel into a medium sized saucepan and fill it with water.
Mix in the sugar and salt and bring to a simmer over low heat. Allow to simmer until softened, stirring occasionally (approximately 20 minutes.)
Remove the saucepan from heat and stir in the vanilla and orange liqueur or freshly squeezed orange juice. Allow the mixture to stand undisturbed for five minutes.
Place the orange peel on a rack to partially dry for about 15-20 minutes.
Put the peel in a bowl. Add the sugar and toss to combine. Then allow to dry completely at room temperature.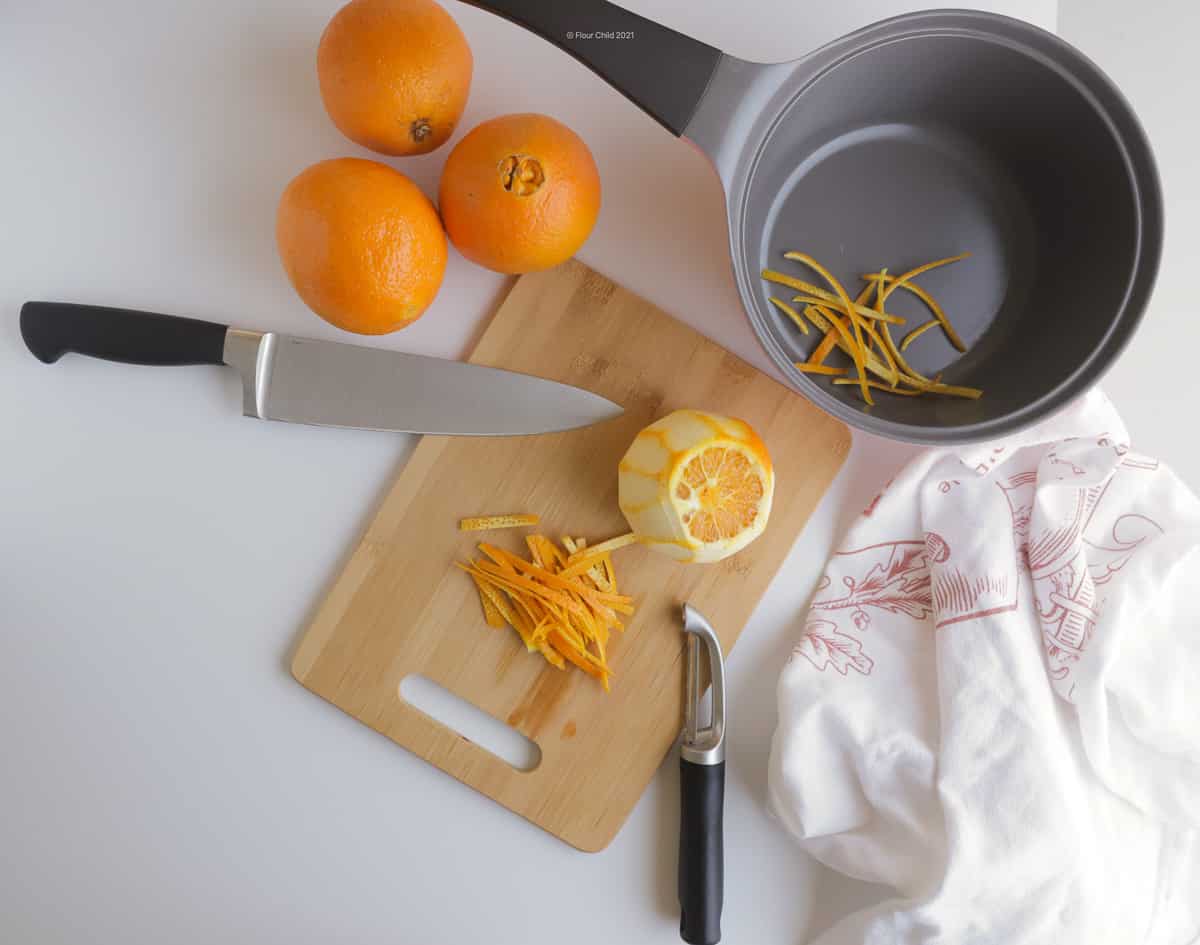 Expert Tips
Simmer orange peel on a very low heat. If it cooks too long or at too high a temperature, the peel will turn brown.
Use tongs for the easiest handling of cut orange peel.
Set a sheet of foil or wax paper beneath the drying rack to catch the sticky drippings from the candied fruit peel.
Citrus Peel Recipe Variations
Candied Lemon Peel (Sugared Lemon Peel)
Follow the same directions as above for peeling the lemons, but replace the Grand Marnier orange liqueur with limoncello lemon liqueur. Adding liqueur is optional, and can be replaced with a tablespoon of fresh squeezed lemon juice.
Candied Lime Peel
Follow the same directions as above for peeling the limes. Replace the Grand Marnier orange liqueur with 1 tablespoon of lime juice.
Now you have a beautiful and delicious pastry garnish or homemade orange candy to snack on!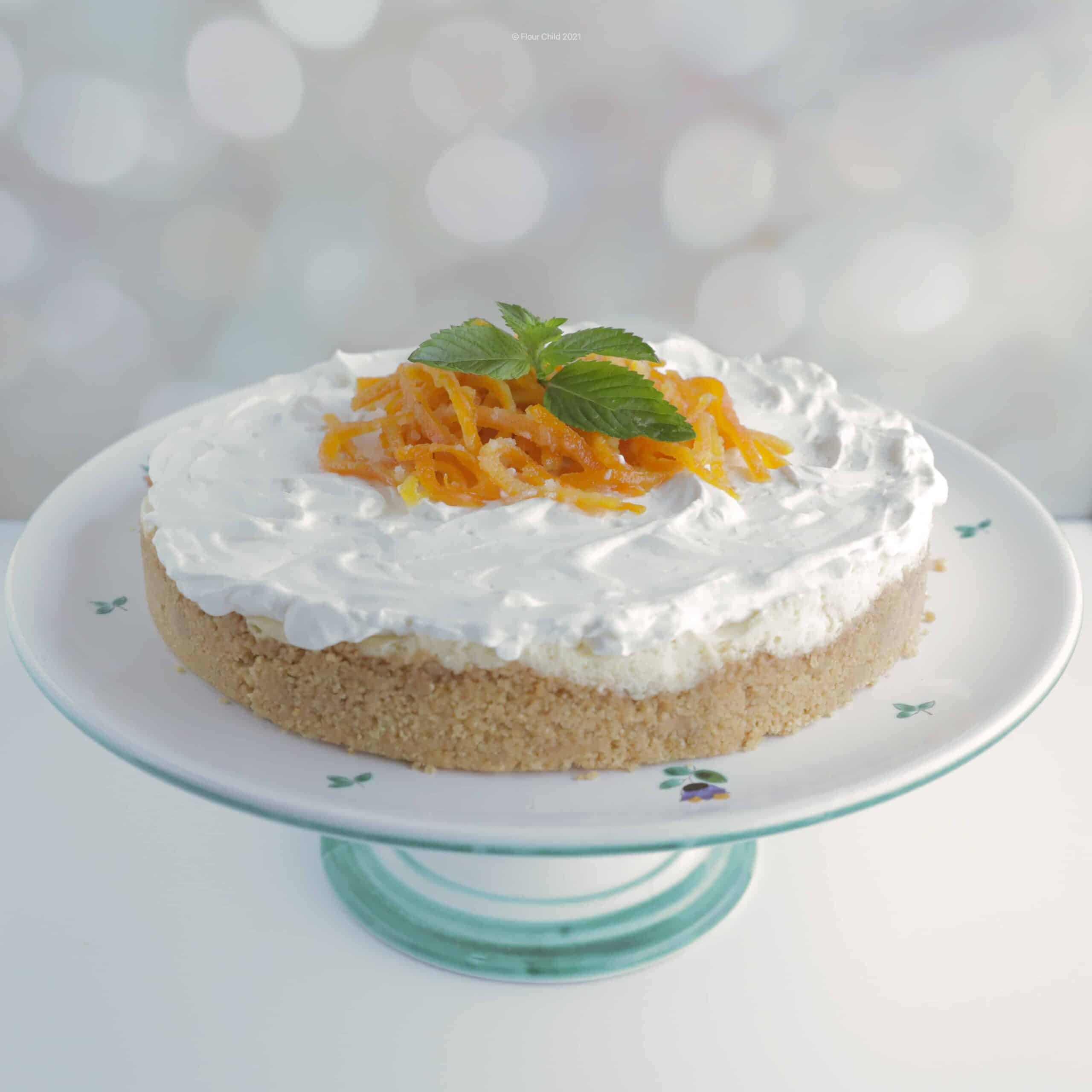 If you have a vintage recipe you'd like share with us for possible publication, please scan it and email it to [email protected]. We'd love to hear from you!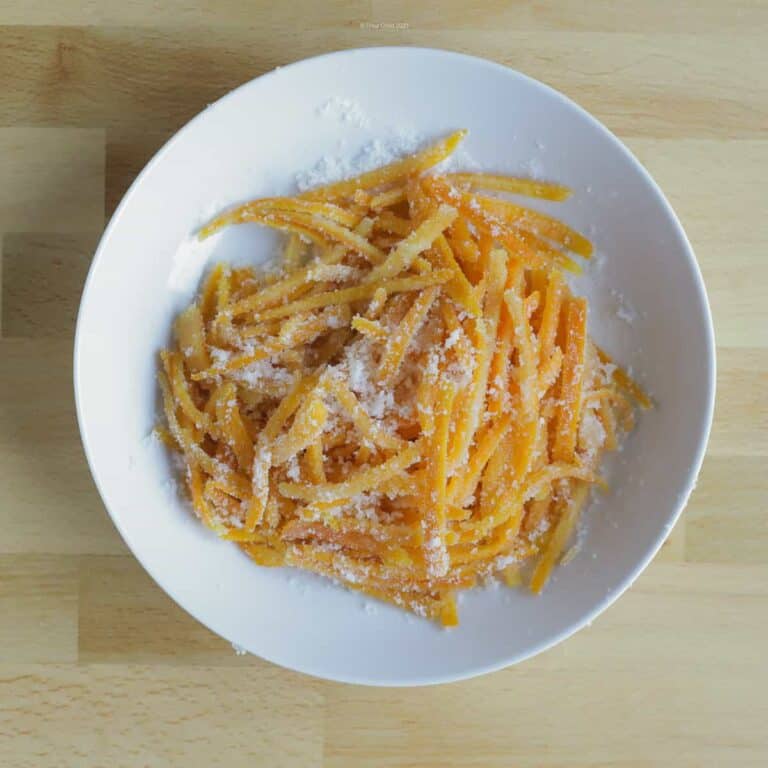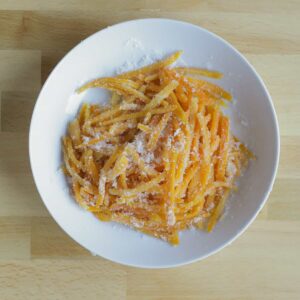 Candied Orange Peel Recipe
An easy-to-make, delicious and attractive sweet-tart homemade orange candy that can be used as a snack, or as a garnish for cakes and other baked goods. 
Ingredients
5

large oranges

2

cups

water

1.5

cups

granulated sugar

1

teaspoon

vanilla extract

1

teaspoon

orange liqueur

.5

teaspoon

salt
Instructions
Place a clean orange on a cutting board and cut off the ends. 

Stand orange on one end. Using a vegetable peeler, peel just the exterior (rind) from the fruit using a downward motion, being careful to leave the pith (white spongy coating) on the fruit. Repeat until all oranges are peeled.

Trim orange peels to desired size.

Add water to a medium saucepan and place trimmed orange peels inside. Add the sugar and salt and bring to a simmer. Allow peel to simmer on low for 20 minutes or until soft. Do not cook longer or on a higher flame, as it will cause the orange peel to turn brown.

Place ½ cup of sugar in a bowl, then prepare the drying rack by setting a sheet of foil or wax paper beneath it to catch the sticky drippings. 

After 20 minutes, stir in the vanilla extract and orange liqueur. Remove from heat and allow the peel to set for 5 minutes.

Remove orange peel from the cooling rack with tongs and place them in the bowl with the sugar. Toss to coat. 

Allow the orange peel to sit at room temperature until completely dry. 

Store in an airtight container or plastic storage bag in the refrigerator for up to 1 month, or in the freezer for up to 3 months. 
Notes
In place of the orange liqueur, you can use 1 teaspoon of freshly squeezed orange juice. 
You can use the same recipe to make candied lemon peel (sugared lemon peel), simply substituting 1 teaspoon of a limoncello lemon liqueur or fresh squeezed lemon juice in place of orange liqueur. 
You can also use this recipe to make candied lime peel. Just add 1 teaspoon of freshly squeezed lime juice in place of the orange liqueur. 
Nutrition
Calories:
119
kcal
Carbohydrates:
303
g
Protein:
1
g
Fat:
1
g
Saturated Fat:
1
g
Polyunsaturated Fat:
1
g
Sodium:
1190
mg
Potassium:
23
mg
Fiber:
1
g
Sugar:
302
g
Vitamin A:
11
IU
Vitamin C:
3
mg
Calcium:
20
mg
Iron:
1
mg