These almond crescent cookies are light, flaky, traditional Christmas cookies that should be part of your annual baking ritual!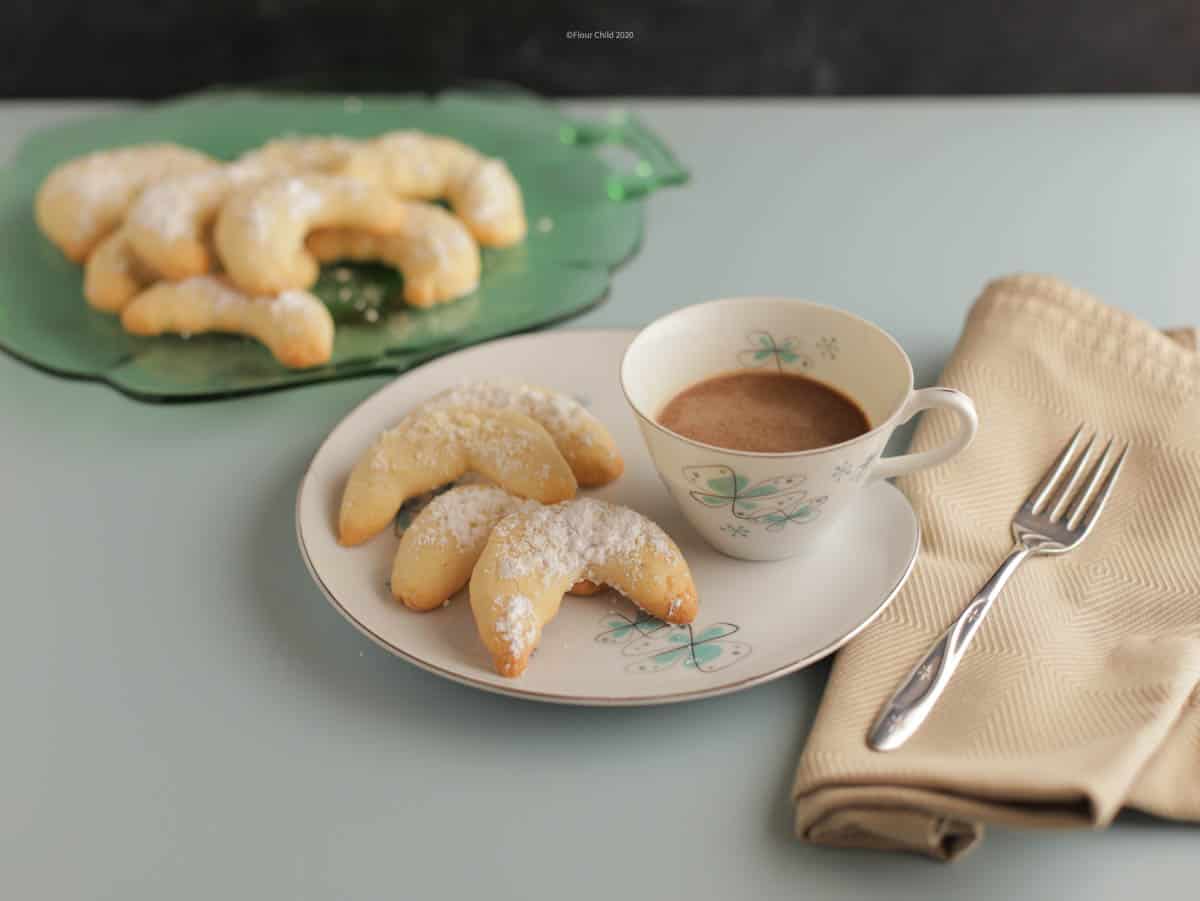 Crescent Cookies Are An Old Austrian Tradition
Almond crescent cookies are a traditional shortbread holiday cookie that originated in Austria in the 13th century. Also popular throughout other European countries such as Hungary and Germany, they became known worldwide largely through Germany's influence in the 20th century, and are often mistaken as a German creation.
There Are No Eggs in Crescent Cookies
Most cookie recipes call for eggs, which act as a binder and give them structure. Traditional crescent cookies are not made with eggs, which gives them their flaky, delicate, melt-in-your-mouth texture. They taste wonderful, but if you're transporting them to someone's house be careful -- they break easily!
Do I Have to Use Almonds?
The original and authentic Austrian version of this cookie calls for almonds, but there is no law that says you have to make the original version! Pecans, walnuts and almonds can be used interchangeably in recipes. They do have a different flavor, so if you favor one over the other, feel free to use it.
My girlfriend Jean Marie sent me this mid century recipe for a pecan crescent cookie belonging to her mom, Jean. Our moms worked together at Sears in the 1960's and 70's, and often brought baked goods in to work and shared recipes. Our moms are no longer with us, and we both cherish the hand written recipes we've inherited. I love the simplicity of her 5-ingredient recipe!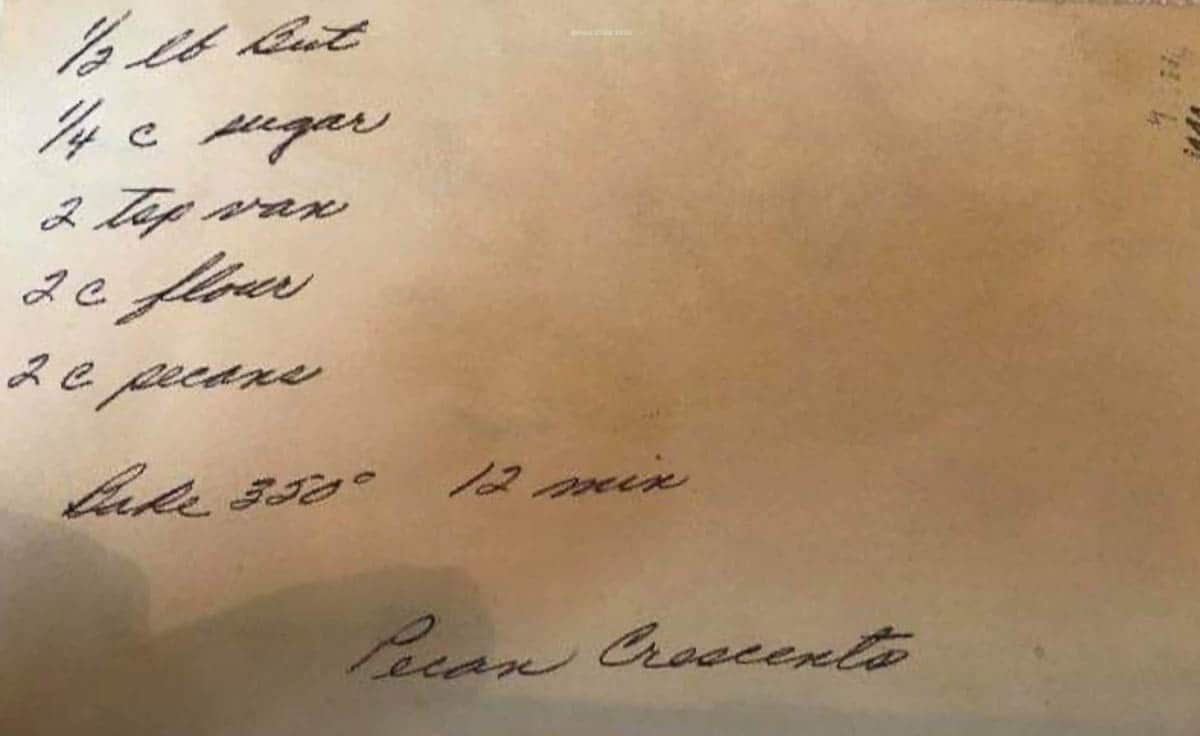 Hints For Crescent Cookie Success
Use a nut grinder on it's finest setting to grind the almonds.
Keep a uniform size to the cookies so they bake evenly and are done at the same time.
The dough is supposed to be dry and flaky, however if it is too dry to work with you can add a tablespoon of milk.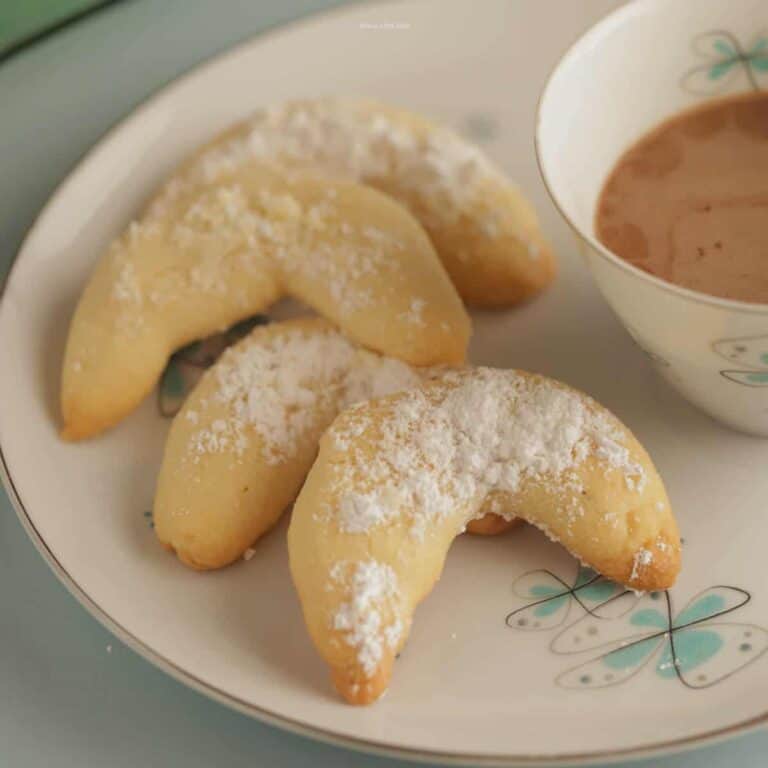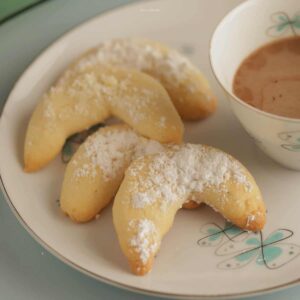 Almond Crescent Cookies With Powdered Sugar Topping
These almond crescent cookies are light, flaky, traditional Christmas cookies that should be part of your annual baking ritual!
Ingredients
Cookie Dough
1

cup

butter

room temperature

⅔

cup

sugar

1

teaspoon

vanilla extract

1

teaspoon

almond extract

2 ½

cups

flour

1

cup

ground almonds
Topping
½

cup

powdered sugar

1

package

vanilla sugar

1 ½ teaspoons
Instructions
Beat butter, sugar, vanilla extract, and almond extract with an electric mixer until thoroughly mixed. 

Add in the flour and ground almonds, and knead with your hands until fully combined.

Roll the dough into a log, wrap in plastic wrap and chill for one hour.

Preheat the oven to 350 degrees. 

Combine the powdered sugar and vanilla sugar for the topping and set aside.

Slice small sections of dough and form into crescent shapes. Place on a parchment lined cookie sheet. 

Bake 12 minutes or until cookies begin to turn a light golden color. 

Dust with sugar mixture after removing from oven, while hot. 
Notes
Ground pecans or walnuts can be substituted for almonds.
Nutrition
Calories:
116
kcal
Carbohydrates:
13
g
Protein:
2
g
Fat:
7
g
Saturated Fat:
3
g
Polyunsaturated Fat:
1
g
Monounsaturated Fat:
1
g
Trans Fat:
1
g
Cholesterol:
14
mg
Sodium:
45
mg
Potassium:
11
mg
Fiber:
1
g
Sugar:
6
g
Vitamin A:
158
IU
Calcium:
9
mg
Iron:
1
mg