The Sidecar sweet and sour classic cocktail is a refreshing ride down memory lane. Try both the British and the French versions of this mid century favorite.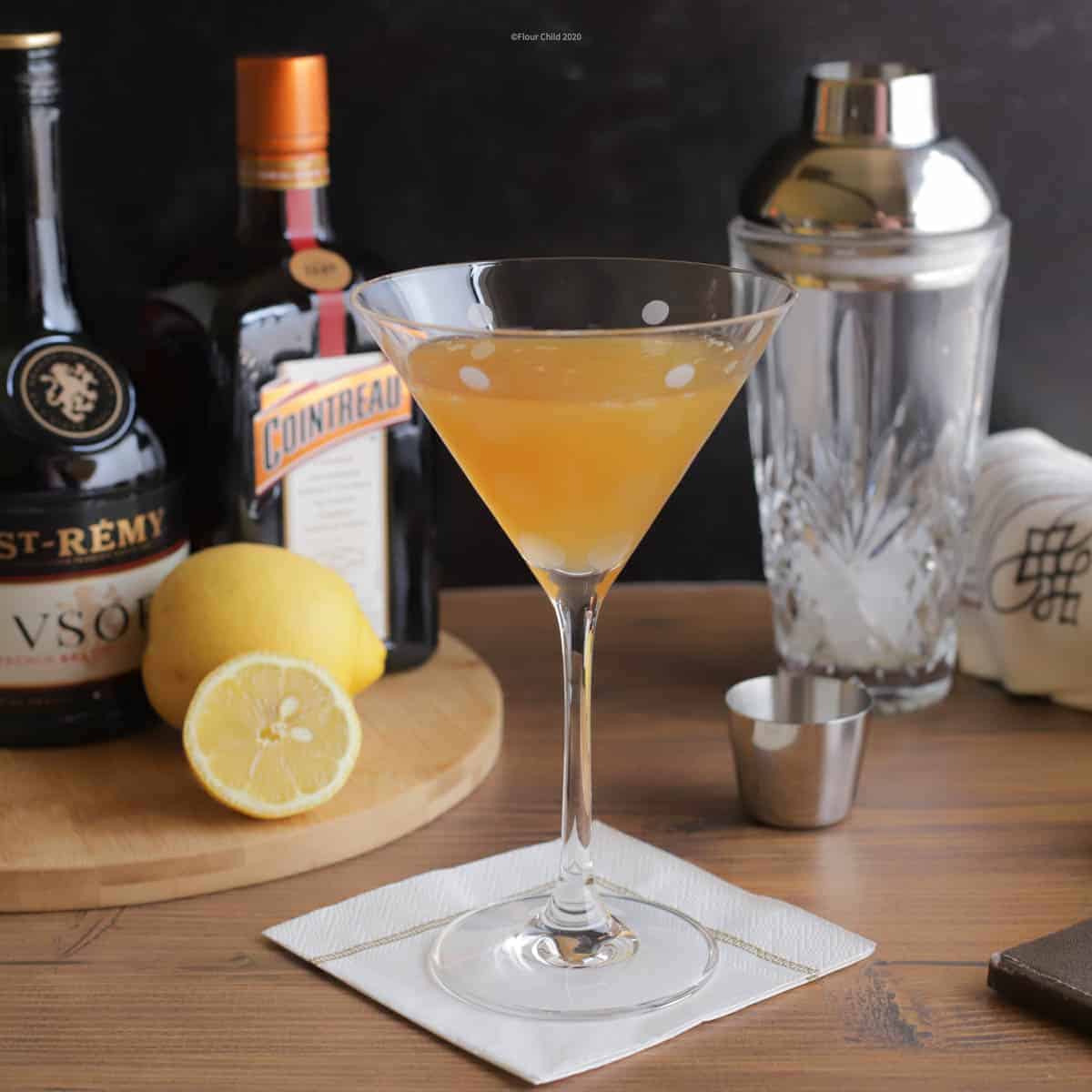 Lemons fresh off the tree make it sweet and sour
I am a Chicago transplant to Los Angeles. I am fascinated by the concept of walking out to my backyard and picking fresh fruit right off the tree and eating it. We have an old and prolific lemon tree that produces more lemons than anyone could possibly ever use in a single season, or even a lifetime it seems.
Taking the day off from thinking of things to make with lemon (you can only eat so many lemon squares, right?) I went to our local bar and told the bartender to surprise me with a cocktail. He knows I usually like bourbon drinks, but this time he whipped up something different. It was one of the fastest, simplest cocktails he'd served me, but in that simplicity lay sweet and sour perfection. Using just three readily available ingredients, he made me a Sidecar cocktail. It was delicious, refreshing and simple. And yes, it contained lemon juice. I knew I had a Sidecar factory right in my backyard!
How to make it is a geography lesson
The cocktail originated in either Paris or London after World War I. There is some lore around different types of army units adopting it as their group drink. The army scouts rode motorcycles, which in those days had a sidecar. How that translated into the drink's name is lost in the mists of time. Which bartender in which city you believe created the drink will influence how you make it. The French version has equal parts of all three ingredients, whereas the English version has more cognac. I've made them both ways and they're both delicious. I prefer the French version on a hot day because it's very thirst-quenching due to the extra lemon juice. (Think of a spiked lemonade.) Most of the time I will make the English version and sip it before it warms up too much.
What you'll need to make a Sidecar Cocktail
You'll only need a handful of ingredients to quickly whip this up:
Brandy
Orange Liqueur
Fresh Lemon Juice
How to drink it
I'd also be remiss if I didn't talk about which type of glass to use. My bartender told me that it should be served in a cocktail glass. That seems pretty simple, right? But what exactly is a cocktail glass? Great question! Imagine a glass the shape of an inverted bowl on a stem — kind of like an upside down funnel, and you're actually imagining a cocktail glass. So the next question is why that type of glass? Since it is served with no ice, the heat of your hand would warm it if served in a tumbler. Therefore, you want to hold it by the stem of a cocktail glass to keep your drink chilled longer. That's never been a problem for me. These go down so quickly they never get the chance to warm up!
Tips for success
Remember to do the following and you can't go wrong with this simple cocktail:
Use fresh lemon juice
Serve it in the proper type of glass
Unless requested, do not sugar the rim of the glass
Frequently Asked Questions
What does a sidecar taste like?
This cocktail is best described as sweet and sour. The lemon juice gives it a tangy flavor and the orange liqueur sweetens it up.
What do you think of the Sidecar? Let me know if this drink works for you.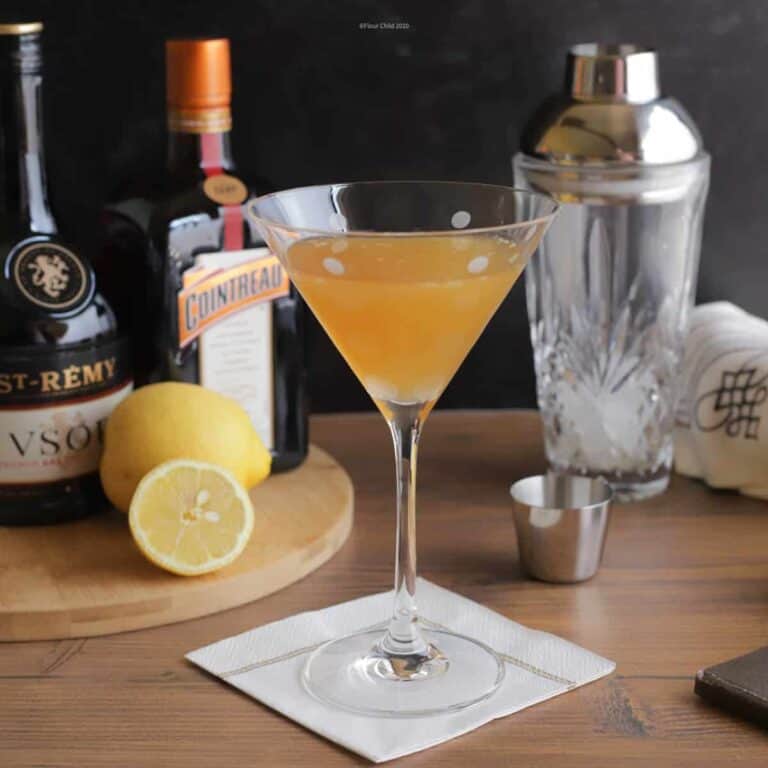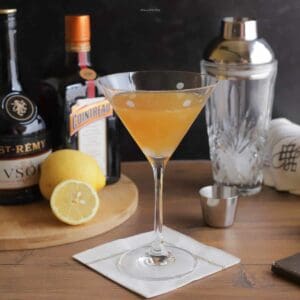 The sweet and sour Sidecar cocktail
A post WWI classic cocktail that came into its own in the mid century. This cocktail contains fresh lemon juice and orange liqueur that compliments the brandy with a sweet and sour refreshing taste.
Ingredients
2

oz

brandy

1

oz

Cointreau

1

oz

fresh squeezed lemon juice
Instructions
Fill your cocktail shaker with two generous scoops of ice, and pour in all of your ingredients.

Shake vigorously for a few seconds, then strain into a cocktail glass.

Add a bit of lemon peel for garnish. Sugar the rim if desired.
Notes
Use fresh lemon juice rather than bottled to ensure you have a drinkable cocktail.
To make the French version of this cocktail, use equal measures of each ingredient.
Nutrition
Calories:
225
kcal
Carbohydrates:
11
g
Protein:
1
g
Fat:
1
g
Saturated Fat:
1
g
Polyunsaturated Fat:
1
g
Monounsaturated Fat:
1
g
Sodium:
3
mg
Potassium:
39
mg
Fiber:
1
g
Sugar:
10
g
Vitamin A:
2
IU
Vitamin C:
11
mg
Calcium:
2
mg
Iron:
1
mg