Some like it more lemony, some like it more spicy. However you like your Bloody Mary, this ever evolving American classic never goes out of style.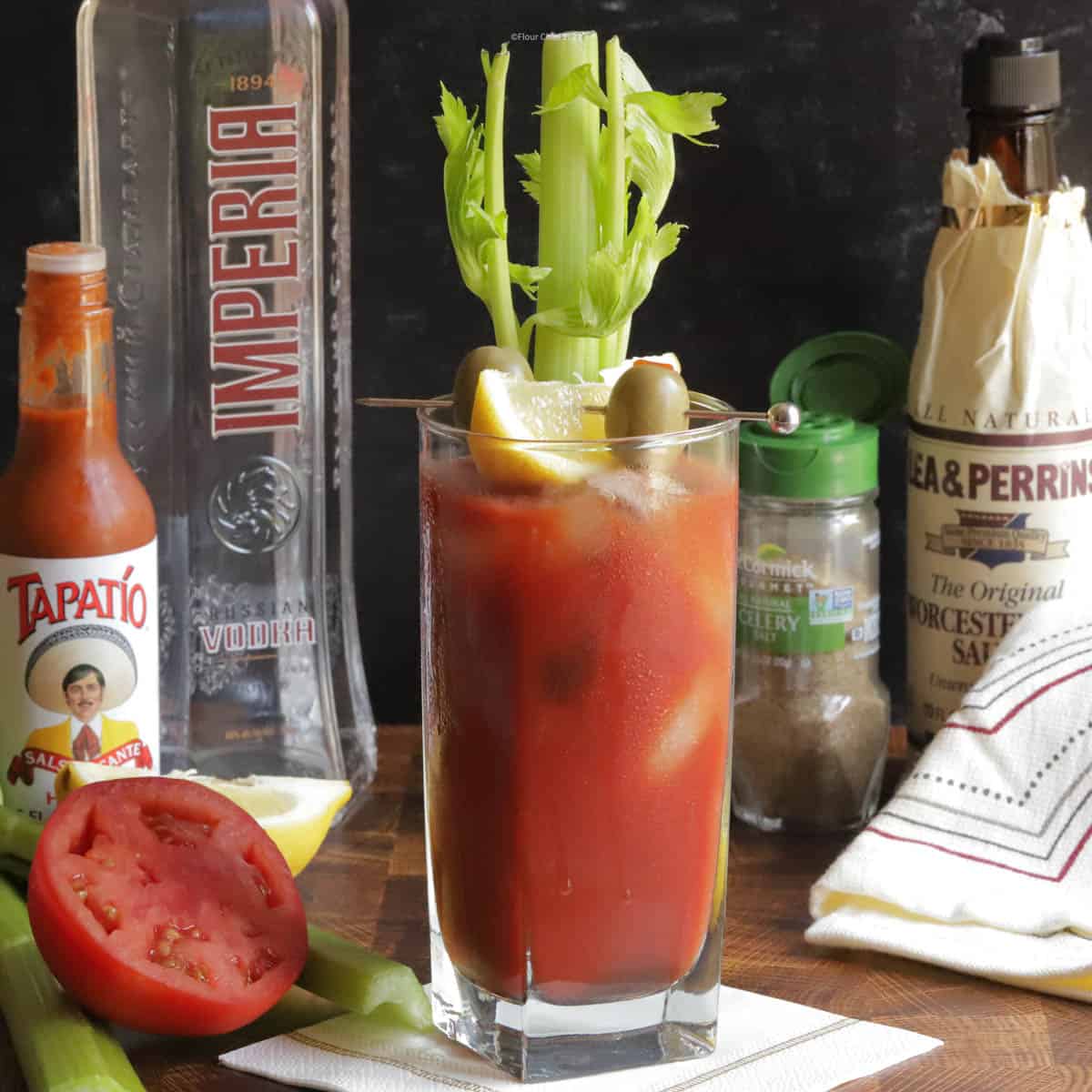 Few cocktails can lay claim to the evolution of the unique Bloody Mary. As usual, there are many who had a hand in inventing this classic. The drink we know today is said to have started as a simple vodka and tomato juice, blended by a New York city bartender as a hangover cure for a patron after a late night out in the city that never sleeps. It then grew more complex and spicy by adding ingredients like salt, pepper and hot sauce. It has now become a brunch staple that continues to evolve. I've seen bars that create a whole meal on a skewer over this drink, and what's not to like about that?
What you'll need
I like to start simple with this drink and add from there. So to get started you'll need the following:
Tomato juice
Vodka
Fresh squeezed lemon juice
Hot sauce
Worcestershire sauce
Kosher salt
Ground black pepper
Celery salt
Leafy celery stalk, lemon wedge and olive for garnish
Once you've built a solid foundation for the drink and are comfortable adding ingredients, let your imagination guide you. A friend makes these to include thick slices of bacon and avocado, but don't stop there!
Tips for a successful Bloody Mary
Some people like to use V-8 vegetable juice instead of only tomato juice, but I like to start with a clean pallet and mix the spices to my taste. I also like to use a tall glass -- think a Collins glass -- for this drink. It looks striking in the tall thin glass with a celery stalk sticking out of it and a nice layer of celery salt on top. Some people like to also 'salt' the rim with celery salt, but I find it gets too salty and bitter for my taste.
As far as the pepper sauce goes, the five drops I recommend starting with will give you a nice spice without making it too hot. Everyone has a different tolerance for heat, so you need to taste and adjust to your preference. Nancy likes to feel it burn all the way down her throat, but I prefer a spicy taste without the burn.
Follow these tips and build from there:
Use fresh, organic tomato juice as a base.
Use your favorite tasting vodka as a mixer.
Avoid mixes which often have high sodium and can make this drink very salty.
Go easy on the hot sauce until you find the right mix for your personal taste.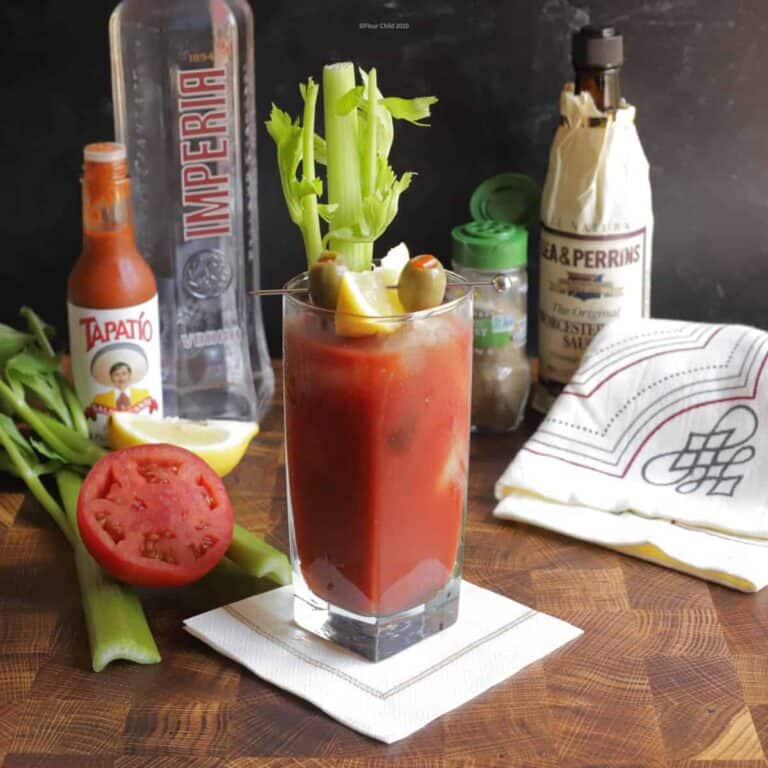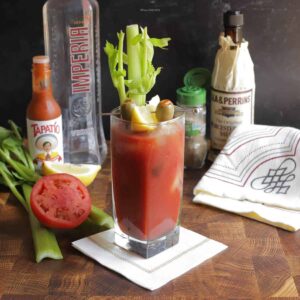 The tangy Bloody Mary is an ever evolving American classic.
This tangy American classic is an ever changing brunch time favorite cocktail. 
Ingredients
1 ½

oz

vodka

4-6

oz

organic tomato juice

1

teaspoon

freshly squeezed lemon juice

3

long dashes

Worcestershire sauce

5

drops

hot sauce

½

teaspoon

Kosher salt

1

pinch

black ground pepper

Celery salt to taste
Instructions
Add a scoop of ice to a tall cocktail glass.

Pour in Vodka, tomato juice and lemon juice.

Mix all ingredients in glass with a bar spoon to ensure proper distribution--you never want to have the spirit sit on top of the drink.

Add salt, pepper and hot sauce to taste.

Add celery salt to top of drink.

Add leafy celery stick, lemon wedge and olives as garnish
Notes
Always use fresh tomato juice.
Using fresh squeezed lemon juice is a must.
Adjust hot sauce sparingly--you don't want that to be the only thing you taste!
Nutrition
Calories:
121
kcal
Carbohydrates:
6
g
Protein:
1
g
Fat:
1
g
Saturated Fat:
1
g
Polyunsaturated Fat:
1
g
Monounsaturated Fat:
1
g
Sodium:
1217
mg
Potassium:
292
mg
Fiber:
1
g
Sugar:
4
g
Vitamin A:
514
IU
Vitamin C:
23
mg
Calcium:
16
mg
Iron:
1
mg