This old fashioned macaroni and cheese from the 1950's is a creamy, cheesy homemade comfort food with a crunchy cracker crumb topping. Ready in just 25 minutes!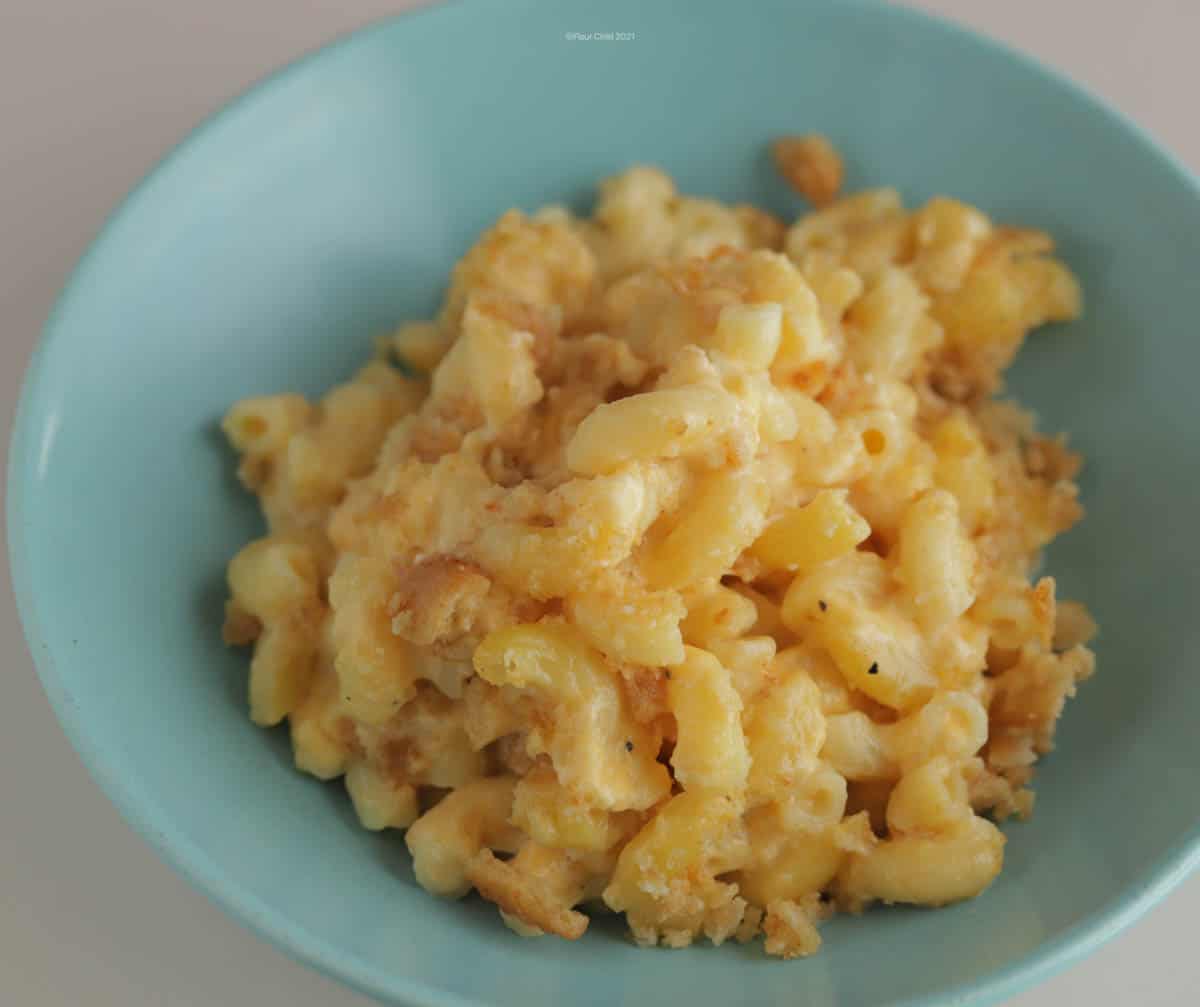 Macaroni and Cheese was a Midcentury Staple
The origin of macaroni and cheese dates back to 13th century Southern Italy. It is said that Thomas Jefferson brought the recipe from Italy to Virgina in 1787. But when Kraft Foods introduced boxed macaroni and cheese in 1937, it became a household staple in the U.S. It's still a favorite of kids everywhere, although today's parents frequently favor homemade alternatives. If you can use fresh cheese and easily avoid preservatives in about the same time, why wouldn't you?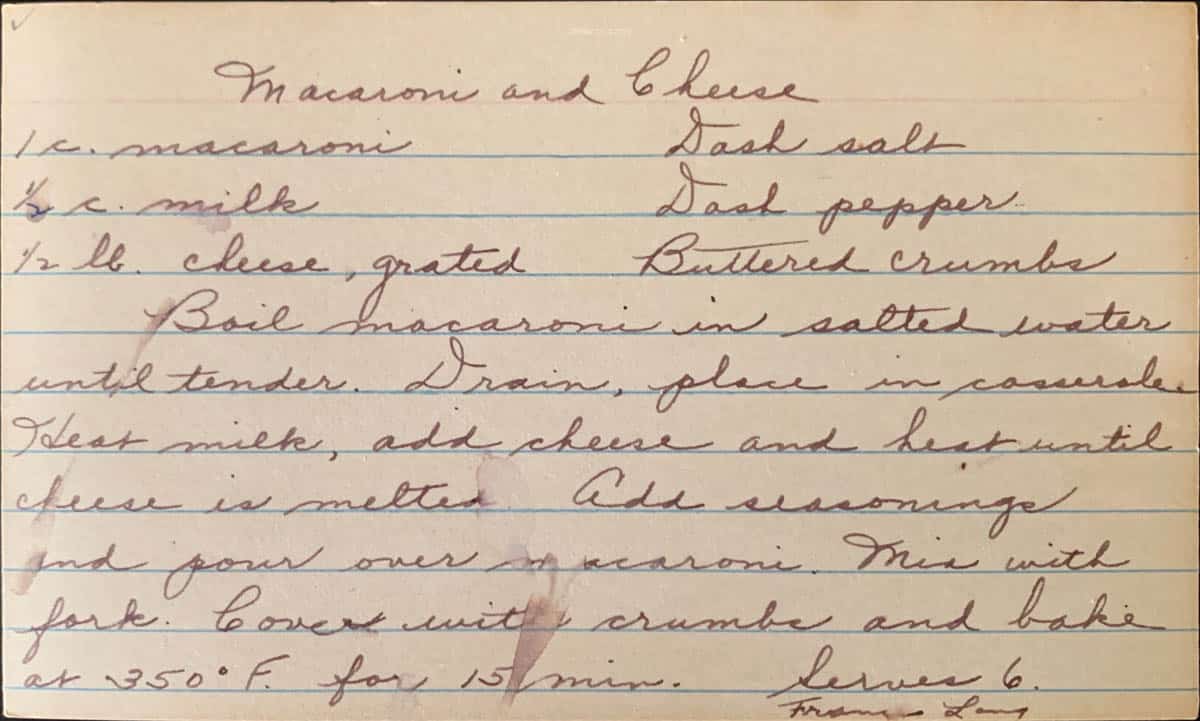 While many people eat variations of macaroni and cheese as a main dish, in the mid century years it was usually served as an alternative to potatoes or rice along side a main course. This recipe, which calls for one cup of macaroni, served 6 as a side dish and would comfortably serve 2-3 as a main course. I baked it in a small 1-½ quart casserole dish. Need more? Double the recipe and bake in a 9 x 13 casserole!
The Most Popular Cheese For Old Fashioned Macaroni and Cheese
There is much debate over which cheese or combination of cheeses makes the best macaroni and cheese. It's truly a matter of personal taste. The original Italian recipe for macaroni and cheese called for parmesan, which is an Italian cow's milk cheese with a hard texture and a nutty flavor. Many people still use it for this dish.
Since the recipe card didn't state a particular kind of cheese, I opted for the most popular cheese during the mid century era and beyond for this dish, which is cheddar. Cheddar is an English cow's milk cheese with varying degrees of sharpness, depending on its age. The longer the cheese is aged, the sharper it is. I chose a medium cheddar, although there are some purists who say sharp cheddar is the only way to go. I find it a bit too tangy for my taste, but that's just me. Mild, medium, and sharp cheddar would all work, and you should choose according to what you like best.
More Cheese, Please!
There are other options for cheese besides parmesan and yellow cheddar. Here are some others you might consider trying:
White cheddar - An English cow's milk cheese similar to yellow cheddar, but without the annatto food coloring which has a mild peppery flavor.
Pepper jack - A type of Monterey Jack, a California cow's milk cheese that contains sweet, jalapeño, and habañero peppers, plus rosemary and garlic.
Mozzarella - A soft white cow's milk or buffalo's milk Italian cheese with a mild flavor and creamy texture.
Gouda - A mild flavored, slightly sweet and creamy cow's milk cheese originating in The Netherlands.
Gruyère - A smooth-melting Alpine cow's milk cheese from Switzerland with a nutty, slightly sweet and salty flavor.
Colby - A firm Wisconsin cow's milk cheese with a buttery flavor similar to mild cheddar.
Feel free to mix cheeses for different flavor combinations. As long as you use the total amount of cheese called for in the recipe, it can be reached using any combination you care to try.
Don't Ever Use This Kind of Cheese
While there are many options for the type of cheeses you can use, what you should never use is pre-shredded, packaged cheese. Pre-shredded cheeses are coated with cellulose, a waxy coating to prevent them from clumping and sticking together. They also contain preservatives such as natamycin, an anti fungal agent to prevent mold from growing. The additives in shredded cheese can turn gritty and/or clump when you attempt to melt it. Therefore, it is always best to buy a fresh block of cheese and grate it yourself.
Grating Cheese Is Easy
Don't let grating cheese scare you off! No need for complicated equipment...a simple box grater will easily get the job done in minutes.
Wondering how to grate a soft cheese like mozzarella? Just place it in the freezer for a half an hour, then remove and grate with your grater.
Ingredients for Old Fashioned Macaroni and Cheese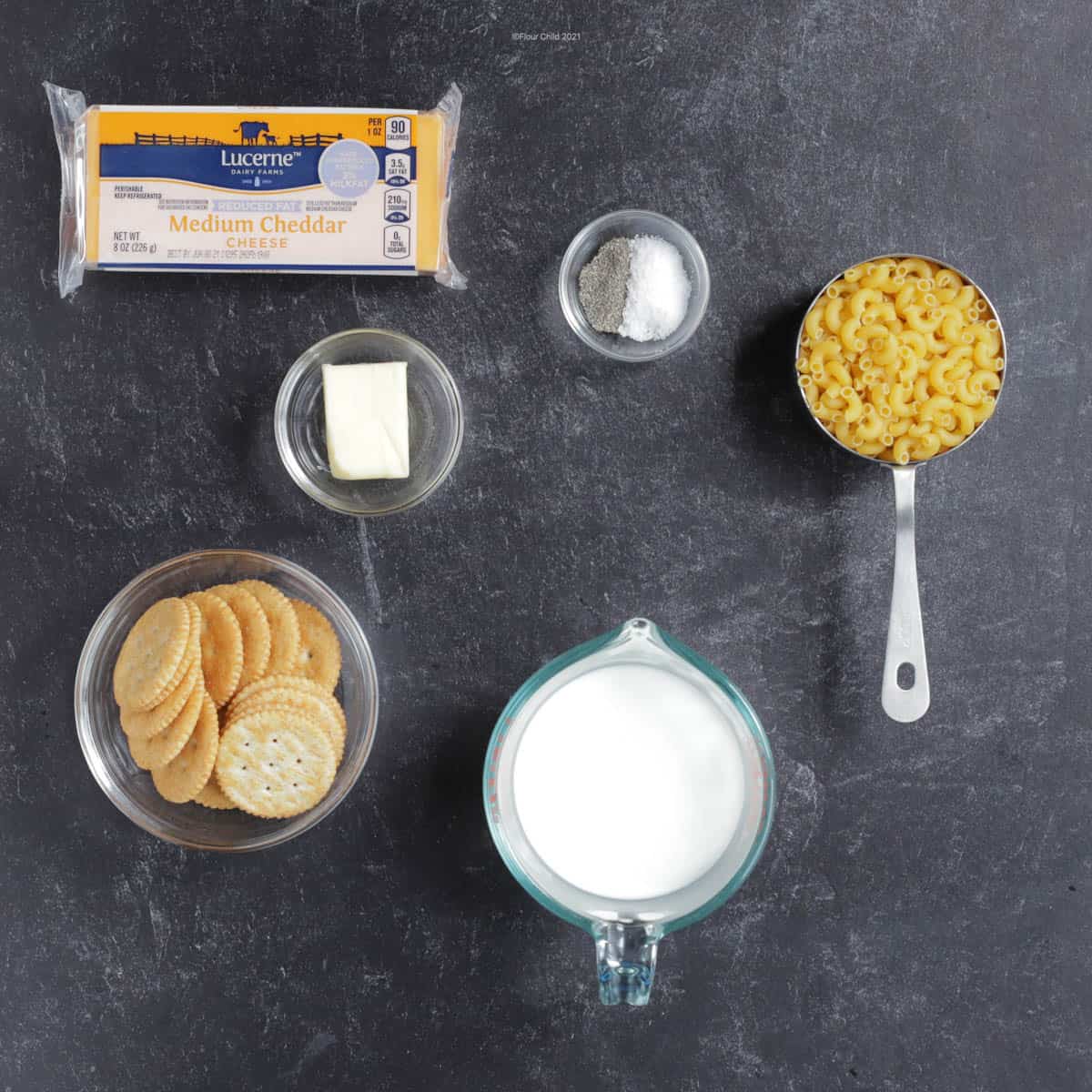 You only need a few ingredients for this quick & easy recipe:
Macaroni noodles (small shells works well, too)
Block cheese (cheddar or another cheese or combination of your preference)
Milk (Whole or low-fat)
Salt/Pepper
Crackers (crushed, or Panko bread crumbs can be used)
Butter
Steps To Make Old Fashioned Macaroni and Cheese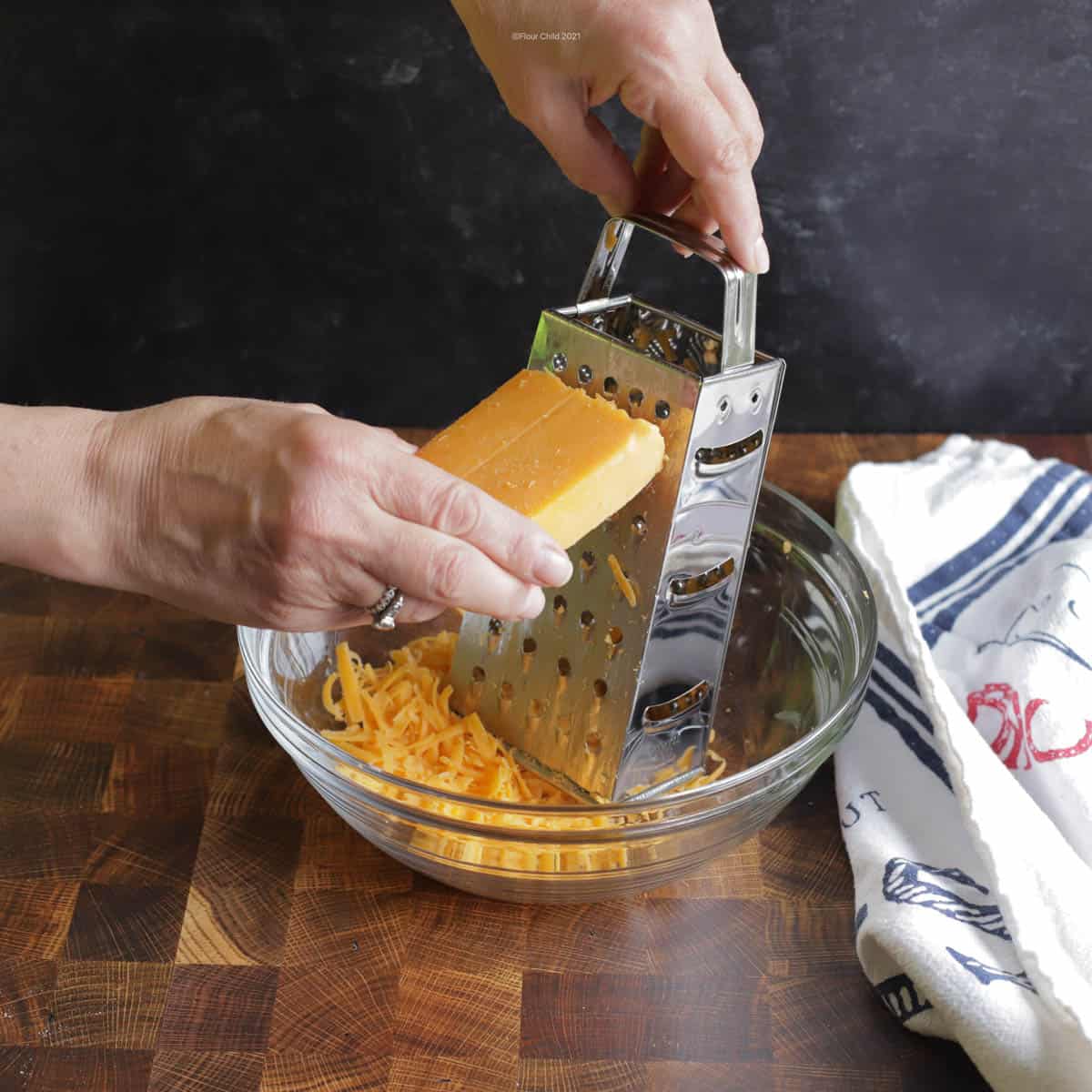 Frequently Asked Questions
How do I make macaroni and cheese creamier?
It sounds decadent, but boil your noodles in milk instead of water. It will instantly add creaminess to the macaroni and cheese.
Can I substitute evaporated milk for regular milk?
Yes, evaporated milk will give you a creamy consistency without the fat of regular milk.
How can I make macaroni and cheese more flavorful?
You can add a dash or two of cayenne pepper sauce, ¼ teaspoon of onion and garlic powder, or ¼ cup cooked chopped broccoli.
What is your favorite variation of homemade macaroni and cheese? Drop us a line and let us know!
If you have a vintage recipe you'd like share with us for possible publication, please scan it and email it to [email protected]. We'd love to hear from you!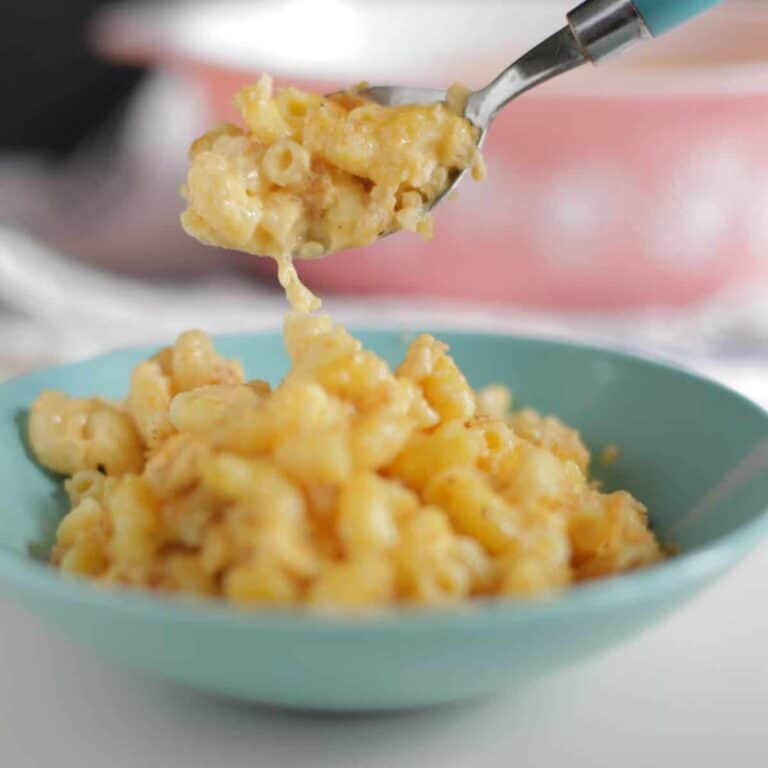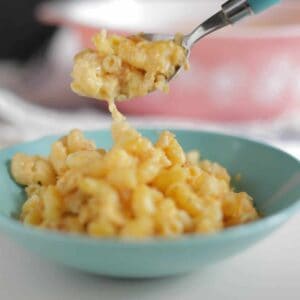 Old Fashioned Macaroni and Cheese Recipe
A smooth and creamy homemade baked macaroni and cheese that's ready in about 25 minutes!
Ingredients
1

cup

elbow macaroni

½

cup

milk

½

pound

cheddar cheese

grated

¼

teaspoon

salt

⅛

teaspoon

pepper

2

tablespoons

butter

½

cup

crushed Ritz crackers, or Panko bread crumbs

1 small sleeve
Instructions
Preheat oven to 350 degrees Fahrenheit.

Cook macaroni to al dente; drain.

While macaroni is cooking, bring milk to a boil. Turn down heat to simmer and add cheese, stirring constantly until cheese is fully melted.

Mix in salt and pepper.

Put drained noodles in 1-½ quart greased casserole dish. Add cheese sauce on top. 

Melt butter and mix with crushed crackers. Sprinkle cracker crumbs over top of casserole.

Bake at 350 degrees for 15 minutes. Serve immediately.
Notes
You can double the recipe and bake in a 9 x 13 pan.
Store tightly covered in refrigerator for up to 48 hours.
To store in freezer, cool completely for 1 hour, then place in airtight container and store up to 2 months.
Nutrition
Calories:
309
kcal
Carbohydrates:
22
g
Protein:
14
g
Fat:
18
g
Saturated Fat:
11
g
Polyunsaturated Fat:
1
g
Monounsaturated Fat:
5
g
Trans Fat:
1
g
Cholesterol:
52
mg
Sodium:
419
mg
Potassium:
124
mg
Fiber:
1
g
Sugar:
2
g
Vitamin A:
529
IU
Calcium:
309
mg
Iron:
1
mg