Old fashioned homemade lemonade is a refreshing drink that captures the essence of summertime in a glass! This thirst-quenching classic beverage is made using a simple 3-ingredient recipe that has been passed down through generations.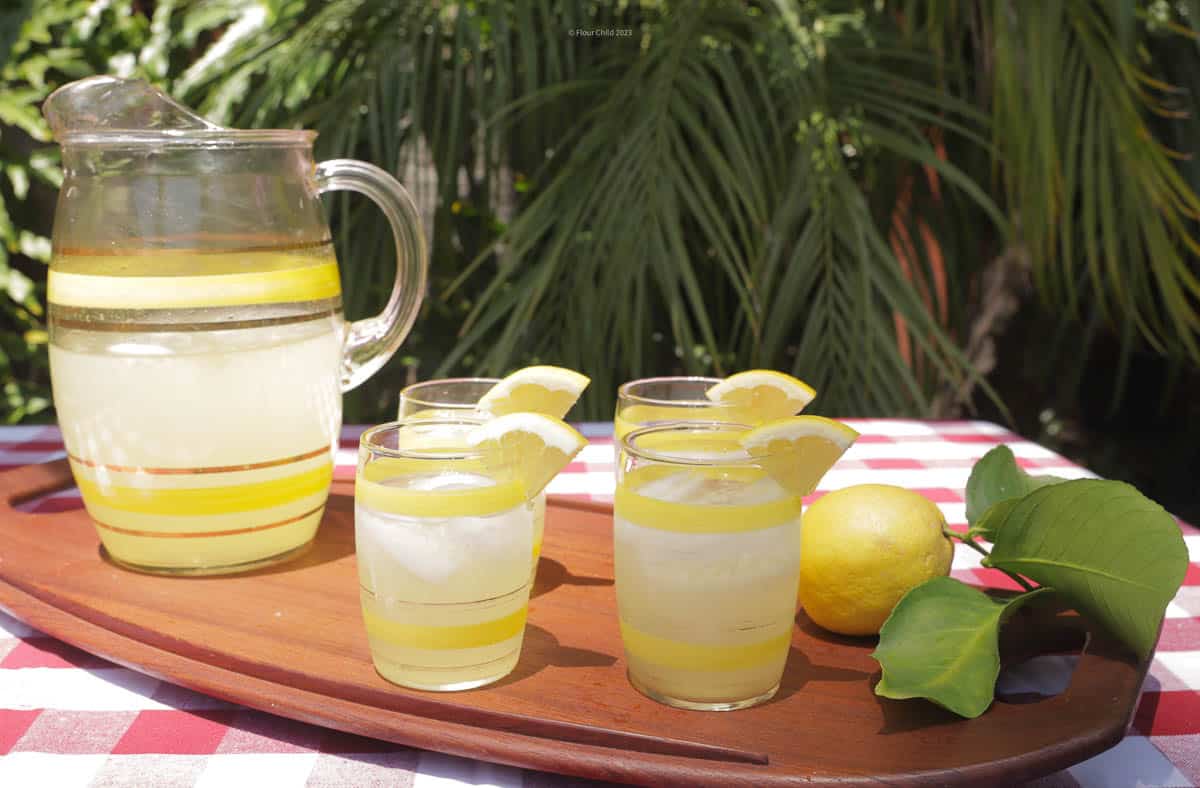 If Life Gives You Lemons...Make Lemonade
I'm lucky enough to have a lemon tree in my backyard in Southern California. I hate to see them go to waste, so I am constantly making recipes that call for fresh lemons. One of my favorites is this fresh-squeezed lemonade!
Lemonade was first served in Paris in the 17th Century. It was originally a sparkling drink sweetened with honey. In Europe it continues to be a fizzy drink, but the US version is simply made with lemons, still water, and sugar. It was a popular mid century thirst-quencher, and glass makers made all kinds of brightly colored "lemonade sets" consisting of a pitcher and matching glasses for serving the popular drink.
Types of Lemons for Lemonade
There are two main types of lemons commonly used for lemonade:
Eureka Lemons: Eureka is the most common variety of lemon found in the grocery store. It is a tart, juicy and highly acid lemon with a thick rind that is great for zesting. It can generally be found year-round.
Meyer Lemons: The Meyer lemon is a hybrid cross between a lemon and a mandarin orange. It has a milder, sweeter flavor than the Eureka lemon and is slightly less acidic. It's generally available from late winter through late spring.
Lemonade can be made with either variety, but is traditionally made with the more tart and juicy Eureka lemon. If you decide to make it with a Meyer lemon, you may want to use a ¼ cup less simple syrup to begin with, then gradually add more while testing it to avoid over sweetening.
How to Squeeze Lemons
Lemons have seeds and rinds, so you can't put them in a food processor to liquify them. I begin by cutting the lemons in half and using a lemon squeezer, but you can also use a citrus dome. If you don't have the hand strength for either of these, you can use a juice extractor.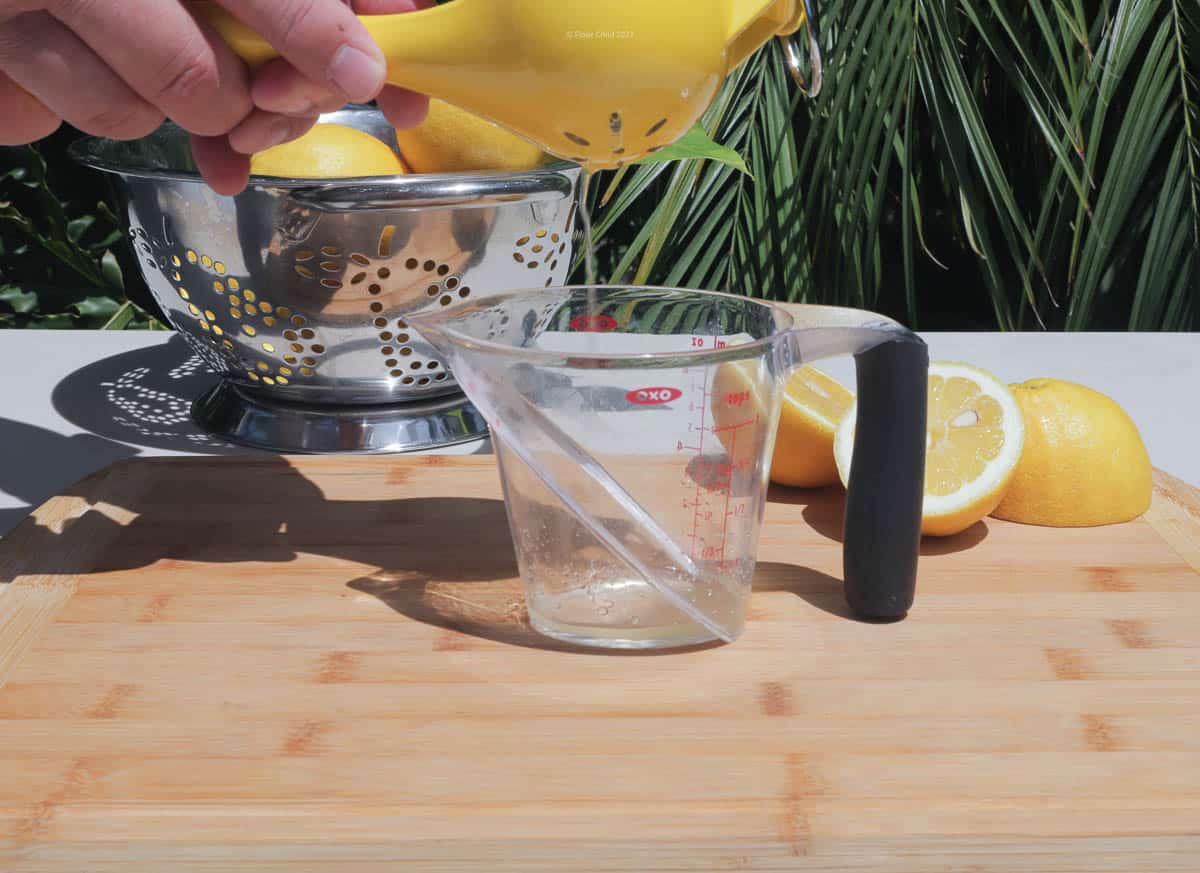 Good Lemonade Begins With a Simple Syrup
Simple syrup is the best way to sweeten lemonade. Sugar doesn't dissolve completely in cold liquid. It often floats in the drink when you stir it, and settles to the bottom while chilling in the refrigerator. When you heat water and add sugar to make a simple syrup, the sugar will dissolve completely and your drink will sweeten evenly without sugar granules floating around. So start by making an old fashioned simple syrup for your old fashioned homemade lemonade!
Have a comment or a vintage recipe you'd like to share? We'd love to hear from you! Please rate, comment, or send me an email at [email protected]!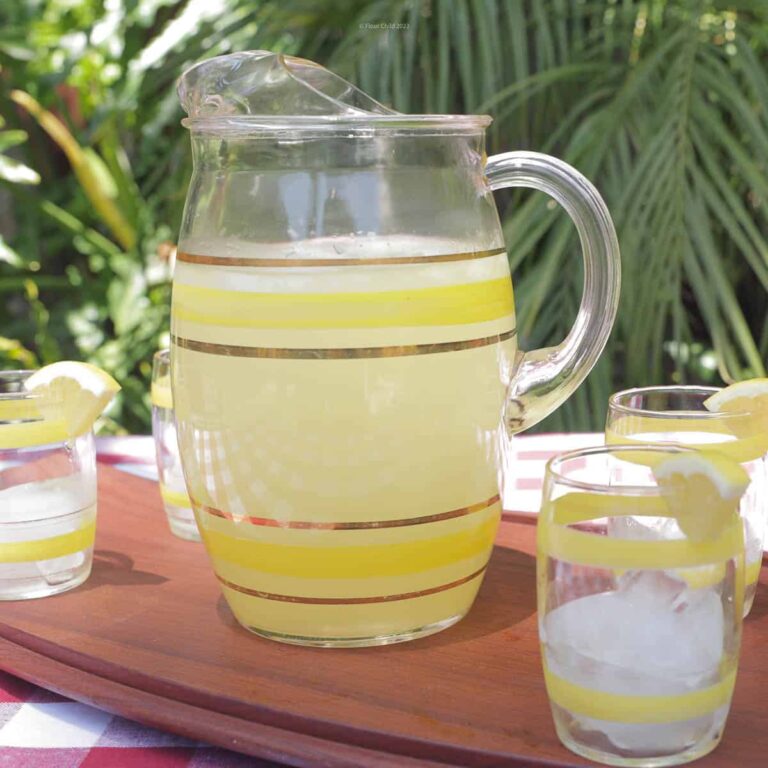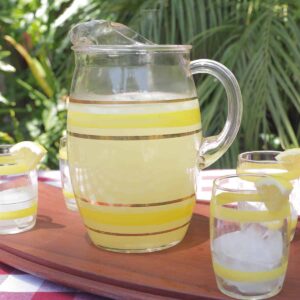 Old Fashioned Homemade Lemonade
A refreshing, thirst-quenching beverage that tastes like summer in a glass!
Ingredients
6

cups

cold water

divided

1

cup

lemon juice

fresh squeezed, about 8-10 lemons

1

cup

sugar
Instructions
Heat 1 cup of water in a small saucepan over medium heat. When water is hot (but not boiling), add in sugar, stirring constantly until sugar is fully dissolved.

Remove from heat and allow to cool for 15 minutes.

Mix 5 cups of cold water and lemon juice in a pitcher. Add the simple syrup and stir until completely blended. Serve in a glass over ice. Store in refrigerator for up to 7 days.
Notes
Pink Strawberry Lemonade Variation: Add 1 cup pureed strawberries into the pitcher with the lemonade. 
Add ice to individual serving glasses rather than to the pitcher. When ice is added to the pitcher, it dilutes the lemonade as it melts. 
Nutrition
Serving:
1
cup
Calories:
103
kcal
Carbohydrates:
27
g
Protein:
0.1
g
Fat:
0.2
g
Saturated Fat:
0.01
g
Polyunsaturated Fat:
0.01
g
Monounsaturated Fat:
0.001
g
Sodium:
9
mg
Potassium:
32
mg
Fiber:
0.1
g
Sugar:
26
g
Vitamin A:
2
IU
Vitamin C:
12
mg
Calcium:
7
mg
Iron:
0.04
mg