On a chilly night, nothing is more comforting than a big bowl of homemade chicken and dumplings. Tender chicken cooked in homemade broth and from-scratch dumplings served in a creamy dumpling sauce are absolutely irresistible!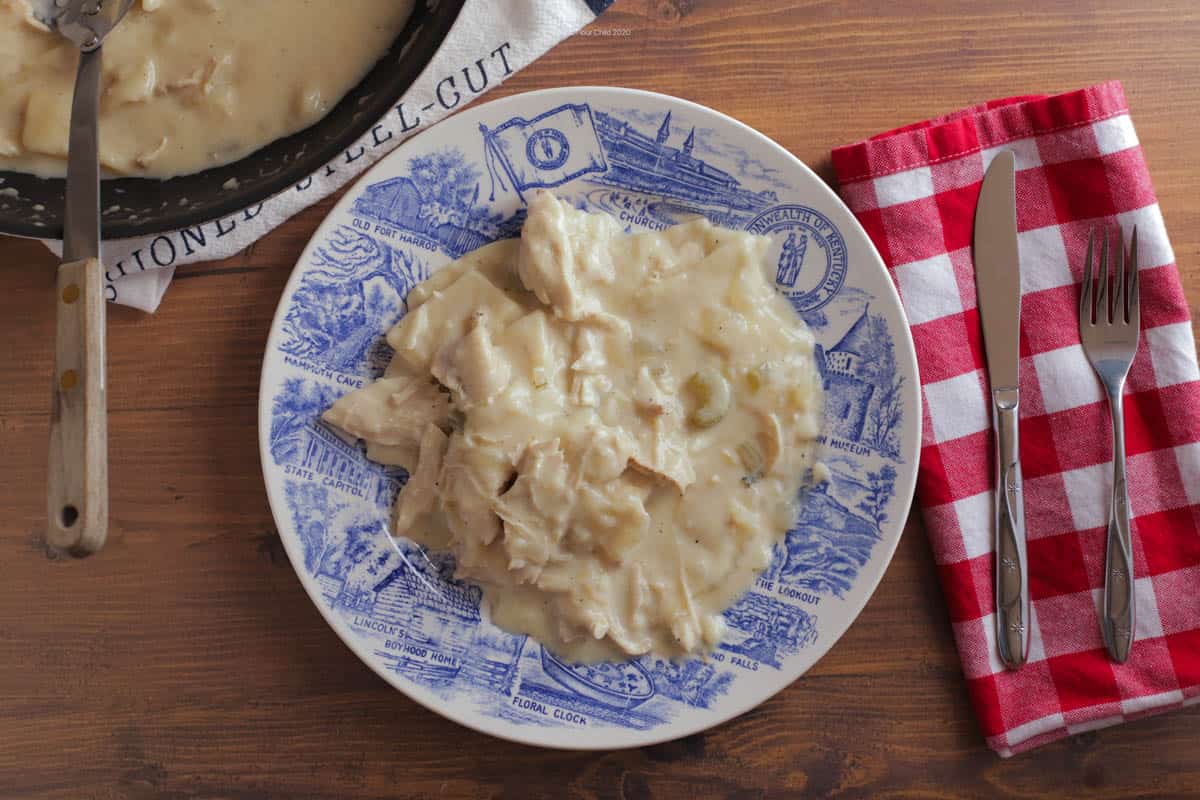 In Illinois, my former next-door neighbor, Jody, made the BEST chicken and dumplings. After raving about her dinner, she offered to have me come over and make it with her. In my opinion this is the best way to learn, because an experienced cook can fill you in on all the details that you don't get from reading a recipe. I'm talking about things like visual cues, shortcuts, and what to look for while taste testing along the way.
This from-scratch dish of hot and hearty comfort food takes a couple of hours to make from start to finish, and is so worth it. I love to make it on a Sunday, because it's great to have the leftovers after a busy Monday back at work.
Cook a Whole Chicken, or Parts?
When I first began making this dish, I cooked a whole chicken. There is something to be said for making the chicken stock with the bones. It adds both a boost of flavor and nutritional value.
I switched to using chicken breasts, mainly because Kevin only likes white meat and it was hard to get enough white meat from one chicken. Also, I didn't know what to do with the remaining dark meat and I hated to discard it. Second, removing the meat from the bones was time consuming, and inevitably a small chicken bone would find it's way into the meal. Third, it's just easier to use a 1.5 - 2 pound package of chicken breasts, and we didn't notice a difference in the final taste.
If you prefer to use a whole chicken, choose one that is 4-5 pounds. Boil it for 1-½ hours using the chicken stock recipe, then carefully remove the meat from the bones and set it aside, making sure there are no bones left behind in the broth. Then continue following the recipe.
What Kind of Dumplings Are in This Dish?
There are three common types of dumplings: bread dumplings, flour dumplings, and potato dumplings. Different recipes call for different types of dumplings. I have seen chicken and dumplings made with both bread dumplings and flour dumplings.
This recipe calls for Southern style flour dumplings, also called pastry dumplings. The texture and flavor is like a thick noodle. In this dish, this dumpling is far superior to a bread dumpling made from a biscuit mix.
Don't be intimidated by making homemade dumplings; these are easy! You can mix the dough quickly in one bowl, roll it in a ball and chill it for a half an hour. Then you simply roll it out and slice it with a pizza wheel. Fool proof! Don't worry about rolling the dough into a perfect rectangle...mine turned out heart shaped! You get no points for symmetry, and it doesn't impact the look or taste of the final dish, so why stress over it?
Steps For Making Southern Style Chicken and Dumplings
Start by making the chicken stock. This will cook your chicken and create a stock that will be used in making your creamy dumpling sauce. Total prep & cooking time: 1-½ hours.
Next, make the dough for the dumplings while the chicken stock is cooking. It needs to be refrigerated for a half an hour or so before rolling it out. Getting it in the refrigerator while the chicken stock is simmering will ensure it is ready when the chicken stock is done. Total prep & chill time: 45 minutes.
When the chicken stock is finished cooking, remove the chicken to another plate and divide it into bite sized pieces. Discard the bay leaf and parsley stalks, and leave the broth on the stove. Total prep time: 5 minutes.
Remove the dough from the refrigerator and divide it into 2 sections. On a floured surface, roll out one section of the dough to about ⅛ inch thickness and slice it into 1-inch pieces using a pizza wheel. Bring the chicken stock to a boil and drop the dumplings inside. Boil for 8-10 minutes; remove with a slotted spoon and set aside. (You can roll out the second section of dough and make another batch of dumplings, or keep it in the refrigerator to make the next day with leftovers.) Total prep and cooking time: 15 minutes.
While the dumplings are cooking, prepare the dumpling sauce. The most important part of this step is to make sure your flour is fully dissolved by whisking it vigorously into the milk. If it is not fully dissolved, you might get small lumps of flour in the dumpling sauce. Total prep and cooking time: 15 minutes.
When the sauce has thickened, add the chicken and dumplings to it and stir until heated through. If it's too thick, add more chicken stock until it reaches desired consistency. Take a taste and add salt and pepper if needed. Total prep time: 5 minutes.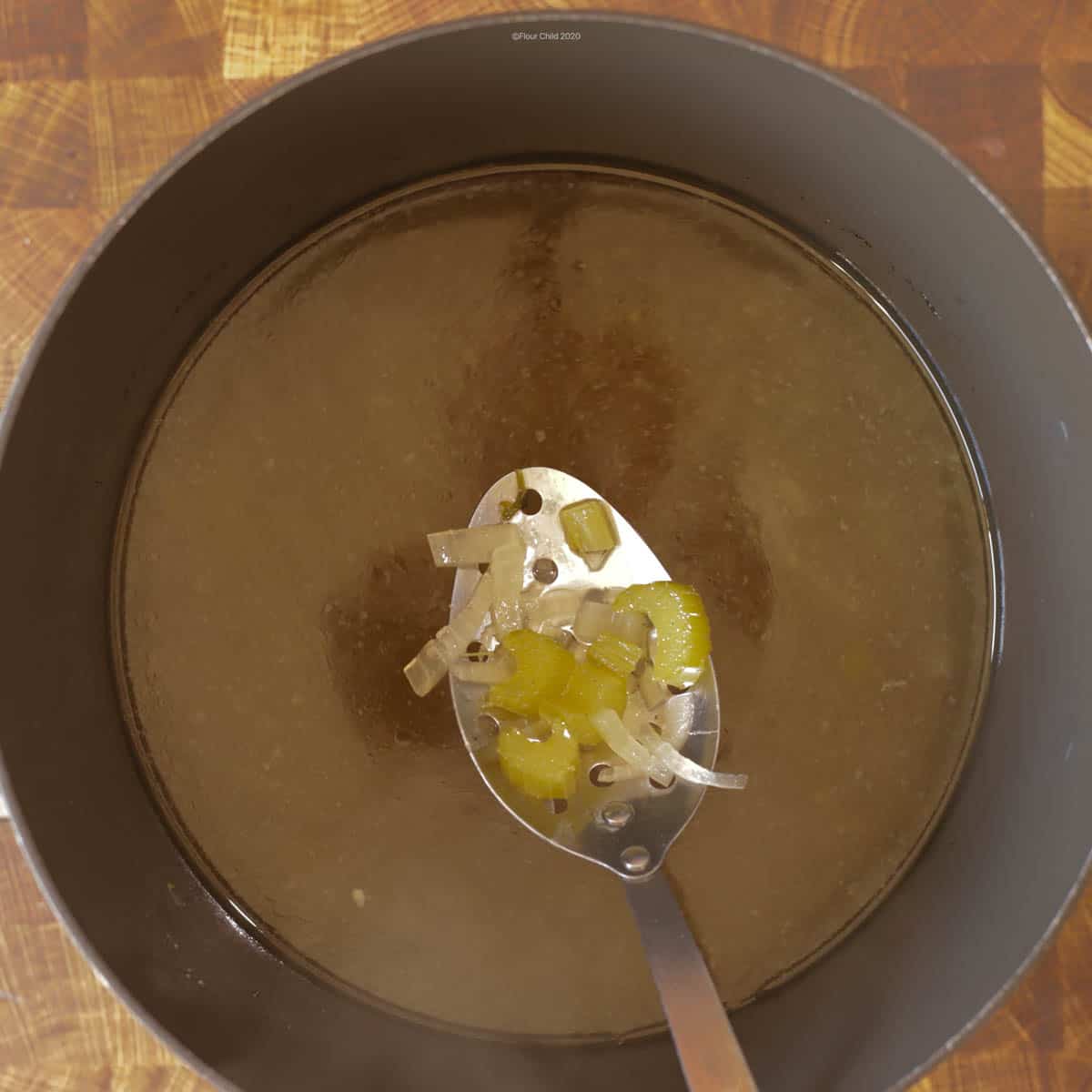 How Much To Make
I usually roll out one half of the dough and make one set of dumplings on the first night. The next day I roll out the second half, cook them in leftover heated broth and add them to leftover dumpling sauce. (If you don't have leftover broth you can cook them in a can of heated chicken broth.)
I find that this recipe makes plenty for my husband and me for 2-3 meals. I keep the leftover broth on hand, as the leftover dumpling sauce will thicken overnight in the refrigerator. On the second night I heat up the broth and use it to thin the dumpling sauce and stretch it out a bit.
If you are feeding a group of people and need to make a large amount, you can make both batches of dumplings. After you cook the first batch of dumplings, remove them from the broth and set them aside, then toss in the second batch for another ten minutes.
Jody often made a double batch of dumplings and dumpling sauce to reserve for leftovers. If you need a larger quantity, here's what to do:
Double the recipe for the dumplings, except for the oil. For a double recipe of dumplings use 7 tablespoons of oil, not 8.
Double the recipe for the dumpling sauce, except for the bouillon cubes. Use 3 bouillon cubes, not 4.
You will not need to double the broth recipe, but if you need a little extra just add a can of chicken broth to it.
Serve with some hot rolls or buttered bread and enjoy!
If you love Southern-style dinners, also try our Ultimate Chicken Fried Steak With White Pepper Gravy. Delish!
If you have a vintage recipe you'd like share with us for possible publication, please scan it and email it to [email protected]. We'd love to hear from you!
Print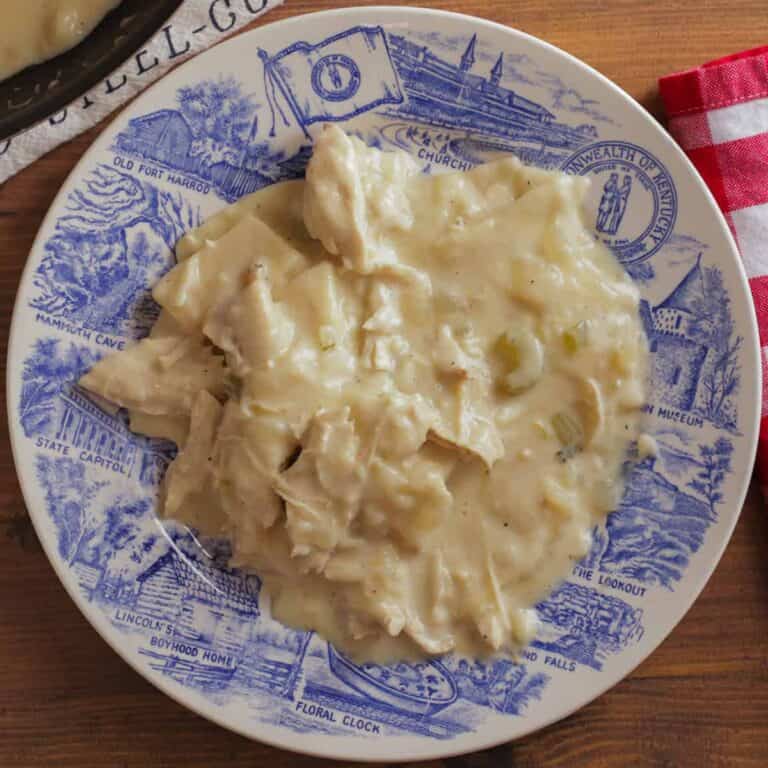 Old Fashioned Chicken and Dumplings
Author:

Nancy Blackstone

Prep Time:

30 minutes

Cook Time:

1 Hour 45 minutes

Total Time:

2 hrs, 15 minutes

Yield:

6

-

8

servings

1

x

Category:

Dinner

Method:

Stovetop

Cuisine:

American Southern
---
Chicken Stock:
3 quarts water
2-3  large boneless chicken breasts (1.5 - 2 lbs.)
1 teaspoon kosher salt
½ teaspoon pepper
1 small yellow onion, sliced into thin rings and then quarter the rings
2 stalks celery, sliced
1 clove garlic, peeled and quartered (or ½ teaspoon minced garlic)
1 bay leaf
4 whole parsley stalks
Dumplings:
2 cups flour
2 teaspoons baking powder
½ teaspoon salt
1 cup whole milk
4 tablespoons vegetable oil 
Dumpling Sauce:
4 tablespoons flour
1 cup whole milk
3 tablespoons butter
½ teaspoon sugar
1 cup chicken stock
2 chicken bouillon cubes, crushed
---
Instructions
Chicken Stock:
1. Put all ingredients in a large stock pot; bring to a boil, then reduce heat and simmer, covered, on low for 1 hour.
2. Remove chicken to a platter and set aside.
3. Remove and discard bay leaf and parsley stalks from chicken stock. leaving onions and celery inside. Leave broth in stockpot; you will use it to cook the dumplings and make the dumplings sauce.
4. Using a fork, pull chicken apart into bite sized pieces.
Dumplings:
1. Add all ingredients to a large bowl. Using a spoon or spatula, mix until well blended.
2. Flour your hands and knead by hand 4 or 5 times, then form a ball, wrap in plastic wrap, and chill in refrigerator for half an hour.
3. On a floured surface, roll dough to ⅛" thick & cut dumplings into roughly 1" X 1-½" strips using a pizza wheel.
4. Drop dumplings in boiling chicken stock after chicken has been removed, and cook for 8-10 minutes, stirring occasionally to prevent dumplings from sticking together.
5. When finished cooking, remove with a slotted spoon. Place in a bowl and set aside.  
Dumpling Sauce:
1. Whisk the flour thoroughly into cold milk until it is completely dissolved, then put in a deep skillet.
2. Add chicken stock and butter to skillet, and heat to a simmer on medium heat, whisking constantly. It's okay if some onion and celery pieces get into the dumpling sauce -- it adds to the flavor.
3. Whisk in sugar and crushed bouillon cubes until completely dissolved.
4. Increase heat to a low boil, stirring constantly until thickened. Turn heat down to low; add chicken pieces and cooked dumplings to the dumpling sauce. Heat through and serve. (Add additional chicken stock as needed if the mixture gets too thick.)
---
Notes
Reserve your leftover chicken stock in the refrigerator and use it to thin the dumpling sauce for leftovers. This will retain the original flavor rather than diluting it with milk.
Refrigerate leftover chicken stock, dumpling dough, and dumpling sauce for up to 2 nights. 
Freeze leftover chicken an dumplings in an airtight container for up to 3 months. It is recommended to let it come to room temperature before heating for best consistency.
Keywords: Kentucky main dish, southern main dish, winter dinners, cold weather dinners, comfort food dinners