Authentic key lime pie smells like a summertime party, shines like the Florida sun, and has the bite of a tart margarita. Now if only it could sing like Jimmy Buffet!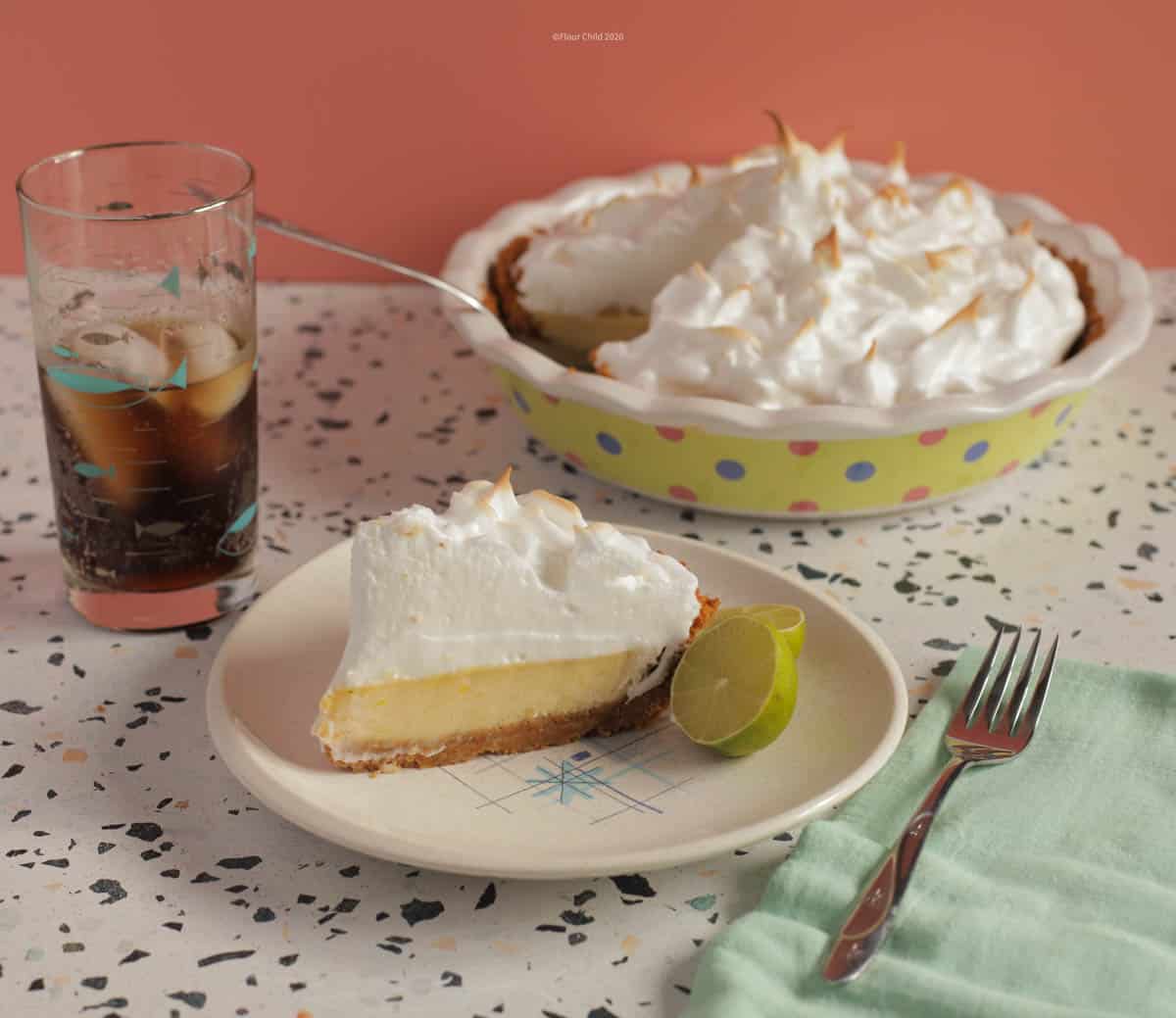 Key lime pie, the official pie of the state of Florida, made its first appearance in cookbooks in the mid 1930's. It's most likely derived from the lemon cream pie introduced by Borden in 1931 to promote their sweetened condensed milk. In the 1950's the pie had become so popular, it was advertised as "Florida's most famous treat."
So What Exactly is a Key Lime?
A Key lime is a small yellow-green fruit with a bold, floral taste that produces about 1 tablespoon of juice per lime. The more common deep green Persian or Tahitian lime we find in our grocery stores is larger, milder in taste, sturdier, and produces up to 3 tablespoons of juice. Key limes originated in Asia and were first planted in the Florida Keys in the 1830's. Unfortunately, a devastating hurricane in 1926 wiped out the South Florida Key lime plantations. Growers opted to replant with the sturdier Persian limes, making Florida-grown Key limes nearly non-existent. The majority now sold in the U.S. are imported from Mexico and Central or South America.
What Makes it Authentic?
Kevin and I made our first trip to the Florida Keys together in 2017. We spent our time going from restaurant to restaurant eating pie, each place claiming to have the "world's best," "original" or "most authentic" recipe. Several days and several pounds later, I learned that there are many variations of Key lime pie, and they all have at least 3 things in common: Key lime juice, egg yolks, and sweetened condensed milk. The toppings vary as does the crust, although the original crust for this recipe and the one found most frequently in the Keys is made with graham crackers.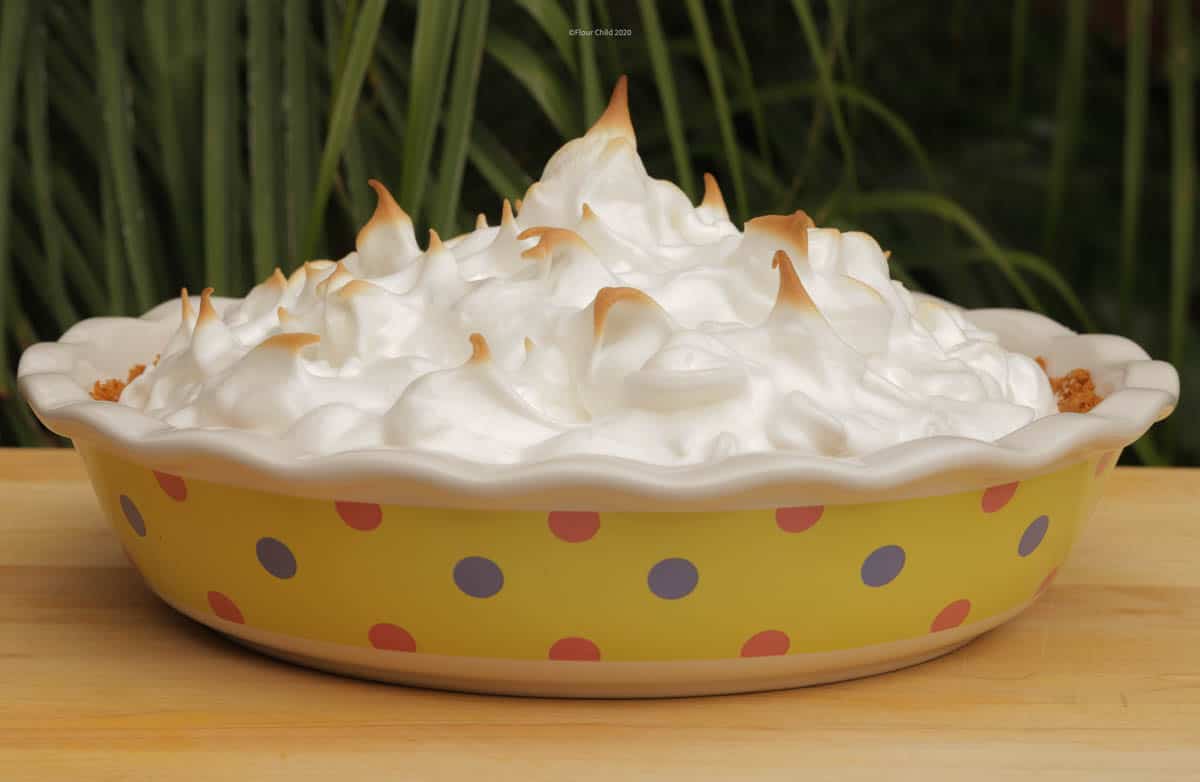 Topping: Meringue, Whipped Cream, or Nothing at All?
My research indicates that the original topping for this pie, and therefore considered "most authentic" by the majority of cooking experts, is meringue. This makes sense for a few reasons:
Key lime pie is believed to be derived from the original lemon meringue pie recipe.
During the depression when this pie originated, it was not likely someone would let the egg whites go to waste after using the yolks for the filling. Making meringue with them was the responsible economic choice.
In the 1930's, refrigeration was not widely available so milk and cream were hard to keep. (Mass production of the kitchen refrigerator began in the 1940's after WWII.) Meringue made with egg whites and sugar was easily made.
That said, this pie is delicious whether you serve it with meringue, whipped cream, or no topping at all. I found all of these options at various places in the Florida Keys, and you should top it according to your personal preference. I happen to be a fan of meringue and Kevin prefers whipped cream, while our friend who gave us this recipe prefers no topping at all. Vive la différence!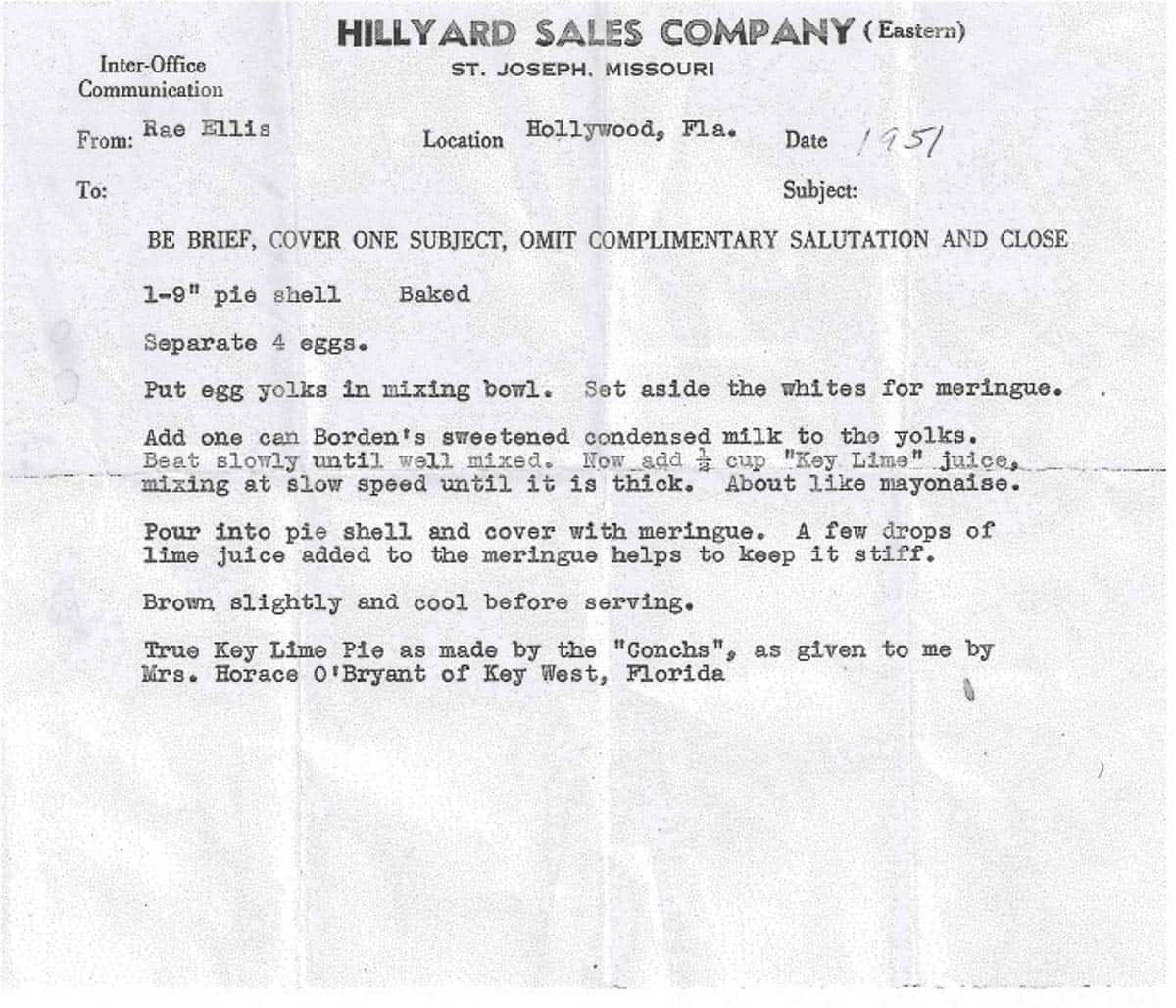 The Origin of Our Recipe
I'm always searching for handwritten or hand typed mid century recipes that anyone might have. (Don't invite me to your house unless you're okay with me rummaging through your kitchen drawers and cabinets in search of old family recipes!) When our Florida-native friend Steve sent us his Grandma's key lime pie recipe, I flipped! I love the business stationary and all the details she included, like her name and who gave her the recipe. I already knew it was delicious because he had made it for us several times!
Rae Ellis, Steve's grandmother, lived with her husband, Loren, in Indiana where he was Valparaiso University's head basketball coach. They relocated to The Sunshine State where he coached for Stetson, and eventually they made their home in Hollywood, Florida. Loren liked to fish in the Keys where they made frequent visits. They became friends with a couple of prominent local residents, the O'Bryants. Horace O'Bryant was the superintendent of schools for Monroe County (Florida Keys) for many years, and his wife gave Rae this recipe in 1951. They have handed it down now through several generations.
This is An Easy Recipe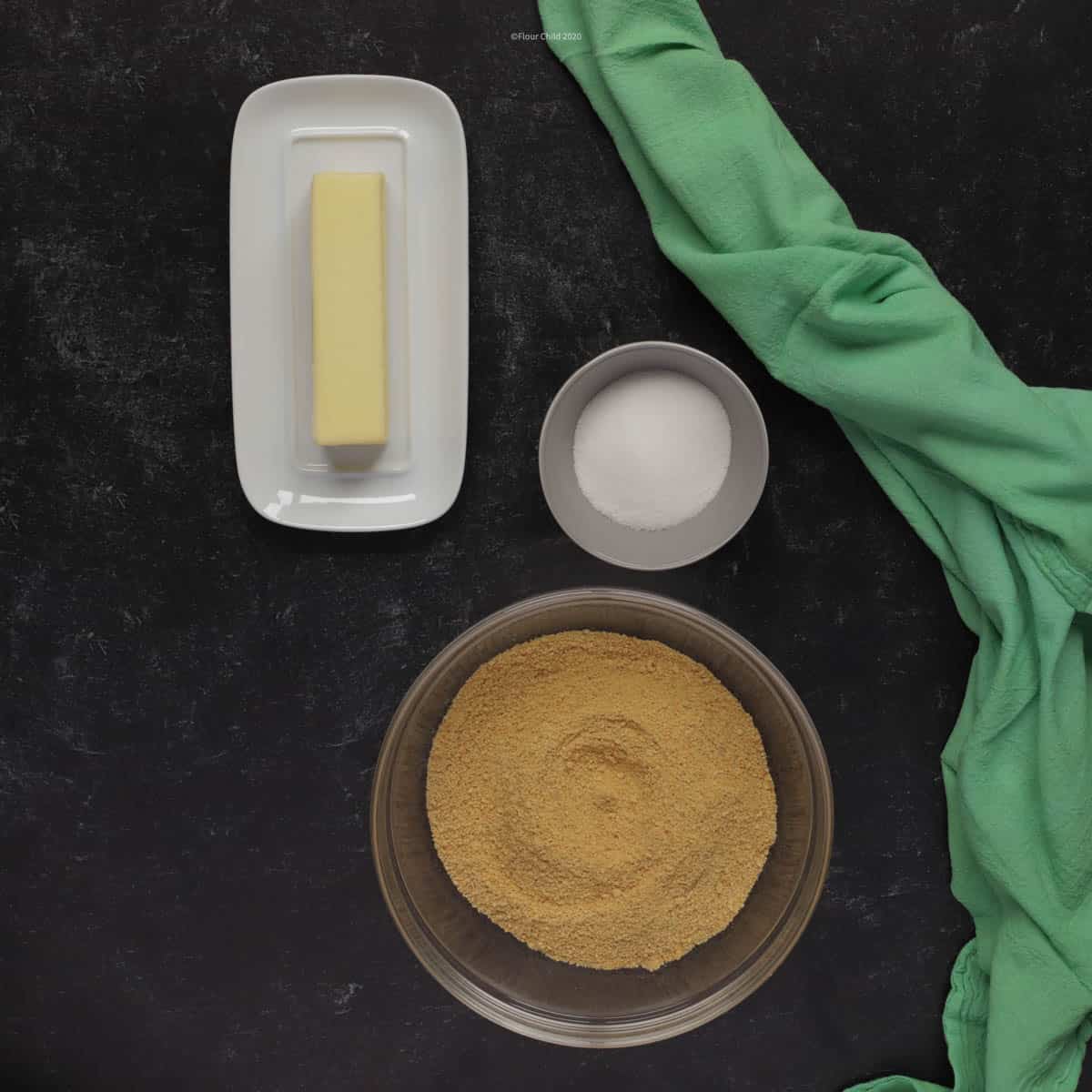 The delightful thing about Key lime pie is that it's so easy to make. The crust and pie filling each take only 3 ingredients, and the meringue takes only 4! The crust combines quickly and takes only minutes to prepare. And the filling mixes up to a thick consistency very fast. Back in the old days the pie would almost be done. Originally it was not baked -- it was thought that the acidity from the Key lime juice "cooked" the egg yolks. Today we know the pie needs to be baked for a short time (20 minutes) to ensure it is safe to eat.
The trickiest part of this pie is making the meringue. It's not difficult, but for best results the temperature of the sugar mixture needs to be measured at 240 degrees. Therefore, you will need to use a candy thermometer. You also need to be careful not to burn yourself as you're pouring the hot sugar mixture into the beaten, soft-peak egg whites.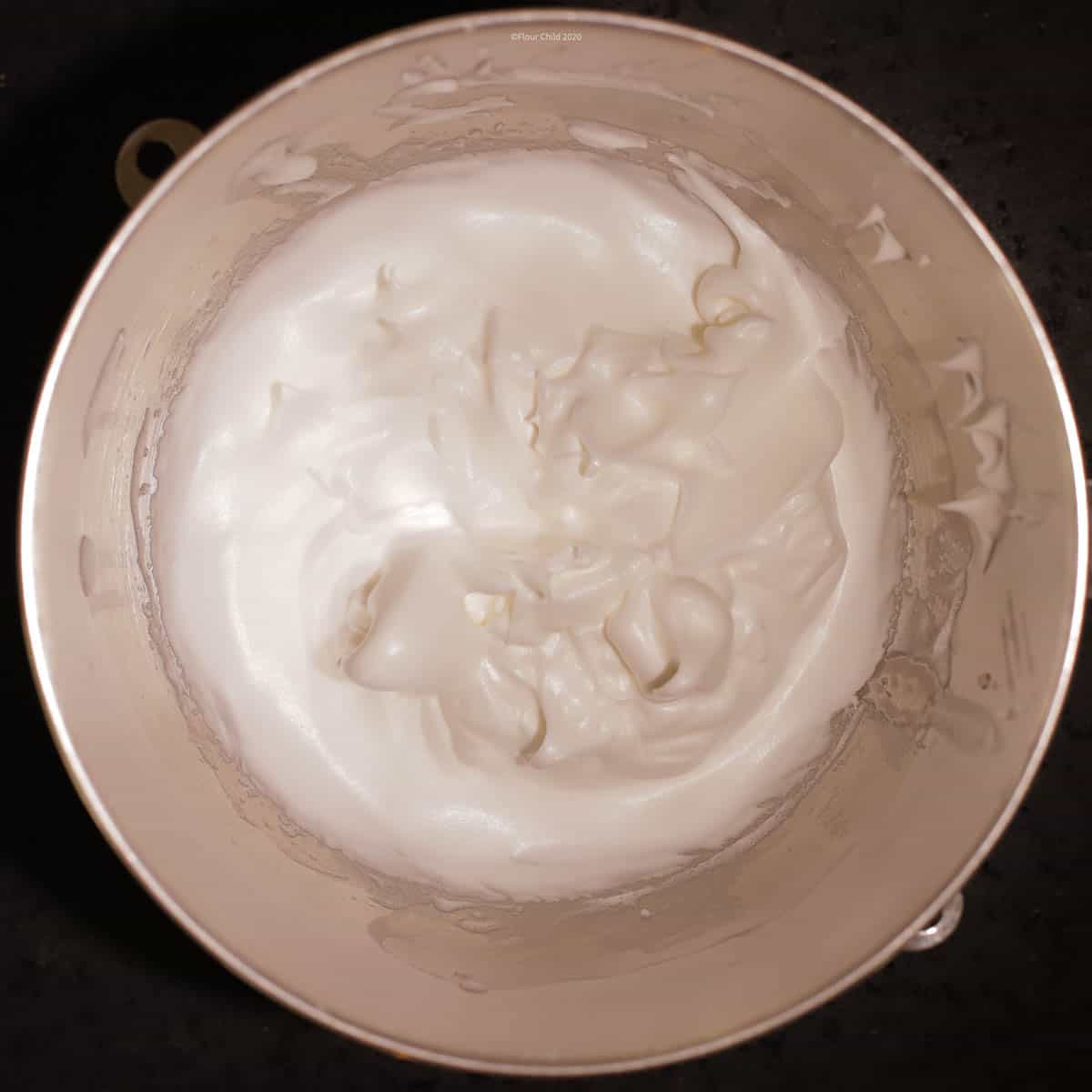 Expert Pie Baking Tips
Carefully watch your graham cracker crust in the oven, because over baking it before it's filled will give the pie a burnt taste.
Squeeze Key limes for freshest taste, or buy authentic Key lime juice which can be found in most grocery stores. Standard limes have a different flavor.
Use a stand mixer with a wire whisk attachment and pouring shield for best results when mixing meringue.
Use a candy thermometer to measure the temperature of the sugar syrup for meringue.
Be patient when beating eggs whites to stiff peaks with the sugar syrup -- this step took a full 10 minutes with my stand mixer going at medium-high speed.
Start by adding meringue to the center of the pie, then work your way out with the spatula, pulling it up to form peaks over the top.
Do you have a favorite mid century handwritten or hand typed family recipe and story you would like to share? If so, please email me at [email protected].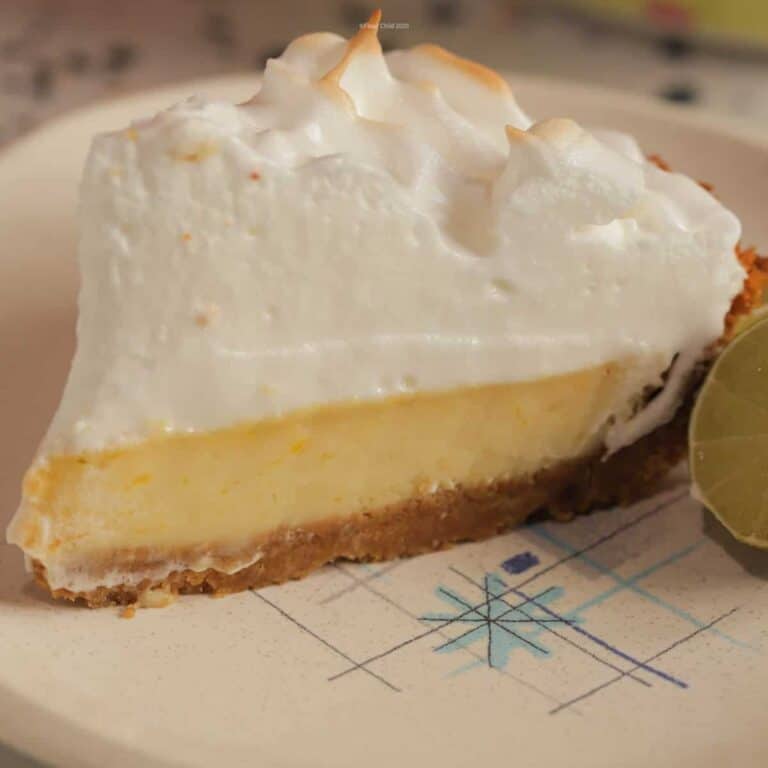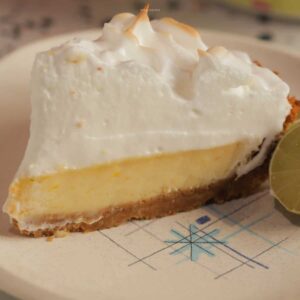 Authentic Key Lime Pie
Authentic key lime pie smells like a summertime party, shines like the Florida sun, and has the bite of a tart margarita. Now if only it could sing like Jimmy Buffet!
Ingredients
Crust
2

cups

graham cracker crumbs

8

tablespoons

butter

¼

cup

sugar
Pie
4

large

egg yolks

reserve egg whites at room temperature for meringue

8

oz

sweetened condensed milk

½

cup

Key lime juice

generous ½ cup -- a little more
Meringue Topping
4

large

egg whites

room temperature

½

teaspoon

cream of tartar

1

cup

sugar

½

cup

water
Instructions
Preheat oven to 350 degrees.
Crust
Mix graham cracker crumbs and sugar in a bowl.

Melt butter and pour into the graham cracker crumb mixture. Using your fingers or the back of a tablespoon, press into the bottom and up the sides of a 9-inch pie plate to ¼" thickness all around.

Bake 6-8 minutes until very lightly browned. 
Pie Filling
Separate egg yolks, reserving the whites for meringue.

Mix well with sweetened condensed milk until batter has thickened.

Add Key lime juice and mix until thoroughly combined.

Pour pie filling into pie crust, and bake for 20 minutes.

Cool at room temperature for 45 minutes, then chill in oven for 3 hours.

Top with meringue. Place in 450 degree oven for a few minutes, just until tips of meringue have lightly browned. (You could also serve plain or with whipped cream topping, if preferred.)
Meringue Topping
Preheat oven to 450 degrees

Using an electric mixer, beat the egg whites with cream of tartar until soft peaks form (when tips of egg whites fall back on to peaks.)

Mix sugar and water in a saucepan and heat to a boil on stovetop, stirring frequently. Measuring with a candy thermometer, bring mixture to a temperature of 240 degrees Fahrenheit. 

Very slowly, add the sugar mixture to the egg whites, while mixing at medium speed, being careful not to splash yourself with the hot sugar. (A stand mixer with a pouring shield works well for this step.)

Continue mixing at medium-high speed until stiff peaks form (peaks should stand up straight when you pull a spatula up through them.) Be patient; this can take up to 10 minutes. 

Generously top the chilled Key lime pie with meringue. Dip the spatula up and down in the meringue to pull up decorative peaks.

Place pie in oven and bake, watching constantly, just until top begins to brown. When the meringue starts to brown it browns quickly, so remove it promptly or the sugar will burn. This step takes only a couple of minutes. 
Notes
Add a little Key lime zest to the pie filling to add to the flavor if you'd like. You can also add a little to the top of the pie for decoration.
You can make this in a traditional pie crust if you prefer that over graham cracker.
Nutrition
Calories:
442
kcal
Carbohydrates:
64
g
Protein:
7
g
Fat:
18
g
Saturated Fat:
10
g
Polyunsaturated Fat:
1
g
Monounsaturated Fat:
5
g
Trans Fat:
1
g
Cholesterol:
132
mg
Sodium:
307
mg
Potassium:
231
mg
Fiber:
1
g
Sugar:
52
g
Vitamin A:
556
IU
Vitamin C:
5
mg
Calcium:
115
mg
Iron:
1
mg