These classic deviled eggs are a crowd-pleasing appetizer, perfect for holiday parties and family gatherings. They are easy to prepare ahead of time and store in the refrigerator until you're ready to serve.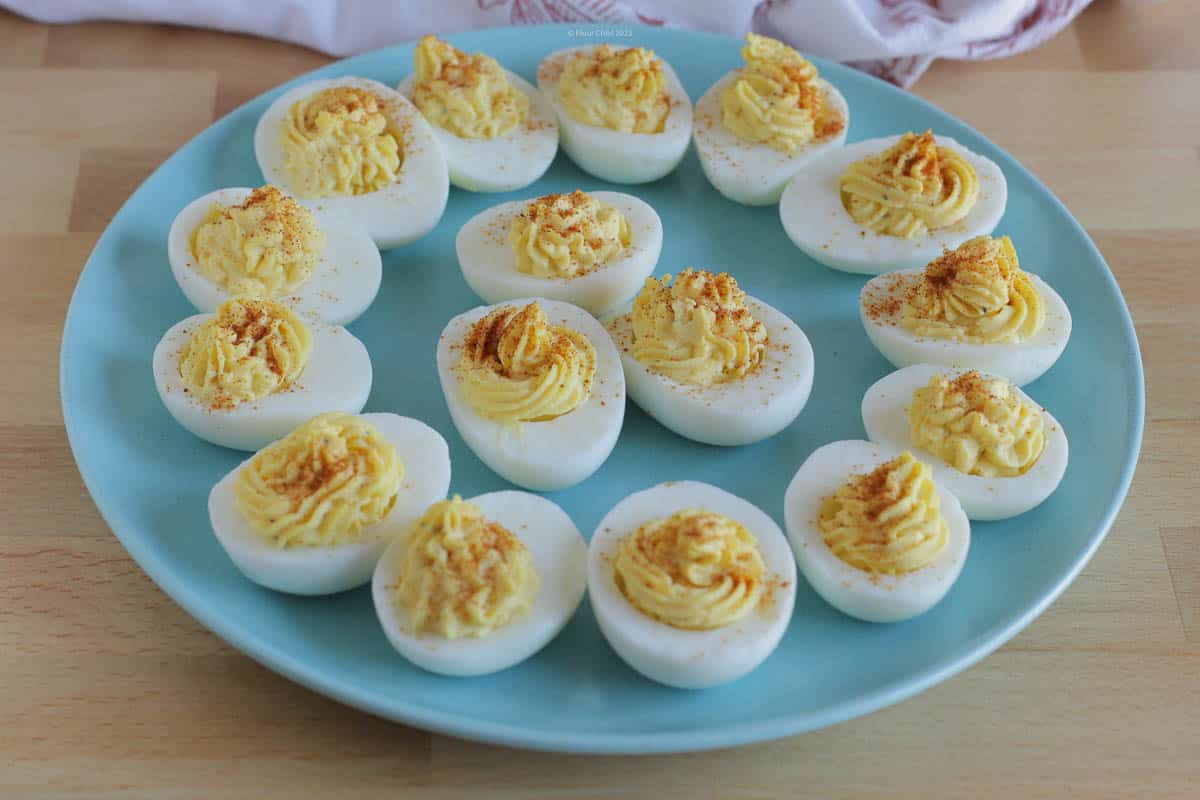 Deviled Eggs Were Popular in the 1970's
At virtually every gathering in the 1970's you were guaranteed to find deviled eggs among the selection of appetizers and finger foods. That's because they were easy to make and economical, too. In 1972, the average cost of a dozen eggs was only 52 cents! In addition to that, only a few common pantry items are required. They're still economical now, although the price of eggs is considerably higher!
Ingredients for Classic Mid Century Deviled Eggs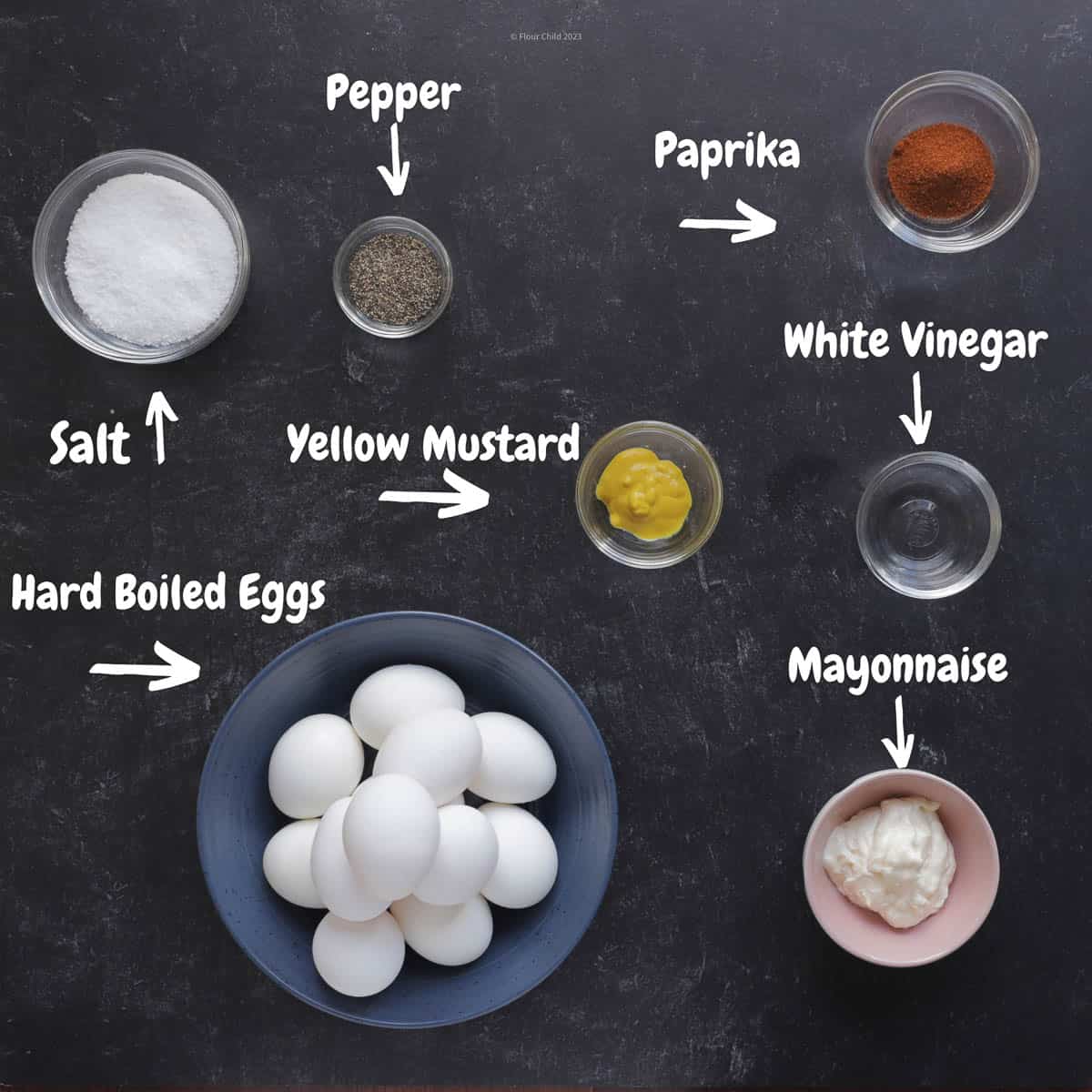 There are many variations to deviled eggs recipes now, but the way they were made in the mid century years was very simple. Following are the ingredients you'll need:
Hard Boiled Eggs (I recommend using large or extra-large eggs)
Mayonnaise (Not Miracle Whip)
Yellow Mustard
White Vinegar (Or white wine vinegar)
Salt
Pepper
Paprika (Or smoked paprika)
How to Prepare Perfect Hard Boiled Eggs
For deviled eggs to turn out properly, you need to have your hard boiled eggs cooked so that the yolks are firm and yellow. Over cooking will turn them green, and under cooking renders mushy yolks. Here are the steps you should follow to make your classic deviled eggs turn out perfect every time:
Place eggs in a saucepan and add cold water until eggs are just fully covered.
Turn heat on high and bring water to a rolling boil.
As soon as water boils, turn off heat and place lid on pan.
Set timer for 12 minutes. As soon as timer goes off, place eggs in a bowl of ice water for 15 minutes. Make sure it has a lot of ice to quickly chill the eggs.
You can peel immediately if you are going to use them right away. If not, keep them in the refrigerator and peel under a stream of cold running water when you are ready to use.
How to Decoratively Pipe Deviled Eggs the Easy Way
For informal gatherings, it's okay to neatly scoop your egg mixture into the egg whites and top them off with a dusting of paprika. But for special occasions you may want to up your game by piping the mixture inside for a fancier presentation.
I don't know about you, but I have never had luck with piping bags. I always make a mess, and I don't feel like I have control while I'm holding and squeezing a bag while piping into the egg whites.
This little and inexpensive Norpro cupcake injector does the job quickly, easily, and neatly! Use the star tip and swirl your filling into each egg white to give your dish that professional touch.
Have a comment or a vintage recipe you'd like to share? We'd love to hear from you! Please rate, comment, or send me an email at [email protected]!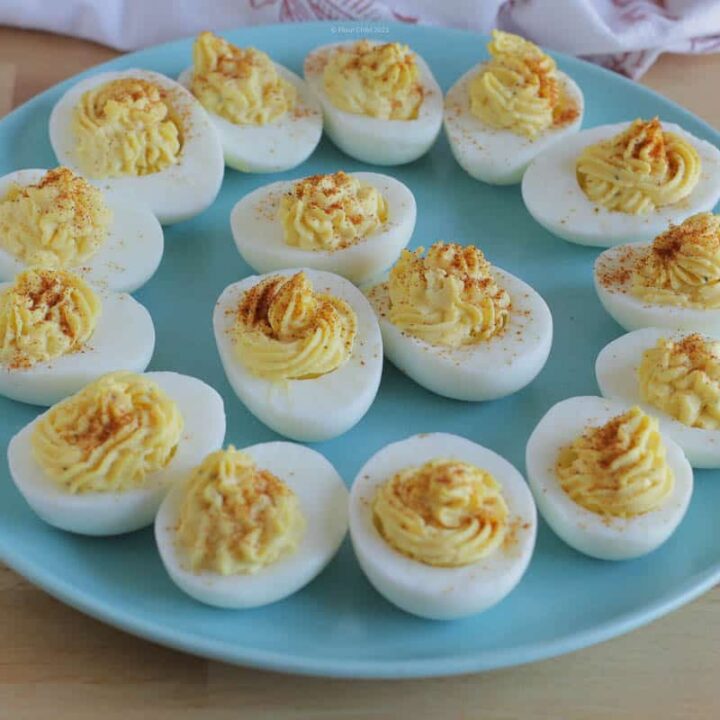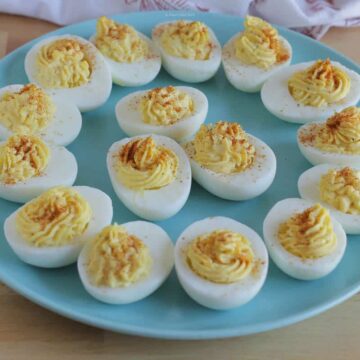 Classic Mid Century Deviled Eggs
1970's Recipe for this classic, people-pleasing appetizer
Ingredients
12

Eggs

hard boiled

½

cup

Mayonnaise

2

teaspoon

Yellow mustard

1

teaspoon

White vinegar

½

teaspoon

Kosher salt

¼

teaspoon

Black pepper

Paprika

for garnish
Instructions
Peel hard boiled eggs and slice in half lengthwise.

Remove yolks and place in a bowl.

Add mayonnaise, mustard, and vinegar and mix until fully combined.

Add salt and pepper. Taste and adjust seasonings to your liking, if necessary.

Either spoon egg yolk mixture into egg whites, or place it in a piping tool and pipe into egg white using a decorative star tip.

Sprinkle lightly with paprika and serve immediately, or cover in an airtight container and refrigerate until you're ready to serve.
Notes
Variations
White wine vinegar can be used in place of white vinegar
Dijon mustard can be used in place of yellow mustard
2 tablespoons of sweet pickle relish can be added for flavor twist
Nutrition
Calories:
191
kcal
Carbohydrates:
1
g
Protein:
9
g
Fat:
17
g
Saturated Fat:
4
g
Polyunsaturated Fat:
8
g
Monounsaturated Fat:
5
g
Trans Fat:
0.1
g
Cholesterol:
251
mg
Sodium:
342
mg
Potassium:
97
mg
Fiber:
0.1
g
Sugar:
0.3
g
Vitamin A:
367
IU
Vitamin C:
0.01
mg
Calcium:
39
mg
Iron:
1
mg