This delicious cinnamon sour cream coffee cake recipe makes a great breakfast or dessert...serve it with a hot cup of coffee, of course!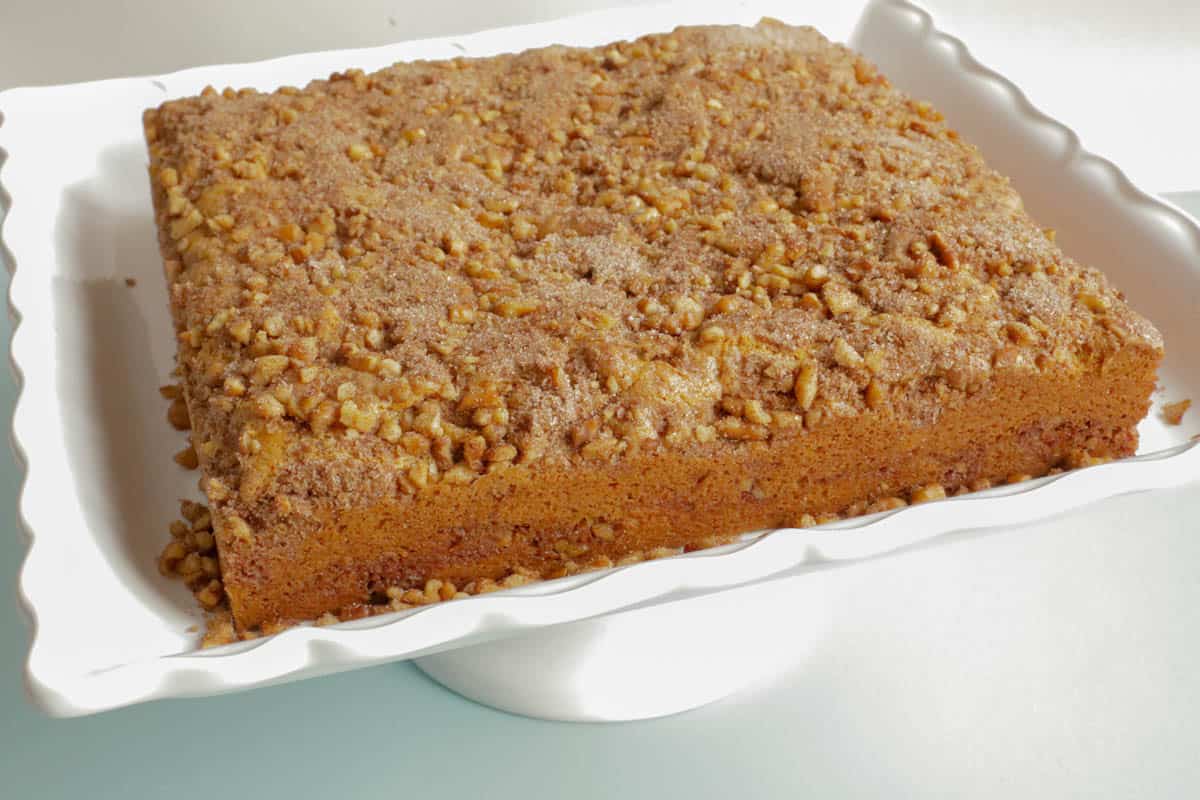 Coffee Talk
In 1959 my parents bought their first house in the Chicago suburbs, and we lived there until they retired in the 1980's. Everyone knew everyone, house by house, for blocks on end. A group of ladies from our neighborhood -- Bea (my mom) Loise, Jerry, Alice, and Eileen -- would take turns hosting a coffee klatch at their homes. "Coffee klatch" was a popular term used in mid-century which referred to a women's social gathering, usually taking place in a home. It comes from the German word "kaffeeklatsch," the literal translation being "coffee" (kaffee) and "gossip" (klatch.) The hostess always served coffee and a little something to nibble on, such as a coffee cake like this.
History of This Mid-Century Coffee Cake Recipe
Coffee cakes are soft textured cakes. Cake is thought to have originated in 13th century Egypt, although the type of coffee cake we know likely started in Germany in the late 1800's. It's called coffee cake because it pairs well with coffee; there is no coffee in the actual recipe.
My mom passed away at the age of 93 in 2016. I have her old cookbooks and this coffee cake recipe was tucked in between the pages of one of them. I'm sure she first tasted it at one of their coffee klatches. It is scribbled on the reverse side of a piece of mail from 1971, which makes this copy about 50 years old. I can picture her sitting at our kitchen table cradling the receiver of our corded wall phone, holding it with her shoulder while quickly taking down her friend's recipe.
Back then we didn't have electronic devices on which to write or receive notes. You just grabbed an envelope, newspaper, or whatever you could find and quickly wrote on it. My mom would pick up a pen and write in the air to signal to me to find her a piece of paper when she was on the phone and needed to write something down. Short phone cords did not allow for wide range of movement. This recipe is written on the reverse side of a direct mail piece. It urges my parents to come to Friendship, Wisconsin to view "the new properties on enchanting Lake Camelot, for retirement or investment." Since my siblings and I didn't inherit one, I'm pretty sure they skipped the opportunity!
Making the Cinnamon Coffee Cake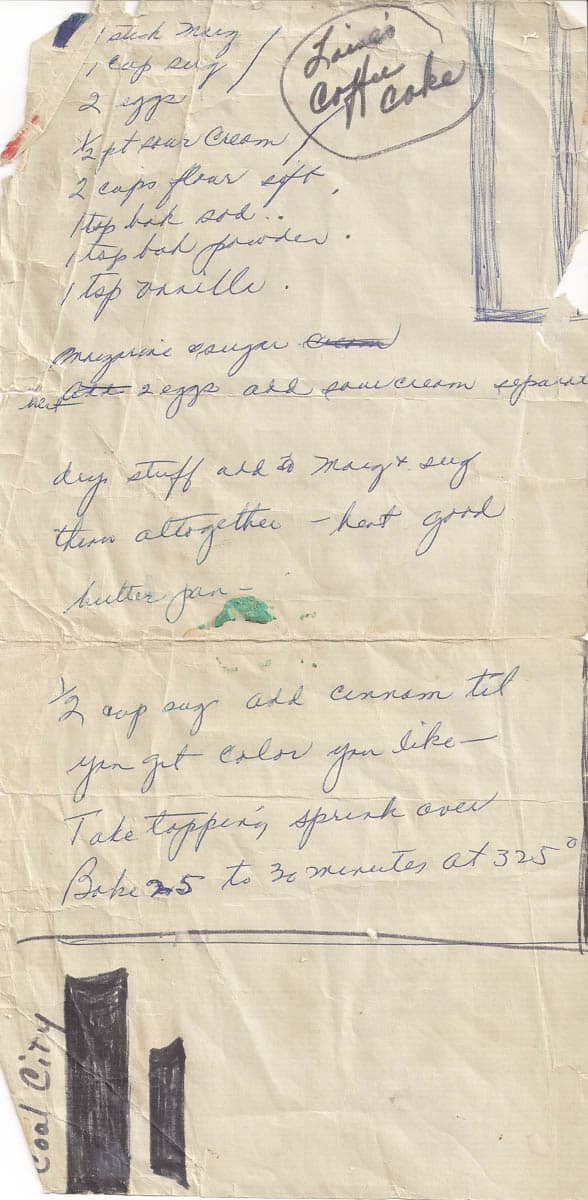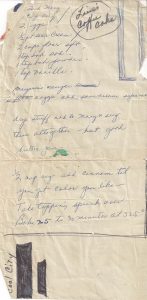 With some effort I deciphered my mom's instructions. You can see her original scribbled recipe in the photo. The recipe as written is delicious, but more plain than I like. It is very similar to my 96 year-old friend Helen's recipe which puts cinnamon not only on the top, but as a layer in the center as well. I combined the two recipes and came up with the perfect coffee cake!
What You Will Need
Cinnamon sour cream coffee cake is quick to whip up with ingredients you usually have on hand. I'm always excited when I find a recipe I can make without going to the store. I use a heavy duty 9 x 9 pan, but if you only have an 8 x 8 pan make sure you increase the cooking time by about 15 minutes. It's ready when a wooden toothpick inserted in the center comes out clean.
Flour
Baking Soda
Baking Powder
Salt
Butter
Sugar
Eggs
Sour Cream
Vanilla
Walnuts
Cinnamon
Adding the second layer of cake batter can be a little tricky because the batter is very thick. I recommend using a tablespoon to dollop it on all over the top of the middle cinnamon layer, then very carefully spreading it with the back of the spoon or a flat spatula. If you spread to aggressively it will mix the cinnamon in to the batter, which you want to avoid.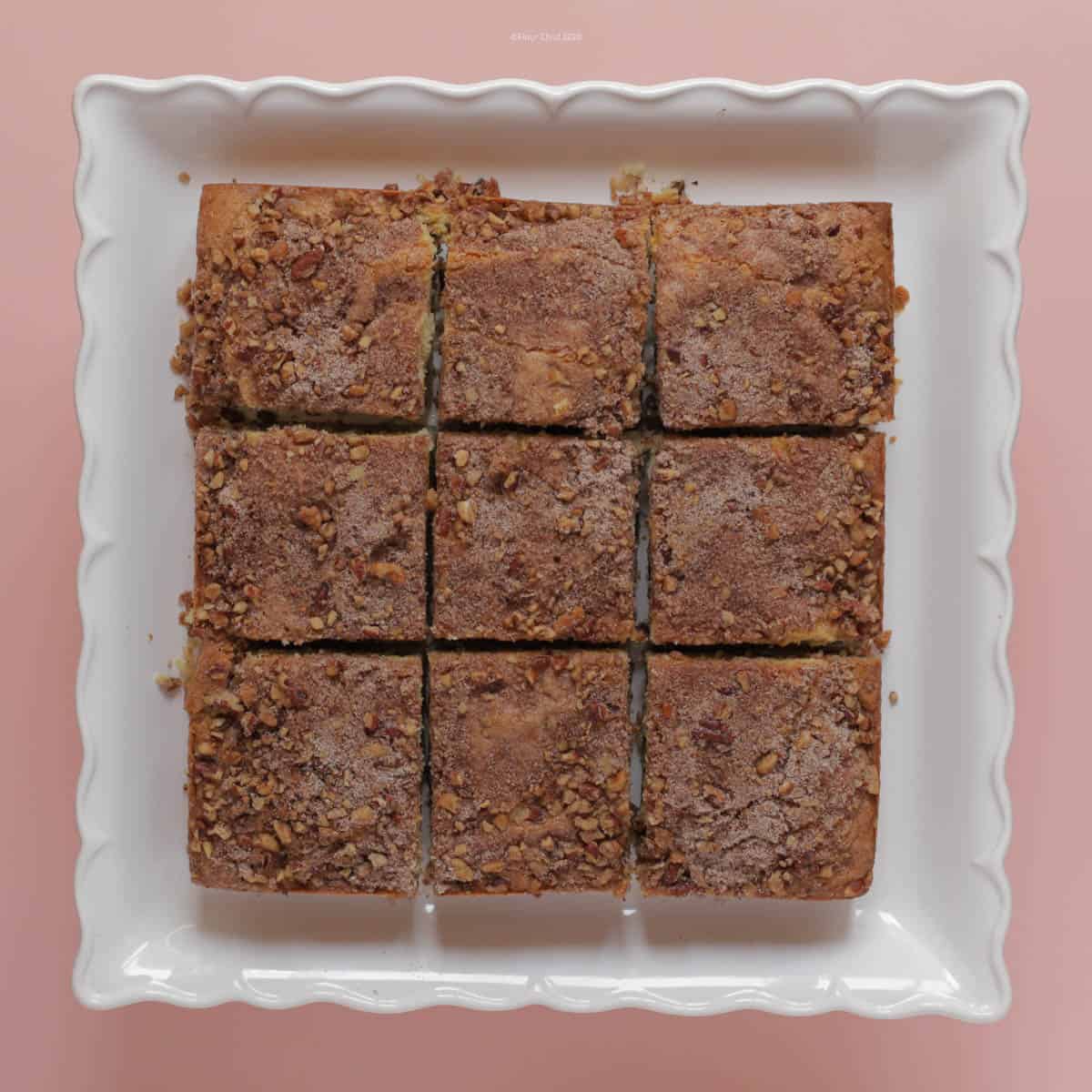 To store your coffee cake, make sure to place it in an airtight container after it has fully cooled. There are no preservatives in homemade cake so it will get stale quickly if not properly stored. To freeze it, wrap it tightly in plastic wrap or a freezer bag and it will keep for up to two months.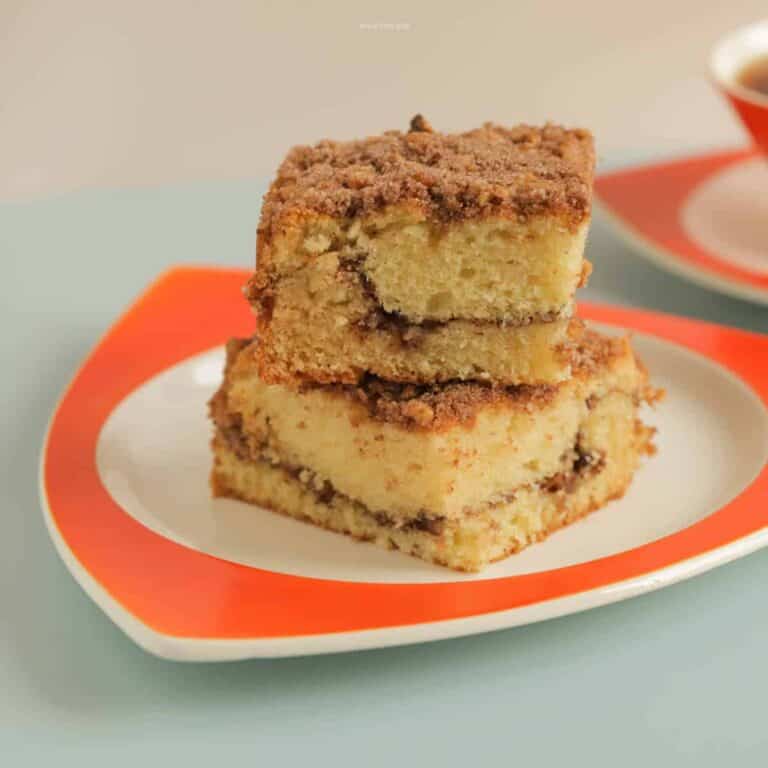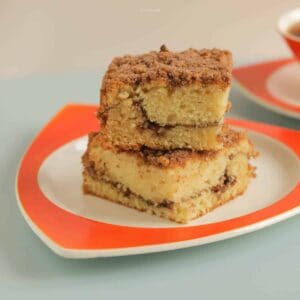 Cinnamon Coffee Cake
The smell of this delicious cinnamon coffee cake wafting through the house while baking is absolutely irresistible! Served warm out of the oven it's heavenly.
Ingredients
Coffee Cake
2

cups

all-purpose flour

1

teaspoon

baking soda

1

teaspoon

baking powder

½

teaspoon

salt

1

cup

butter

softened

1

cup

sugar

2

large

eggs

8

ounces

sour cream

1

teaspoon

vanilla
Topping
1

cup

chopped walnuts

½

cup

sugar

2

teaspoons

cinnamon
Instructions
Preheat oven to 325 degrees. Grease a 9 x 9 inch pan with butter.

Sift together flour, baking soda, baking powder and salt; set aside.

In a large mixing bowl, beat butter and sugar together until creamy.

Add the eggs, sour cream, and vanilla to the butter/sugar and mix well.

Slowly add the flour mixture while beating at low speed until fully incorporated.

Combine the topping ingredients.

Put half the batter in the greased 9 x 9 pan (it will be very thick.) Sprinkle with half the topping. Layer the remaining batter on top and cover with the other half of the topping. 

Bake for 35-40 minutes at 325 degrees or until toothpick inserted in center comes out clean.
Notes
When adding the second layer of batter, because it is so thick it is best to use a tablespoon to dollop it evenly over the top, then very gently spread it with a flat spatula or the back of a spoon to cover the center cinnamon layer so as not to mix the cinnamon topping into the batter.
Cake is finished when a wooden toothpick inserted in the center comes out clean.
Wrap tightly to store for up to two days or freeze for up to two months.
Nutrition
Calories:
422
kcal
Carbohydrates:
43
g
Protein:
5
g
Fat:
26
g
Saturated Fat:
13
g
Polyunsaturated Fat:
6
g
Monounsaturated Fat:
6
g
Trans Fat:
1
g
Cholesterol:
81
mg
Sodium:
386
mg
Potassium:
110
mg
Fiber:
1
g
Sugar:
26
g
Vitamin A:
638
IU
Vitamin C:
1
mg
Calcium:
66
mg
Iron:
2
mg