This easy homemade beef gravy recipe is so much better than a powdered mix or jar! The perfect gravy to accompany virtually any beef dish or potatoes.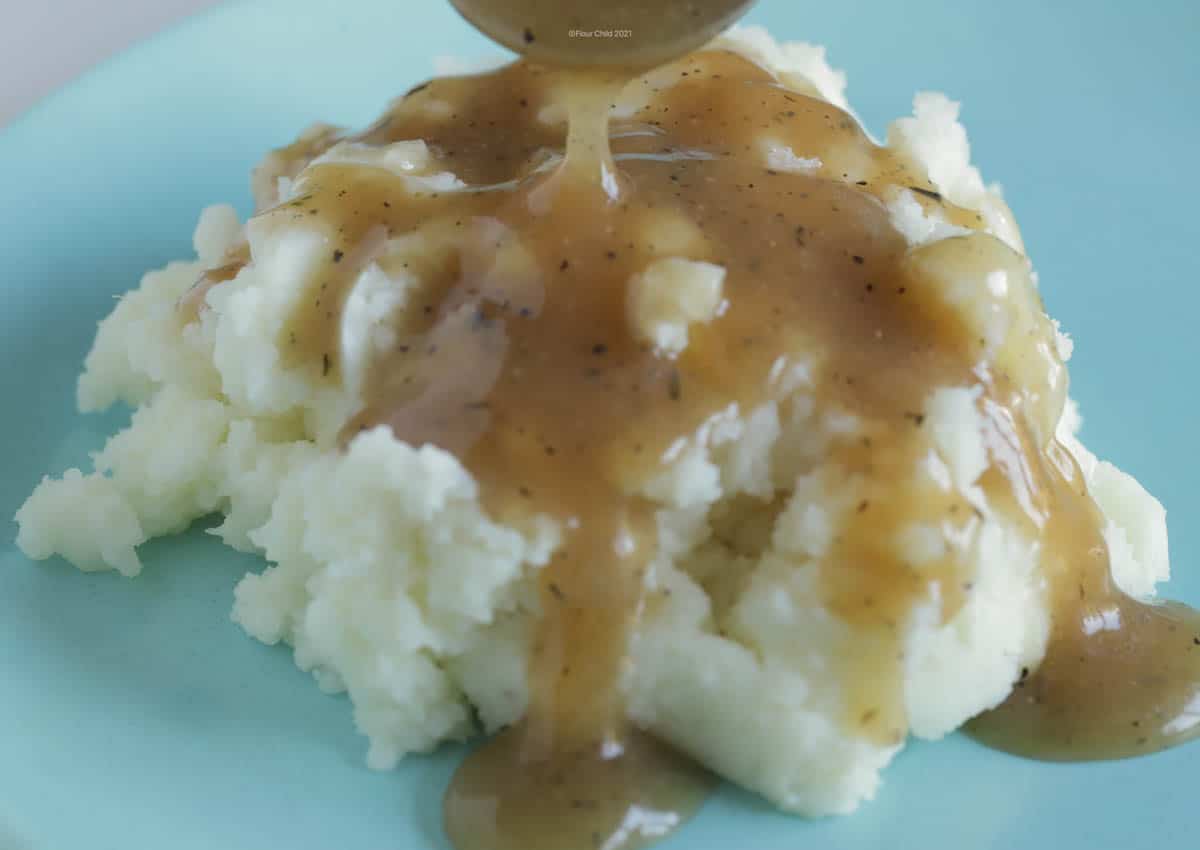 Gravy is a sauce, often made from meat juices that remain in the pan after cooking, and usually thickened with flour or cornstarch. When I think of gravy, I think of holiday meals when my mom would take dripping from the pan, mix them up with flour, and create a gravy for our turkey or beef roast.
But sometimes you want gravy for a sandwich, meatloaf, or mashed potatoes, and you don't have any drippings. Sure, you can grab a packet of powder mix or a jar of gravy at the store, but if you're like me, you try to avoid the preservatives that come with prepared foods or mixes as much as possible. I use a beef broth with no additives, add a few spices, and in 10 minutes I have a simple and delicious homemade gravy!
Ingredients For Homemade Beef Gravy Without Drippings
Beef broth
Onion powder
Garlic powder
Dried Thyme
Kosher salt
Black pepper
Cornstarch
Butter
Cream
Helpful Hints For Making Gravy
Taste the gravy before serving and adjust the salt and pepper if needed, taking into account the food it will be served with.
Use very cold water when mixing up the cornstarch, and mix it thoroughly, until no white powder is left. If there is any unmixed powder remaining when it is poured into the gravy, it will turn into tiny white lumps.
Increase cornstarch by up to one tablespoon if you want an even thicker gravy. Always fully dissolve the cornstarch in a small amount of cold water before adding.
Beef Gravy Variations
To make a lighter brown gravy, use 4 ounces of chicken broth and 12 ounces of beef broth. This variation has a lighter brown color and a savory taste that is less beefy.
To make gravy with meat drippings, replace up to 4 ounces of beef broth with the beef drippings from the pan.
Frequently Asked Questions About Beef Gravy Without Drippings
Can I use flour instead of cornstarch to thicken the gravy?
Yes! I like cornstarch because it is flavorless and gluten-free, but if you prefer to use flour, you need to use 4 tablespoons of flour dissolved in 5 tablespoons of cold water. Mix it fully, then add the slurry to the broth mixture. If you use flour as the thickener, add an additional 5-10 minutes to the cooking time after it is added to the saucepan to allow the flavors to blend, otherwise you will be able to taste the flour in the gravy.
How can I thin gravy that is too thick?
You can gradually add more broth to the gravy and stir until it reaches desired consistency.
How long can I store beef gravy?
Store in a covered container in the refrigerator for up to 2 days. Bring to a full boil when reheating. Throw away gravy that has been out at room temperature for longer than 2 hours.
Store in the freezer in a freezer bag or air-tight container for up to 2 months.
If you have a vintage recipe you'd like share with us for possible publication, please scan it and email it to [email protected]. We'd love to hear from you!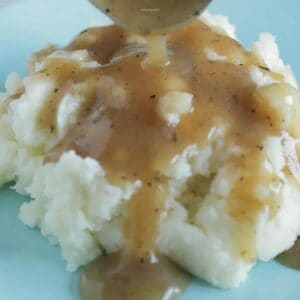 Beef Gravy Recipe Without Drippings
This easy homemade beef gravy recipe is so much better than a a powder mix or jar! A savory side to accompany virtually any beef dish or potatoes.
Ingredients
14.5

oz.

can low sodium beef broth

½

teaspoon

onion powder

½

teaspoon

garlic powder

½

teaspoon

kosher salt

¼

teaspoon

black pepper

¼

teaspoon

thyme

2

tablespoons

cornstarch

3

tablespoons

cold water

2

tablespoons

butter

1

tablespoon

cream
Instructions
In a medium saucepan, stir together beef broth, onion powder, garlic powder, kosher salt, black pepper and thyme. Bring to a boil over medium heat, then turn down heat and simmer for 5 minutes. 

While broth mixture is simmering, mix together cornstarch and cold water until cornstarch has completely dissolved. 

Add cornstarch mixture to broth mixture, and stir until well combined. Bring to a boil then reduce and simmer for another 5 minutes, until broth has thickened.

Stir in butter and cream. Serve immediately.
Notes
Make sure to combine cornstarch into very cold water and mix it until no powder is left, otherwise the gravy will get tiny white lumps. 
Store in an airtight container in the refrigerator for up to 2 days, or in a freezer bag for up to 2 months.
Nutrition
Calories:
87
kcal
Carbohydrates:
4
g
Protein:
2
g
Fat:
7
g
Saturated Fat:
4
g
Polyunsaturated Fat:
1
g
Monounsaturated Fat:
2
g
Trans Fat:
1
g
Cholesterol:
20
mg
Sodium:
532
mg
Potassium:
220
mg
Fiber:
1
g
Sugar:
1
g
Vitamin A:
237
IU
Vitamin C:
1
mg
Calcium:
7
mg
Iron:
1
mg