Delicious 20 minute sheet cake brownies have an old fashioned bottom cake with a sweet, fudgy icing full of nuts. Makes enough to feed a crowd!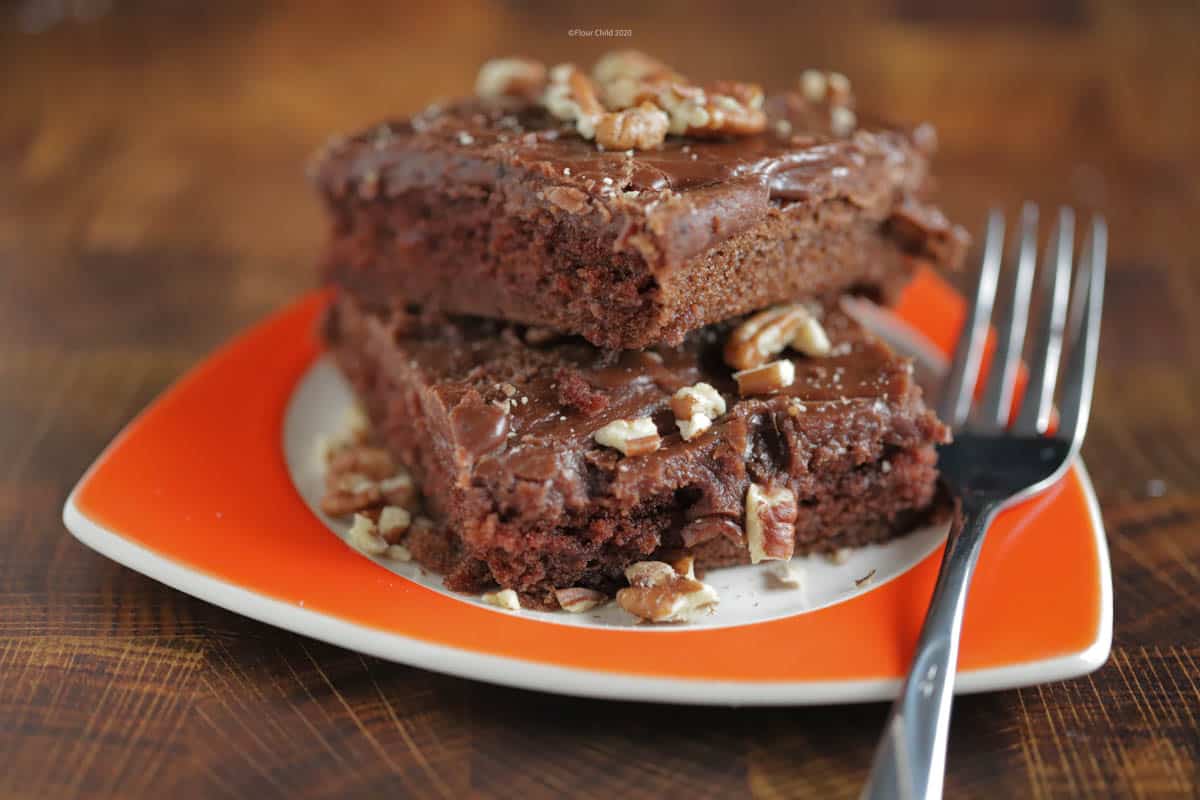 My neighbor Susan's 96-year-old Aunt Helen has a collection of hand written recipes that she has built over many years, and I was lucky enough to borrow them. This is one that they made frequently. Kevin took one look at the name of the recipe and said "I could be eating brownies in 20 minutes? What are we waiting for?" So I turned on the oven and mixed up a batch!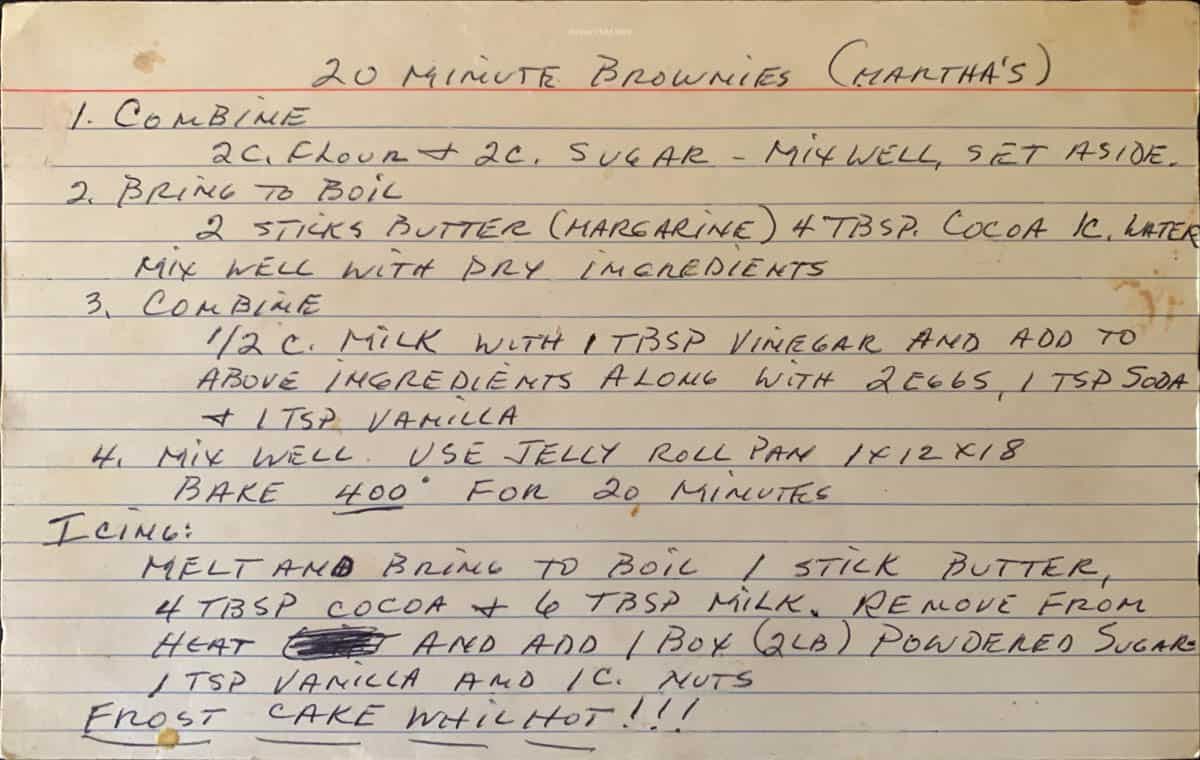 What is a Jelly Roll Pan?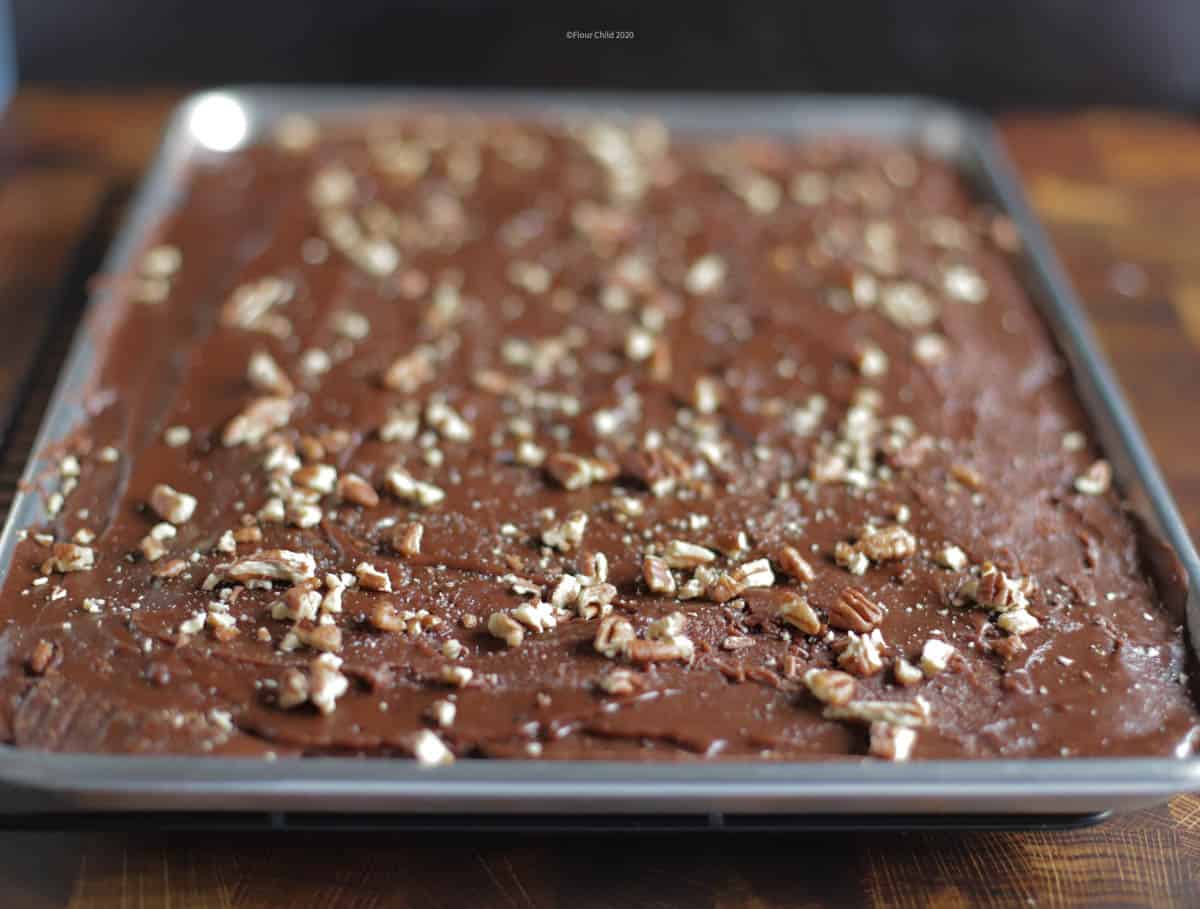 I love to make brownies, and I usually make them in an 8 x 8 pan or occasionally a 9 x 13 pan for a double recipe. But I had never made brownies in a jelly roll pan. In fact, I didn't even know what a jelly roll pan was! It is a roughly 10 x 15 sheet pan with 1" high sides that is usually used for making cake rolls. It is smaller than a half-sheet cake pan which is 12 x 18. You can use either one, but I prefer the 10 x 15 jelly roll pan because with the half-sheet cake pan the brownies (or whatever you're baking) will turn out much thinner.
Comparing These to Modern Brownies
What I love about these brownies is the very soft, fluffy, cake-like bottom layer that's not too sweet, topped by a firm, solid, sweet layer of icing that's almost like a thin layer of fudge. The brownies are slim which makes them a nice and light dessert or snack. Modern brownies tend to be much thicker and chewier, often with candy, caramel, nuts or chocolate chips inside. While they both have their merits, the speed, simplicity and lightness of this mid century recipe can't be beat. Modern brownies seem to taste best warm out of the oven, but these are better after they have had time to cool completely, even overnight, so that the icing has properly solidified into its fudge-like candy coating.
Sheet Cake Brownies are Fit For a Crowd
If you need a dessert recipe to feed a lot of people, this is the perfect one because it will yield roughly 35 2-inch square servings. My neighbor used to take these brownies to share at work. It would also be great for a picnic, potluck, or a large holiday gathering.
You'll Need These Ingredients
All purpose flour
Sugar
Butter or margarine
Unsweetened cocoa powder
Milk
Vinegar
Eggs
Baking soda
Vanilla extract
Powdered sugar
Pecans or other nuts (optional)
Tips For Perfect 20 Minute Sheet Cake Brownies
Grease your pan with butter or spray it with non-stick cooking spray.
Make icing while brownies are baking so it's ready as soon as they come out.
Add nuts to icing immediately after mixing. Icing hardens and you won't be able to add them in later. If you don't want nuts, it's okay to skip them entirely.
Apply frosting immediately after cake comes out of the oven, while it's still hot. Since this icing solidifies into a candy-like coating, it spreads and adheres best when the cake is hot.
A Couple of Notes About the Hand Written Recipe Card
The hand written recipe card says to use a jelly roll pan, but gives its dimensions as 12 x 18 which are actually the dimensions for a half-sheet pan which is larger. These pans are easily confused, but there is actually quite a bit of difference in size and your recipe will turn out differently depending on which you use. After making this recipe I believe the intended pan is a jelly roll pan and not a half-sheet. Therefore, the correct pan dimensions will be somewhere right around 15 x 10 or slightly less.
Also, the hand written recipe card says to use 1 box (2 lb.) of powdered sugar for the icing. I can assure you that it should say 1 box (1 lb.) of powdered sugar for this recipe. It was impossible to even attempt to incorporate 2 lbs. of sugar in the mix. Since I had followed the handwritten recipe and added 2 lbs. of powdered sugar and found that it was way too much, I simply doubled all the rest of the ingredients and made a double recipe of the icing. I spread the entire double recipe of icing on top of the brownies, which gave it an extra thick fudgy topping. Next time I might just do it on purpose, it turned out great!
Now that we know how to make them, let's bake some old fashioned brownies!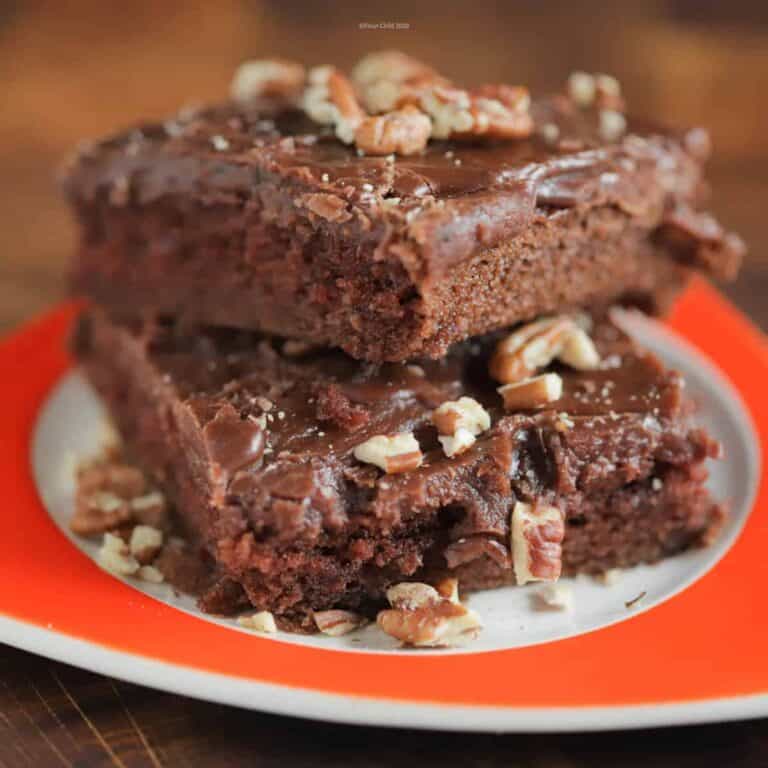 20 Minute Sheet Cake Brownies With Fudgy Icing
These thin brownies with a thick fudge frosting are a chocolate treat that can be shared with friends and family.
Ingredients
Brownies
2

cups

flour

2

cups

sugar

2

sticks

butter

½ pound

4

tablespoons

unsweetened cocoa powder

1

cup

water

½

cup

milk

1

tablespoon

vinegar

2

large

eggs

1

teaspoon

baking soda

1

teaspoon

vanilla extract
Icing
1

stick

butter

8 tablespoons

4

tablespoons

unsweetened cocoa

6

tablespoons

milk

1

pound

powdered sugar

1

teaspoon

vanilla

1

cup

chopped pecans
Instructions
Preheat oven to 400 degrees. Spray jelly roll pan with non-stick cooking spray.
Brownies
In a large bowl, mix the flour and sugar together and set aside.

Add 2 sticks of butter, 4 tablespoons of cocoa and 1 cup of water to a saucepan. Mix and heat over medium heat just until it begins to boil. Add to flour/sugar mixture and mix well. 

Add 1 tablespoon of vinegar to ½ cup of milk and stir. Mix in with the flour mixture.

Add eggs, baking soda and 1 teaspoon of vanilla to batter and combine well. 

Pour batter in a 10 x 15 jelly roll pan and bake for 20 minutes.
Icing
While brownies are baking, melt 1 stick of butter in a saucepan. 

Add 4 tablespoons of cocoa and 6 tablespoons of milk and mix well.

Remove from heat and stir in 1 pound of powdered sugar, 1 teaspoon of vanilla and 1 cup of pecans. Apply frosting on brownies as soon as they are removed from the oven.
Notes
For best results use a 10 x 15 jelly roll pan to bake brownies
Margarine can be substituted for butter
Walnuts or other nuts can be substituted for pecans in the icing, or you can eliminate the nuts altogether 
If you prefer a thicker layer of icing, double the icing recipe
Nutrition
Calories:
223
kcal
Carbohydrates:
31
g
Protein:
2
g
Fat:
11
g
Saturated Fat:
5
g
Polyunsaturated Fat:
1
g
Monounsaturated Fat:
4
g
Trans Fat:
1
g
Cholesterol:
32
mg
Sodium:
108
mg
Potassium:
53
mg
Fiber:
1
g
Sugar:
25
g
Vitamin A:
269
IU
Vitamin C:
1
mg
Calcium:
16
mg
Iron:
1
mg