This recipe for simple white bread is super soft, moist, fluffy and surprisingly easy to make.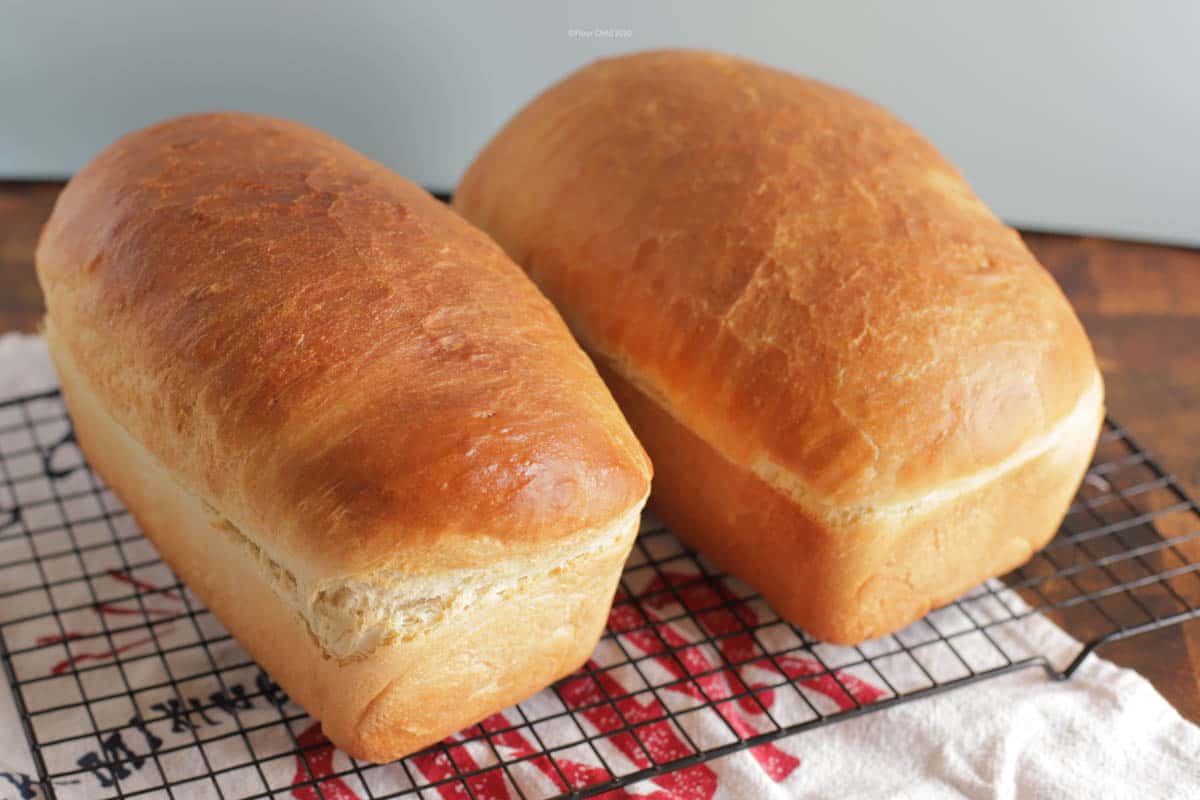 The Best Thing Since...
I've always enjoyed making bread at home. Pro tip: always eat breakfast or lunch ahead of baking bread. Otherwise the smell of the fresh, hot baking bread that fills every corner of the house will drive you crazy -- ask me how I know!
Bread has been a part of our diets for at least the last 12,000 years, when it was made from grass grains. Over time the grains and methods changed, and it was probably the ancient Egyptians who created an early version of wheat bread that we may recognize. Here in the US, breads continued changing and white bread was developed as a way of showing how clean and pure the flour was. Since it required more processing and was expensive, people saw it as a status symbol. In the mid century there were plenty of brands of sandwich bread available nationally and regionally. But many mid century cooks still made it from scratch.
Some breads are easier than others to make. Factors include whether it requires many ingredients, or it takes a long time to make because you have to let the dough rise and then punch it down multiple times. Sometimes you just want to make an easy, quick white bread, but choosing which one can be a challenge. Just because it's easy doesn't mean it will taste good. In fact, it's usually the opposite. There are plenty of recipes for this simple staple, but they vary widely in terms of density and hardness.
I remember my grandmother in Kentucky hardly ever came home with 'store bought' bread; she always baked it. Her 'recipe' was pretty simple because she tended to use just the staples. It was always fun watching her cook and listening to her tell the old time mountain stories. She never wrote anything down, but having watched her make white bread many times I felt confident I could recreate it. Nancy had a mid century handwritten recipe that was very similar to how she made it. I've made a few modifications to this recipe over the years, but it's a very good recipe just as it is.
When we were first experiencing the shutdown and shortages due to Covid, I wanted some comfort food. Nothing says that like hot, crusty, fresh bread from the oven. Just one problem -- we couldn't get dairy products in our area and there was no powdered milk to be found. So I had to experiment making bread without milk. I'd seen my grandmother do it, so it didn't seem all that hard. It turns out to have been a blessing in disguise. Removing the milk and adding more water made that batch the fluffiest, softest bread I'd ever baked. This is how I will make it from now on.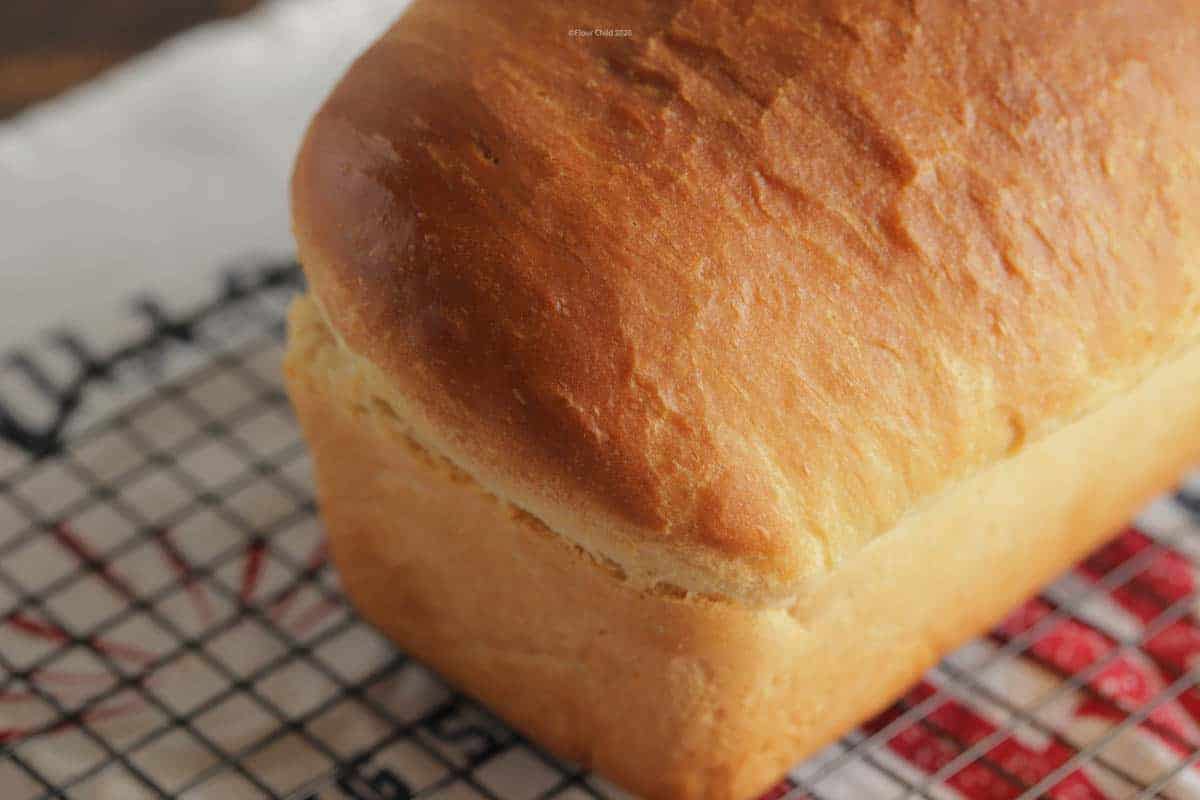 Only 5 Ingredients for Tasty White Bread
Compared to some recipes, this one is pretty simple in both the ingredients and the steps. You'll want to make sure you have enough all-purpose flour on hand, but that's the only caveat. This recipe makes two loaves, and friends are delighted to receive one if it is too much for you. To make it, it only takes only 5 ingredients plus water:
Warm water
Yeast
Unsalted butter
Sugar
Salt
All-purpose flour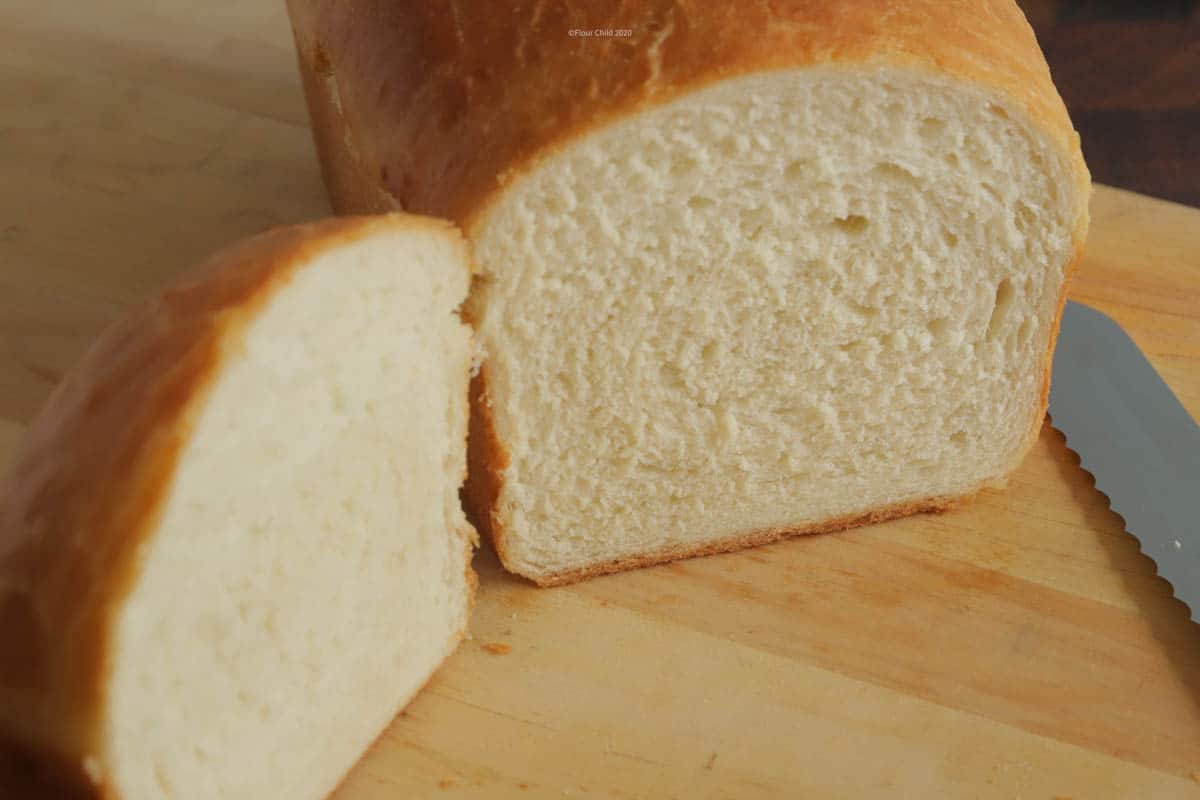 One Last Twist
One thing my grandmother always did when baking white bread was to shape the dough by hand into a rectangle as wide as her baking pan--usually about 8 or 9 inches. Then she would roll that rectangle up into a tube and fold the ends under and place that into the baking pan. It gives the bread a very nice swirl look when you slice it open, like in the picture above. There may also be some practical reason for that step, but I don't know -- I just like how it looks.
Tips for Successful White Bread
Some people are a little afraid to bake bread so they use a bread machine, which is the next best thing. If you haven't already, I encourage you to give it a try from scratch with this easy recipe. Once you make it yourself you'll see it's really fun and delicious. Here are a few things to keep in mind:
Use a stand mixer with a dough hook for the easiest mixing of the dough
Don't get concerned about forming the dough into an exact rectangle or tube shape
Place dough in a greased 9" x 5" loaf pan for baking
Keep a piece of foil nearby to place over the top of the loaves as they bake to keep the crust from getting too brown
Store cooled bread in airtight containers or plastic wrap and eat it promptly. It gets stale quickly without preservatives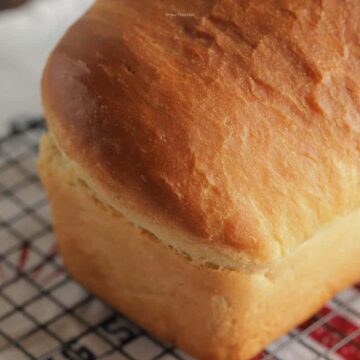 The Softest, Fluffiest Homemade White Bread You Can Make
Warm, fluffy homemade white bread has been a staple of cooks long before and after mid century because it is that good!
Ingredients
3

cups

warm water

just warm to the touch, not hot

2

packets

dry yeast

.25 oz each

5

tablespoons

unsalted butter

divided

¼

cup

sugar

1

tablespoon

salt

7

cups

of all-purpose flour
Instructions
In your mixing bowl, add the packets of yeast and a ½ cup of warm water. Stir to mix. Let the yeast activate in the water for 5 minutes. Add the other 2-½ cups of warm water along with the 3 tablespoons of room temperature butter, plus the sugar and salt.

Add first 4 cups of flour to the mixing bowl and stir ingredients together. You can mix by hand, but I prefer to use a stand mixer with a dough hook attachment.

Mix on a low speed for 10 minutes while slowly adding the next 3 cups of flour. The dough ball should start to take shape and be 'tacky' to the touch, but not wet and sticky. It should 'clean' the sides of the bowl by itself, but feel free to scrape down excess dough if necessary.  I find I may not even need to add the entire 7th cup of flour. But if the dough is still too wet, slowly add the last cup of flour by the tablespoon until the dough ball becomes smooth.

Remove dough from mixer and place on a large, smooth floured surface. Do not knead the dough, just shape it into a ball and add a pinch of flour on it if it is still very sticky to the touch.

Place the dough ball into a large bowl that has been coated in vegetable oil. Roll the dough ball around so that the oil coats it. Cover with plastic wrap.

Place the bowl in a warm place and wait for 50 minutes to an hour as the dough doubles in size.

Place the dough back on the floured surface and split it into two equal balls.

Work one ball at a time to flatten and remove any excess air pockets. Once again, don't knead the dough, just push it down to flatten it. 

Shape into a rectangle about as wide as your 9 inch baking pan.

Roll that up into a tube and tuck the ends under itself and place into a 9" x 5" inch loaf pan that has been greased with cooking spray.

Repeat for second dough ball.

Melt the remaining 2 tablespoons of butter and brush lightly over the two loaves.

Place both loaves into an oven that has been pre-heated to 400 degrees.

Bake for 30 minutes, rotating once halfway through baking.

Remove from oven and once again lightly brush with remainder of melted butter. Let cool for 15 minutes while remaining in the pan.

Remove from the baking pan and cool on a wire rack before slicing.
Notes
Always use fresh yeast to ensure it will be active. Old yeast may cause your bread to fail.
I like to place my dough in a warm, dark place that doesn't get a lot of air while it's rising, so I place it in an unheated oven.
If the loaves of bread are getting too brown while baking, place a piece of foil over the top to prevent over browning.
Store bread in an airtight container or tight-fitting plastic wrap and eat it promptly. It will get stale quickly since it has no preservatives.
Nutrition
Calories:
162
kcal
Carbohydrates:
30
g
Protein:
4
g
Fat:
3
g
Saturated Fat:
2
g
Polyunsaturated Fat:
1
g
Monounsaturated Fat:
1
g
Trans Fat:
1
g
Cholesterol:
6
mg
Sodium:
293
mg
Potassium:
41
mg
Fiber:
1
g
Sugar:
2
g
Vitamin A:
73
IU
Vitamin C:
1
mg
Calcium:
7
mg
Iron:
2
mg
What twists do you put on your homemade white bread recipes? Do you add any other ingredients? Drop us a line and let us know.