Creamy, buttery potatoes on the inside and a browned, crusty shell on the outside make these mashed potato pancakes an easy and delicious breakfast from leftover mashed potatoes!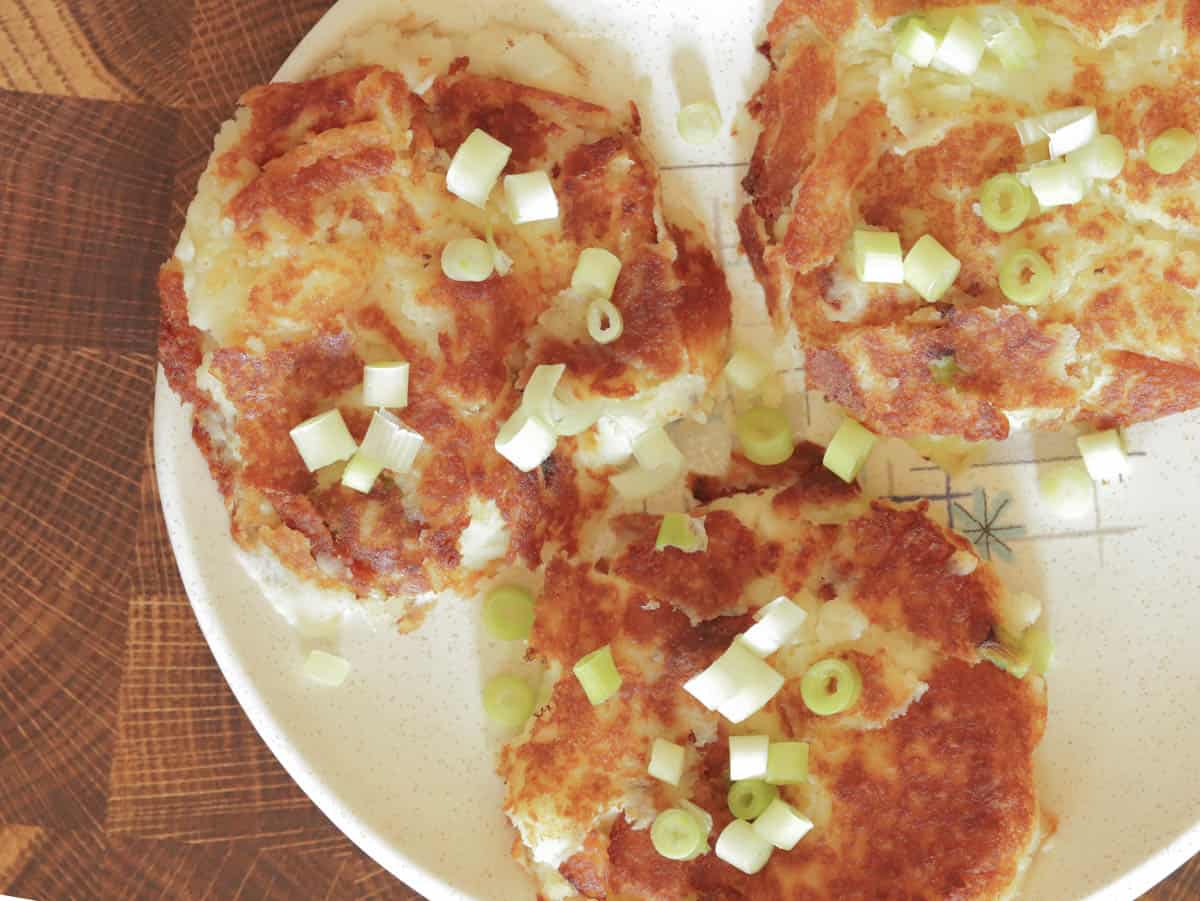 Mid century cooks had to know how to stretch food whenever possible. Creative ways to use leftovers was a must. These potato pancakes are a delicious example of that rule. And since mashed potatoes are made by beating them with butter and milk, the potato pancakes have a nice buttery flavor to them.
Who actually has leftover mashed potatoes?
Potatoes were always a staple at our house. Pretty much every meal featured them in one form or another. Whether it was my mother's freshly grated hash browns for breakfast, hand cut fries for lunch, or whipped mashed potatoes for dinner, we had the starch food category covered. I remember my mom buying two things in bulk: giant sacks of potatoes and small, strong yellow onions. We never had to throw any of either away.
As Nancy has mentioned before, written recipes were pretty much non-existent in my southern family. So understanding how my mother made something required some trial and error to duplicate it. In the days before every call was a video call, I remember talking to her on the phone and having her try to walk me through how to make these mashed potato pancakes. Having her say 'this much' for a measurement did not help! But we eventually got the mixture right.
As I grew older, I was surprised to learn that mashed potato pancakes were not just a southern dish. They are similar to potato latkes, which are usually made from shredded potatoes rather than mashed. Recipes vary for each and can include eggs, butter, milk, flour, cheese, onions, and even some other vegetables. They are pretty much a global food and a staple of many cultures, just like the humble potato.
What You'll Need to make Mashed Potato Pancakes
Assuming you actually have leftover mashed potatoes (a rarity in our house), just a few other ingredients are all that's needed to make up this delicious breakfast side:
Vegetable Oil
Mashed Potatoes
Egg
Milk
Chopped green onion
Salt and pepper
You can, of course, salt and pepper to taste, but you may want to go easy on the salt until you've tried one first.
Tips for Success
This recipe is pretty easy to pull off but here are a few things to make it even easier:
Cook pancakes in vegetable oil rather than butter. Oil has little taste and doesn't interfere with the potato goodness. It also doesn't burn in the hot pan as easily as butter.
Form the patties in your hand and set in pan with a spatula, or spoon potatoes directly into the warmed oil and flatten with a spatula.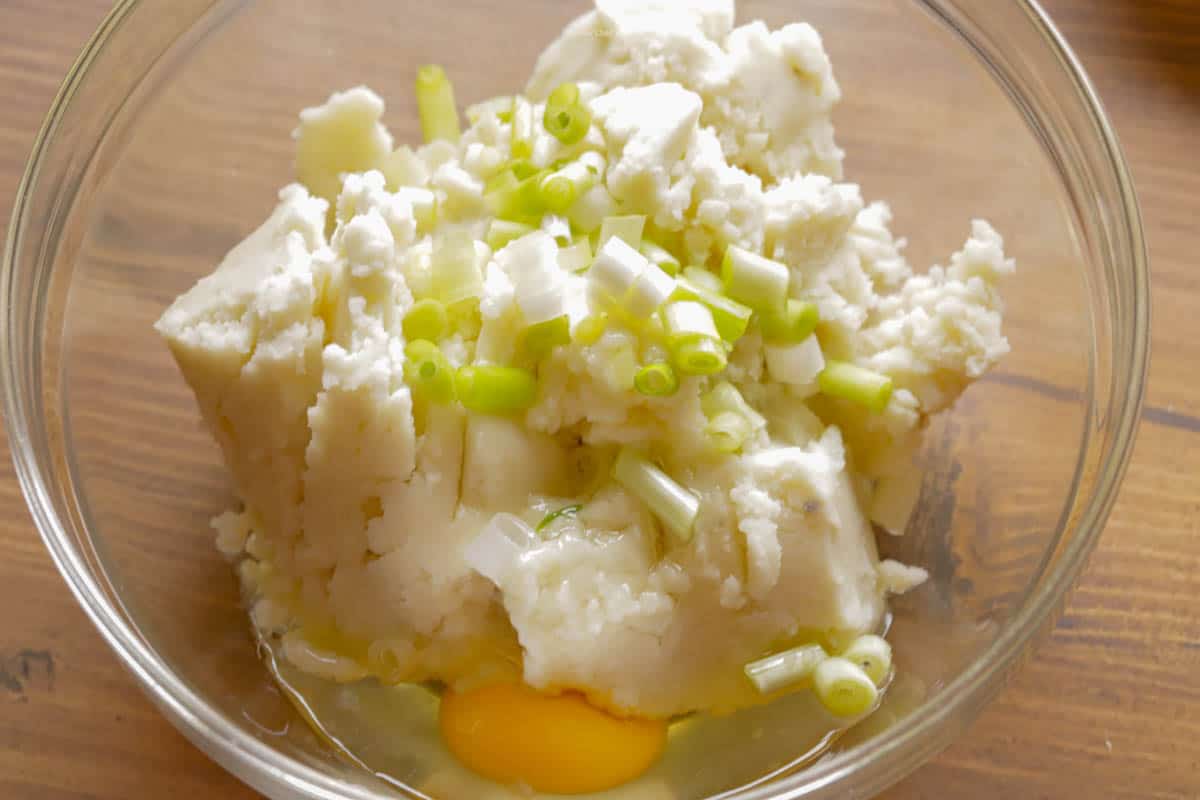 Give these easy mashed potato pancakes a try for your next breakfast, and enjoy the tasty difference in flavor and texture from your usual hash browns!
How does your family prepare these? What other ingredients do you add?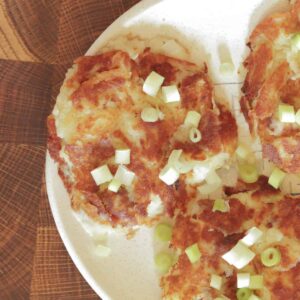 Easy and Delicious Mashed Potato Pancakes
These light, fluffy mashed potato pancakes are a crispy alternative to hash browns as a side to your southern breakfast.
Ingredients
2

tablespoons

vegetable oil

2

cups

mashed potatoes

generally 2 large or 3 medium russet potatoes - leftovers work great

1

large

egg

2

green onions

chopped

Salt and pepper to taste
Instructions
Pour oil in skillet and heat over medium heat for 2 minutes.

Mix mashed potatoes, egg and green onion in a mixing bowl, reserving a few green onion pieces to sprinkle on top for serving.

Mix with your hands until all ingredients are thoroughly combined.

Scoop out potatoes with a tablespoon, drop into skillet, and flatten with spatula. Cook first side until crispy brown--about 3-5 minutes, then flip once and cook the other side another 3-5 minutes.

Remove from skillet and place on a plate lined with a paper towel to absorb the oil. Sprinkle with remaining green onions and serve immediately.
Notes
Modern Twist: You can make cheesy potato pancakes by adding ¼ cup of shredded cheese while mixing
Serve with sour cream, ketchup or hot sauce if desired
Nutrition
Calories:
149
kcal
Carbohydrates:
20
g
Protein:
3
g
Fat:
6
g
Saturated Fat:
1
g
Polyunsaturated Fat:
3
g
Monounsaturated Fat:
2
g
Trans Fat:
1
g
Cholesterol:
37
mg
Sodium:
40
mg
Potassium:
291
mg
Fiber:
2
g
Sugar:
1
g
Vitamin A:
104
IU
Vitamin C:
20
mg
Calcium:
16
mg
Iron:
1
mg