This coconut pound cake has a crispy exterior crust and moist, fluffy interior coconut cake. A fast and easy recipe brings a taste of the tropics you can enjoy anytime!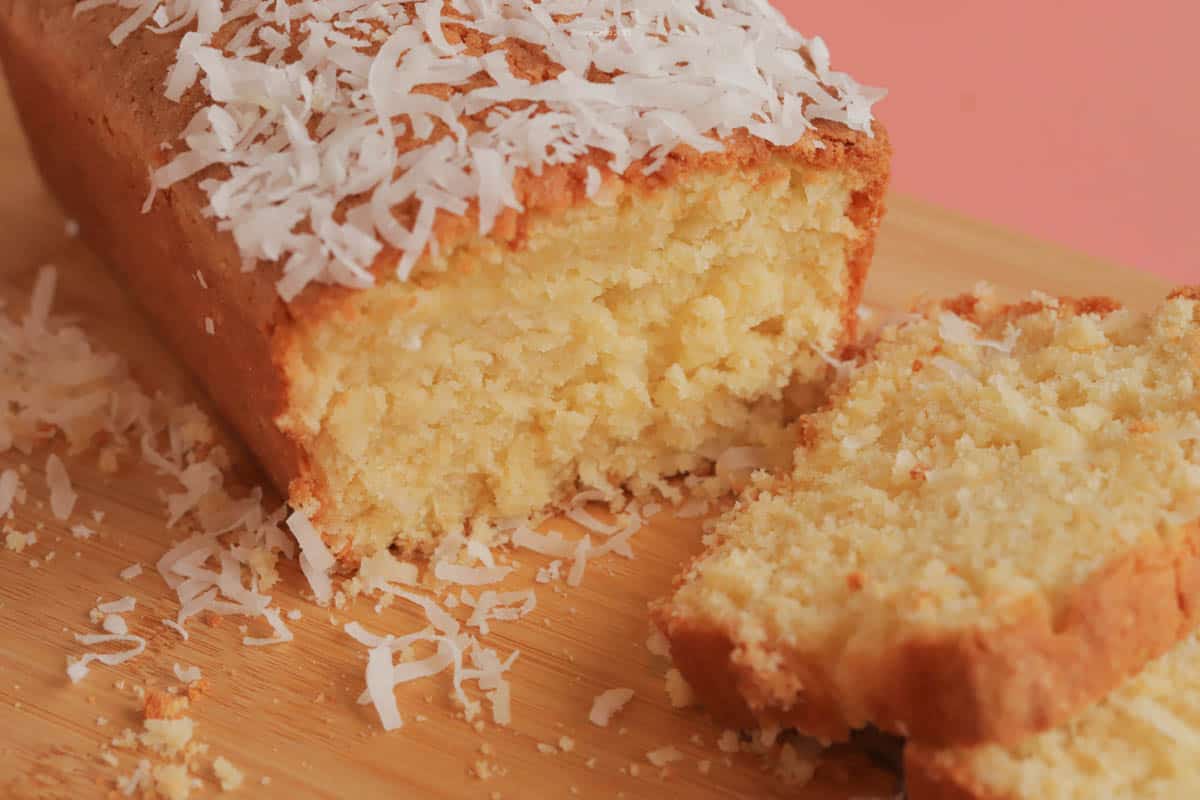 Kevin and I fell in love with all things coconut many years ago when we honeymooned in Hawaii. So when I came across this mid century recipe for coconut pound cake, I knew I had to give it a try. And I was not disappointed!
Butter vs. Shortening
One of the things that struck me about this recipe is that it calls for shortening (such as Crisco) rather than butter. Crisco shortening was invented by Procter and Gamble in 1910, and rose in popularity during WWII when butter and lard were rationed and hard to find.
According to the Crisco website, butter and Crisco are interchangeable in most recipes. Baked goods such as cakes and pie crusts tend to come out fluffier and flakier with shortening. I like the flavor that butter provides, but butter flavored shortening is an option, too. Crisco's website says it has 50% less saturated fat than butter, and no trans fat, sodium or cholesterol in it's product, so if you're watching your fat intake, you may want to take that into consideration.
You can use either shortening or butter in this recipe. I like the flavor that butter provides and the flakiness that shortening provides, so I recommend using half butter and half shortening, which is also what I do when I make pie crusts.
Ingredients For Coconut Pound Cake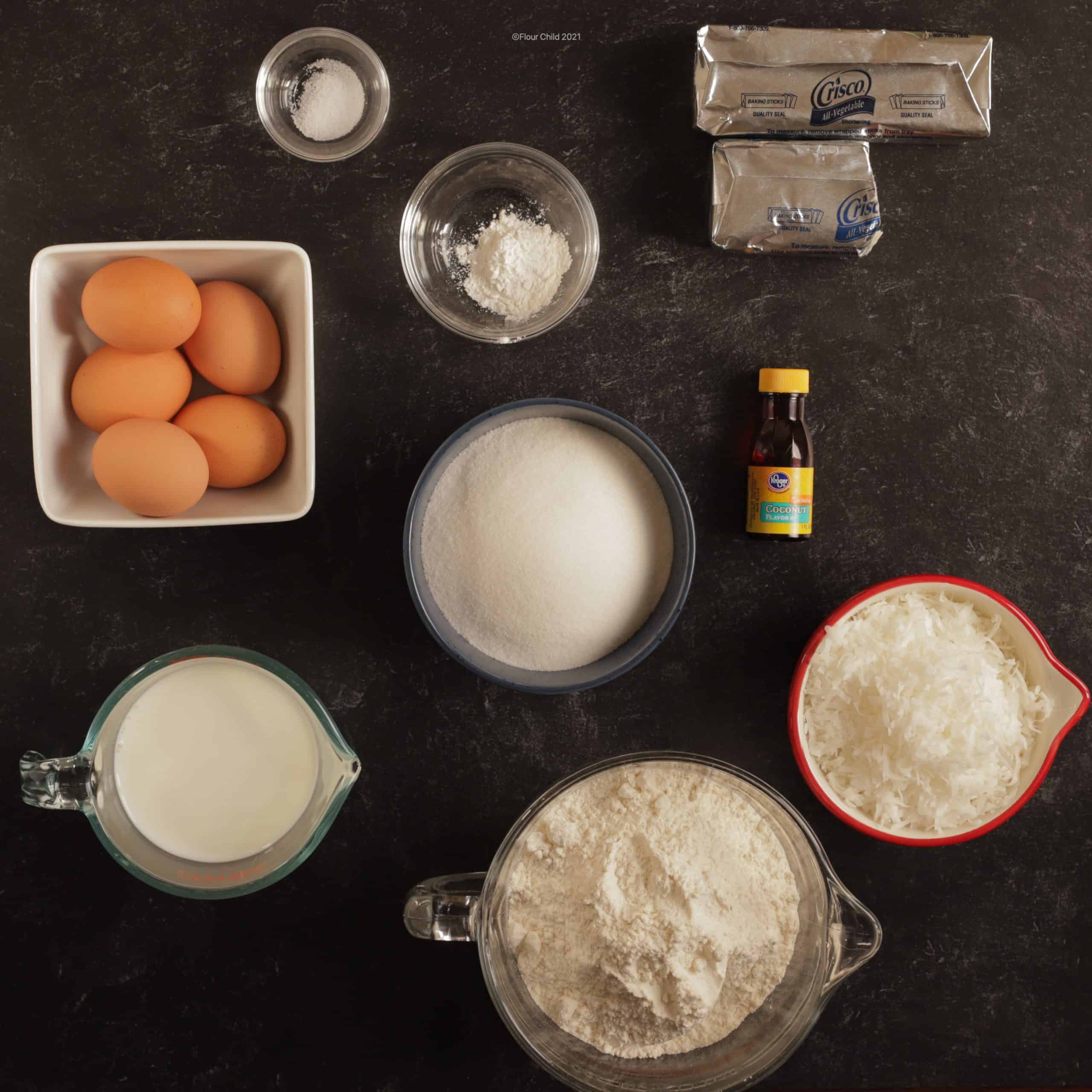 Here's what you'll need to have on hand:
Shortening and/or butter
Granulated sugar
Eggs
Flour
Baking powder
Salt
Coconut extract
Milk
Sweetened shredded coconut
This recipe yields two 1-pound loaves of coconut pound cake. I used two loaf pans measuring 8.5 x 4.5 x 2.8 inches. I prefer the top quality bakeware from USA Pan, all made in the USA!
Hints For Making Coconut Pound Cake
If you are using any butter in the recipe, let it stand at room temperature for 15 minutes before mixing. It should still be cold but slightly pliable for mixing.
If you are using all shortening, after adding eggs beat 10 minutes, ensuring a fluffy cake texture.
If you are using all butter, after adding eggs beat only 1-2 minutes, until eggs are fully blended.
If you are using half butter and half shortening, cream the shortening and sugar first, then add the butter and mix 1 minute until fully blended, then add eggs and mix another 1-2 minutes until eggs are fully incorporated. You want to avoid over-beating the butter and causing it to melt.
Print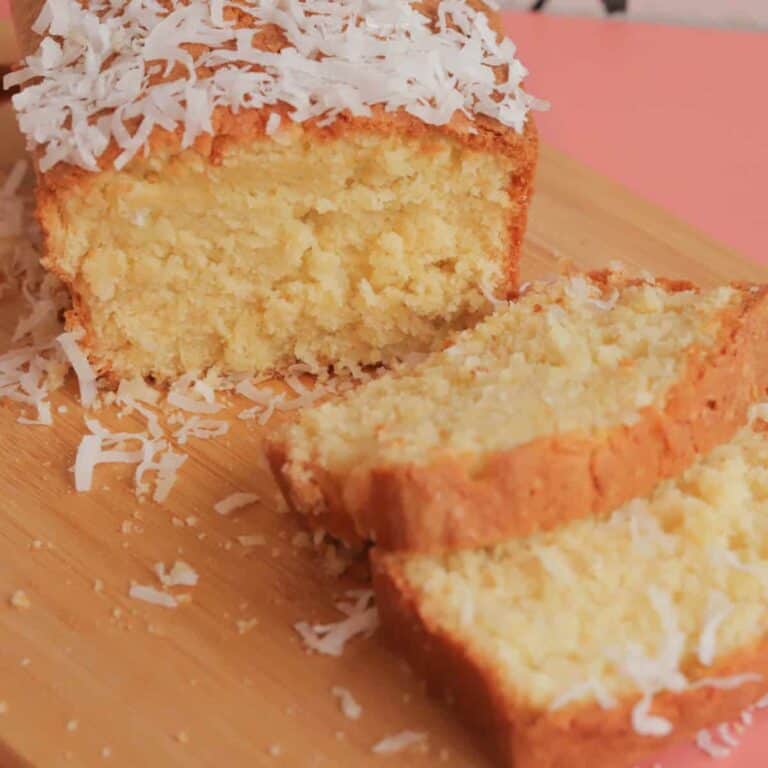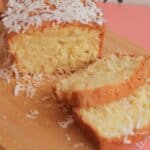 Coconut Pound cake is a Tropical Tasting Treat
---
3 cups flour
1 teaspoon baking powder
¼ teaspoon salt
¾ cups cups shortening
2-¼ cups granulated sugar
¾ cups cold butter which has been out at room temperature for 15 minutes
5 eggs
2 teaspoons coconut extract
1 cup milk
7 oz. sweetened shredded coconut
---
Instructions
Mix flour, baking soda, and salt in a bowl. Set aside.
In a large mixing bowl, cream shortening and sugar using an electric mixer. 
Add butter and beat 1-2 minutes until creamy.
Add 5 eggs and beat on medium-low 1-2 minutes until well blended, scraping down the sides of the bowl as needed.
Add flour mixture, coconut extract and milk, and mix on low just until fully combined.
Fold in shredded coconut. Pour batter into two 1-pound loaf pans. 
Place in cold oven, turn it on to 325 degrees, and bake 1 hour 25 minutes or until golden and wooden toothpick inserted in center comes out clean.
---