Halloween popcorn balls are a kid-favorite that were popularized in the 1950's as a wholesome homemade treat.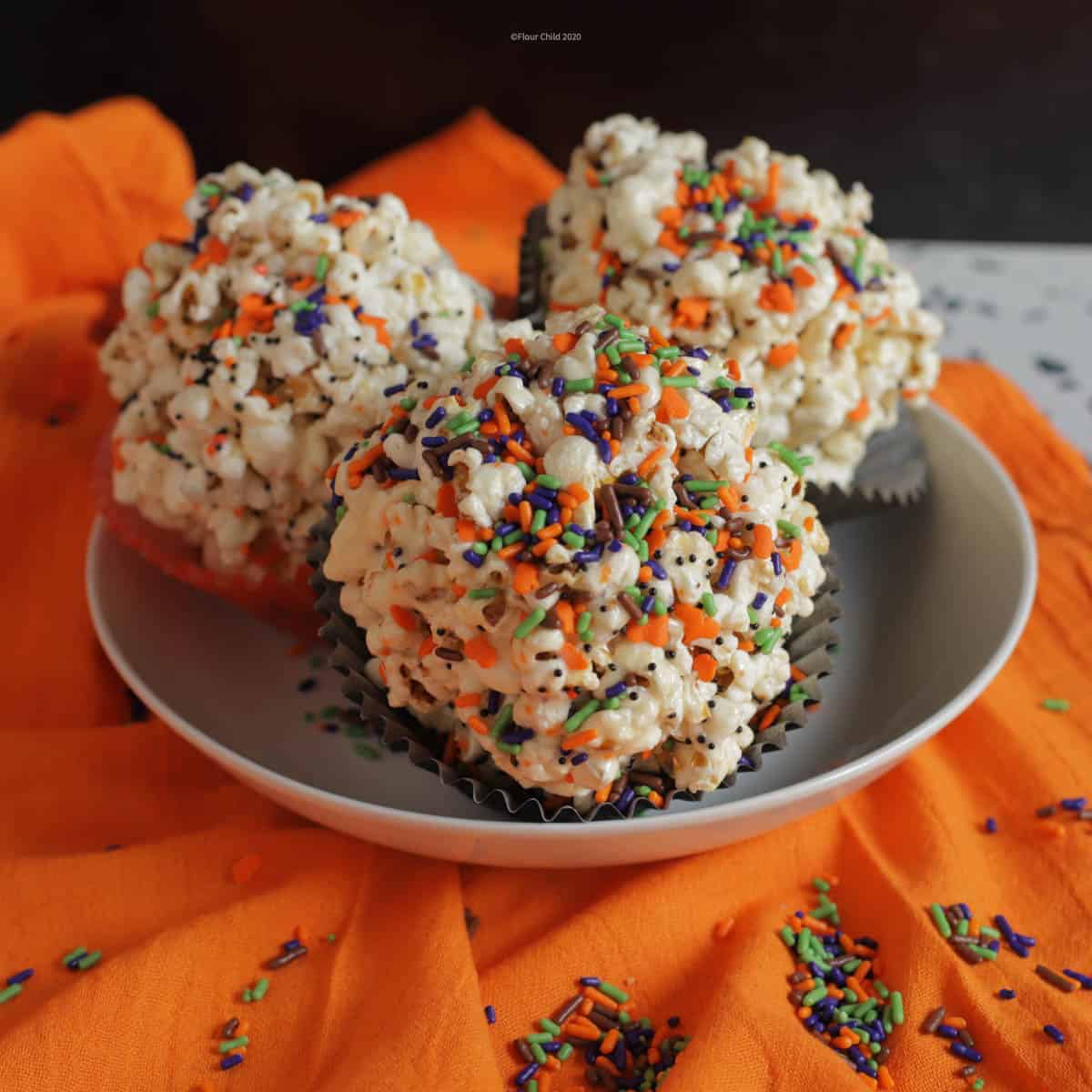 America Loves Popcorn
Popcorn has existed for thousands of years as discovered in archeological excavations around the world. In the United States, popcorn was sold by street vendors in front of the earliest movie theaters. Theater owners got wise and decided to make their own popcorn to increase their profits, and that's how the theater concession stand was born.
During the Great Depression popcorn was considered a luxury at a cost of roughly 5 cents a bag. But it became the go-to snack for families during WWII, when sugar was scarce as a result of being shipped overseas for the troops. Candy production at home suffered, so Americans ate three times more popcorn than they had before the war.
The 1950's Popcorn Boom
In the 1950's, popcorn sales skyrocketed again as families added a TV to their homes. To re-create the theater atmosphere, they would pop up a big bowl of homemade buttered popcorn. This was also the era when popcorn balls became a popular Halloween treat. Believe it or not, homemade snacks were favored over store-bought candies for trick-or-treaters. I still remember getting them in my trick-or-treat bag as a child!
Old Fashioned vs. New Popcorn Balls
I made two recipes of popcorn balls -- one an old fashioned mid century recipe, and the other a modern one.
I started with the mid century recipe, which requires making a candy syrup on the stovetop, then while it's hot, pouring it onto popcorn to make popcorn balls.
Ingredients for Old Fashioned Popcorn Balls
Popped corn
Brown sugar
Light corn syrup
Salt
Vinegar
Evaporated milk
Get Your Candy Thermometer Ready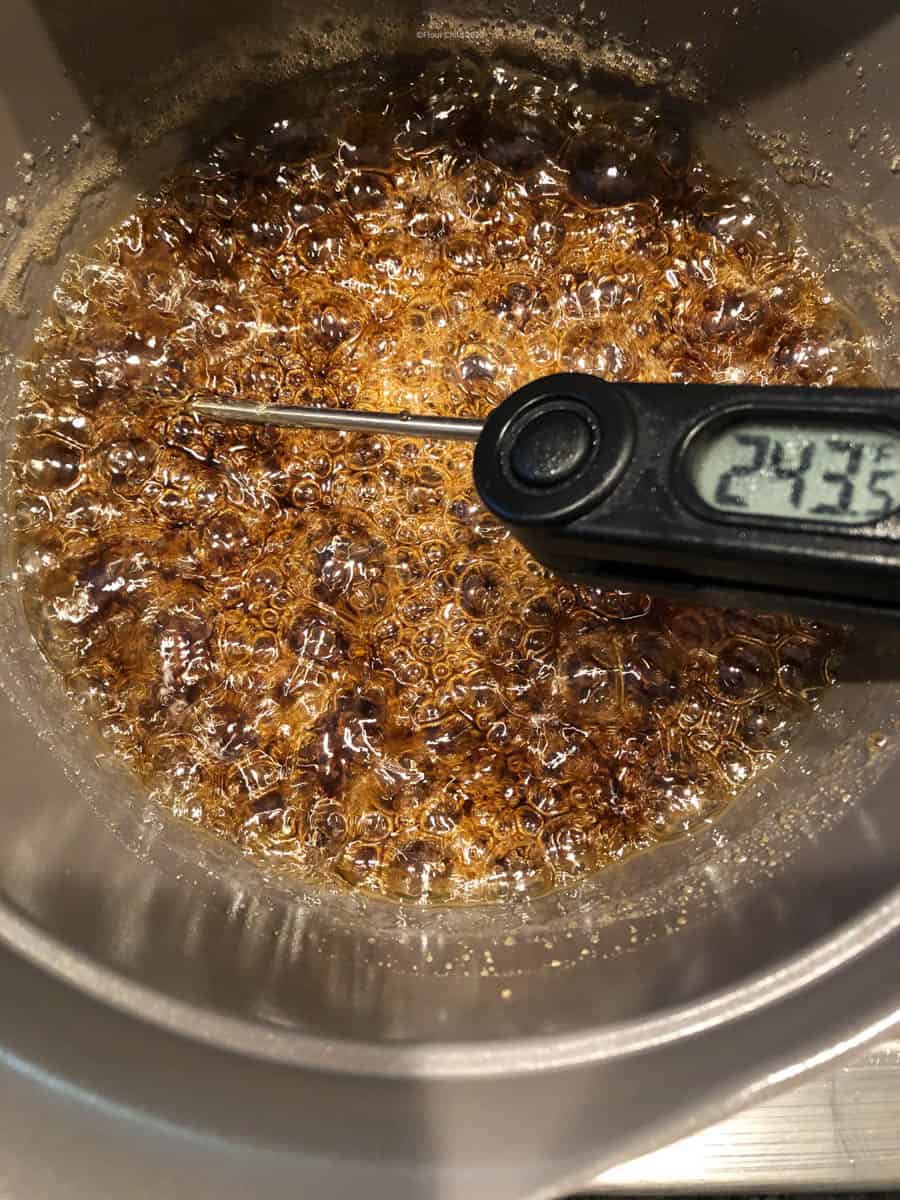 Making the candy syrup was not difficult, but it was tedious because it has to be brought to a specific temperature which needs to be measured using a candy thermometer. If you undercook it, it can be too soft and stringy, and the popcorn ball will not set. If you overcook it, it can become too hard, and it will be like biting into popcorn set in cement. (Ouch!) Twice the temperature needs to reach what is known as the "soft crack" stage in candy making -- 280 degrees Fahrenheit. Once before the condensed milk is added, and once after. The syrup is ready after it reaches this temperature for the second time.
Popcorn Ball Fail -- Adding Chocolate Sprinkles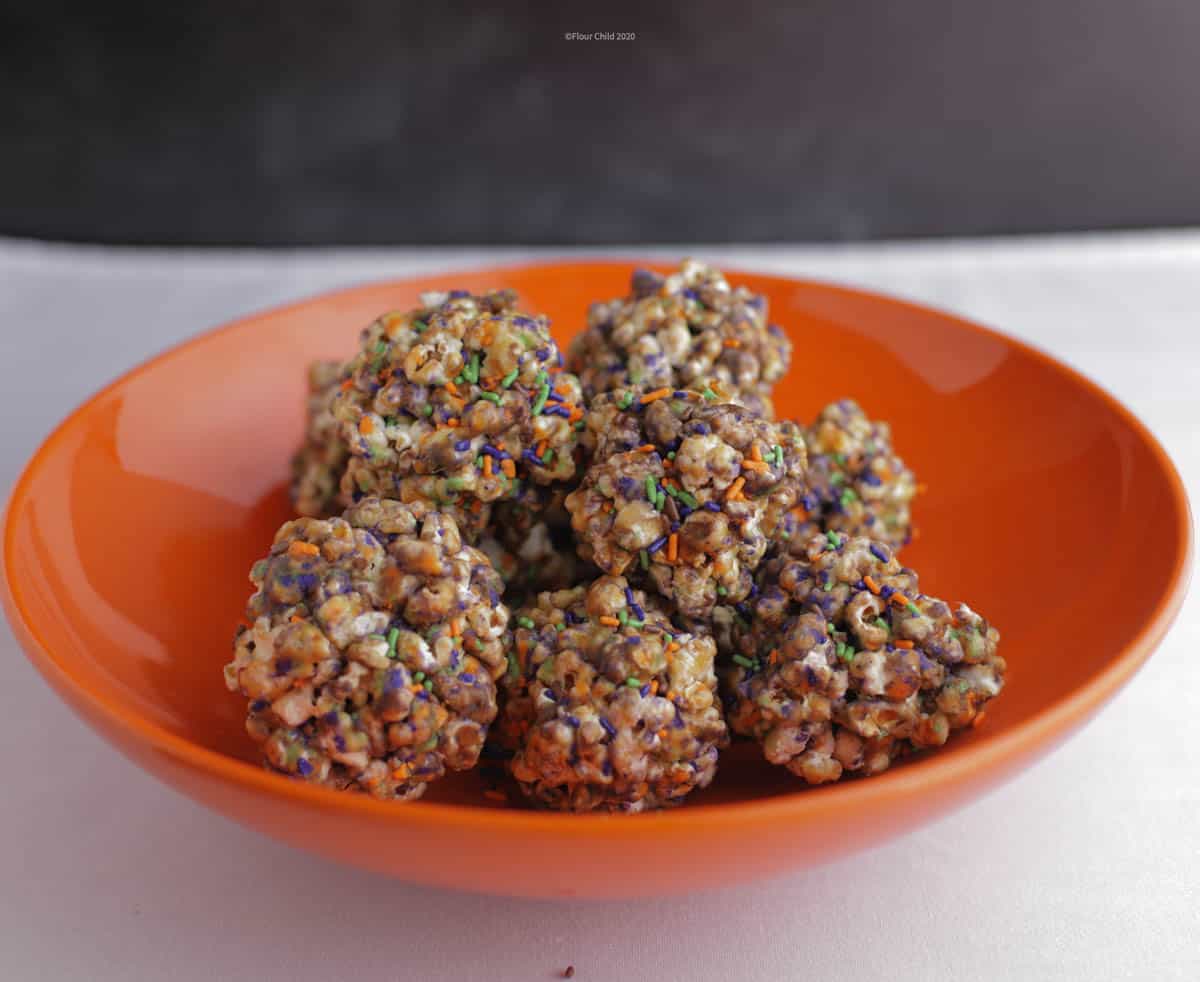 I had a problem with these popcorn balls -- not in making them; that part was pretty easy. But decorating them was a different story. This recipe did not call for candy decorations, but I wanted to add Halloween sprinkles. When I shook them on the popcorn balls after they were formed, the syrup was still warm and it melted the chocolate sprinkles and sugar candies, causing a psychedelic mess. But if you wait until the syrup has cooled to add the sprinkles, they just fall off without sticking. Not what I had envisioned for my Halloween popcorn balls. Now, I'll admit they were scary looking, but for all the wrong reasons. Kinda looked like poop balls.
Modern Popcorn Balls Use Marshmallows Instead of Candy Syrup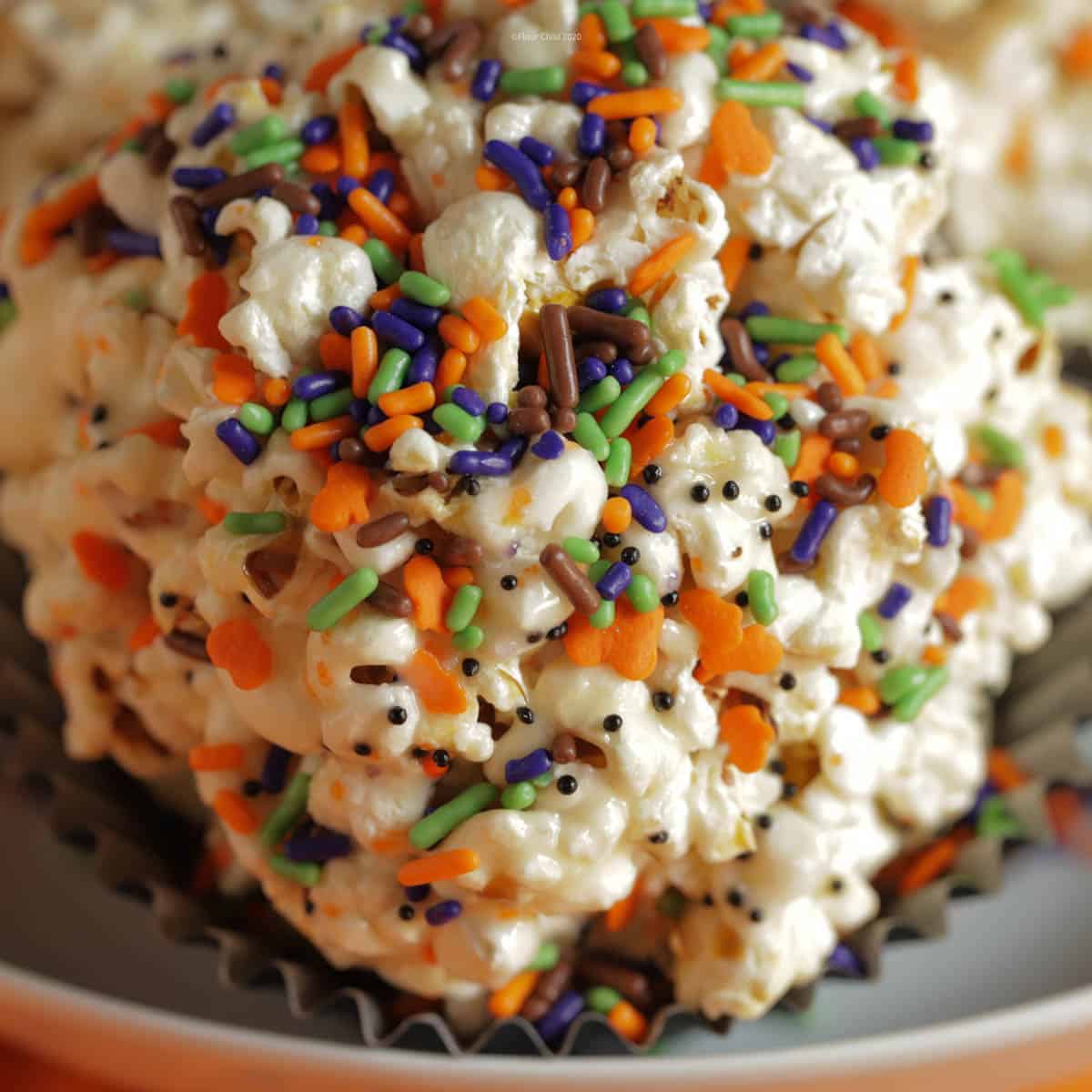 Though I love my midcentury recipes, I have to admit this modern popcorn ball recipe is faster, easier, and tastes better than the old fashioned one. It's softer and chewier and holds candy sprinkles nicely, even when it's applied after cooling.
Ingredients for Modern Popcorn Balls
Popped corn
Butter
Miniature marshmallows
Vanilla
Candy sprinkles (if desired)
All you need to do for this one is melt your butter, then add the marshmallows and stir until melted and creamy, stir in the vanilla, then pour over popcorn and form into balls. It takes only about 15 minutes from start to finish -- and no candy thermometer necessary!
I popped a high quality brand of popcorn in an 8 quart stock pot, but you can make it in the microwave if you like. I made about 6 quarts of popcorn, then put it in a large bowl making sure to remove all unpopped kernels. This yielded about a dozen large (softball size) popcorn balls, but it will depend on exactly how much popcorn you use and how large you form them.
Because the modern recipe was easier, tastier, and prettier than the others, it is the one that I'm featuring on the recipe card below. However, feel free to give the old fashioned recipe a try using the instructions on the mid century recipe cards above. And if you make any of them, let us know your thoughts!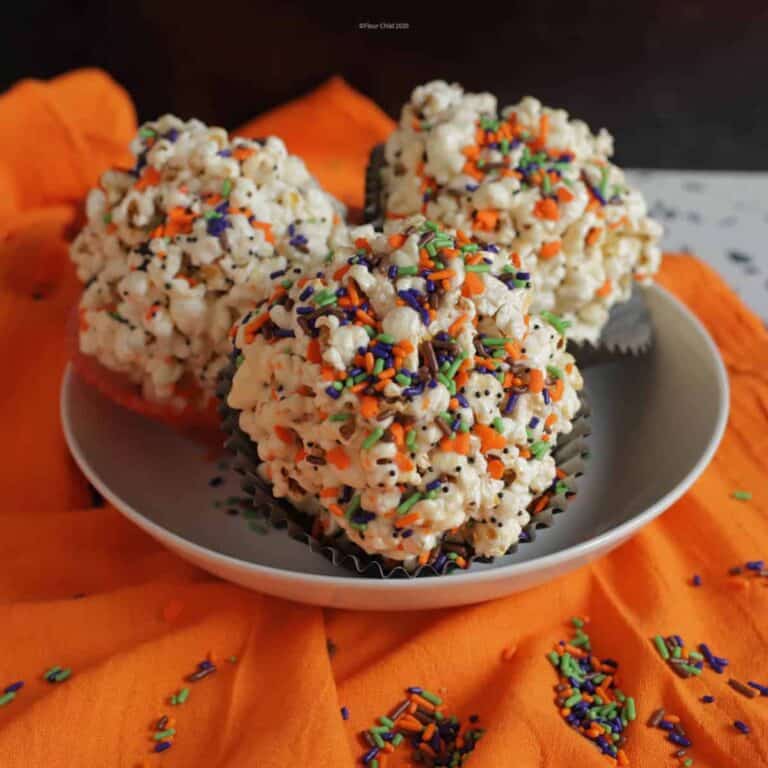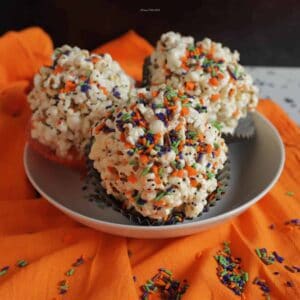 Halloween Popcorn Balls - A Midcentury and Modern Recipe
Halloween popcorn balls are a kid-favorite that were popularized in the 1950's as a wholesome homemade treat.
Ingredients
6

quarts

popped popcorn

¼

cup

butter

10

ounce

bag miniature marshmallows

1

teaspoon

vanilla

colored sprinkles
Instructions
Put popped popcorn in a large bowl and set aside.

In a large nonstick saucepan, melt butter over medium-low heat.

When butter is melted, add the miniature marshmallows. Stir constantly until smooth and creamy, roughly 5 minutes.

Stir in vanilla until fully mixed.

Slowly pour the marshmallow mixture over the popcorn, turning the bowl and tossing with your hands to coat all the popcorn kernels.

Let cool one minute, then run your hands under cold water and form balls to desired size with your hands. The water keeps them from sticking to your hands. 

Shake candy sprinkles over popcorn balls if desired.

Store in an airtight container or sealed plastic bags. Or wrap in cellophane and tie with a ribbon for gift-giving.
Notes
To make it even faster, use two large bags of popcorn from the grocery store rather than popping your own.
The marshmallow mixture burns easily due to its high sugar content, so be sure to monitor it constantly.
Nutrition
Calories:
110
kcal
Carbohydrates:
19
g
Protein:
1
g
Fat:
4
g
Saturated Fat:
2
g
Polyunsaturated Fat:
1
g
Monounsaturated Fat:
1
g
Trans Fat:
1
g
Cholesterol:
10
mg
Sodium:
53
mg
Potassium:
3
mg
Fiber:
1
g
Sugar:
14
g
Vitamin A:
118
IU
Calcium:
2
mg
Iron:
1
mg