This creamed chipped beef over toast will take you back to the 1950's and 60's, when frozen food companies introduced it as a heat and eat meal-in-a-bag. But this mid century comfort food is quick and easy to prepare from scratch!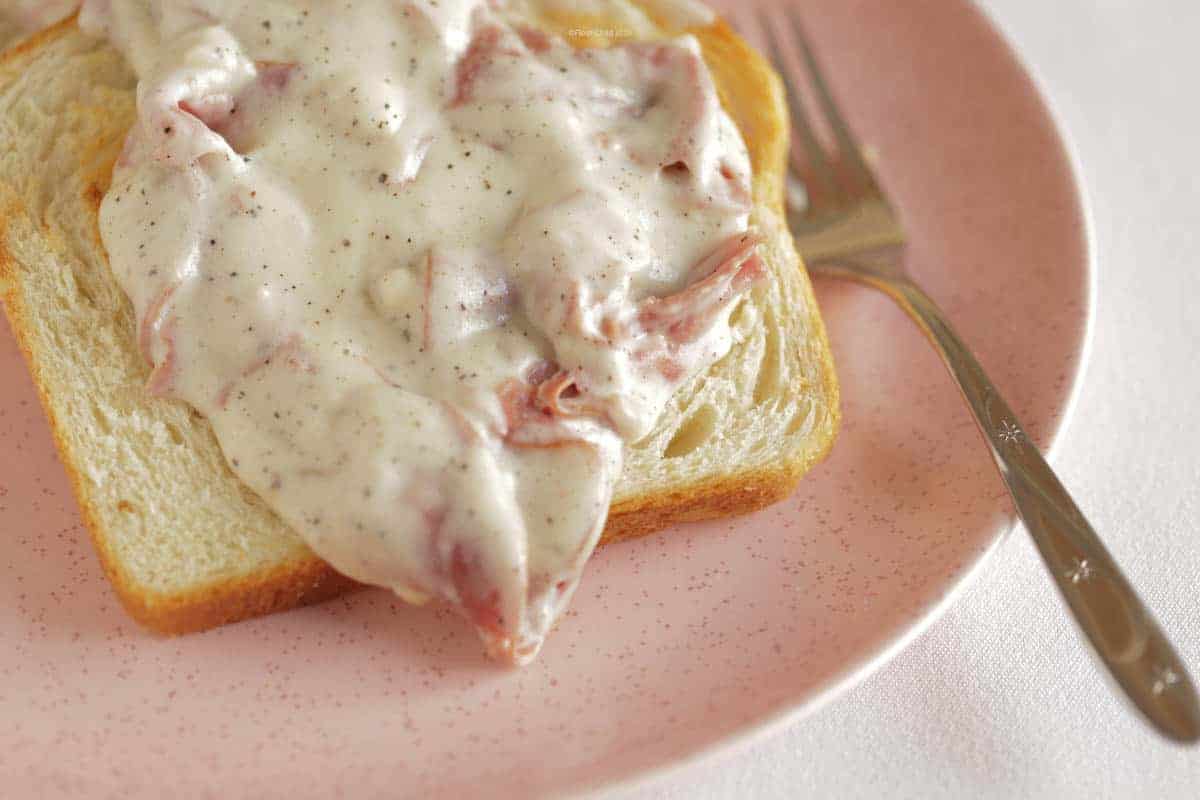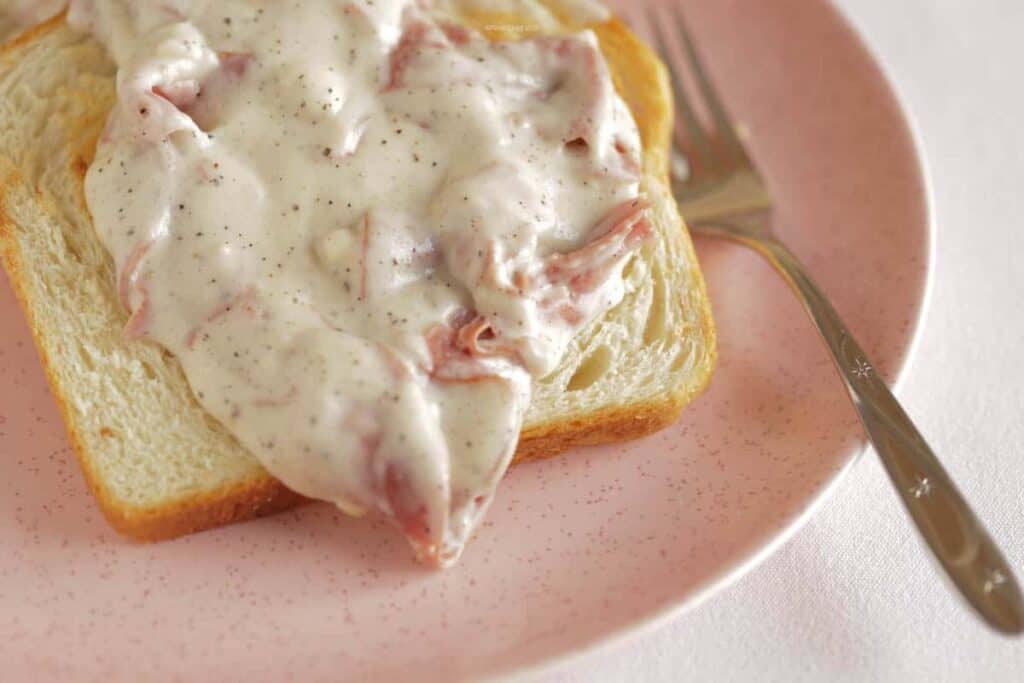 Creamed Chipped Beef was A Mid Century TV Dinner
My mom cooked a nice dinner most evenings, but when she and my dad had plans to go out she would fix me a "TV dinner." This was exciting because it meant eating something my mom normally didn't cook, and one of my favorite items was creamed chipped beef over toast.
A "TV dinner" was simply what we know of today as a microwaveable frozen dinner. We didn't have microwave ovens then, so it had to be heated in a conventional oven or on a stovetop, depending on the meal. They were called "TV dinners" because you could heat them up and eat them in front of a TV, which was an entertainment novelty at the time. If you were lucky enough to have one, it resided in the main living area of the house. When a special show was coming on, you would set up a "TV tray," (now known as a folding table) and eat dinner while watching the show because there was no way to record it. It's funny how it was a big, exciting deal for families to gather together around this new electronic device at dinnertime. Now we fight to keep electronics out of our mealtimes!
The Origin of Creamed Chipped Beef
The recipe for creamed chipped beef first appeared in the Manual for Army Cooks in 1910. It was updated to a creamier version like the one in this recipe during the Second World War. Fifteen pounds of beef in the white gravy could serve 60 soldiers. It was economical, and because it was made from dried beef it was easily stored and transported. There is some debate over whether this is a breakfast or a dinner recipe. Since it is served over toast, many people eat it for breakfast. But it is beef, so it is also served for dinner. Kevin's dad used to make it for breakfast; in our house it was a dinner.
Helpful Preparation Hints
When I made this for the first time, the salt on the dried beef was overwhelming. Taste a slice when you open it and you'll see what I mean. So the next time I took the recommendation from the original recipe card and rinsed the beef off with water to remove some of the salt. Even after doing that, I still didn't need to add salt to the dish.
Dried beef is sold in a jar; mine was purchased at our local grocery store. You can also find it online, although it's more expensive there. It comes in various size jars, so watch what you are purchasing. For this recipe I used Hormel brand dried beef in the 5 oz. size jar, but any brand is fine. You could use a 2.5 oz jar, it will just have less beef in the white sauce.
I have followed the above recipe cards for the chipped beef and the white sauce, but I adjusted the quantities for the 5 oz size jar of the chipped beef, and that meant increasing the amount of white sauce I made as well. I used whole milk for the white sauce, and the only adjustment I made was to add black pepper to it. You can add black pepper or a dash or two of red pepper sauce to give it a little zip if you like.
Only 5 Ingredients in Creamed Chipped Beef
Just 5 ingredients for the chipped beef, plus toast to serve it over is all you need:
Dried beef
Butter
Flour
Pepper
Milk
Toast to serve it over
Remember These Tips
Rinse beef in water before cooking to avoid an overly salty dish
Stir white sauce constantly after adding milk and flour, until all lumps are removed
Taste sauce before serving and adjust pepper (and salt, if necessary)
If you'd like to make homemade toast to serve with this, try our simple recipe for white bread.
Print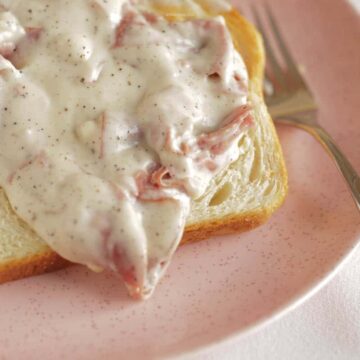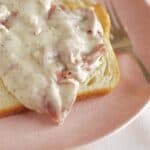 Creamed Chipped Beef Over Toast
Author:

Nancy Blackstone

Prep Time:

5 Minutes

Cook Time:

10 Minutes

Total Time:

15 Minutes

Yield:

4

Servings

1

x

Category:

Breakfast

Method:

Stovetop

Cuisine:

American
---
Description
This creamed chipped beef over toast is a classic comfort food that will take you back to the 1950's and 60's when it was a popular mid century TV dinner.
---
Scale
Ingredients
1 – 5 oz. jar dried beef
4 tablespoons butter
1/4 cup flour
1/4 teaspoon pepper
2 cups milk
---
Instructions
1. In a colander, rinse chipped beef in water to remove some of the salt, then pat dry. Chop or tear the chipped beef into bite size pieces (roughly 3 or 4 pieces per slice.)
2. Melt butter in a large skillet. Whisk in the milk and flour, stirring constantly over medium-low heat until lumps are gone and sauce thickens, about 5-7 minutes. 
3. Mix in the pepper.
4. Add chipped beef to the white sauce and stir until heated through. 
Serve immediately over toast.
---
Notes
This dish should not need salt as the beef is very salty, evening after rinsing. However taste it just before serving and adjust with salt and pepper if necessary.
Store in airtight container in the refrigerator for up to 2 days.
Reheat on stovetop, adding milk to thin the sauce as necessary.
Keywords: Beef breakfasts, old fashioned breakfast, old fashioned dinner, mid century dinner, 1950's foods, 1960's foods, TV dinner